---
In the second part we will explore in more details current modes of public tranport of the HSL system of Helsinki, including an overview of their function, routes and vehicles/rolling stock used. Details on what exactly is HSL and how the public transport system works in general can be found in the first part.
Commuter trains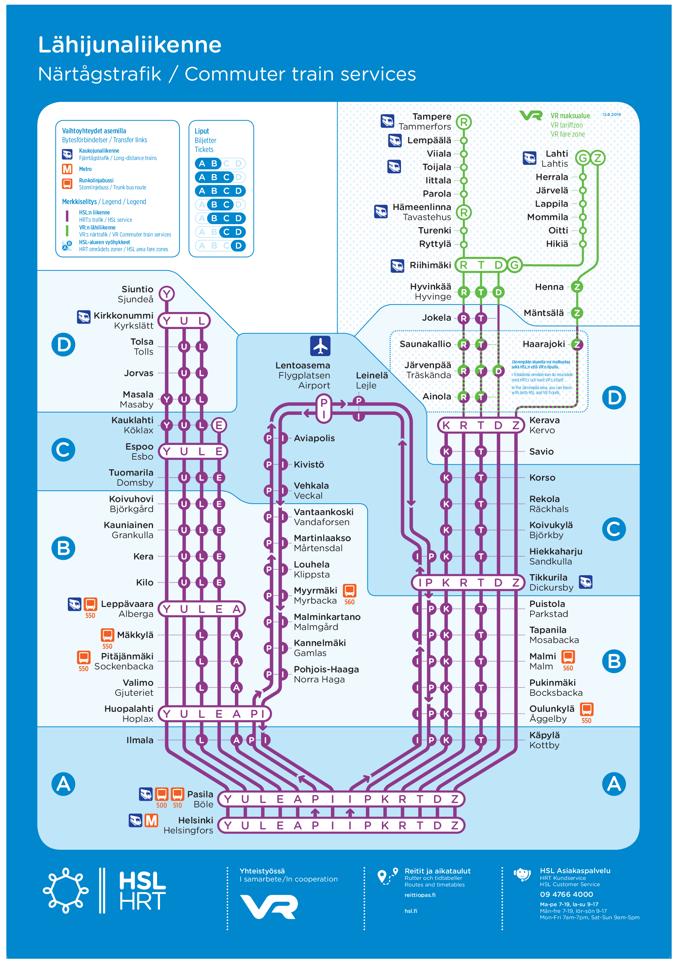 Let's start by noting that we distinguish commuter trains and regional trains in this article. R-, T-, D-, G- and Z-trains are regional trains for the purpose of this article, as they all mostly or entirely go outside HSL area, although HSL tickets are valid on them on travels within HSL area. We will look at these trains in a later section.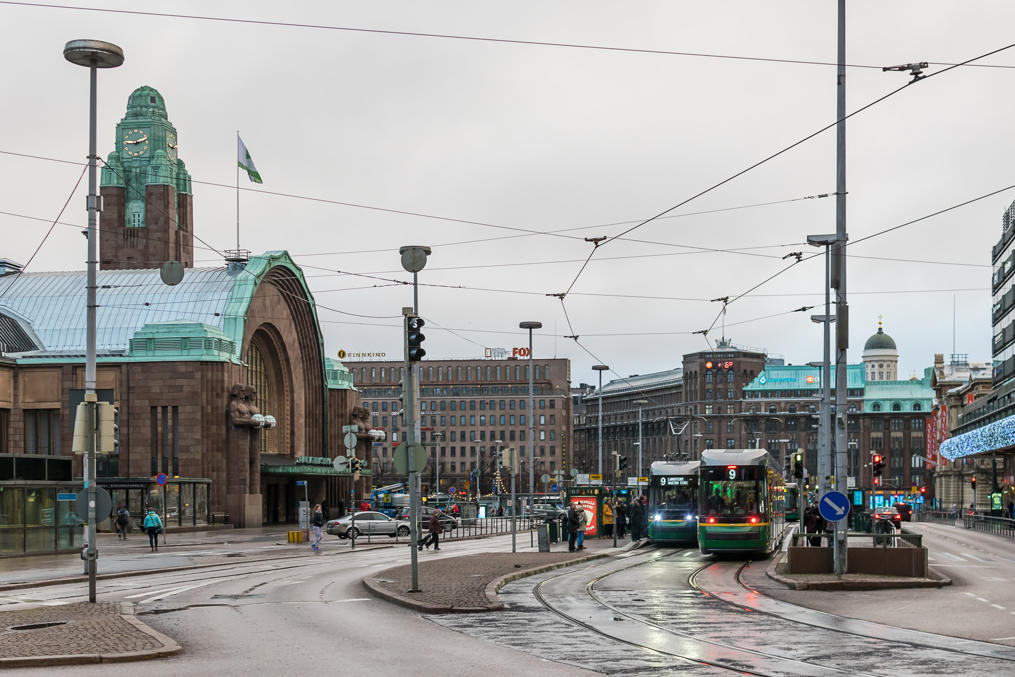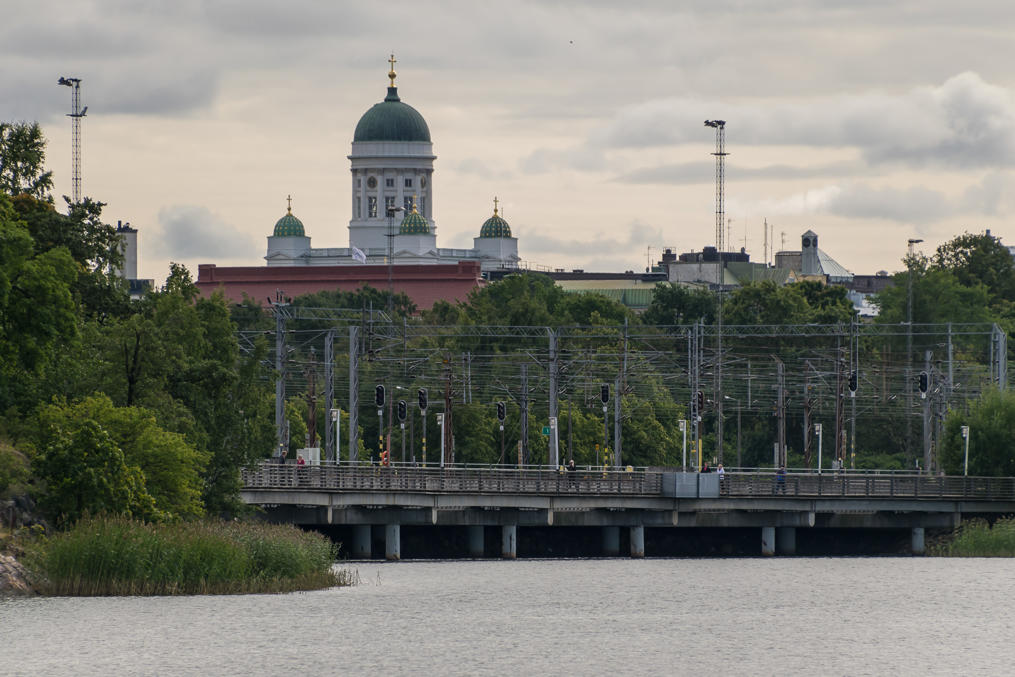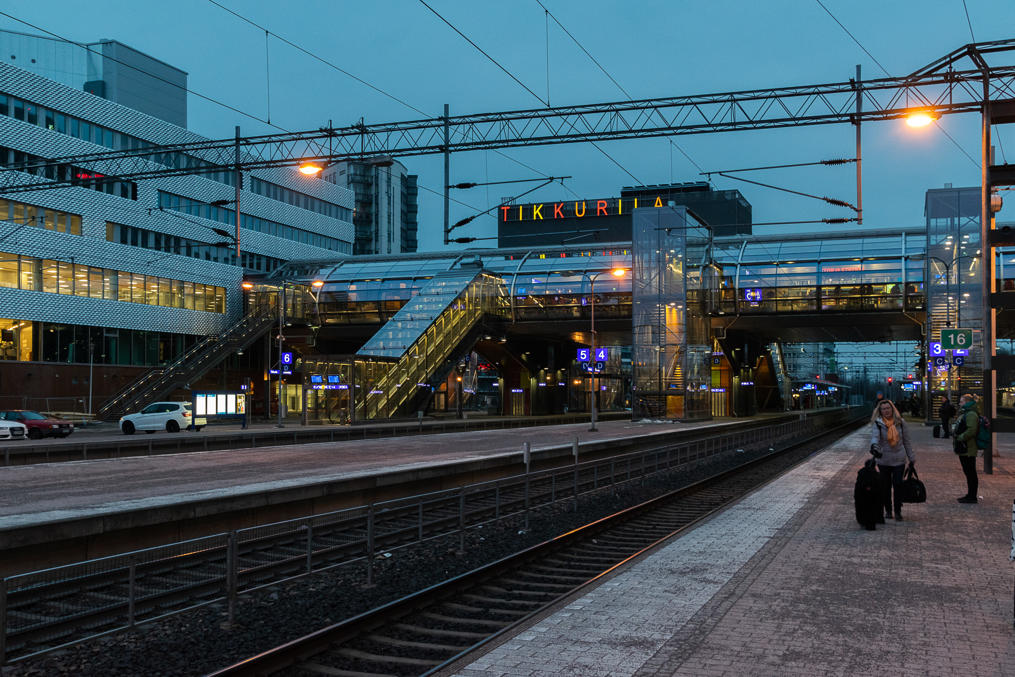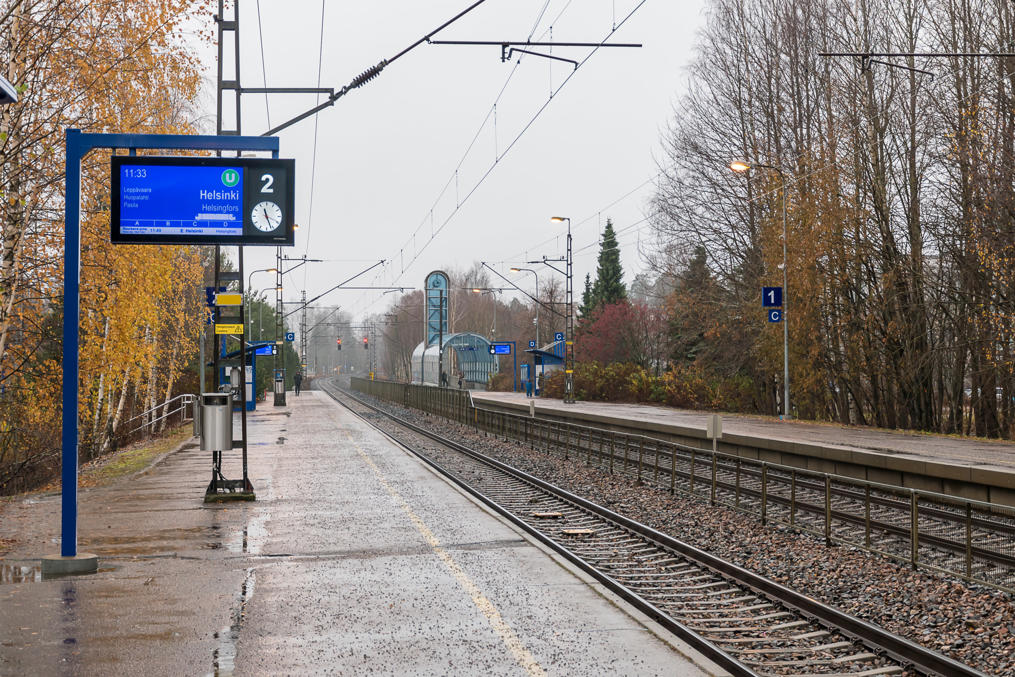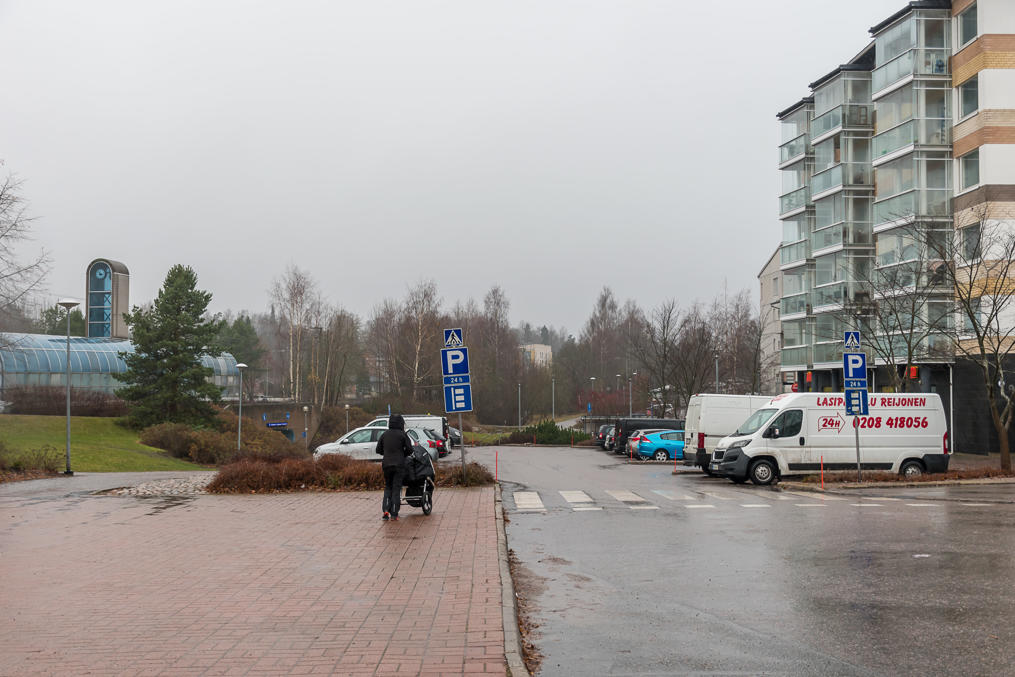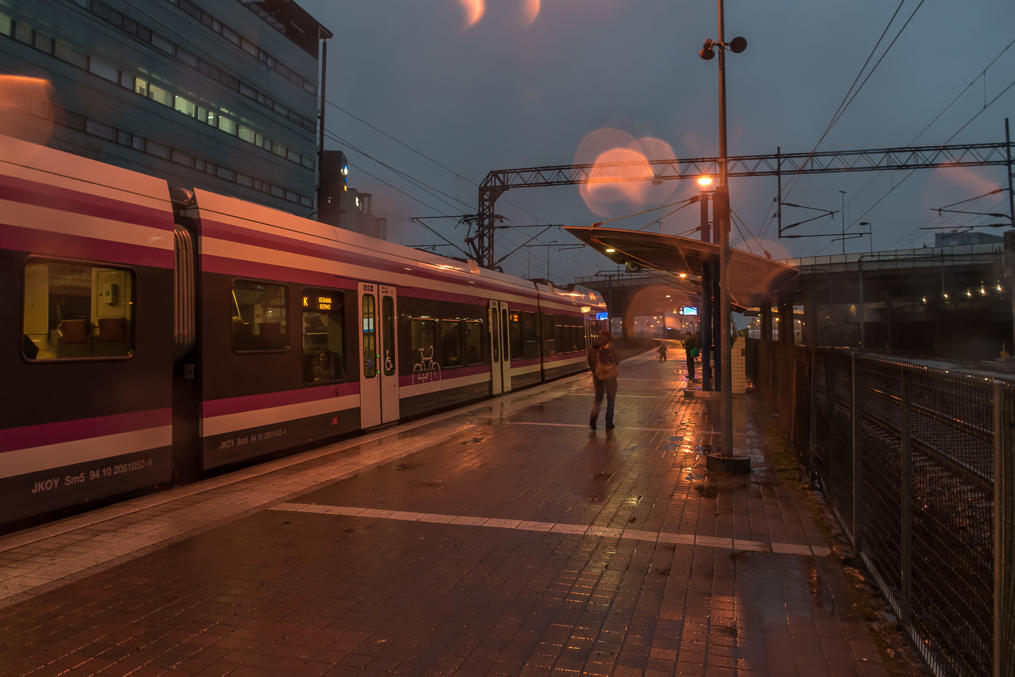 That said, Helsinki area has only three railroads with commuter trains:
Main Railroad (Päärata) goes from Helsinki straight to the north, through Vantaa and Kerava and farther on towards Tampere. Helsinki-Tampere railroad is the busiest and the country, with numerous smallish cities spread along it. Railroad towards Lahti and to the east of the country branches off in Kerava, but has only regional trains, not commuter ones. From Helsinki to Kerava (29 km) the Main Railroad has four tracks (so-called Kerava City Railroad, Keravan kaupunkirata), allowing dense commuter traffic
Coast Railroad (Rantarata) branches off the Main Railroad at Pasila, a few kilometers from Helsinki central station, and turns to the west towards Turku. From Helsinki to Leppävaara the Coast Railroad has four tracks (so-called Leppävaara City Railroad, Leppävaaran kaupunkirata), allowing dense commuter traffic, but along most of Espoo past Leppävaara there are only two tracks. A project to continue four-tracks railroad throughout Espoo (Espoo City Railroad) is in final preparation stages. Past Espoo, two-track railway ends in the city of Kirkkonummi, and this is where HSL-served area mostly ends, although a few trains in a day also continue on to Siuntio town
Ring Railroad (Kehärata) links Main and Coast Railroads, between Hiekkaharju and Huopalahti stations respectively. About 26 km long two-track railroad is used exclusively by commuter trains, providing both a connection to the Helsinki airport, and transport for large areas of Vantaa. While both Main and Coast Railroads are quite old, the Ring Railroad was finished only in 2015 (although about a third of it dates since 1970s, having been a dead-end railroad for commuter trains to western Vantaa). 8 km of the track is laid in a tunnel, underneath the airport and areas around it. Two stations are built underground, including the airport station with a direct exit to the airport building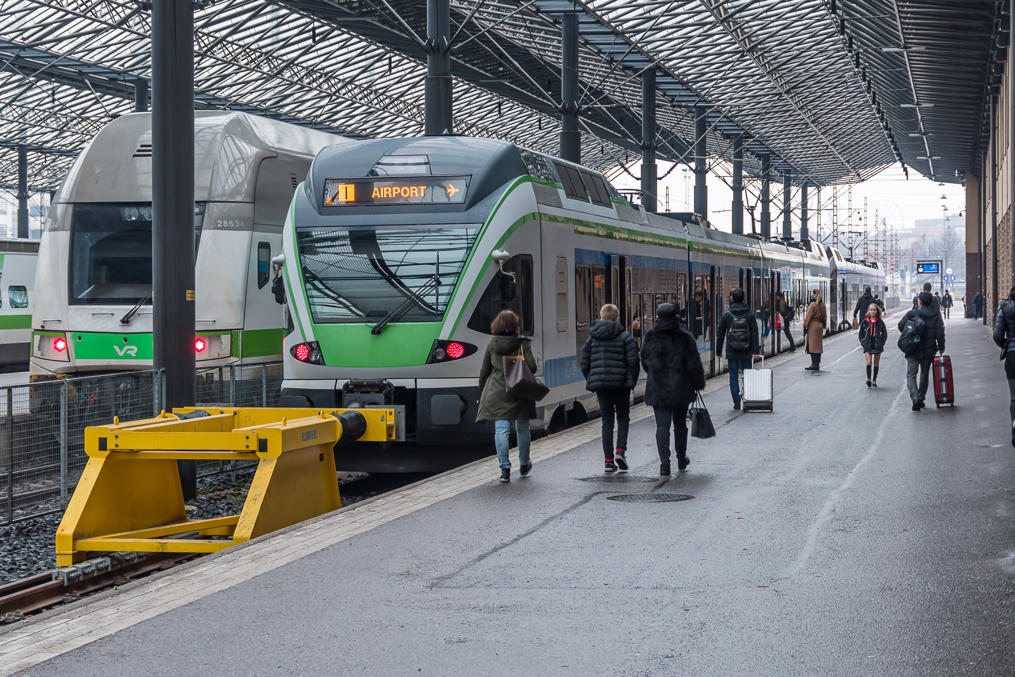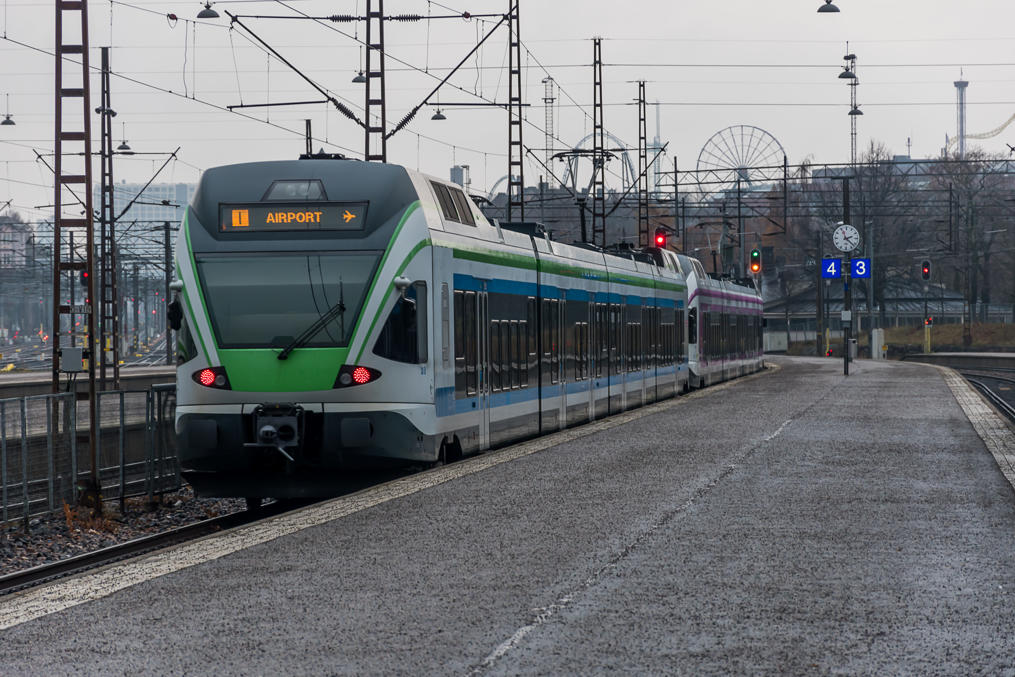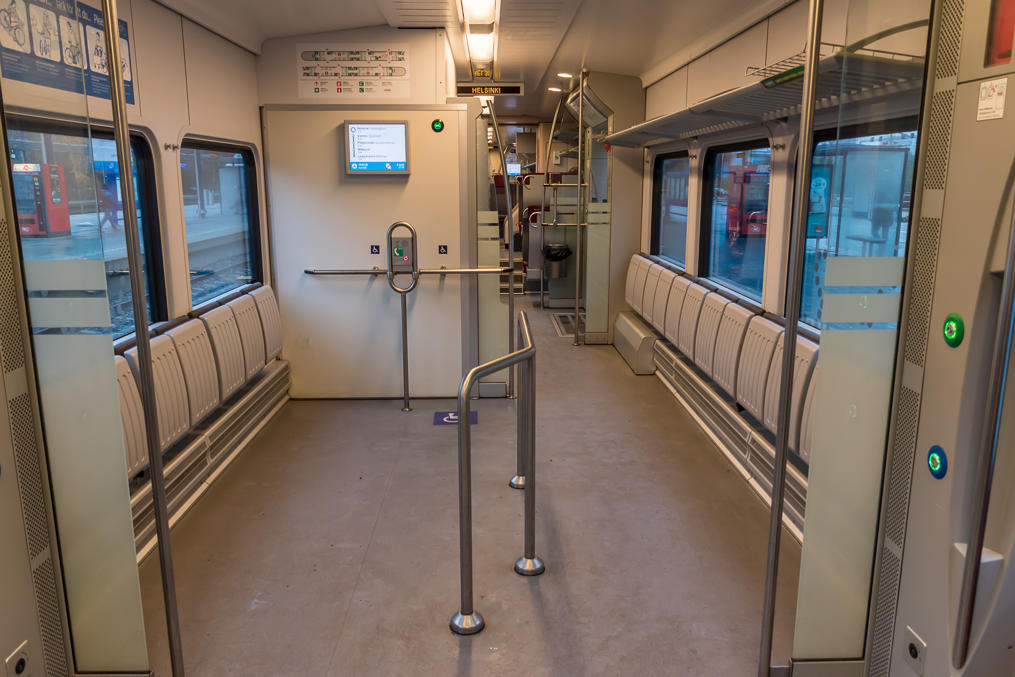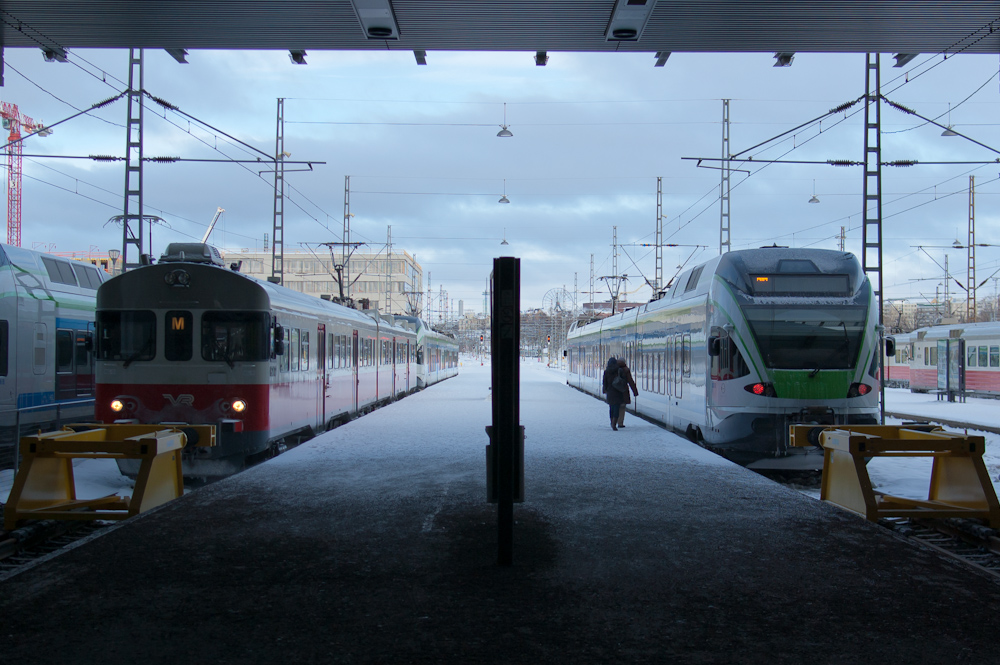 The only type of trains currently used is Stadler FLIRT, an electric multiple unit train from Switzerland, widely used around the world in almost 20 countries. The train is designated as Sm5 in Finland. A single Sm5 section consists of four cars, with free passage through all of them. Up to three Sm5 sections can be attached together in a single train. This provides great flexibility; trains can be split in two or joined into one at Helsinki central station, as necessary for traffic throughout the day. Trains are partially low-floor, with the middle section particularly suitable for wheelchairs, prams and bikes. There is also a toilet in the middle of the train. Doors are opened at stations on demand with buttons, from inside or outside. Apart from the indication of the next and end station at the ceiling, common also for other modes of transport, trains are equipped with displays showing several more following stations, current time, temperature and speed. Train top speed is 120 km/h, although stations are spaced close enough that it might not be able to reach that speed on all stretches.
Trains are stored and maintained in the huge Ilmala depot, close to Pasila station. A separate joint municipal-owned company, Pääkaupunkiseutu Junakalusto Oy, is responsible for that. Trains are however operated by VR (Finnish State Railways), and tracks are built and maintained by the state, as is true for nearly all trains and railroads in the country. The overall amount of Sm5 sections in use is 81, of which 69 are currently required for actual operations and the rest can be in maintenance etc. They were delivered between 2008 and 2017. Some trains use earlier green-blue-dark gray-white color scheme and some newer violet-dark gray-white one; the color scheme does not mean anything and differently painted sections may be combined into one train. Violet is used as the official color for commuter trains on schemes.
Station infrastructure varies greatly, with Helsinki central and Pasila stations being by far the biggest. Kilo station on Coast Railroad, from which I go to work every day, is an example of a small station; it only has two platforms, displays with information about the next train, a ticket machine, a snack machine, a few shelters, and a few free 24h-limited park-and-ride parking lots nearby. Some stations, like Leppävaara or Tikkurila have large bus terminals adjoining. Park-and-ride facilities exist at nearly all stations, although their size may vary. In Espoo direction (Coast Railroad), the Kauniainen station has the most crowded parking lot because it's the last station within the B zone, and thus it's possible to travel from there to the center cheaper. With other stations it is usually possible to find free spaces.
There are currently 8 train routes in HSL area, designated by letters; all of them start at Helsinki railway station.
A: Helsinki-Leppävaara, to eastern Espoo, along the Coast Railroad. 10-30 min interval on weekdays (10 min in rush hours, 30 min in the evening), hours 06-23, stops at all stations. 30 min interval on weekends. 11 km long route, takes about 17 min. Always a single Sm5 section
E: Helsinki-Kauklahti, through all Espoo, along the Coast Railroad. 30 min interval on all days, hours 06-22 on weekdays, skips a few stations before Leppävaara. 24 km long route, takes about 29 min. 1-3 Sm5 sections as needed
U: Helsinki-Kirkkonummi, through all Espoo and beyond it, along the Coast Railroad. 30 min interval on all days, hours 06-23 on weekdays, skips a few stations before Leppävaara. 38 km long route, takes about 41 min. 1-3 Sm5 sections as needed. Between Kauklahti and Leppävaara E+U trains in practice operate with about 15 min interval between each other (E, U, E, U...), thus at most stations in Espoo you would need to wait at most 15 min for a train to Helsinki
L: Helsinki-Kirkkonummi, used for some morning and evening routes, stops at all stations including those before Leppävaara, unlike E/U. 1-2 Sm5 sections as needed
Y: Helsinki-Siuntio, past Espoo and Kirkkonummi along the Coast Railroad. Only a few trains per days, only on weekdays, stops only at a few biggest stations. 51 km, about 45 min. 1 Sm5 section. Siuntio is a very small town/village and the train does not make especially much sense (it used to have a longer route, to Inkoo and Karjaa), but has been always strongly supported by the locals. Siuntio joined HSL area specifically to have a say in HSL route planning and thus to secure this train from being cancelled
I and P: Helsinki-Airport-Helsinki, along the Ring Railroad. P goes clockwise and I counterclockwise. 10-30 min interval on weekdays, 15-30 min on weekends. Hours about 04:30-01:30. Stops at all stations. Entire route takes about an hour, and a trip to the airport takes about half an hour on any of the trains (slightly faster on I). 1-2 Sm5 sections as needed
K: Helsinki-Kerava, along the Main Railroad. 15-60 min interval, hours 05-01. Stops at all stations. 29 km, about 34 min. 1-2 Sm5 sections as needed. Between Helsinki and Hiekkaharju in practice K+I/P trains operate with 5 min interval between each other (K, I/P, K, I/P...; on weekdays between 7-19).
In practice this means that especially for Helsinki, Espoo and Vantaa inhabitants along the Main and the Coast Railroad it is usually possible to just walk to the station and wait for the next train without consulting the timetable; the intervals may be around 5-15 min. The situation with five routes (A/E/U/L/Y) along the Coast Railroad is of course somewhat confusing; those would probably be simplified when Espoo City Railroad will be finished.
About 195,000 trips are made on commuter trains daily, as of 2016.
Since 2021 HSL is planning to operate commuter trains on a competitive basis. It carried out a tendering process; 7 companies applied, including existing VR, Swedish state railways SJ, and private companies, three of them also from Sweden. The winner, to be announced in 2020, would operate the same Sm5 train fleet, so from the point of view of the customer there shouldn't be any major changes. This is why a special company (Pääkaupunkiseutu Junakalusto Oy) was created to own the train fleet in first place; so that the operator can lease existing trains from it.
Metro

The single Helsinki metro line currently goes in west-east direction, from Matinkylä in Espoo, through Helsinki center, to Mellunmäki and Vuosaari in eastern Helsinki. The single line has a split in the east at Itäkeskus station, and Mellunmäki and Vuosaari are on different forks of the split. Thus the metro currently operates two routes: Matinkylä-Vuosaari and Tapiola-Mellunmäki. Every other train goes to Vuosaari and every other to Mellunmäki. Between Tapiola and Itäkeskus you can always just take the next train, as the routes would be the same.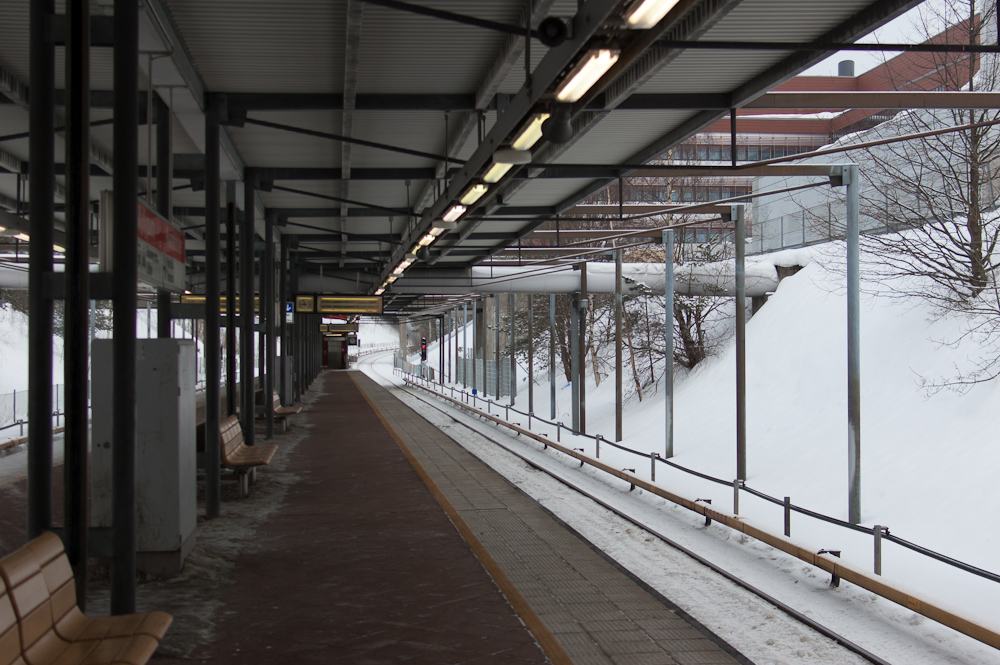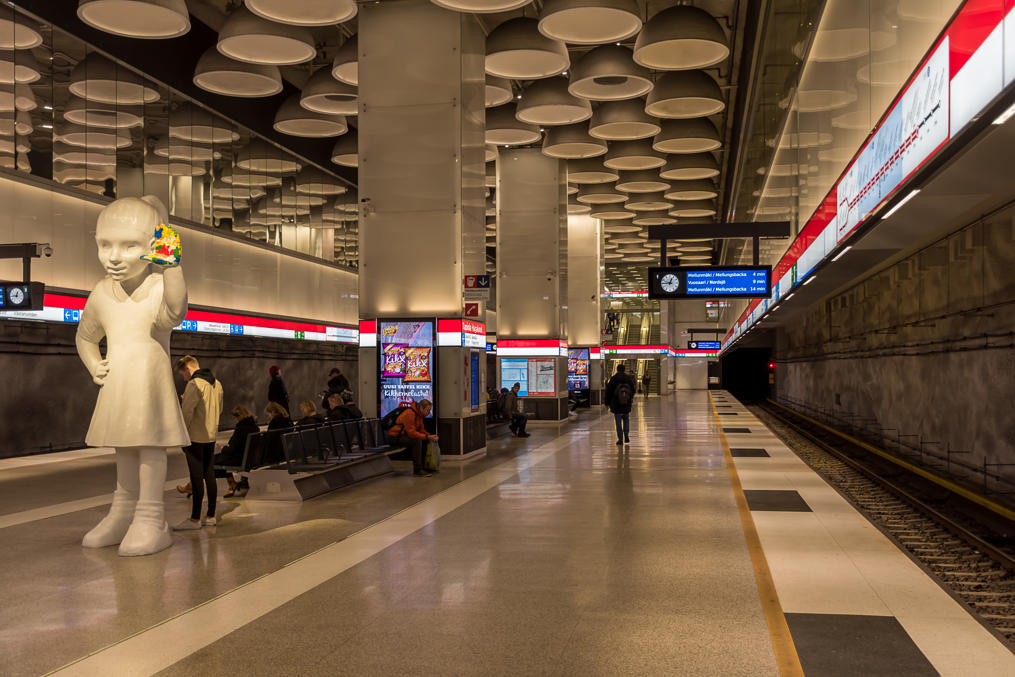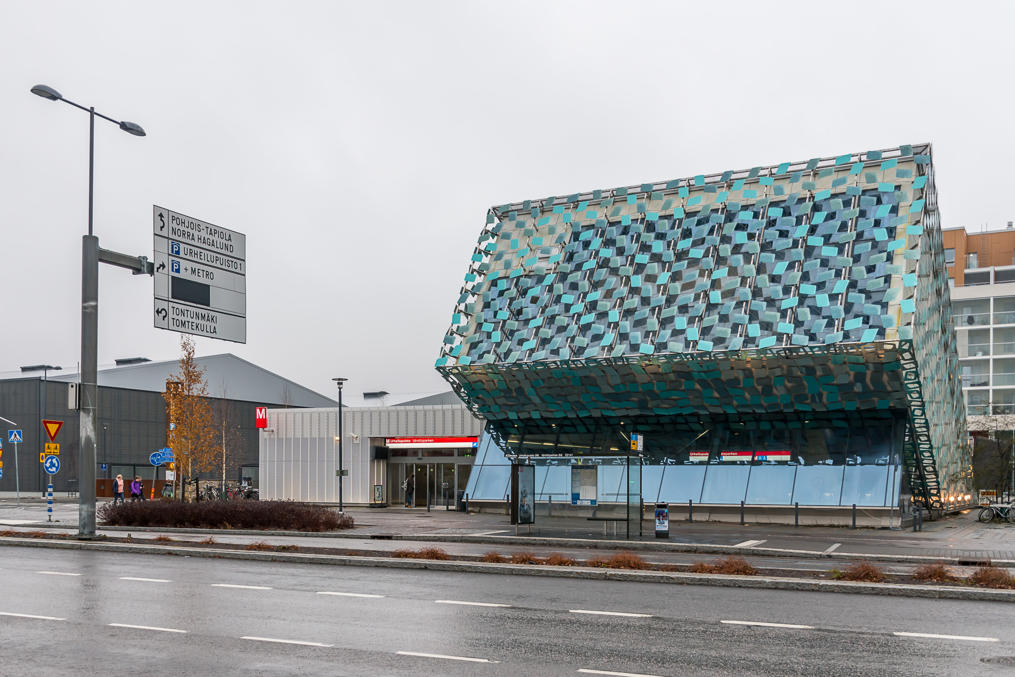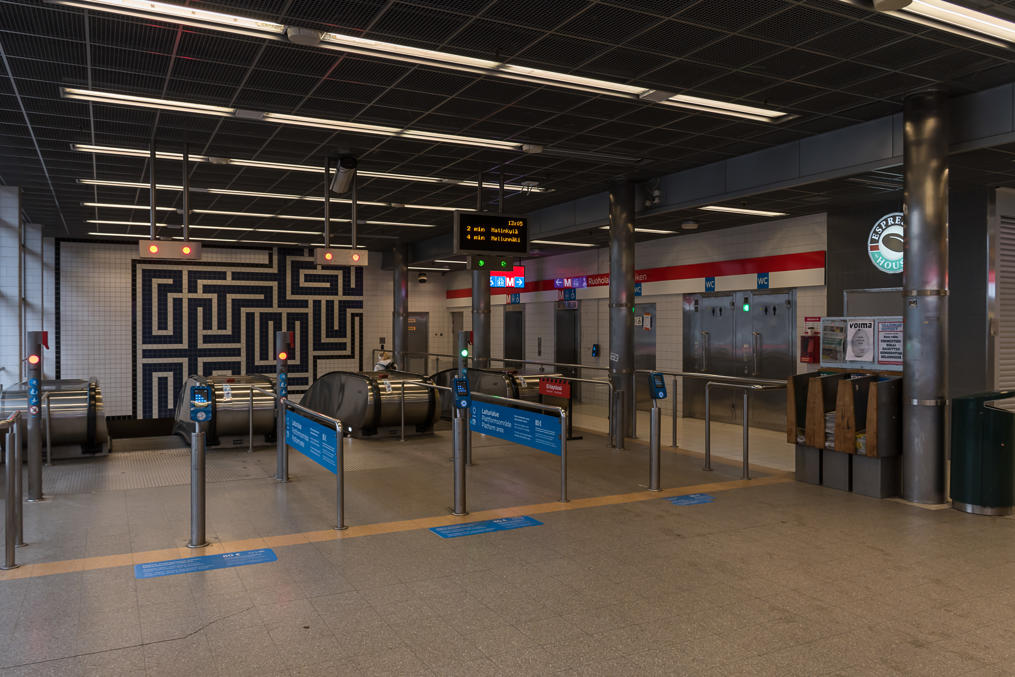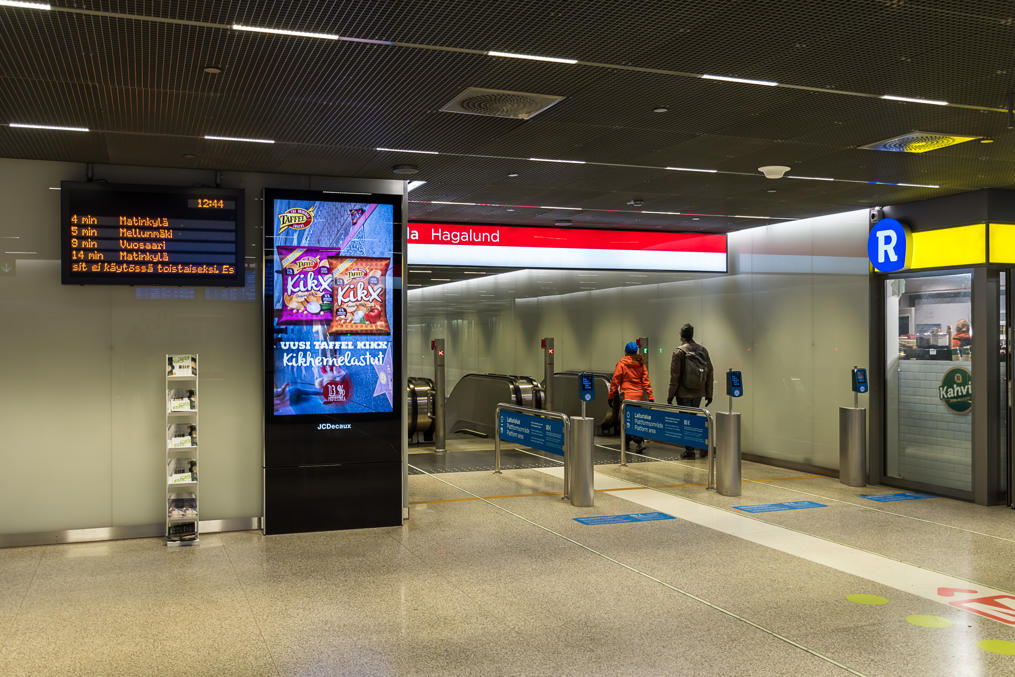 The metro originally was built only in Helsinki area (launched in 1982 with a few gradual extensions), ending at Ruoholahti in the west, in walking distance from Helsinki center. The western extension project to Espoo (Western Metro, Länsimetro) was under construction in 2009-2017, opening after significant delays and adding 8 new stations and 14 km of track. The second phase of the extension, to Kivenlahti, with 5 more stations, 7 km of track, and a new depot is still under construction, to be opened in 2023. Overall there are currently 25 stations and 35 km of track.
East of Helsinki center metro mostly runs above the ground. The extension in Espoo however has been built completely underground; even though most of Espoo is not built up very densely, it still would have been more difficult and expensive to put metro alignment above ground these days. Underground stations are at 20-30 m depth in Helsinki center, somewhat more in Espoo in places (data is surprisingly difficult to find). Tunnels go as deep as 57 m.
Stations mostly have rather utilitarian look, not as fancy as some Stockholm stations and nowhere near as fancy as in Russian metro systems. Stations of the new metro extension look nicer, although they all are pretty much just variations of the same design.
In the center Rautatieasema station has a direct exit to the Helsinki central railway station, and Kamppi station has a direct exit to the bus terminal in Kamppi. There is actually a walkable network of tunnels and passages through shopping centers in the center, so it is possible to walk from Rautatieasema to Kamppi station completely indoors (through tunnels and Forum shopping center) if you so desire. Outside center, Tapiola, Matinkylä and Itäkeskus stations have bus terminals nearby. Outside of the center metro stations mostly have park-and-ride parking lots.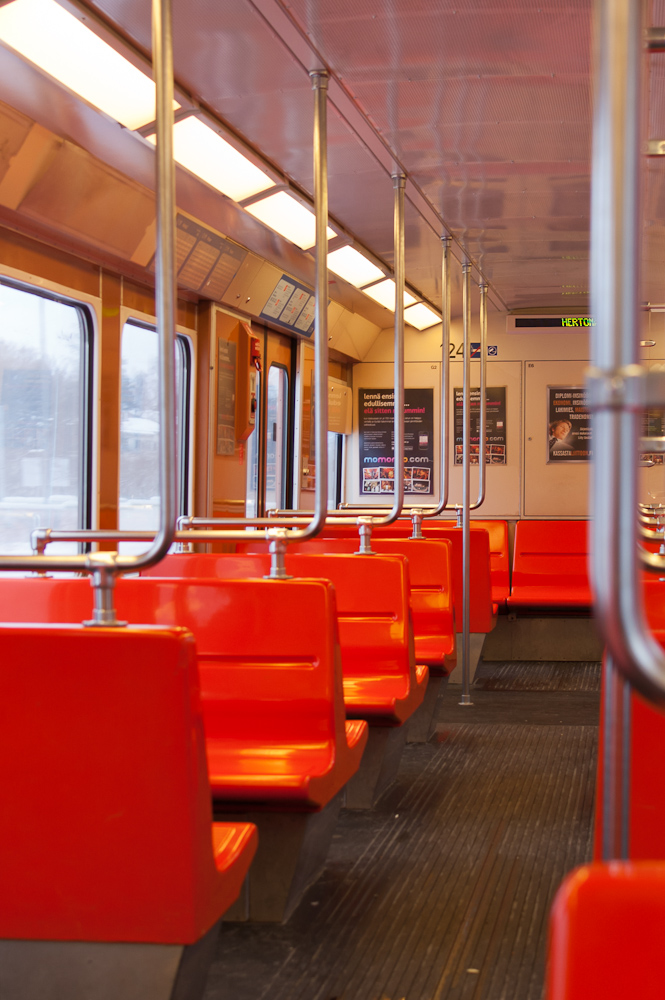 Three generations of metro trains are used: M100 (1977-1984, built by Valmet in Tampere, Finland, 42 pcs.), M200 (2000-2001, built by Alstom in Germany, 12 pcs.) and M300 (2014-2016, built by CAF in Spain, 20 pcs.). M300's consist of 4 cars (with a free passage through), thus they are twice longer than M100/M200 which both consist of 2 cars and are in practice used in pairs. All three generations roughly share their appearance, with a bright orange color and same seating scheme. M100's of course look and feel noticeably dated, but not terribly so; they were renovated in the 2000s. The only depot in use is located in Roihuvuori, close to Itäkeskus station in eastern Helsinki. The second depot is under construcation at Sammalvuori near Kivenlahti in Espoo.
At rush hours intervals are 2.5 min between Tapiola and Itäkeskus, and 5 min outside these stations, so of course noticeably more often than commuter trains. At worst (evenings, Sundays) intervals are 5 min and 10 min correspondingly, except before 7 in the morning and after 23 in the evening, when intervals get fairly sparse. Trains run at 80 km/h top speed, and the entire route between Matinkylä and Vuosaari takes 39 min. Metro trains, unlike commuter trains and trams, always open and close all doors automatically at every station.
Metro is operated and maintained entirely by HKL, Helsinki municipal public transport service. About 287,000 trips are made on metro daily, as of 2018.
Trams
As mentioned in the previous part, trams (in Finnish raitiovaunu, but more colloquially known as ratikka) form the backbone of the public transport in the Helsinki inner city, all the way since 1891. Currently they don't extend anywhere from the inner city. Although there are plans to extension to the nearest areas of eastern Helsinki (Crown Bridges), the Raide-Jokeri light rail will not have any connections to the existing tram system, and will use different rolling stock.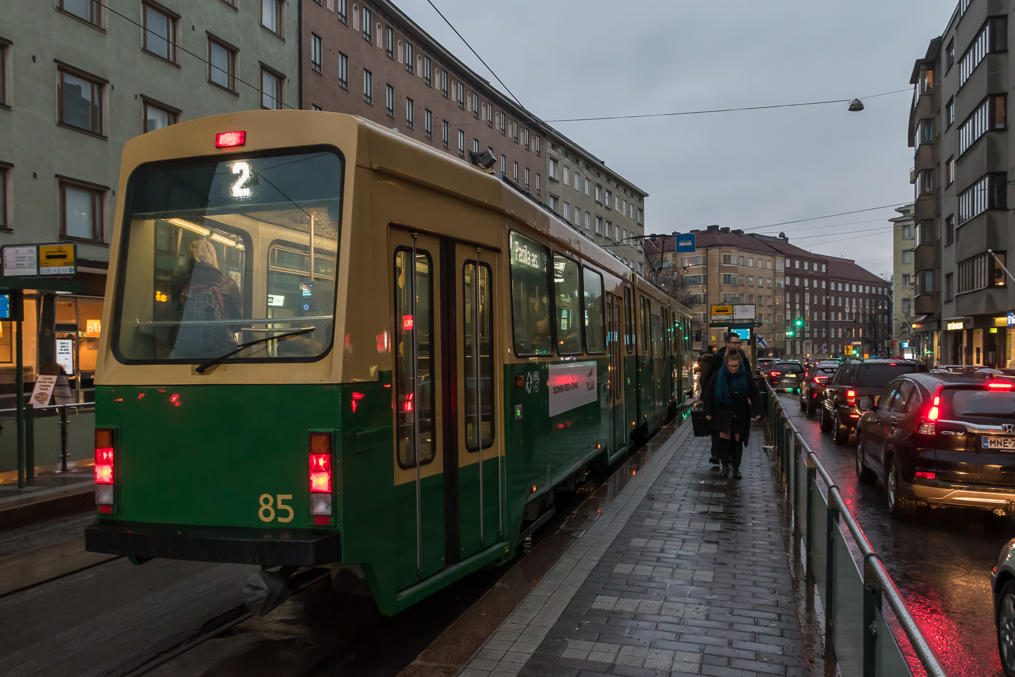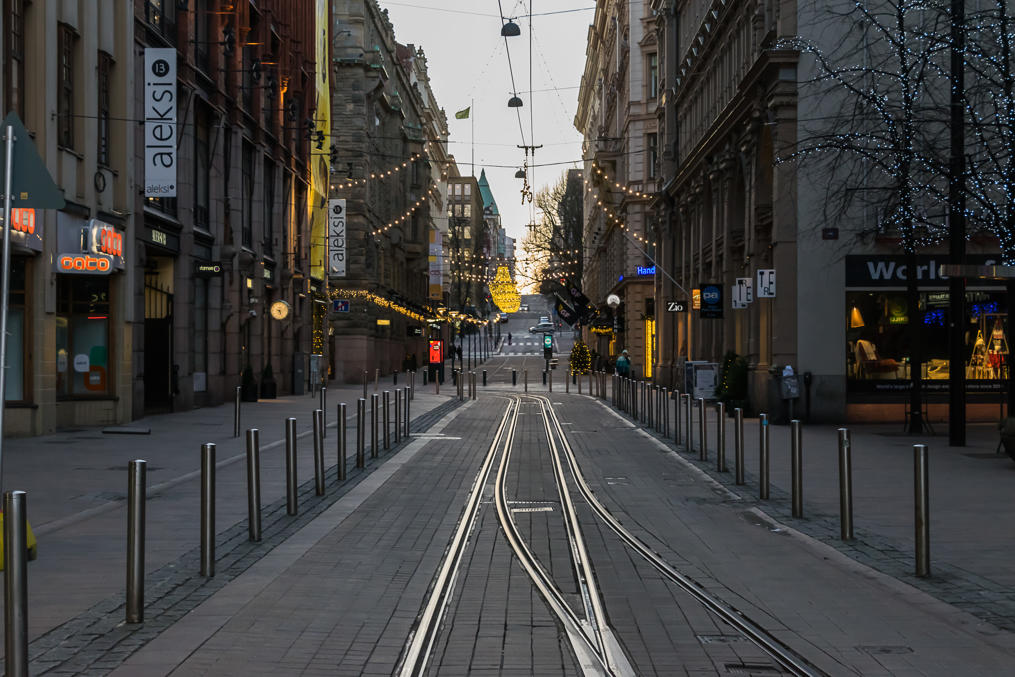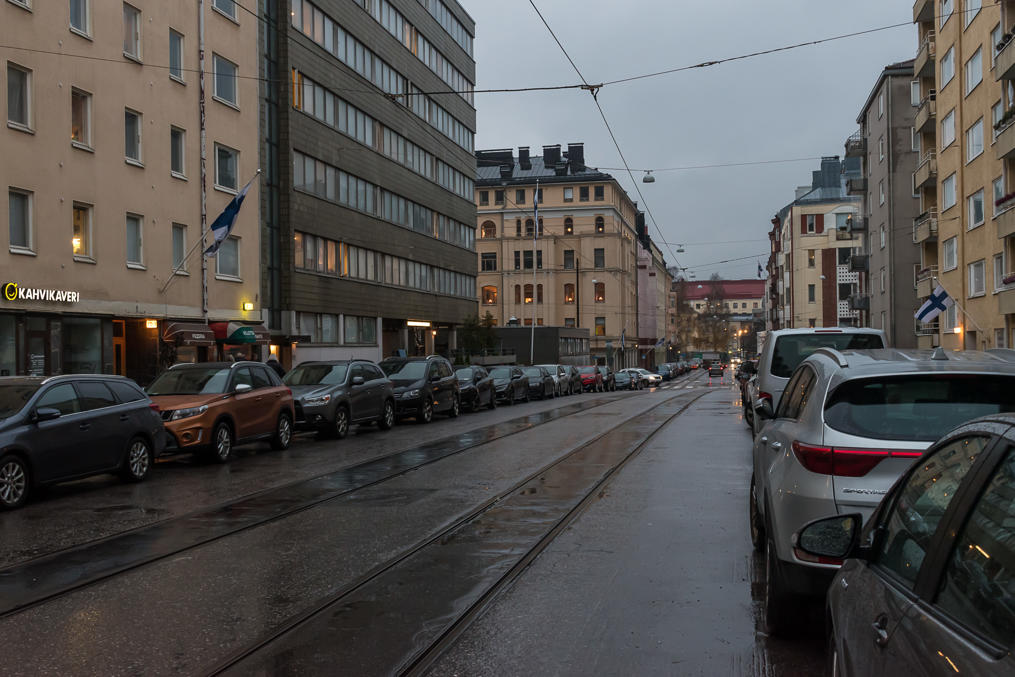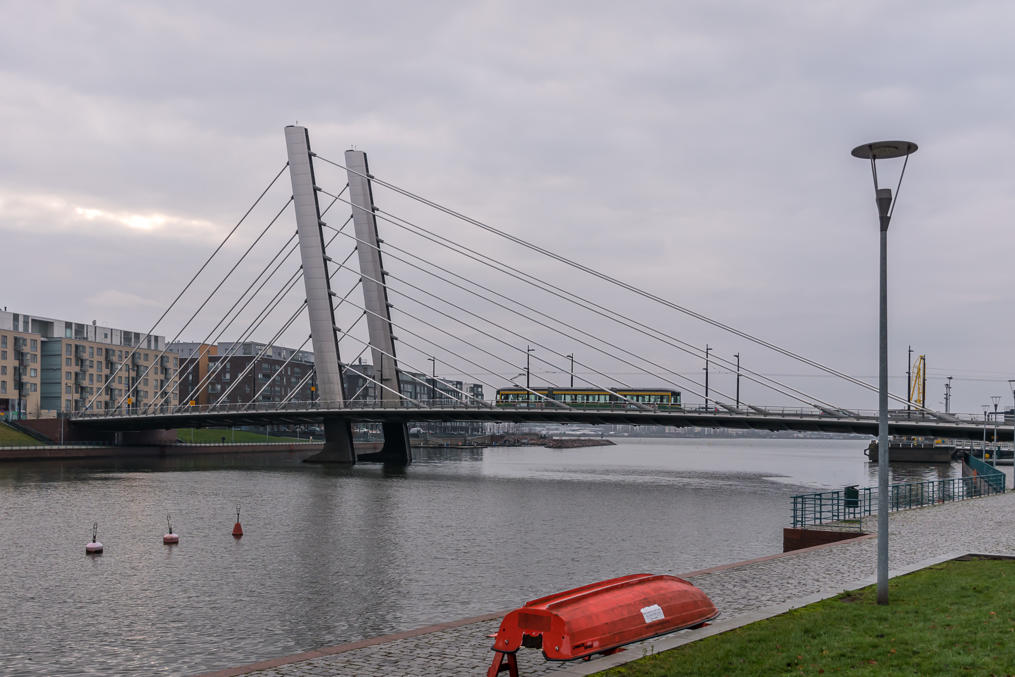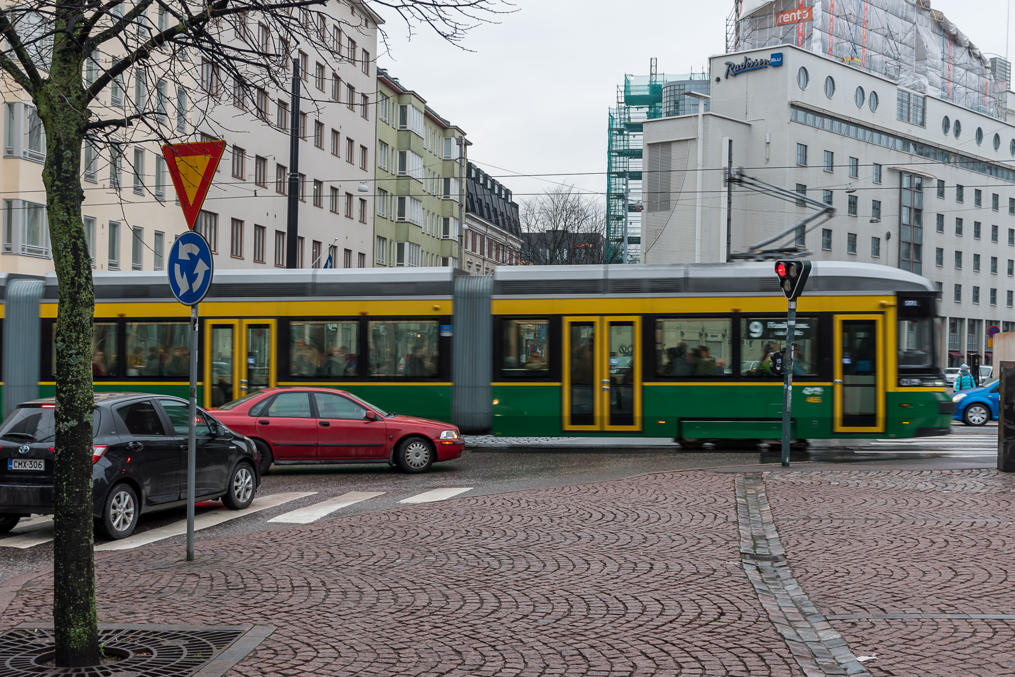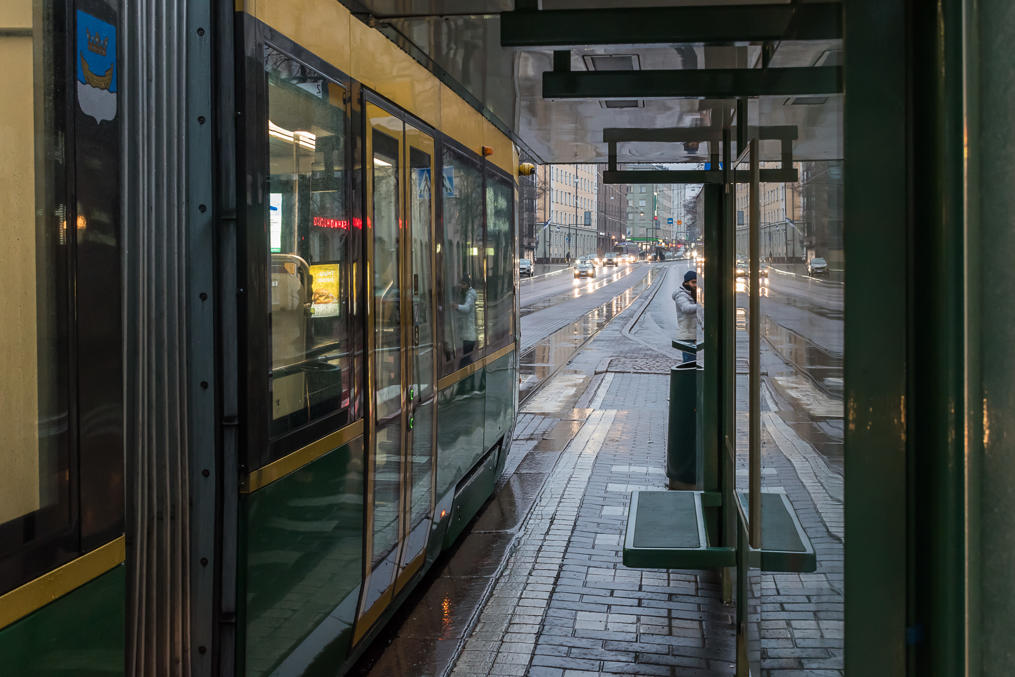 Inner city has a rather dense tram network, operating both on major streets and in rather narrow lanes. What is probably the main street of Helsinki, Aleksanterinkatu, only has trams and occasional taxis allowed on it. Trams are isolated from car lanes as much as possible, and they usually have priority at intersections, as is normal for traffic rules everywhere in the world; sometimes there are also special traffic lights stopping other traffic while the tram is passing. Nonetheless the arrangement is not perfect and trams can in principle get stuck in traffic, although Helsinki usually doesn't have major traffic jams.
Compared to some cities, Helsinki trams are rather narrow, using 1000 mm gauge. Currenly all trams in use are double-articulated ones, allowing them to fit into narrow intersections nicely despite significant length. They are also all partially low-floor, helping with accessibility. There are 10 routes (one of them in two variants), ranging from 10 to 31 stops and from 8 min to 43 min travel time. The route network does not have a central point or station as such, although central streets carry several routes at once, and the stop in front of the central railway station is particularly busy.
Like buses, trams should generally be signalled with a hand, when you are at a stop and want the tram to stop, or with one of the STOP buttons inside, when you are on a tram and want it to stop at the next stop. Like in trains, tram doors are also opened with buttons. Trams can be entered and exited through any door. Internal displays show the next stop, which is also announced aloud.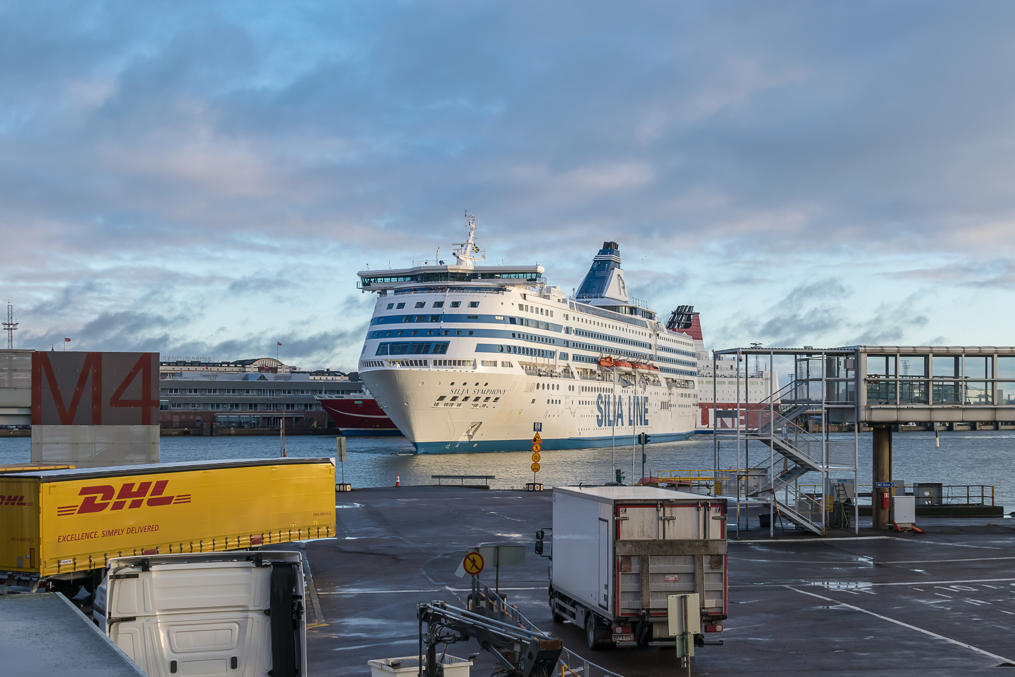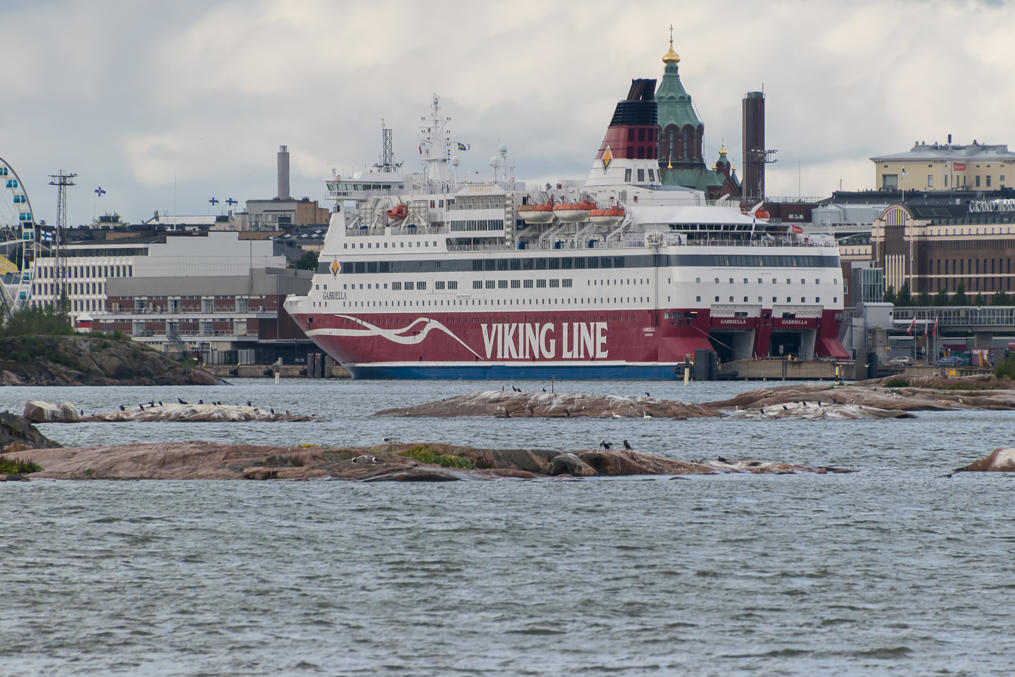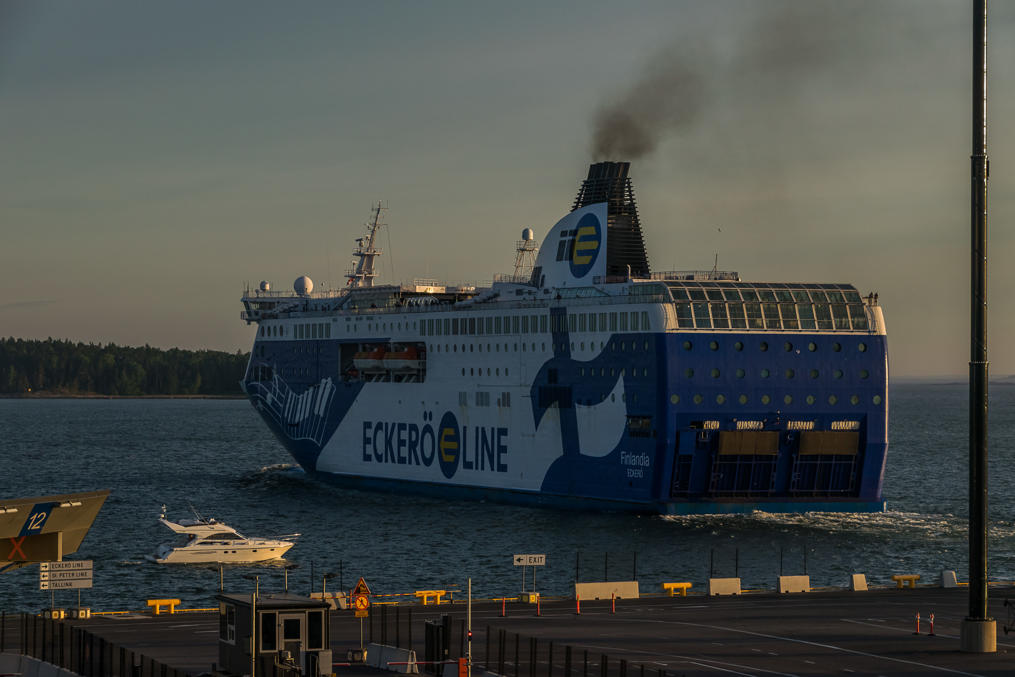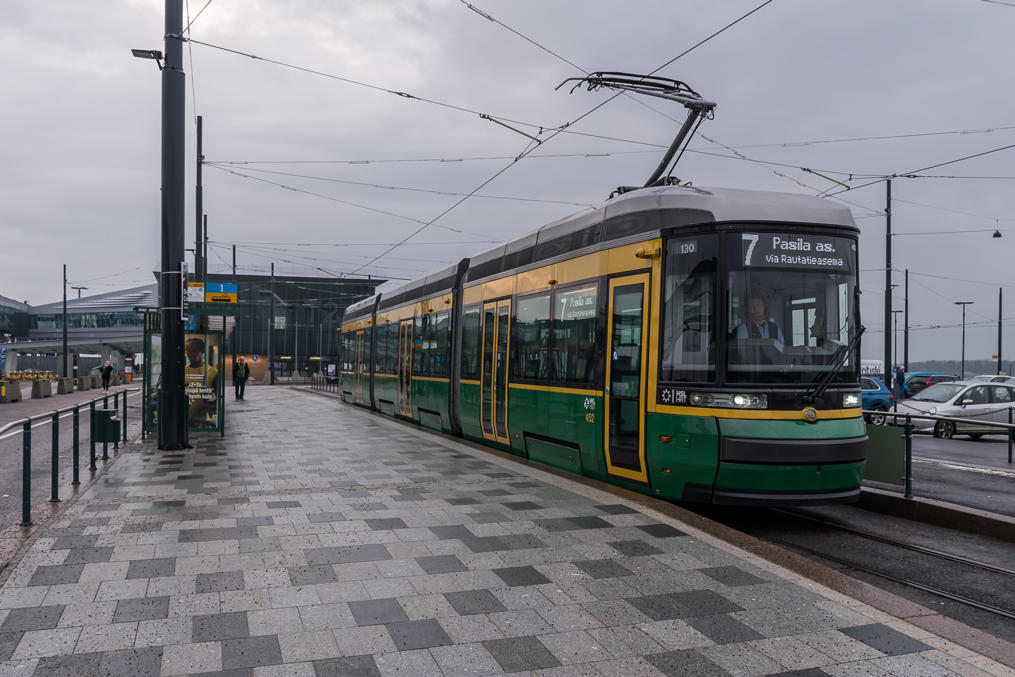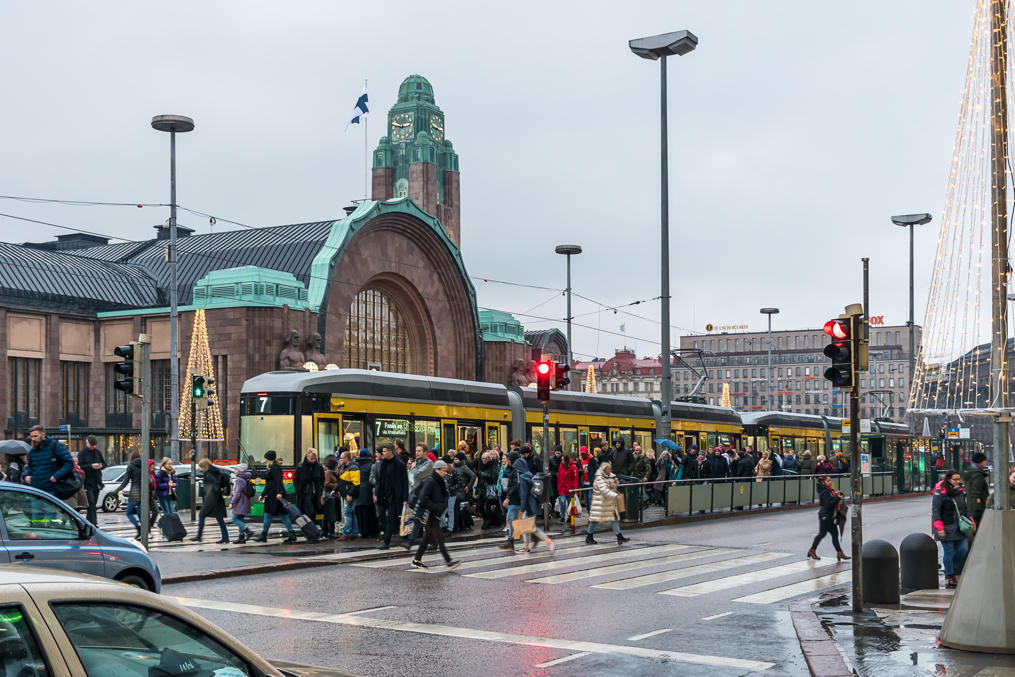 Trams are also the principal public transport connection to all international passenger harbors in Helsinki center (Katajanokka and Olympia Terminal in South Harbor (Eteläsatama), and West Terminals in the West Harbor (Länsisatama)). Although all cargo operations were moved from the inner city to the new Vuosaari harbor in the eastern outskirts of the city, the famous cruiseferries to Tallinn, Stockholm and Mariehamn still all depart from the inner city. This is convenient for transit from local and long-distance public transport, although trams get really crowded especially when ferries arrive (and the street network gets similarly congested with disembarked cars).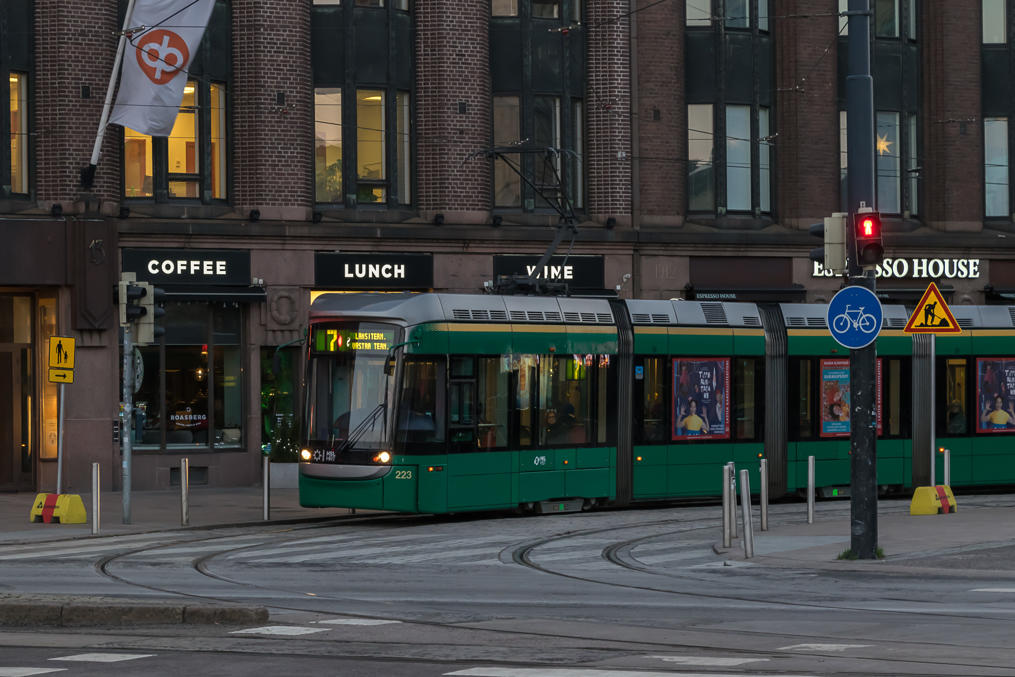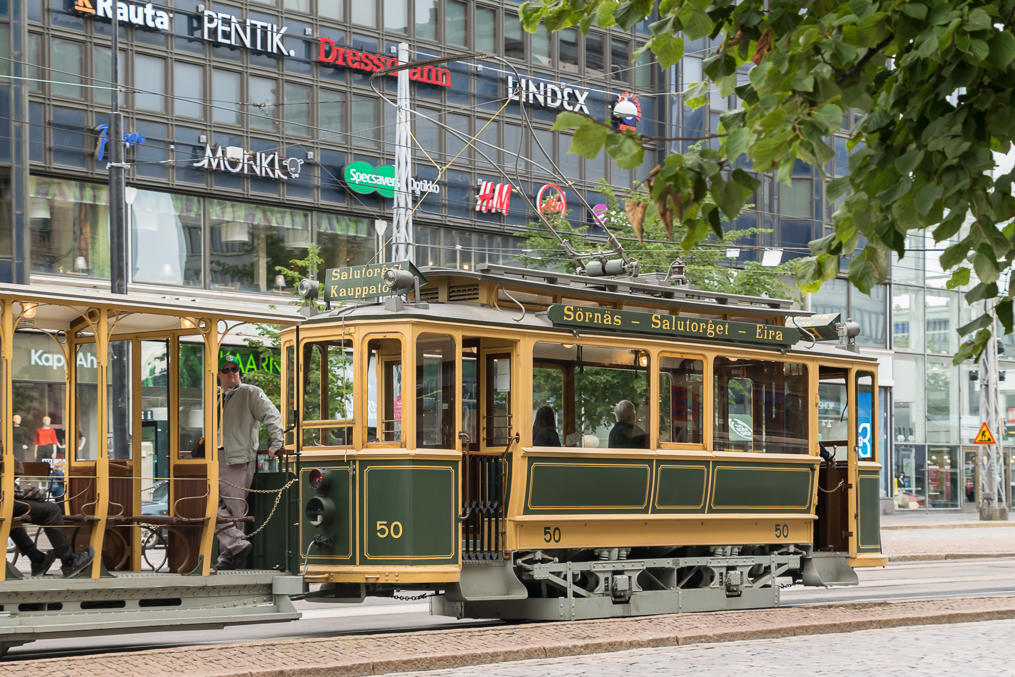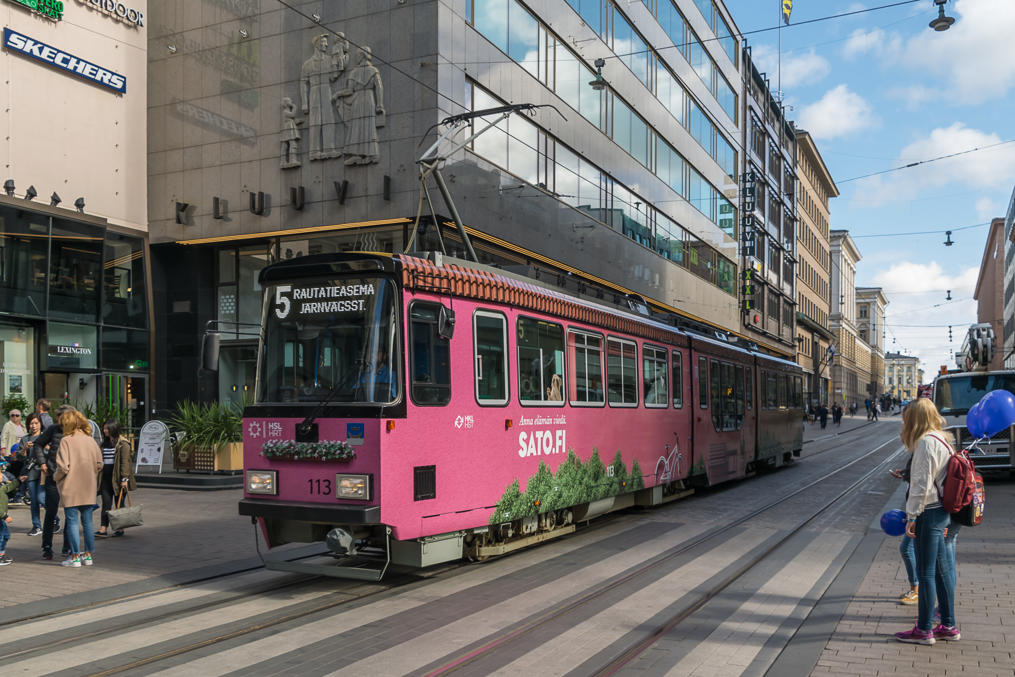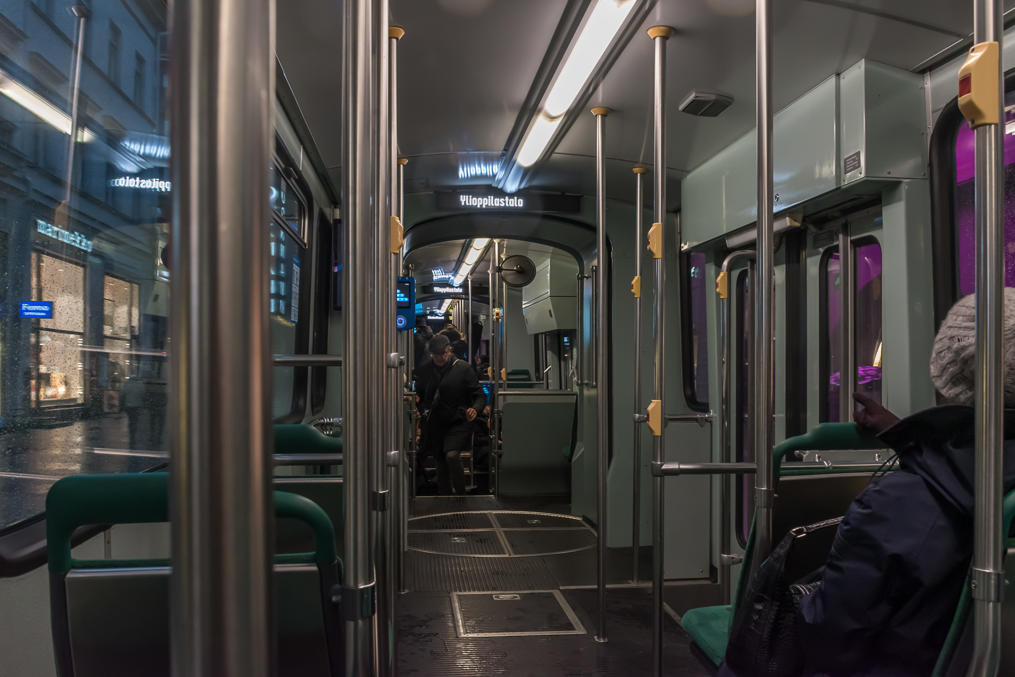 The tram models currently in regular operation are the old Valmet NrII (1983-1987, refurbished in 2000s, 42 pcs.) and the new Škoda Transtech Artic (2013-2019, 90 pcs. ordered, last ones are still being delivered). Also ten of the older Valmet NrI trams (1973-1975) were refurbished and are also in use, virtually indistinguishable from NrII. The NrI and NrII models in operation were all fitted with a middle low-floor section, and Artics are partially low-floor to begin with. All currently operated trans are Finnish-made (Artics are built at the Transtech plant near Kajaani, currently owned by Škoda, that also builds passenger cars for Finnish long-distance trains). Variotram series from German Adtranz/Bombardier was in use in 1998-2018, but was found to be not a very well suited model for Helsinki conditions; with arrivals of more Artics, all Variotrams were retired. Bombardier paid compensation for shorter period of use than expected, and HKL is looking for buyers of the Variotram fleet (40 pcs.), likely back in Germany.
Some older tram models can be seen in the tram museum at the Töölö depot. "Spårakoff" bar tram (modified Karia HM V from 1959) in summer circulates around the city. There are three depots, at Töölö, Vallila and Koskela.
Like metro, trams are operated and maintained by HKL, Helsinki municipal public transport service. About 170,000 trips are made on trams daily, as of 2018.
Buses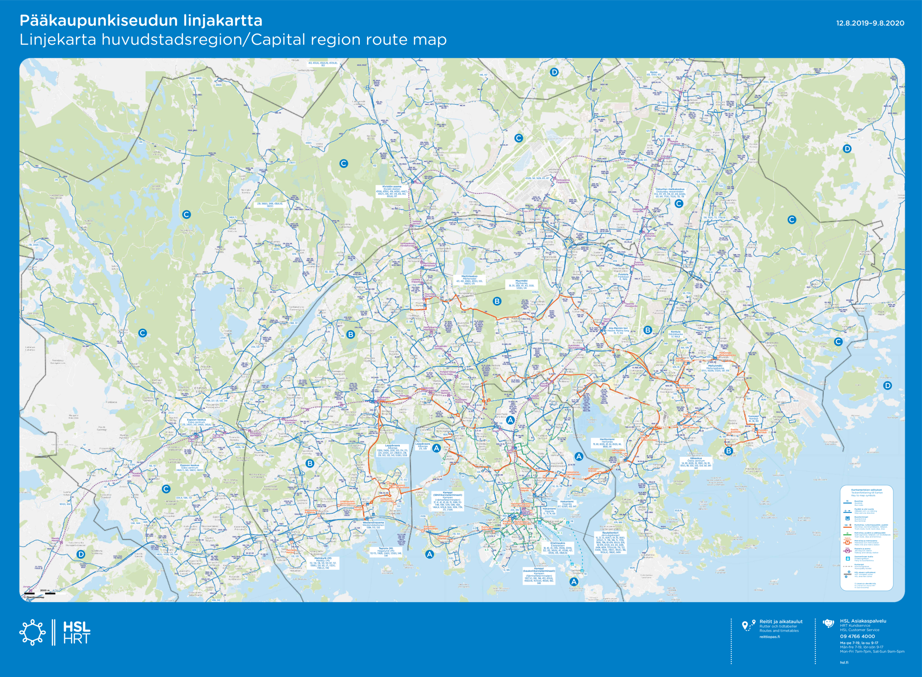 Buses form the bulk of Helsinki area public transport, filling up all places where trains, metro and trams cannot go. As of 2017, HSL operated 290 bus routes in total, using 1457 buses, and making 21352 trips every working day.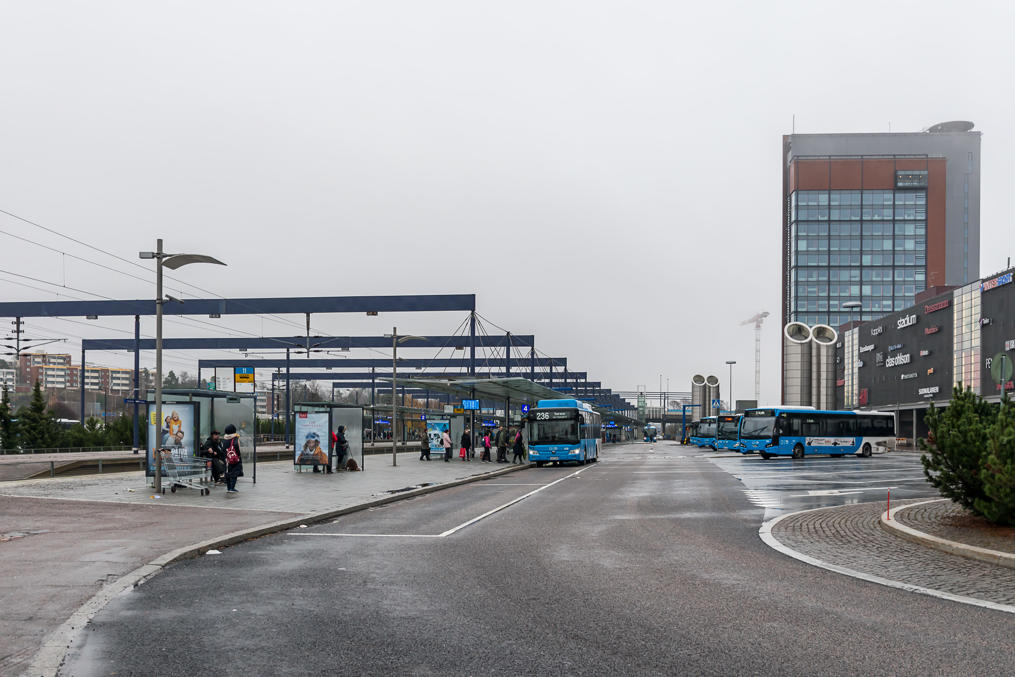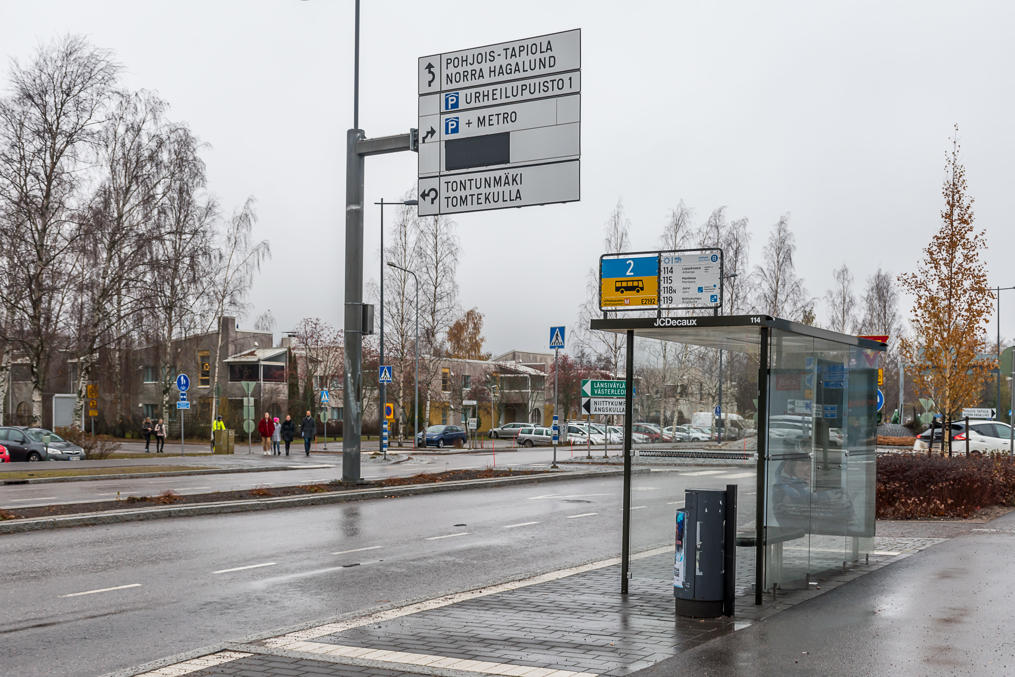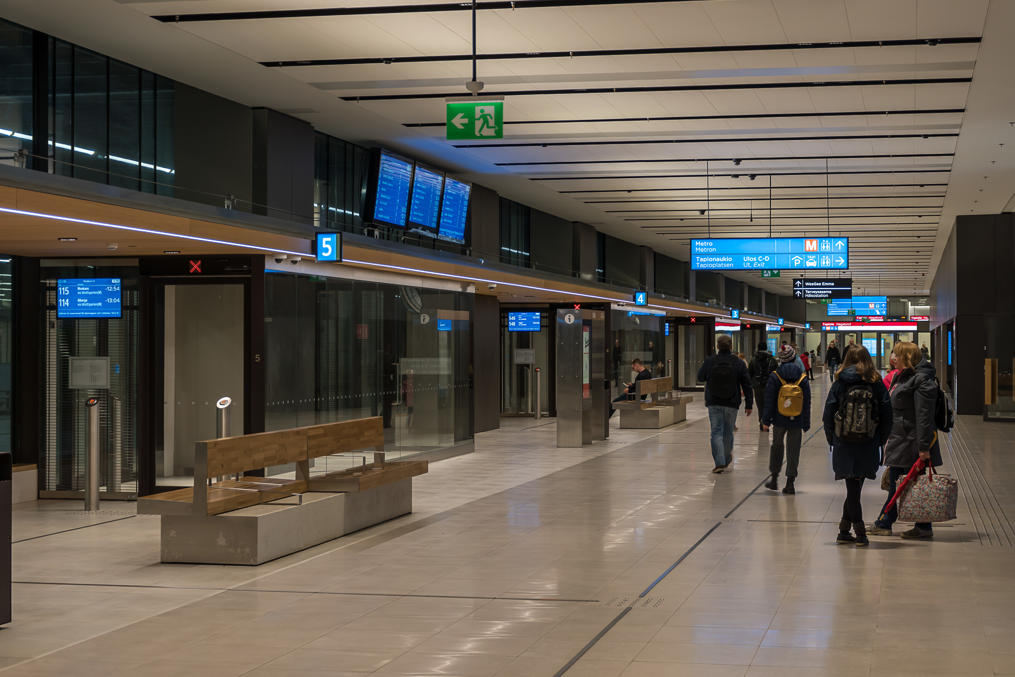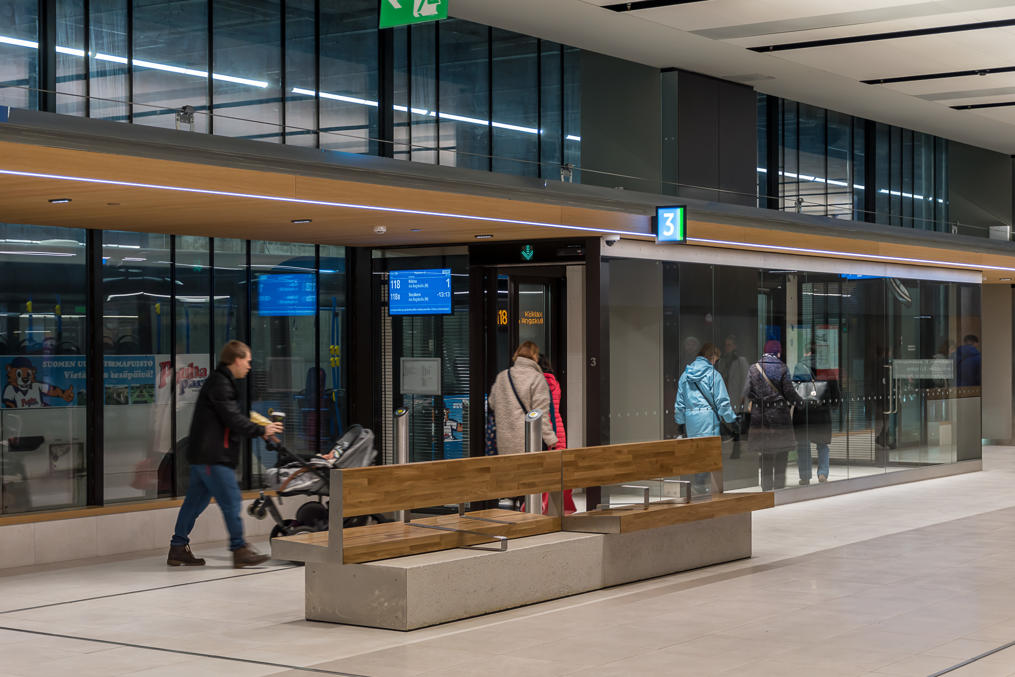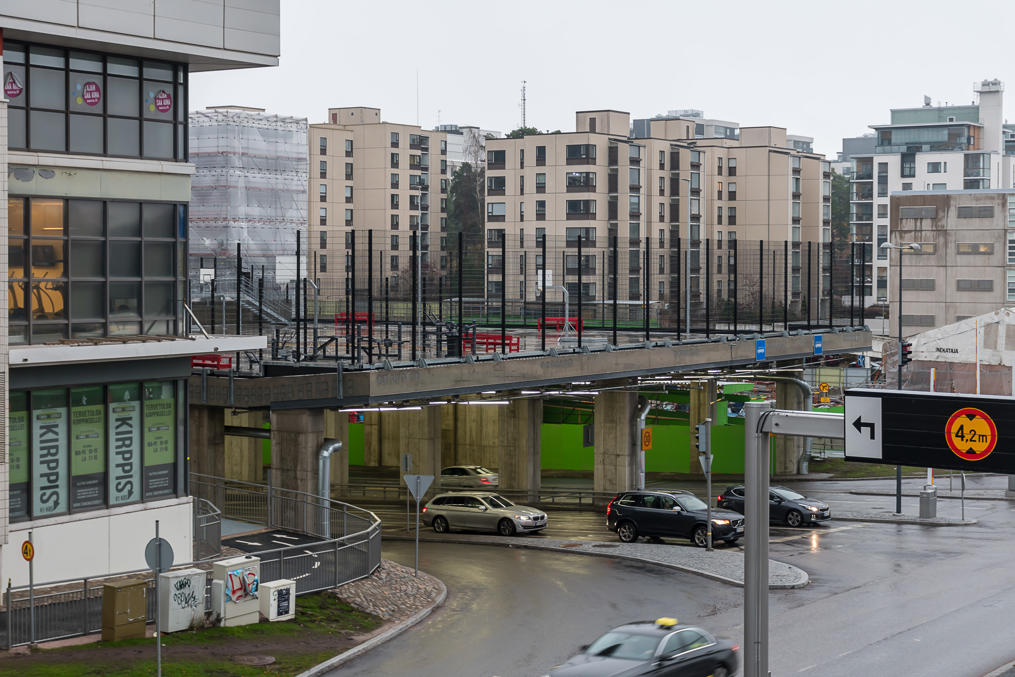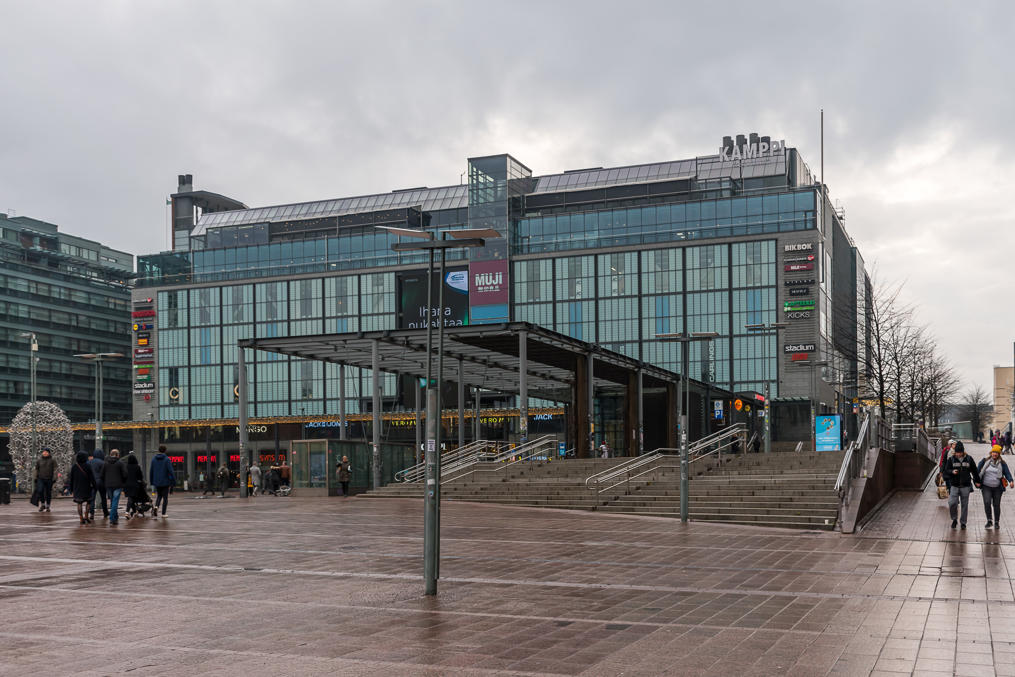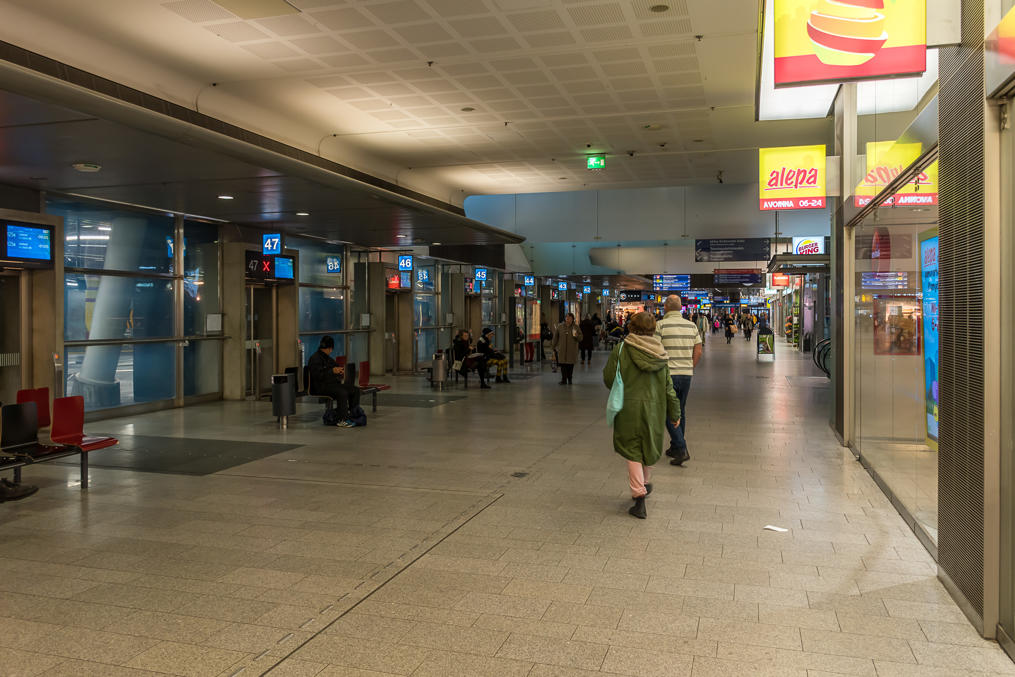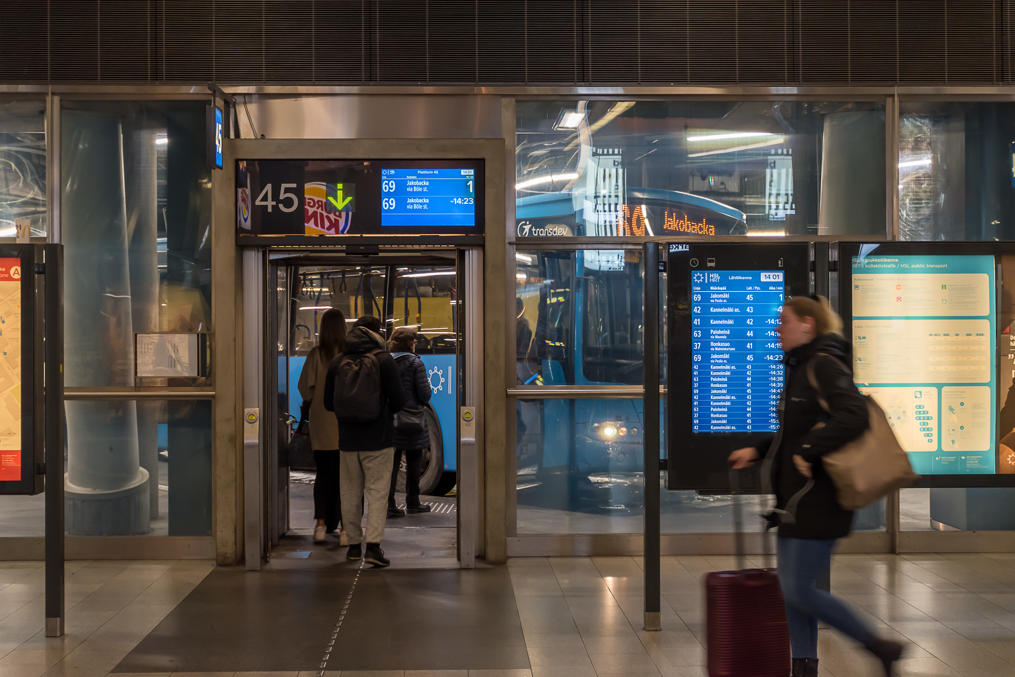 Bus network is mostly based around bus terminals, which are themselves located near train or metro stations. Most routes begin at such a terminal or connect two terminals. HSL tends to avoid operating overly long bus routes, unless absolutely necessary.
Bus route number indicates the area where it operates. Two-digits numbers (the lowest one is 14 at the moment) operate within Helsinki. 1xx, 2xx, 3xx, 4xx, 6xx, 7xx and 8xx serve areas in "sectors" around Helsinki, e. g. 1xx is for Espoo along Western Highway (Länsiväylä), and 4xx is for Vantaa along Hämeenlinna Highway (Hämeenlinnanväylä). 5xx is for crosswise routes and 9xx is for internal routes of commuter towns such as Kerava. Additional letters such as A, B, K, Z, V indicate an alternate route. N letter specifically means night buses.
Unlike other transport modes, all bus routes are subcontracted to private (as opposed to municipal or state-owned) companies. The most important of these are Helsingin Bussiliikenne, Nobina, Pohjolan Liikenne, Transdev (Pohjolan Liikenne is technically a subsidiary of VR, a state-owned company). As such, the bus fleet in use varies quite a lot. Most buses, apart from trunk lines, still have the recognizable blue and white appearance, although this is not a universal rule.
All stops on all buses, except terminuses, are made only on demand. You are supposed to signal a bus with a hand when it is approaching your stop if you want to board it, and press one of the "STOP" buttons inside a bus to ask the driver to stop at the next stop. All buses have internal displays showing next stop, so that it is not too difficult to navigate.
Buses, apart from trunk lines again, are meant to be entered through the front door, at which point you need either to show a ticket (a paper one or in app) to the bus driver, or put your HSL card against the reader. Bus drivers also sell single tickets for cash. Buses are the only mode of transport where this is still possible, although at a fairly steep price. Middle and rear doors are used for leaving the bus. Middle door also can be used to enter the bus with a baby pram, in which case the passage is free. All buses in use have low-floor front and middle sections, with space in the middle for prams and wheelchairs (the bus driver can help with the latter). All buses, except "neighborhood lines", use normal-sized vehicles, not articulated ones.
Neighborhood lines (lähibussit) are slow and circuitous minibus routes mostly meant for elderly and disabled people, with closer access to various services around the neighborhood, such as health stations, libraries, grocery stores or swimming pools. They operate only during the daytime on weekdays. There are in principle no restrictions on anyone using these buses, and the ticket system is the same.
Night buses provide service from about 01:30 to 04:00-05:30, at times when all other kinds of transport do not operate. These have more departures on weekend nights than on workdays. Night buses generally go all the way from Helsinki center to distant areas. They also do not have any special tariffs.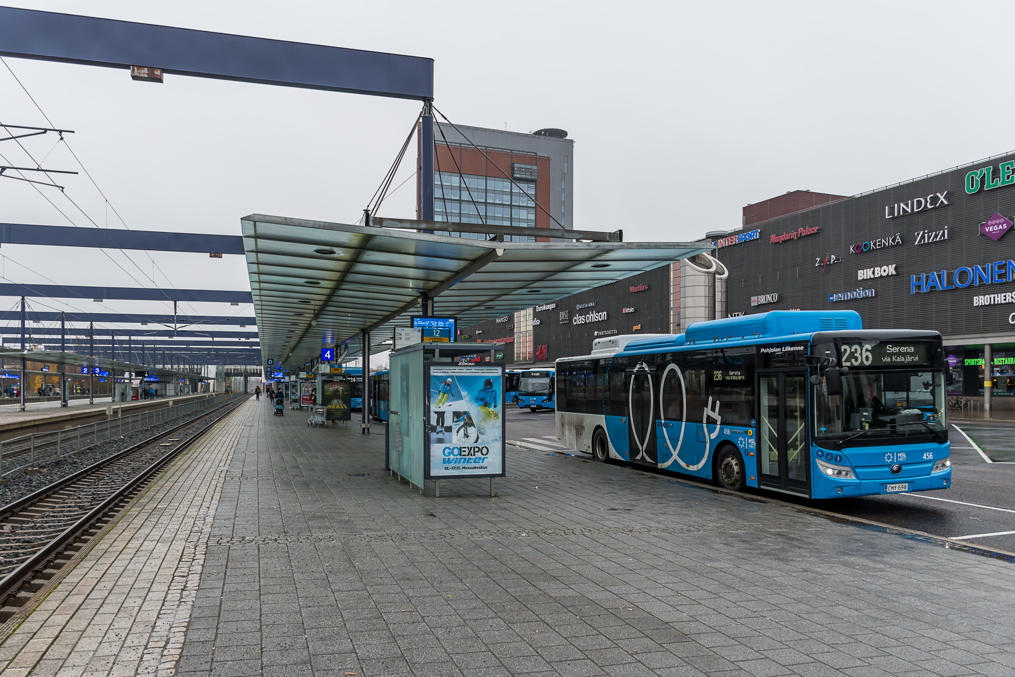 Electric buses have started to be introduced in certain areas, easily distinguished by the electric plug picture. They operate on regular bus routes (mostly in Leppävaara and Kerava at the moment) and are not special in any way in practice. First 12 buses came in 2015, and 30 more came in 2019. They are also operated by regular private bus companies, HSL just mandates electric buses on specific routes. HSL aims for 400 electric buses in total by 2025.
Bus passenger numbers for 2018 are 480,000 per day.
Trunk buses
Four bus routes (500, 510, 550 and 560) are currently designated as trunk routes (runkolinja). These get different treatment than regular buses, and are considered parts of the HSL trunk route network, along with commuter trains and metro. The first of these buses was route 550. It was introduced in 2003, but the concept of trunk buses only came in 2013. All of these routes provide crosswise connections, and their routes are large arcs around Helsinki.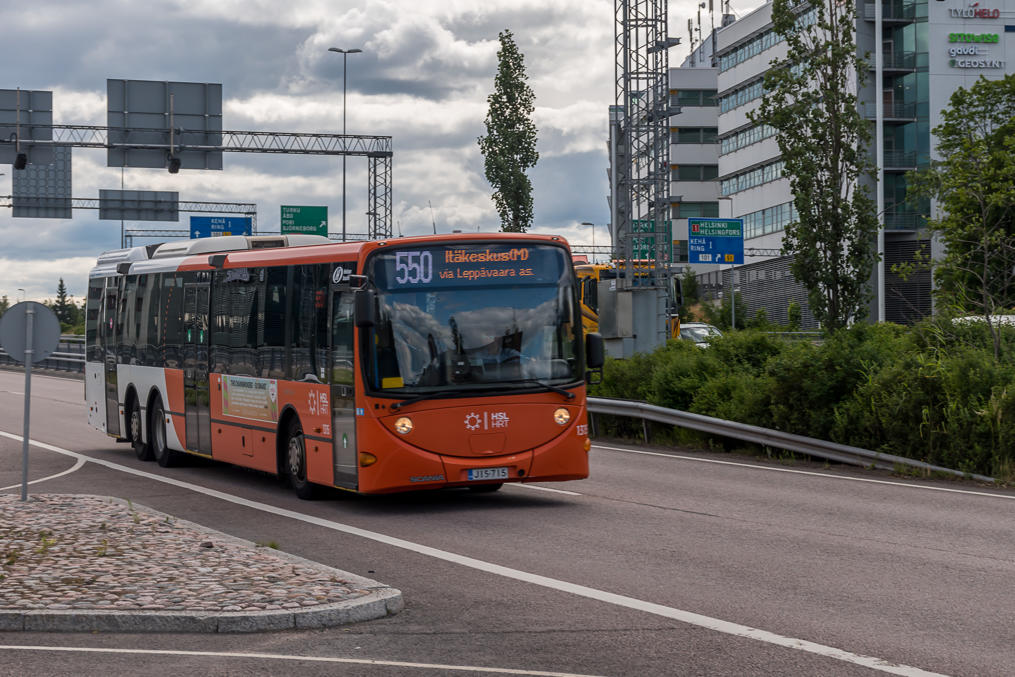 These buses use same vehicles as regular buses, apart from distinct orange-white color. However they can be entered and left through any door, like a tram, and you don't need to show your ticket to the driver (nor can you buy one from them). You still need to signal the bus to stop in a regular way.
The obvious difference of these routes are tight intervals. Bus 550 for example operates from 4:30 to 2:00, with 5 min intervals in rush hours. However they also have some special arrangements giving them more priority than other traffic, including tram-like traffic lights and entire special reserved roads. Bus 550 for example uses a bus-only tunnel under Huopalahti train station and a bus-only bridge over Vantaanjoki river. Bus 560 had an entire 1.2 km long bus-only tunnel at Paloheinä under the Helsinki Central park constructed specifically for its use, at a considerable 24 million € cost.
Bus 550, roughly following the Kehä I ring road, remains the most popular trunk route, and its replacement with light rail has been discussed for years. The project of a 25 km long light rail line (Raide-Jokeri, meaning "Rail Jokeri"; Jokeri is a nickname for bus 550) was approved by Helsinki and Espoo councils in 2016, with a 387 million € and construction started in 2019 and expected to last until 2024. Bus 550 continues to run meanwhile, with some route changed caused by Raide-Jokeri roadworks.
Regional transport (U-buses and regional trains)
Some buses and trains go to destinations beyond all HSL zones, but still can be used within HSL-zones using HSL tickets. Such routes are not managed, financed or branded by HSL; there is just a special agreement to accept HSL tickets on them.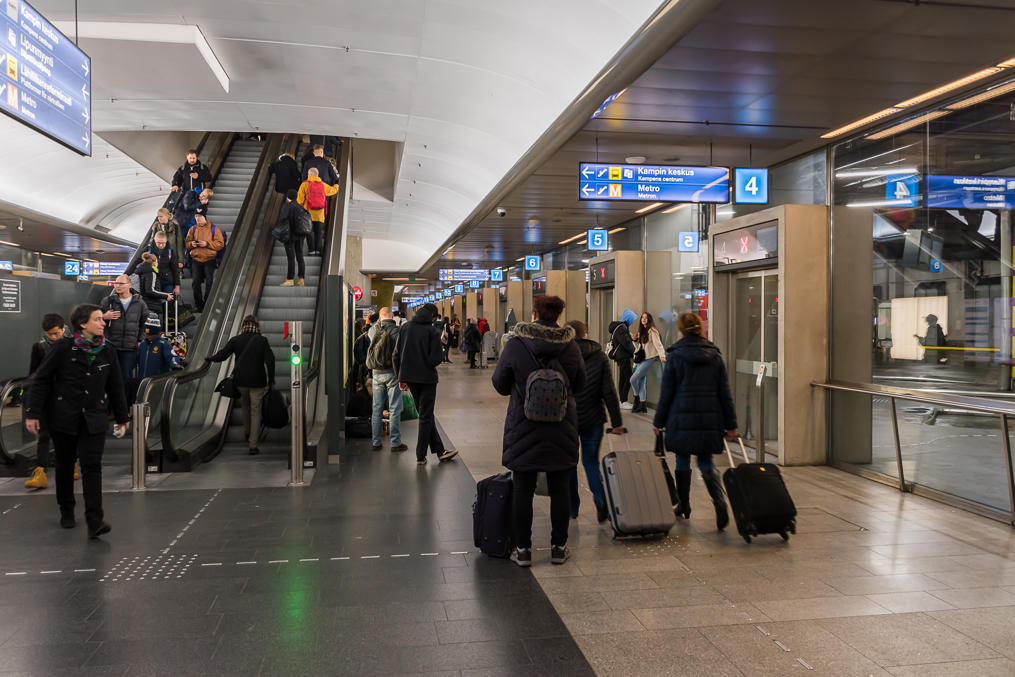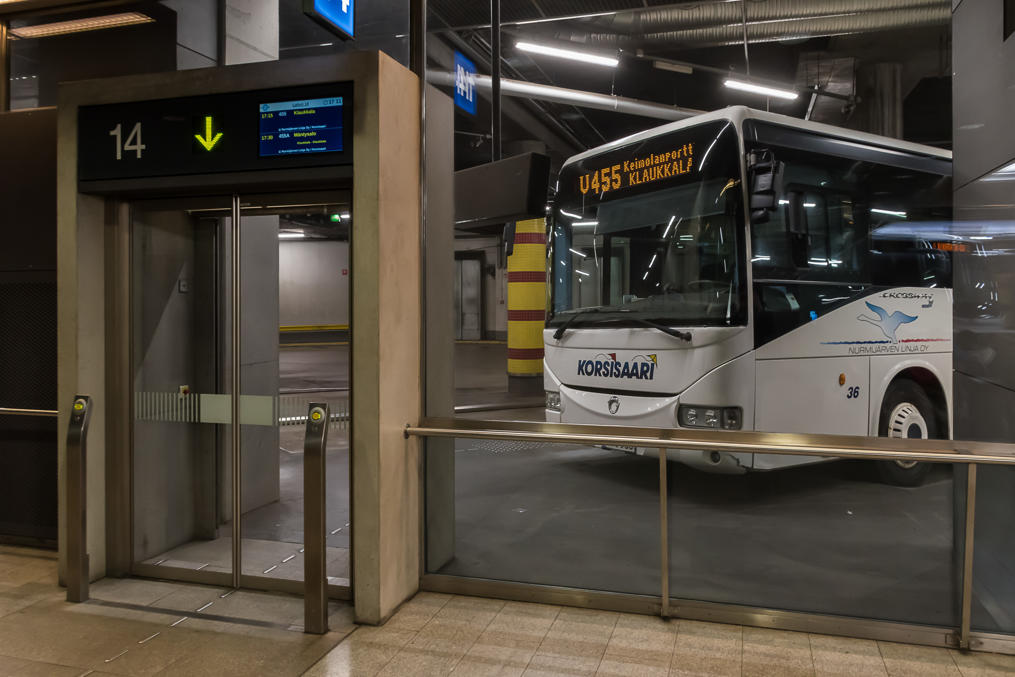 Buses that run according to such model are known as U-buses (their route number starts with U). For example U848 goes to Porvoo, outside HSL area, but can be used to travel to destinations in Sipoo, within HSL area. Such buses usually don't sell single tickets on HSL tariffs, and HSL cards must be given to the driver to validate them. Paper HSL tickets and HSL app can be used as usual. For travels outside HSL zone tickets have to be bought separately, for example from the driver with cash. Most, but not all U-buses depart from the long-distance bus terminal in Kamppi.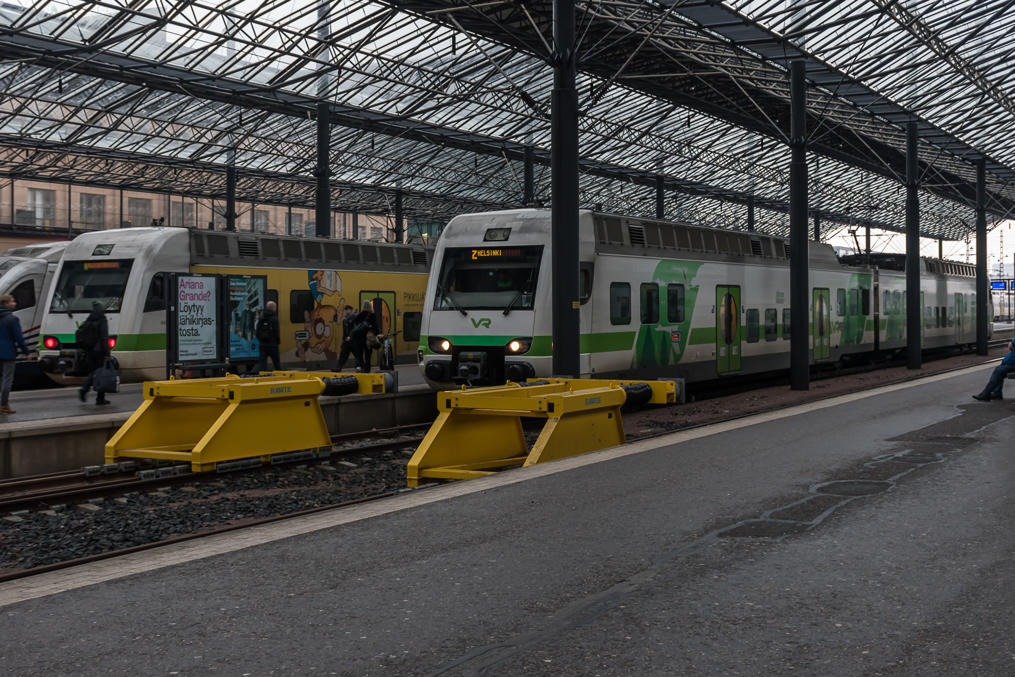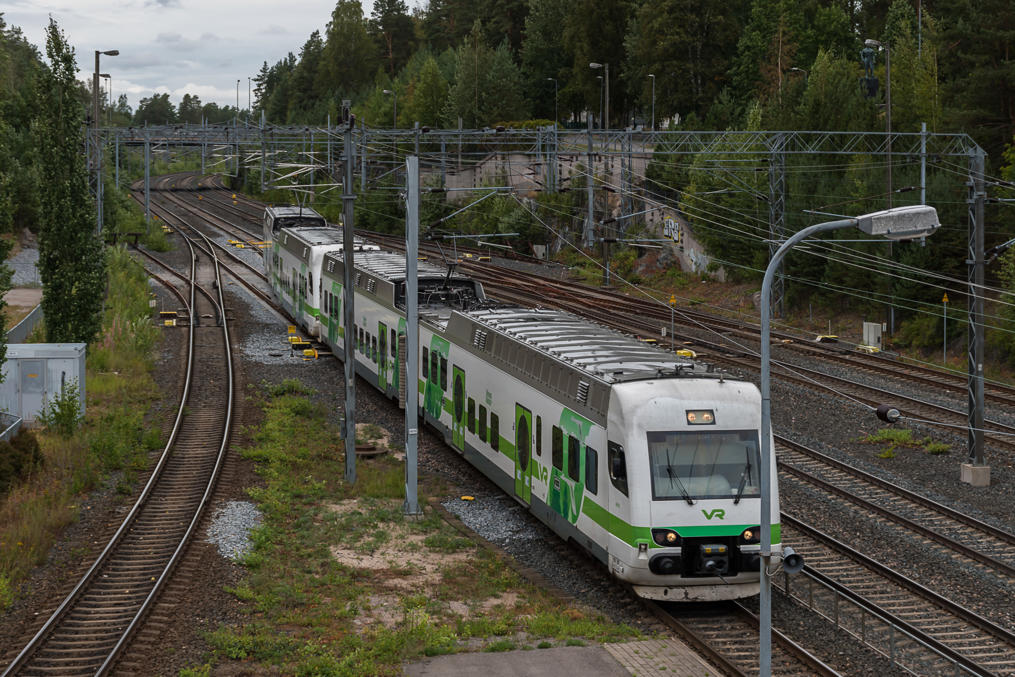 Regional trains are run by VR (Finnish State Railways). Like commuter trains, they are designated with letters:
R: Helsinki-Riihimäki, 71 km, 53 min, 30 min intervals; about seven per day continue all the way to Tampere (187 km, 2:08-2:12). Before Kerava stops only at a few stations
T: Helsinki-Riihimäki, a few trains in the morning and in the evening, stop at all stations even before Kerava. Complement commuter trains somewhat
D: Helsinki-Riihimäki, a few trains in rush hours, stopping only at the biggest stations both before and after Kerava
Z: Helsinki-Lahti, 130 km, 1:03-1:12, 60 min intervals; the only regional train on the Lahti Bypass Railroad (Lahden oikorata, Kerava-Lahti)
G: Riihimäki-Lahti, 42 min, 60 min intervals. The only regional train not starting from Helsinki, and the only passenger train on this railroad stretch
From Lahti some trains continue to Kouvola, but they don't use a letter at this point; rather a number, like trains elsewhere in the country do.
HSL tickets are valid for some stations even beyond Kerava, up to Jokela in Tuusula. Farther than that a VR ticket is necessary. Those are bought from VR website or ticket machines. VR has its own season ticket system as well. Unlike long-distance traffic, these trains are not profitable for VR, and the regional service is instead bought from VR by the state (Väylävirasto, Finnish Transport Infrastructure Agency).
Sm2 and Sm4 electric multiple unit trains are used on these routes. Sm2 is a pretty old model from 1975-1981 by Valmet in Finland; Sm4 were ordered in 1998-1999 from CAF in Spain and then in 2004-2005 from Alstom in France. Most routes use Sm4's, but for example G-trains only use Sm2's. Sm2 is the only remaining non-low-floor train model in use in Finland.
Suomenlinna ferry
The ferry to Suomenlinna islands from Kauppatori (Market Square) in Helsinki center is perhaps the odd one out, but it's still a valid mode of public transport in its own right. It provides a 2.5 km connection across the sea, taking about 15 min to cross. Ferries can accomodate surprisingly many passengers, especially taking the upper deck (which can be quite uncomfortable depending on the weather) into account. Ferries go year-round.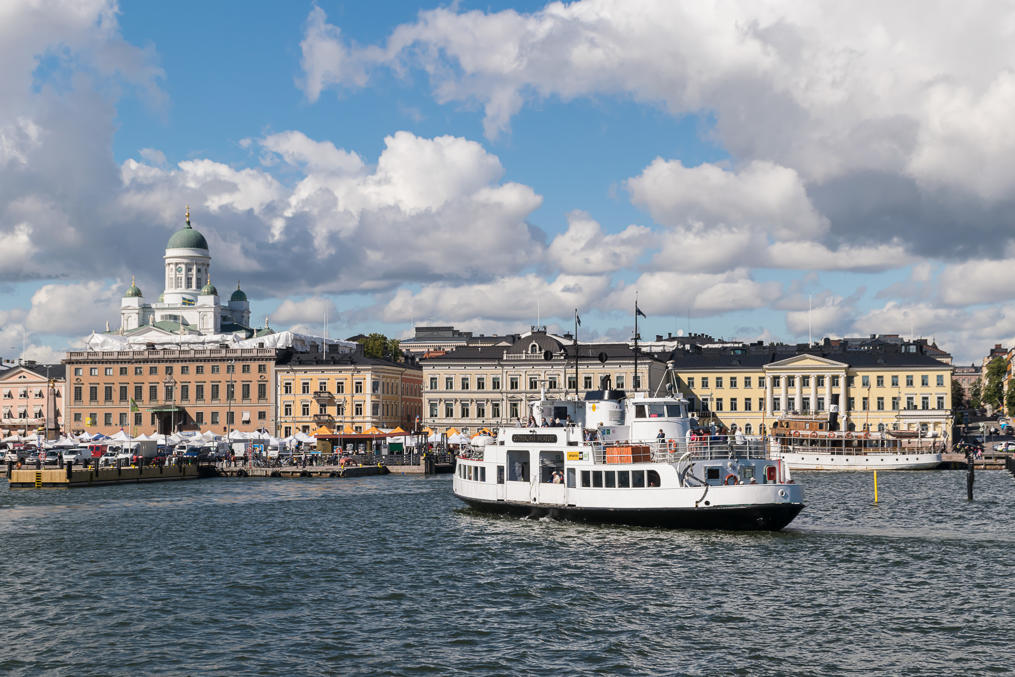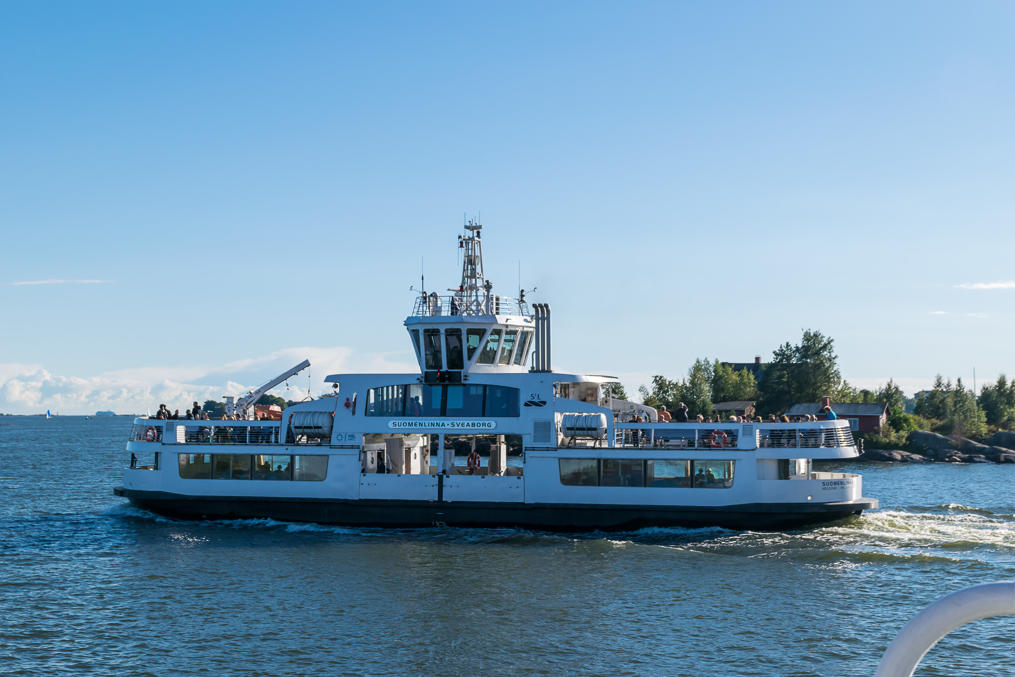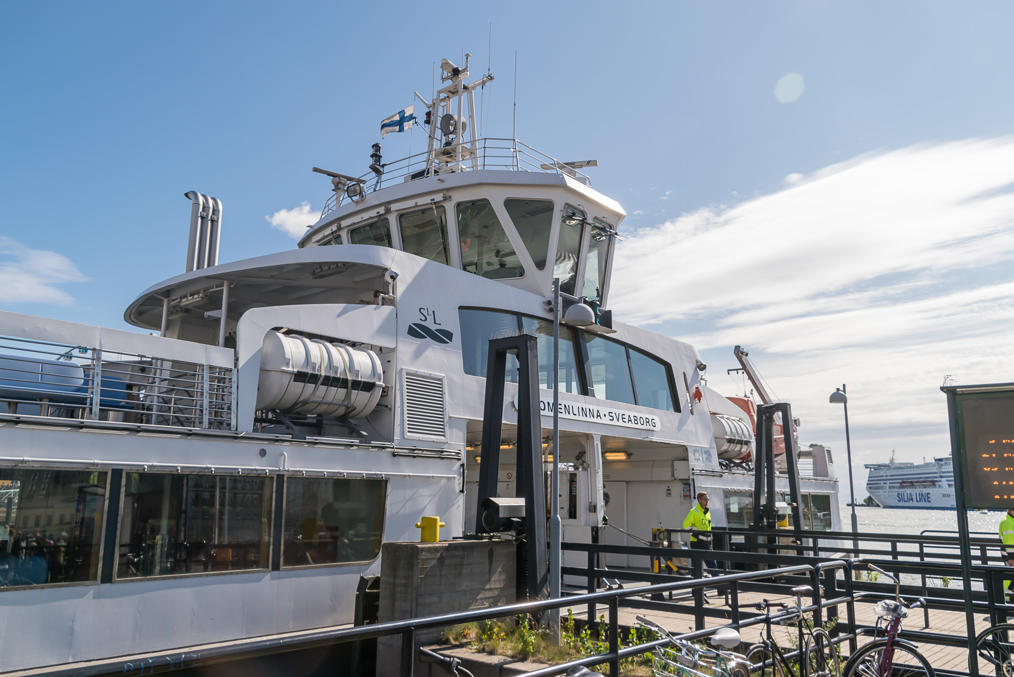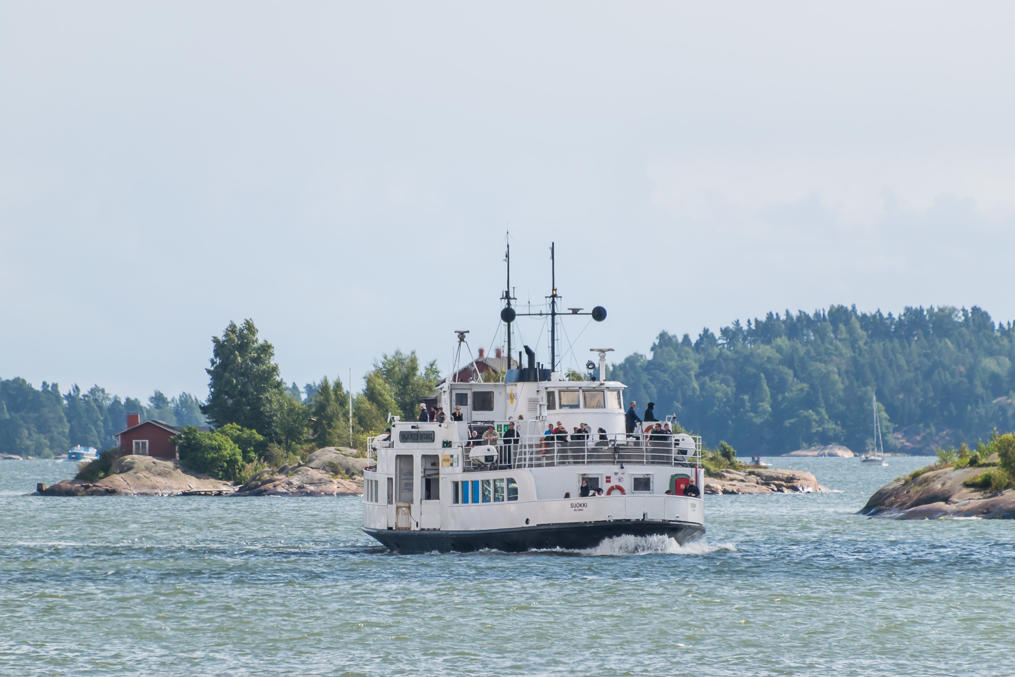 Although there are many islands around Helsinki and some of them have regular seasonal boat connections, these are all private services purely for recreation; some (probably rich) Helsinki inhabitants might have a holiday residence on an island, but in this case they use a boat of their own. Suomenlinna however is not merely the biggest tourist spot of Helsinki, but also a residential area housing about 800 people. The ferry thus is a public service, first and foremost (although there is also an underwater tunnel to Suomenlinna which can be used by emergency services).
The realities of living in Suomenlinna are a rather fascinating subject on its own, but they go mostly outside the scope of this article. The islands are mostly car-free, and the inhabitants mostly store their cars on the mainland (if they have cars, of course). The ferries can carry a few cars in case it is necessary to deliver something etc., but this has a steep price (from 42€), unlike overall Finnish road ferries which are free. Car-less passengers however just use regular HSL tariffs and tickets, or optionally a 5.00€ single Suomenlinna ticket which allows return up to 12h later.
Suomenlinna traffic is operated by Suomenlinnan Liikenne Oy, a company owned by the city of Helsinki. Four ferries are currently in use: Suomenlinna II, Tor, Suokki and Ehrensvärd. Tor and Suokki are in turn owned and operated by Sun Ferry Oy, a private subcontractor. They are both really old, from 1951-1952. Ehrensvärd (1978) is bigger (can carry trucks) and departs from a different harbor in Katajanokka, on weekdays only. Suomenlinna II is the newest, built in 2004. Suokki is actually the original ferry named Suomenlinna, but the name was changed and the ferry was sold to Sun Ferry Oy when Suomenlinna II was launched.
Ferries run year-round, from about 06:00 to about 02:00, according to a fairly irregular timetable, with 20-60 min intervals. Timetables are more dense in summer and at times of various events and celebrations at Suomenlinna.
City bikes and other initiatives
Rental city bikes have been introduced by HSL in 2016 in Helsinki, and expanded to Espoo in 2017. Currently there are 343 city bikes stations and 3430 bikes. They are also popularly shown as Alepa-bikes due to prominent branding of Alepa, a brand of ubiquitous neighborhood grocery stores and a sponsor of the system. Bikes are however actually owned by HKL, same as metro and trams.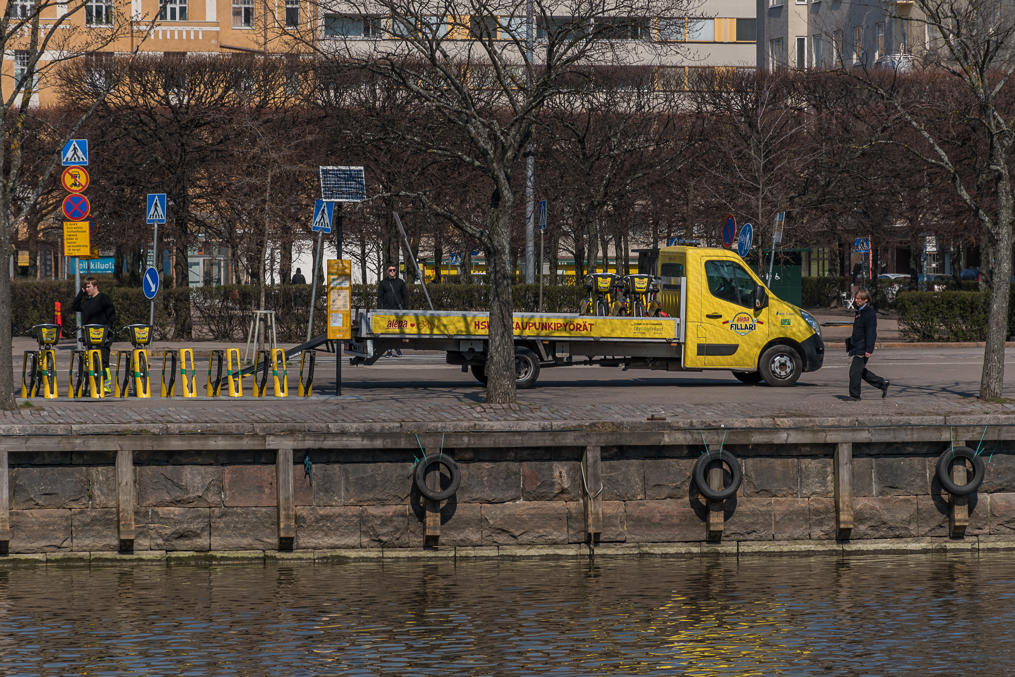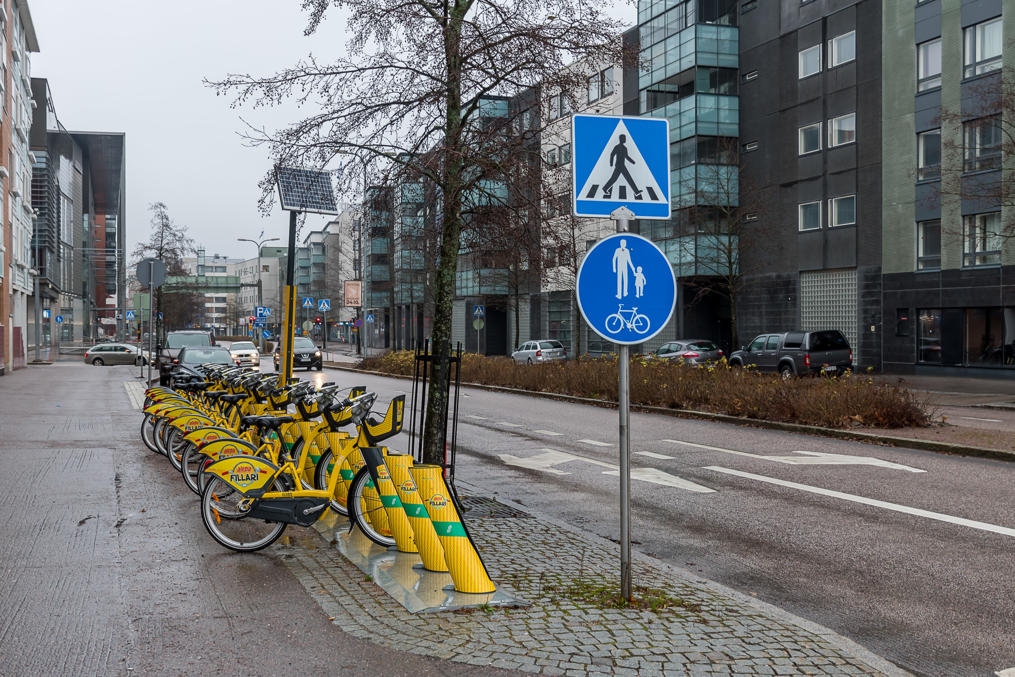 The bikes proved extremely popular, with 3,200,000 trips in 2018 season (lasting from April to October). Probably a major reason for that is very friendly tariffs (5€/day, 10€/week or 30€/entire season). Trips over 30 min long must be paid extra (1€ for every extra 30 min). Maximun allowed trip time is 5 hours (beyound that a 80€ overdue pay is charged). It is necessary to register through HSL app to use a bike and provide bank card details, but you don't need to be a resident of Helsinki or Espoo. City bike station locations and number of bikes at each station are available at the HSL app. Generally most stations usually have some spare bikes. It is possible to leave a bike near a station without locking it, if the station is full.
More recently, since 2019 similar city bike system has also been introduced in Vantaa, with about 100 stations. Vantaa city bikes however are currently now not interoperable with Helsinki/Espoo ones. They must be registered and paid for separately, and Helsinki/Espoo city bikes cannot be left at Vantaa bike stations and vice versa. Hopefully the situation will be eventually resolved.
As of 2019 HSL has been trying an experimental electric scooter network in Vuosaari area in eastern Helsinki, in collaboration with Samocat company. Those cost 1€ for first 3 min, then 0.15€/min. This is cheaper than commercial offers like Voi and Lime. These days you can see plenty of electric scooters from them strewn around central Helsinki, often chaotically, and the media have been complaining about the injury rate among electric scooter users, and costs of these injuries to the healthcare system.
Another current experimental project is for shared rides, in eastern Espoo, in collaboration with ViaVan company, at a discounted price of 2€/shared ride. The discounted price is available only until mid-December 2019. Shared rides are beyond the scope of this article, but details are available at ViaVan website for those who are curious.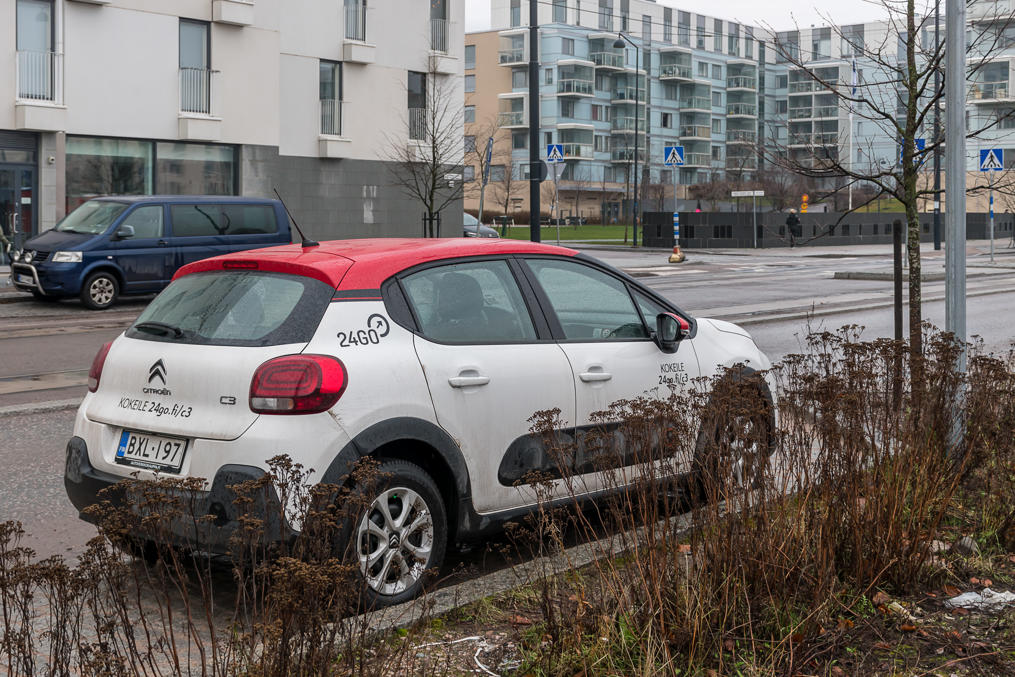 Carsharing services like 24go exist in Helsinki but currently none of them are affiliated with HSL, nor are, as far as I can tell, overly popular. Carsharing cars can use some parking places forbidden for general public (under the Z-parking permit), but those are not very numerous. We also will not discuss taxi services, both traditional and Uber-like ones.
---