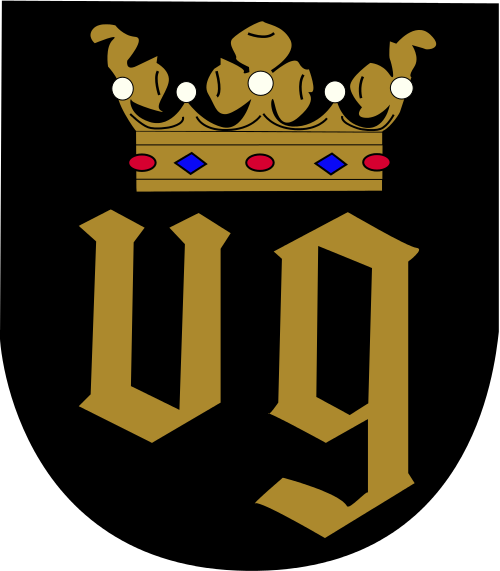 Naantali. Part 1: Of the old town and Moomins
---
Aside: Of Coronavirus and Finnish cities
It appears we're living in an interesting time, and not in a good way. The coronavirus epidemic that started in December 2019 and wasn't still really taken seriously by anyone (including me) in February 2020 is now well on its way in Europe, and we haven't even seen the peak. Neither has Finland been spared; since 12.3 the country has over few days largely been put into lockdown. Kindergartens are open, internal movement mostly is not restricted (as of the time of this writing only the border of Uusimaa Region is about to be locked down) and private businesses haven't really been under restrictions (except restaurants which are also to be closed down shortly), but pretty much everything else is closed or forbidden. The government has declared a state of emergency for the first time since the war. It is not clear how long this all would last (likely months). There are still rather few severe cases of the coronavirus disease and only a handful of deaths, but those will come for sure, and the government is frantically trying to prepare the healthcare system as good as it can.
"We well, of course, survive this," stated the President of the Republic. So we will. Me (or my girlfriend) probably don't have much to fear from the virus directly, as we're more or less young and without any known severe health issues. But no one knows what will become of Finland. I'm doing remote work at the moment and so does most of the IT sector, but much of the economy cannot do this. Places like restaurants, hotels or stores (apart from grocery stores) are nearly deserted, most flights and international ferries are grounded, and industry has largely stopped due to both widespread quarantines and shortage of raw materials and parts from abroad. The economical depression will be very severe. It will remain to be seen how soon and how well Finland can spring back from it. The government promises support, although it's difficult to say whether it will be at least remotely enough.
It is possible Finland will never truly be the same. Maybe it is actually a good thing that by now I have managed to travel around and see most of the country. I've been doing this on a semi-regular basis since 2015, and although I haven't really written much (the idea of course has always been that someday I will), at least I have a huge photo archive of all kinds of places; cities, villages, nature and various sights; and also my own memories and knowledge about this land. In particular I have visited over half of 100+ Finnish cities. But that's not a good metric considering that any random place can officially call itself a city if it wants to. More to the point, I've seen all 19 regional centers, all 25 of the biggest cities by population, all coastal cities, and all but two of the so-called "old cities" (granted city rights before 1905), with the exceptions at the moment being the fairly small towns of Heinola and Iisalmi. So even if I have to sit a year in the quarantine, there is of course a lot to write about (although it's always been difficult to do this while having a full-time job, because the latter takes most of the energy).
Two weeks ago, when Finland was already going into the lockdown, me and my girlfriend went to a two-day trip into two of the remaining cities to visit, Naantali and Uusikaupunki. These were the final coastal cities, and the final more or less "touristy" cities that I had not visited in Finland, so it's been kind of a landmark. Another landmark is, of course, that this was my last trip of the pre-corona era. Already hotels and restaurants were shutting down rapidly, and I'm pretty sure the next weekend already any domestic trip with an overnight stay would have been quite difficult to plan. I don't really need restaurants, but the accommodation sector alone will be really badly hit by this. It remains entirely to be seen whether my big August-September trip over East Finland, Finnish Lapland and some Norway and Sweden is possible at all. Of course my own situation with work (and my residence in Finland is now and for over 1.5 years more dependent on work) is hardly absolutely stable either.
(And, of course, the perfectly responsible thing to do during a coronavirus epidemic is to stay home and avoid even domestic travel. The kind of travel that I do is quite low-risk though; I mostly just walk around and take pictures of everything, and I don't really visit any public places. Museums maybe, but those are out of season and the remaining ones were pretty much already closed by the coronavirus anyway. I usually travel by car, so I cannot infect anyone or be infected by anyone on a train/bus/plane. The two-day trip is of course somewhat more risky, as we had to stay in a hotel and also actually ate at a restaurant once, but still neither hotel nor a restaurant had more people than a typical grocery store, and we hardly really interacted with anyone even there. Anyway, the idea was that it was the last trip over one day long for, possibly, quite a while.)
So, that was the long corona-preface. And now let's see the city of Naantali, as it was in mid-March 2020, in the very first days of Corona Era in Finland.
---
The city of Turku, the third largest population center of Finland and its original capital, and currently the center of the Southwest Finland or literally "Finland Proper" (Varsinais-Suomi) region is, like Helsinki, surrounded by a ring of smaller satellite cities that are independent municipalities but by now have partially or completely merged with Turku in practice. Counting counterclockwise, these would be Kaarina, Lieto, Raisio and Naantali. Of these by far the best known one is Naantali, located in about 15 km northwest of Turku center. This is in truth a smallish town, with the population of about 19,300, of which 14,000 live in the town proper and the rest in the surrounding countryside, including the archipelago with a few bigger villages of its own.
The name "Naantali" comes from Swedish Nådendal, which means "The Valley of Mercy". The Valley of Mercy (Vallis Gratiae in Latin) was the name of the medieval Brigittine monastery to which the city owes its existence. The city coat of arms still features VG letters, after the Vallis Gratiae monastery.
Brigittine monastic order has existed since 1344. It founder was St. Bridget of Sweden, a Swedish mystic, woman from a noble family, who decided to devote herself to God and the life of prayer after her husband, Ulf Gudmarsson, the Lord of Ulvåsa in Östergötland province, died. With the approval of King Magnus IV she founded a monastery at Vadstena also in Östergötland. The order was officially recognized by Pope Urban V in 1370. St. Bridget, widely known and beloved for her kindness, mercy and mystic visions, died in 1373, and the Vadstena Monastery began to properly grow only after her death.
Brigittine Order spread widely especially in Sweden and Norway, but also in England and to a lesser extent in Continental Europe. The order widely promoted culture and literacy. Its peculiarity was that it was (and still is) a double order, that is, it accepted both monks and nuns. The nuns were more numerous (and the abbesses were always women), but were expected to live in isolation and to devote themselves to study and prayer, while the monks were more active preachers. The order was badly damaged by the Reformation, although its motherhouse at Vadstena was shut down only in 1595, many decades after the Swedish Reformation. The order has survived to this day mostly in Catholic countries, and is mostly quite small nowadays. The Vadstena abbey has been re-established in 1991, and in Finland a completely new monastery in Turku was established in 1986, but both of these are very small, with just a few nuns each. Nonetheless St. Bridget is the patron saint of Sweden and one of the six patron saints of Europe (as confirmed by Pope John Paul II in 1999).
In their heyday Brigittines were also prominent in Finland, which of course was more like Eastern Sweden back in the day. The Vadstena Monastery was a holy pilgrimage site for many Finns, and there they could confess their sins in Finnish, as there were Finnish-speaking priests there. The Vallis Gratiae, or Nådendel Monastery was established in 1438 by Magnus II Tavast, the Bishop of Turku at the time, and remained the only Brigittine monastery in Finland. The monastery became the center of learning and education in Finland; it was the first Finnish institution in history that educated women. As many as 60 nuns and 15 monks lived there, and a small town grew around, which gained city rights in 1443, making it the sixth and the last medieval Finnish city, after Turku, Porvoo, Ulvila, Vyborg and Rauma. (Of these, Ulvila lost city rights in 1558 and declared itself a city again only in 2000, and Vyborg was left on Soviet/Russian territory after the war.)
However after the Swedish Reformation started in 1527 the monastery was not allowed to take any few novices. It did have a brief resurgence in the era of King Johan III, thanks to his wife Catherine Jagiellon who was Polish and Catholic, but it did not last long; in 1577 the last abbess died, and in 1591 the last nun. King Charles IX ordered to demolish monastery buildings in 1608, keeping only the church remaining. The church, dating from the late 15th century, burned out completely in 1628 when Johan Henriksson Jägerhorn af Spurila, a page boy of King Gustav II Adolf, shot a magpie on the church roof, and it set a fire to the roof. The fire also destroyed most of the city, but these things happened all the time anyway of course. Still the church remains the most prominent building of Naantali to this day, although it gained its belltower (built from stones still remaining from monastery buildings) only in 1797, giving it a more distinctive appearance than typical medieval church of the region have. Close by the church a small wooden "old city" also still remains. Like all such wooden old towns of Finland, it keeps a somewhat chaotic medieval street grid, with very narrow roads in places, but wooden buildings itself are not of course medieval, just rather old (late 18th century at the oldest, mostly from the 19th century). Supposedly some of the cellars still in use might be medieval though.
The city went into long decline with the fall of the monastery, and somewhat recovered only by the middle of the 18th century, when it regained some importance as a trade center. It also became known for its medicinal springs, and in the latter half of the 19th century Naantali became known as a resort town. This perhaps is why it was chosen for the summer residence of the President of the Republic in 1922, when the luxurious recently built mansion of Kultaranta (Finn. Golden Coast), on the island of Luonnonmaa just across the old city, was acquired for him. The actual use of Kultaranta has varied depending on the particular President's habits, especially in earlier times when it was not that easy to move between Helsinki (where the official Presidential Palace and the "ordinary" Presidential residence is) and Naantali. Naantali railway station, nearly completely vanished by now, used to have a presidential hall.
But even more famous than Kultaranta is the Moomin World (Muumimaalima), a theme park established in 1993, with characters of the famous Moomins books by Tove Jansson as its subjects. Moomins are probably the best known Finnish characters, and the Moomin World is extremely popular; for example about 240 thousand people visited it in 2013. For many Finns Moomin World will be the first, or possibly the only thing they would think about when hearing "Naantali". It is also popular with international tourists. Moomin World is physically located on the island of Kailo, very close to the Naantali old city, connected to it by a pontoon bridge.
Far less generally known is the heavy industry of Naantali, which began to seriously develop since the 1950s. Probably the biggest industrial enterprise there is the oil refinery, one of the only two refineries in Finland (and the first one to be built). While Finland has no oil, it has oil refineries in Naantali and Sköldvik (near Porvoo) working mostly on Russian oil, both owned by Neste state company. There is also the biggest drydock of Nordic countries, the biggest grain silos of Finland, Exxon motor oil factory, and the most important power and central heating plant of the region.
Naantali is located in a very convenient place geographically. The area of the Baltic Sea between southwestern Finnish coast and Åland Islands is called the Archipelago Sea (Saaristomeri). According to some sources, it is the biggest archipelago in the world by the number of islands (40,000 is a commonly quoted number). The island maze is of course difficult and dangerous to navigate, but one crucial passage there is Airisto, a 20 km long area of sea nearly devoid of islands. Naantali is located on the mainland at the very end of Airisto. Naantali Fairway, through Airisto and beyond, is the longest official fairway of Finland, at 120 km long and with 15.3 m guaranteed depth. It leads not just to Naantali but to Turku as well; the short Turku fairway branches off the Naantali one.
This makes the Naantali Harbor one of the most important harbors of all Finland. While tourists mostly know much better the nearby Turku harbor, with its huge cruiseferries crossing via Åland to Stockholm, Turku is much less important for cargo operations. As of 2015 Naantali harbor was the fourth busiest cargo harbor of Finland, at 6.87 million tons of freight (after Sköldvik oil harbor, Hamina-Kotka harbors and Helsinki harbors), But it is also possible to travel by sea from Naantali as a passenger, on the ships of Finnline company. These are RoPax ships rather than cruiseferries, that is, they are meant mostly for transporting trucks and their drivers, with passenger comforts not as pronounced. Still they do take passenger cars also (although not carless passengers). They operate on Naantali-Långnes-Kapellskär line, Långnes being a harbor pretty much in the middle of nowhere in Åland, and Kapellskär a similarly out of the way harbor near Stockholm. I happened to take one of these ships in 2019, travelling from Naantali to Åland, although I didn't stop in the city itself then.
Otherwise the best Naantali transport connection is by road, usually via Road 40, the Turku ring road, which has its western end in Naantali. Most of this road is extended to 2+2 lanes or in process of extension, although the final Raisio-Naantali stretch is an ordinary 1+1 lane road. European Route E18 is signposted via Road 40, and thus it begins in Finland in Naantali (going then along the southern coast of Finland via Helsinki to Russian border at Vaalimaa, and then to St. Petersburg). Without an own car, the easiest way to get to Naantali is via Turku; Naantali is a part of Turku city bus area (Föli), and thus is served by Turku city bus number 6, departing every 20-60 minutes depending on day of the week and time of the day. Naantali has a railroad, which is a 6 km spur of Turku-Uusikaupunki line, branching off at Raisio; the railroad has long had only cargo traffic now, like the rest of Turku-Uusikaupunki line. (There are some plans to partially use the existing railroad for the future Turku light rail line, but no definite decision to build the light rail has been made yet, nor would it be built straight away to Naantali in the very first phase, nor it is certain whether it could use the same rail gauge as the existing heavy rail line.)
Despite its medieval origins and the location in Southwest Finland, which generally has a significant Swedish-speaking population, modern Naantali is almost exclusively Finnish-speaking (Swedish speakers share is 1,3%).
The Naantali post will be split in two parts, and the first one will focus on the touristy part: the old town and, of course, the Moomin World.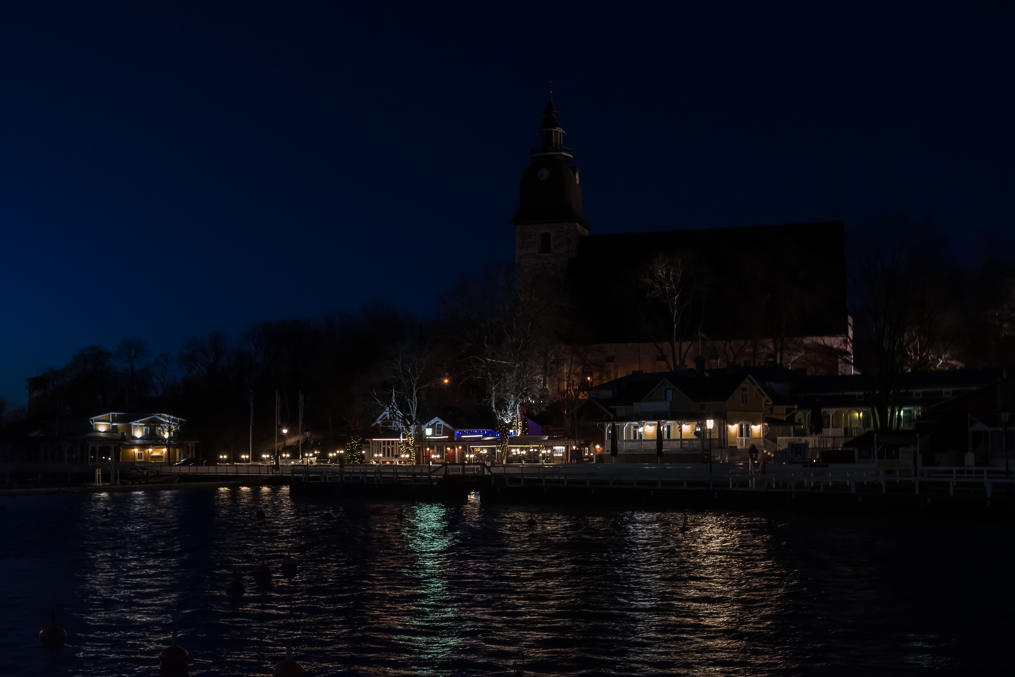 1. Me and Annika arrived to Naantali in early evening hours, but after we settled in the small hotel near the center, went to the old city, found a restaurant and had some fancy food (which is a quite rare occasion for us; mostly we just eat something from supermarkets or McDonalds) it was nearly completely dark, so we had only a short walk on that day.
This small waterfront near the church is where most restaurants are supposed to be, but we found only one open restaurant and a bar (well, and a pasta place a short distance away). I cannot say whether it was because of the season or because of corona. Probably the latter. There were only a few people in the restaurant, Trappi, as well. We weren't sitting particularly close to anyone and weren't in close contact with anyone, but of course it probably was not the super responsible idea to go to a restaurant. Well, the zander from the Archipelago Sea was really tasty at least.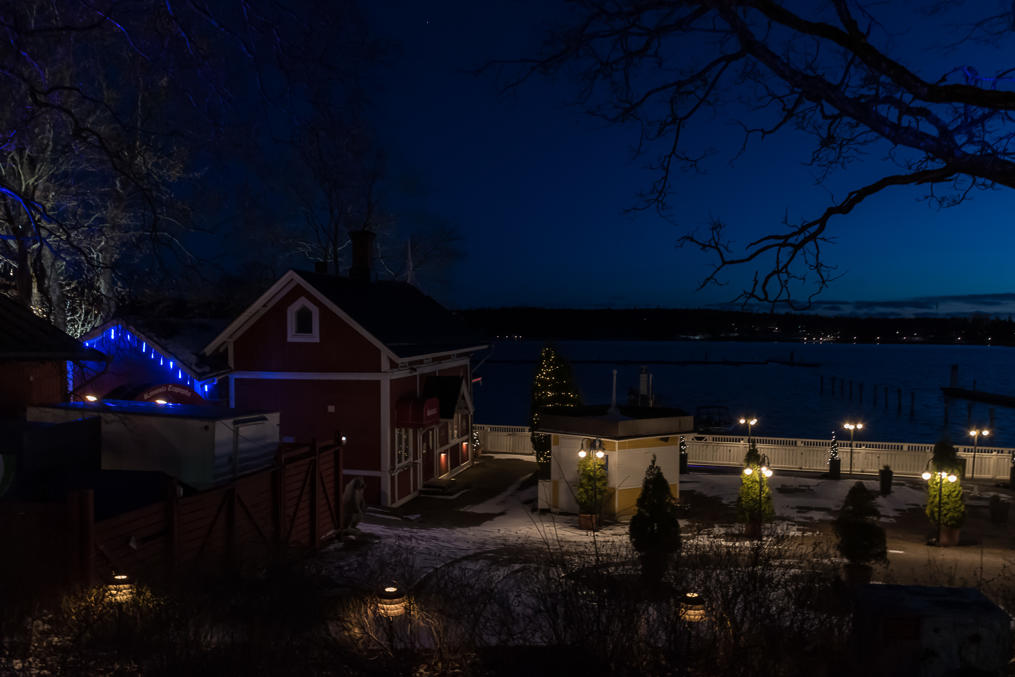 2. Last remains of the light of the day disappearing in the west, over the Luonnonmaa island.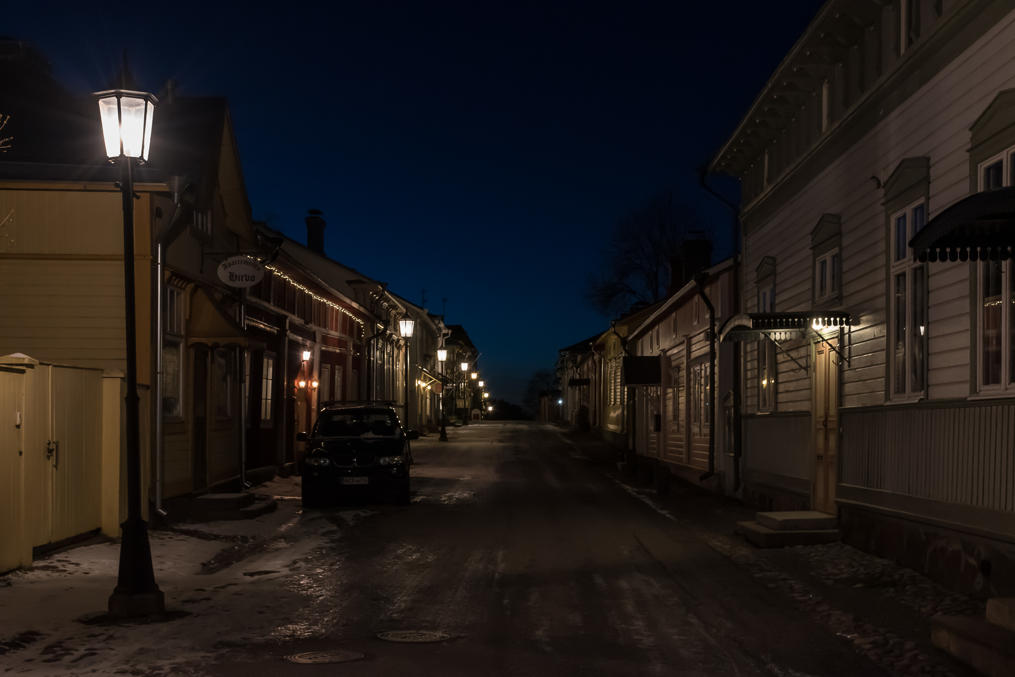 3. The deserted old town.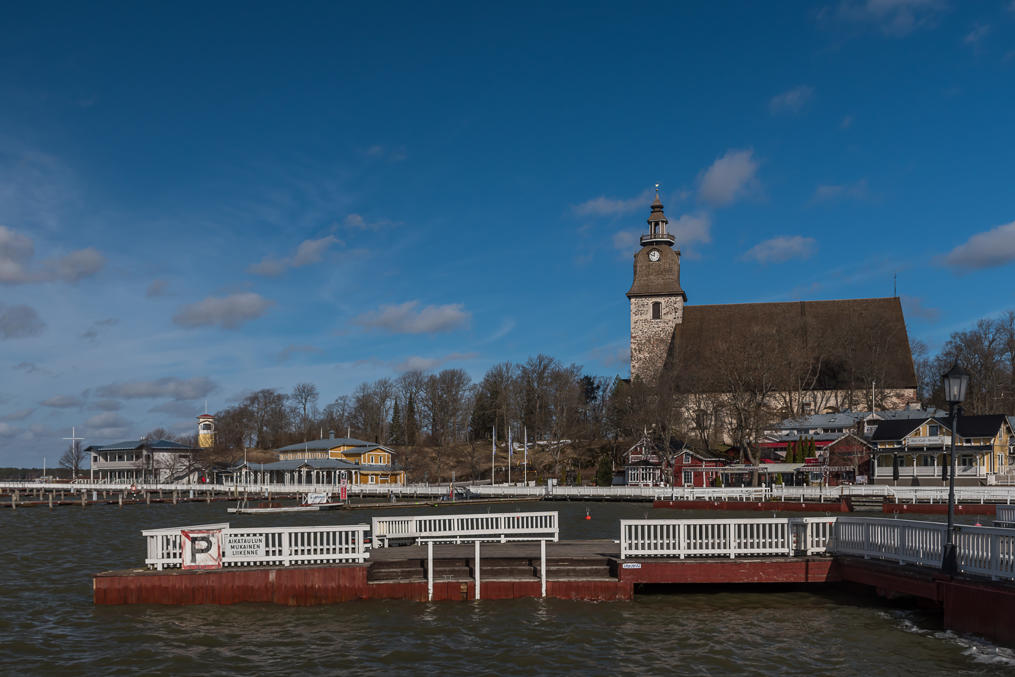 4. And now the same thing during the day, the medieval church over the waterfront.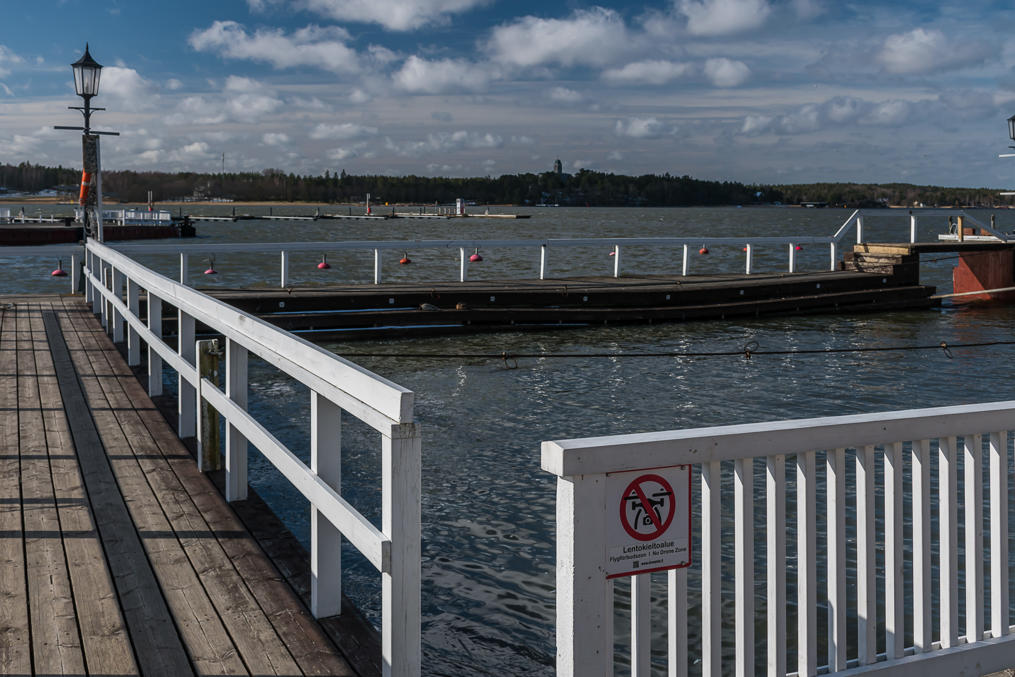 5. There are some "No Drone Zone" signs along the quay. There are currently only a few zones in Finland which have hard prohibition on any and all drone flight (although of course airspace near airports also generally has restrictions, and drone flight immediately near an airport is normally prohibited, but it is possible at least a theory get a permission to make a flight there). This is one of such zones, and the reason for its existence is the Kultaranta presidential residence; you can see its tower right in the middle of the picture. Although Kultaranta is across the sea strait, the zone still extends to most of old town and Moomin World.
(If you're curious, other such prohibited zones are: the very center of Helsinki; the vicinity of Mäntyniemi, presidential residence in Helsinki; Meilahti hospital in Helsinki, effectively the most important hospital of the country; Sköldvik oil refinery (curiously, not the Naantali one though; Kultaranta no-fly zone does not extend to the refinery area); and the vicinity of the two Finnish nuclear power plants, Loviisa and Olkiluoto, and also of the site of the planned thirt nuclear power plant at Hanhiniemi.)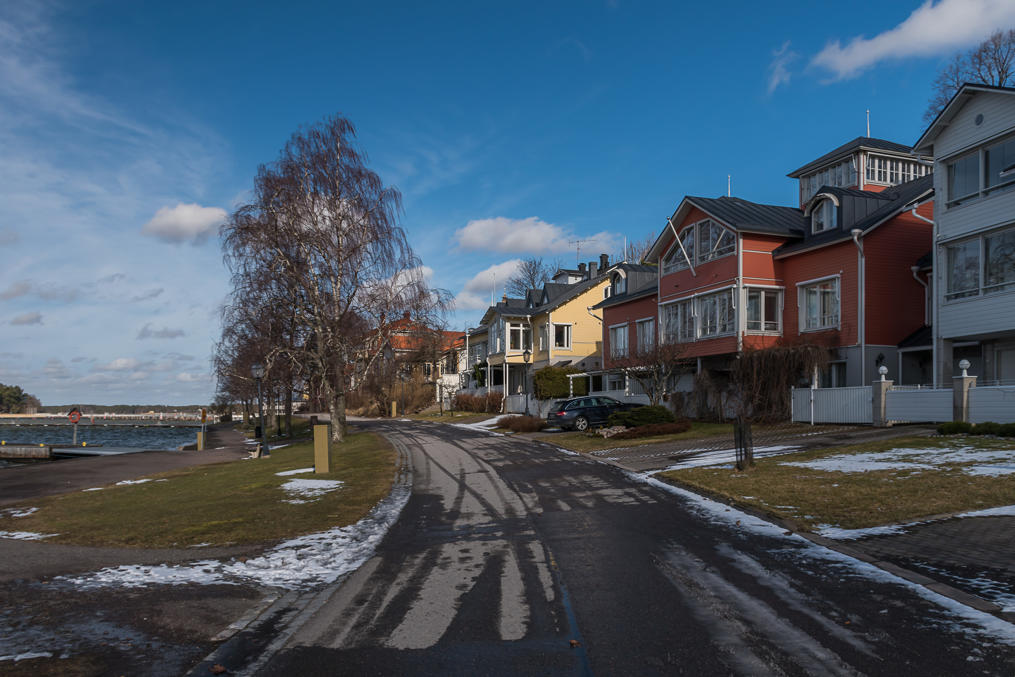 6. The waterfront, though nice, is really quite short, and the part of it farther away already looks like some much newer singly-family buildings, although of course still rather fancy ones.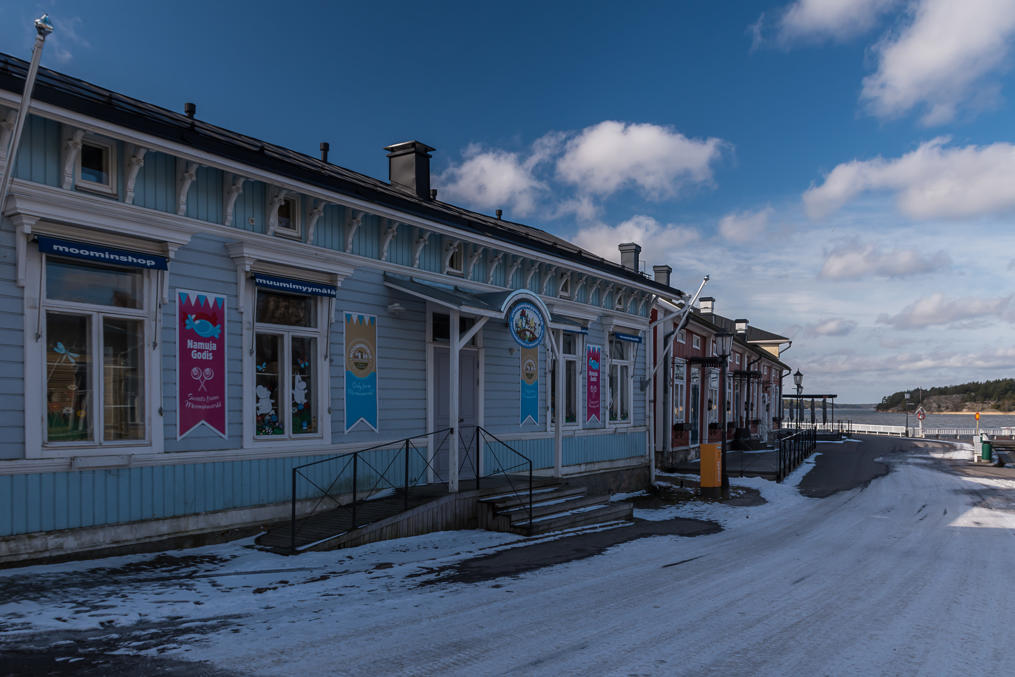 7. Let's go a bit deeper into the small old town. The blue building has a Moomin souvenir store, which was also closed of course.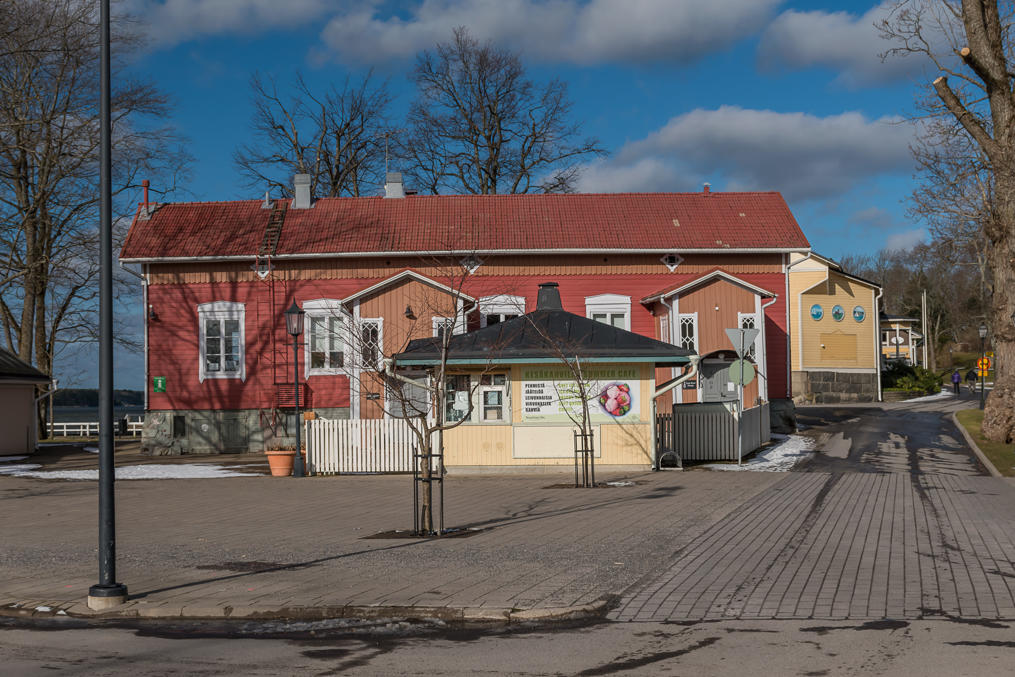 8. The red building has a tourist information point.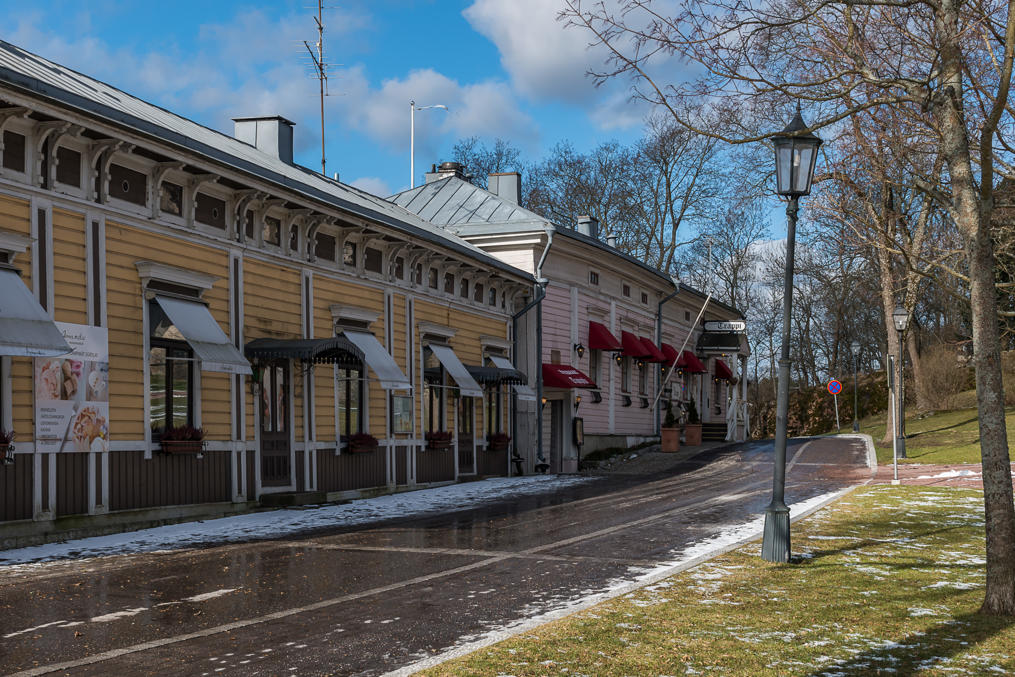 9. Waterfront restaurants from the church side. The pink one is the Trappi, the one with tasty zanders.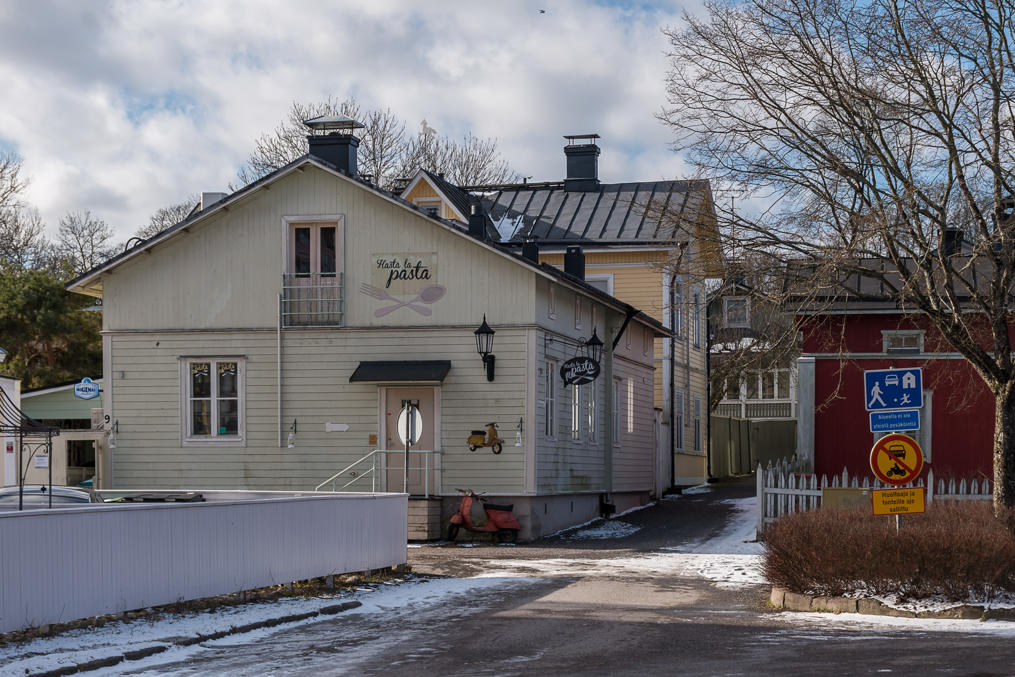 10. Pasta place, which appeared to be the only other restaurant open in the old town apart from Trappi.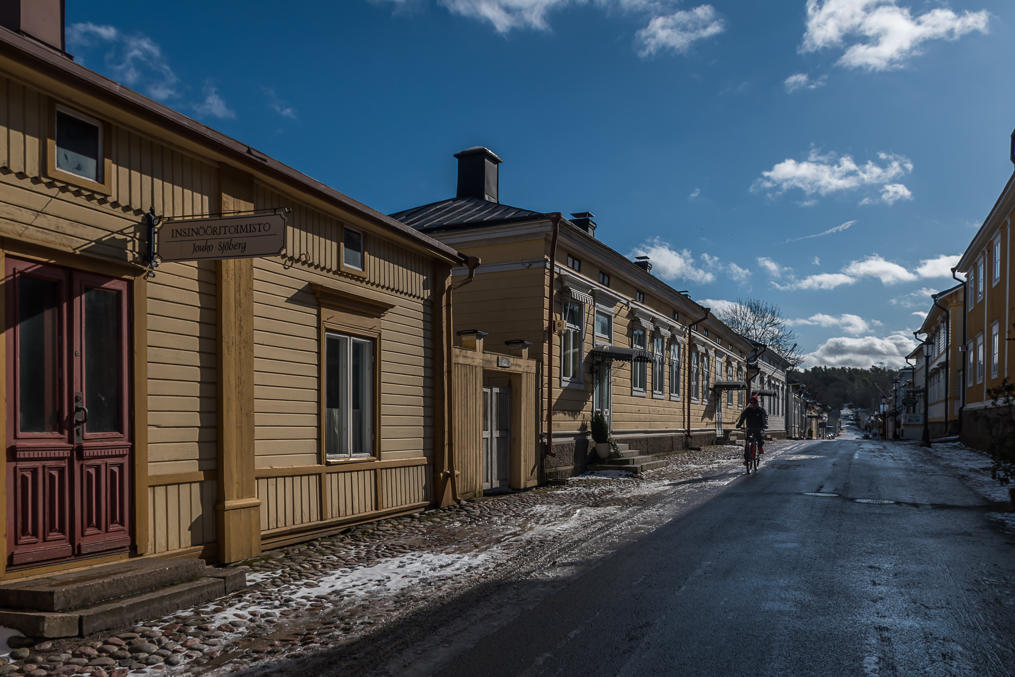 11. The central street of the old town is named Mannerheiminkatu (Mannerheim Street). Streets named after Marshal Mannerheim, the Finnish war leader in the Civil War of 1918 and wars of 1939-1945, are not exactly rare in Finland, but there is actually a reason why Naantali in particular has one: Louhisaari mansion in Askainen, Mannerheim's childhood home, is currently located within Naantali municipal borders, some 25 km northwest of the city.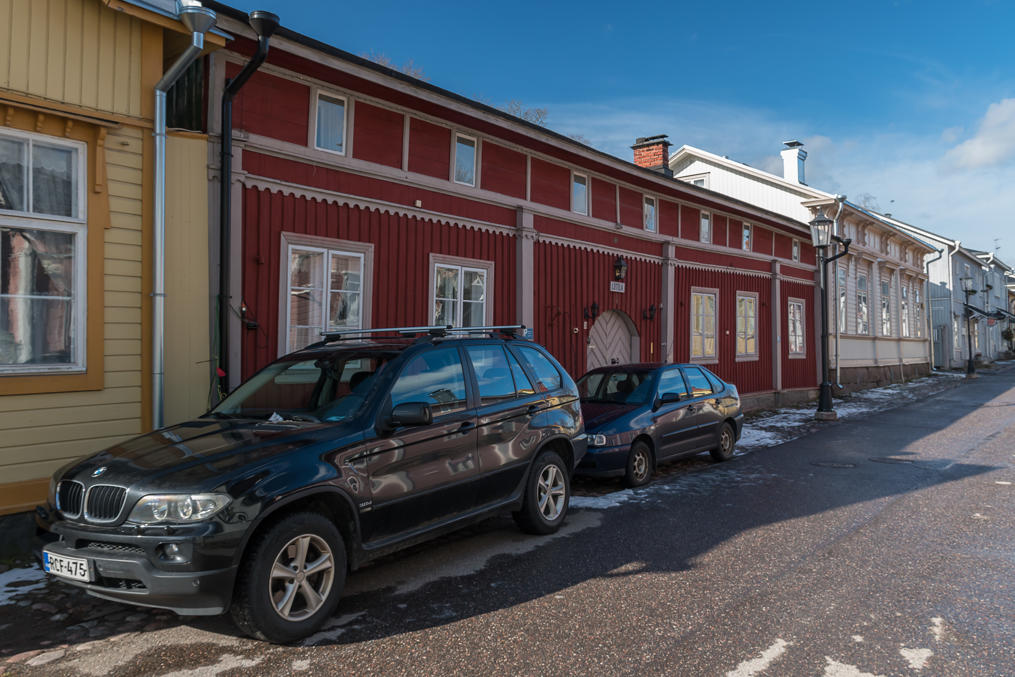 12. Cars of course look out of place in this kind of town. Parking within the old town is allowed only for its residents. There are tolled (in summertime) and time-limited parkings outside of the old town, and free unlimited street parking farther away.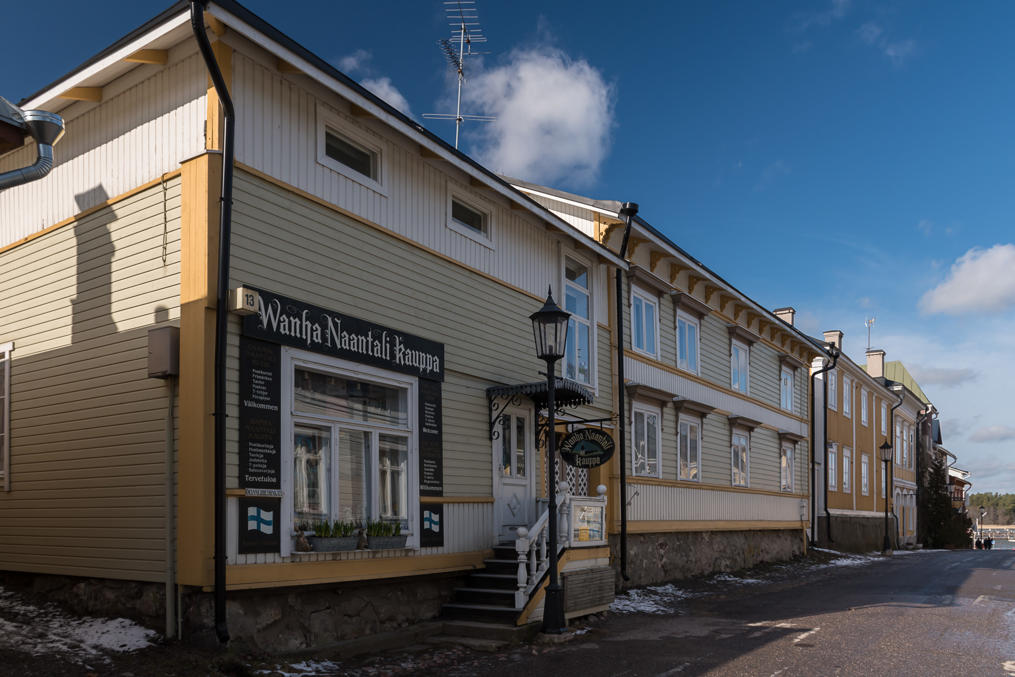 13. Souvenir "Old Naantali Store".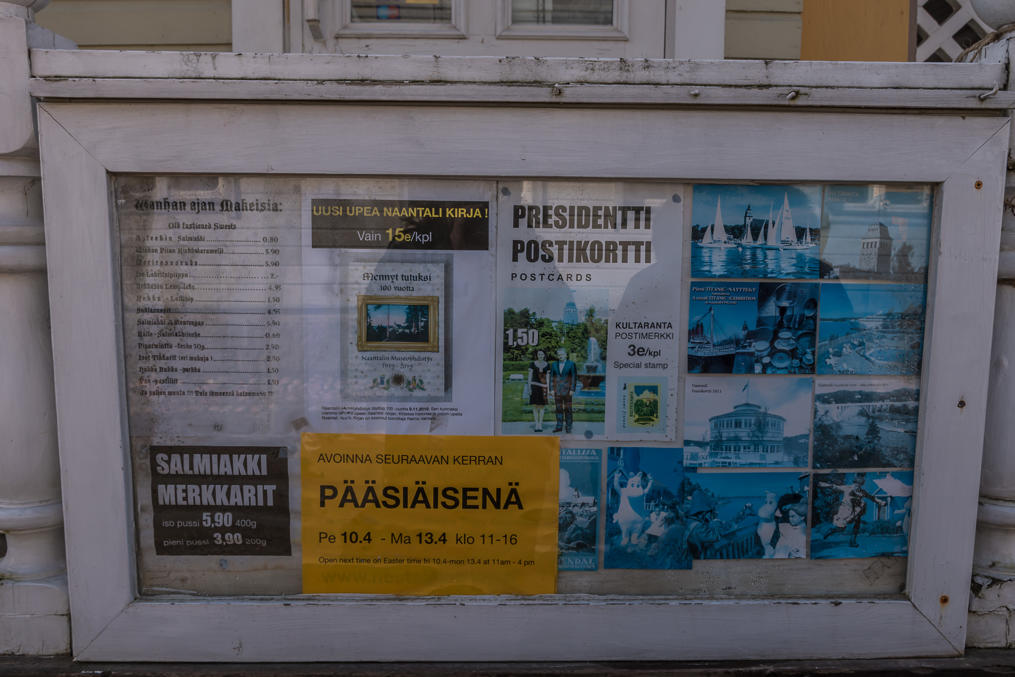 14. The sun-bleached samples of postcards they sell are kind of endearing, especially the one with the presidential couple.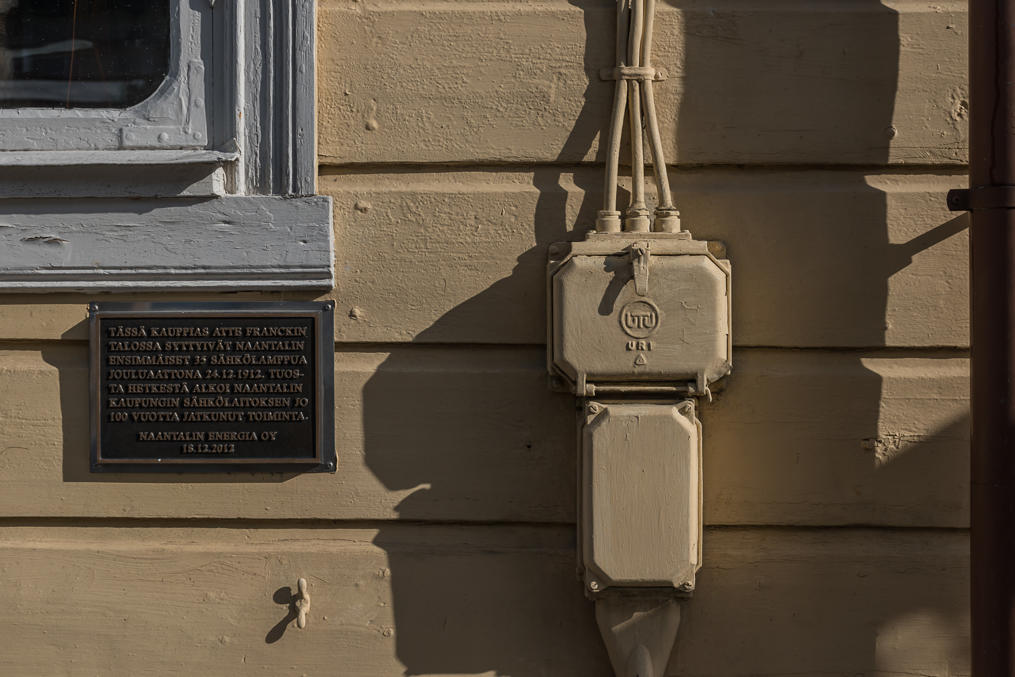 15. "In this house of merchant Atte Franck the first 35 electric lamps of Naantali lit up on the Christmas Eve on 24.12.1912. Since then began the operation of Naantali city electric facility, continuing for over 100 years. Naantalin Energia Oy (Naantali Power Company), 18.12.2012"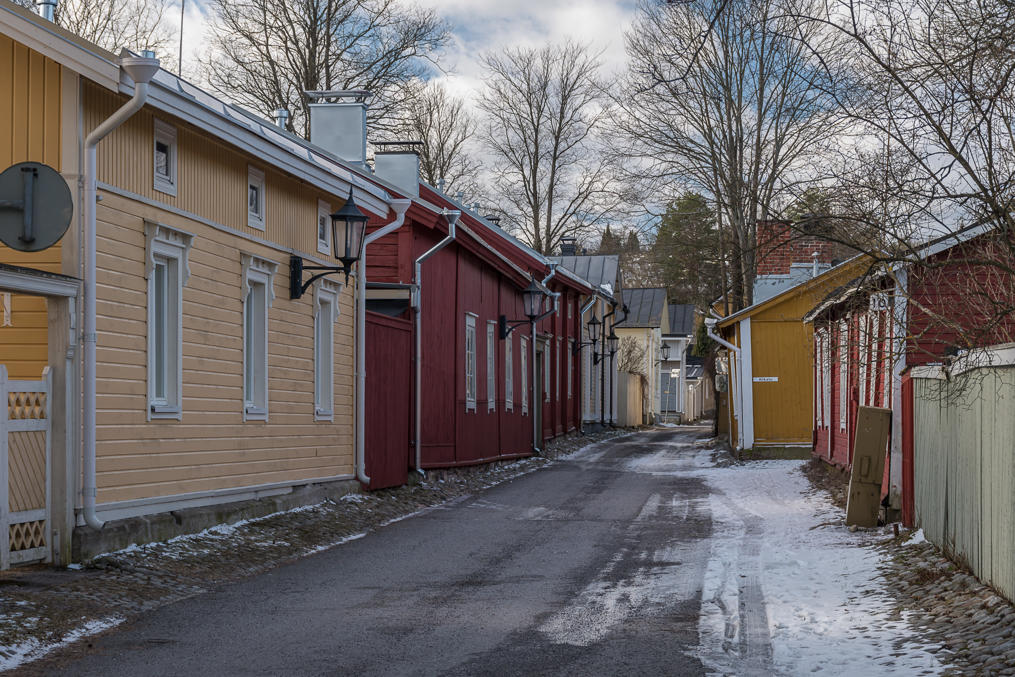 16. Torikatu (Market Street).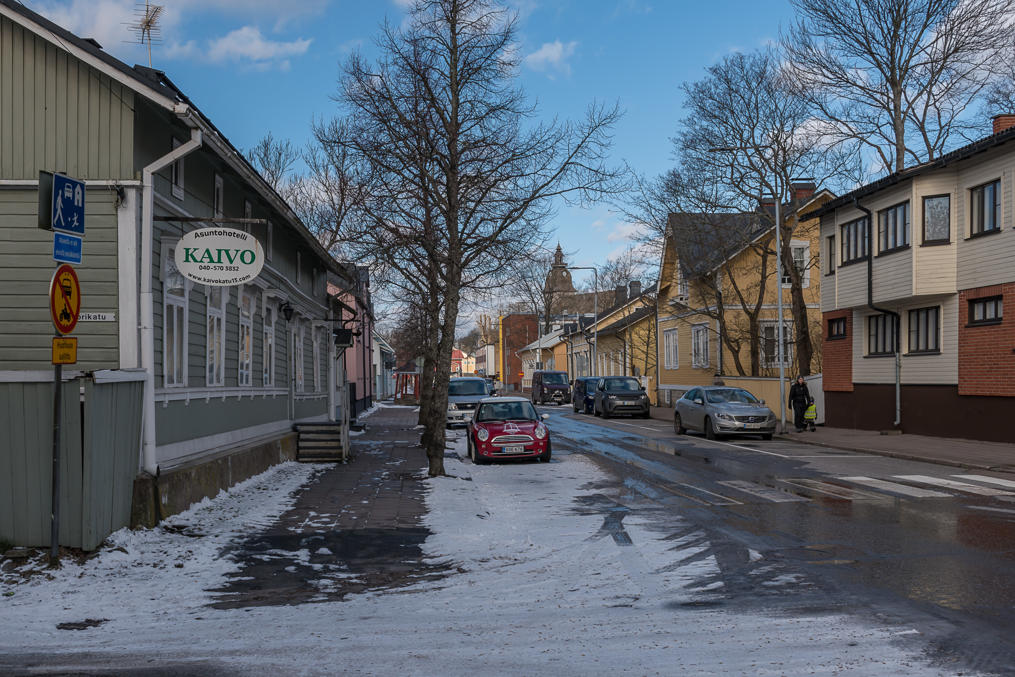 17. Kaivokatu (Well Street) is the street which borders the old town from the east; on the right side you can already see some relatively modern buildings.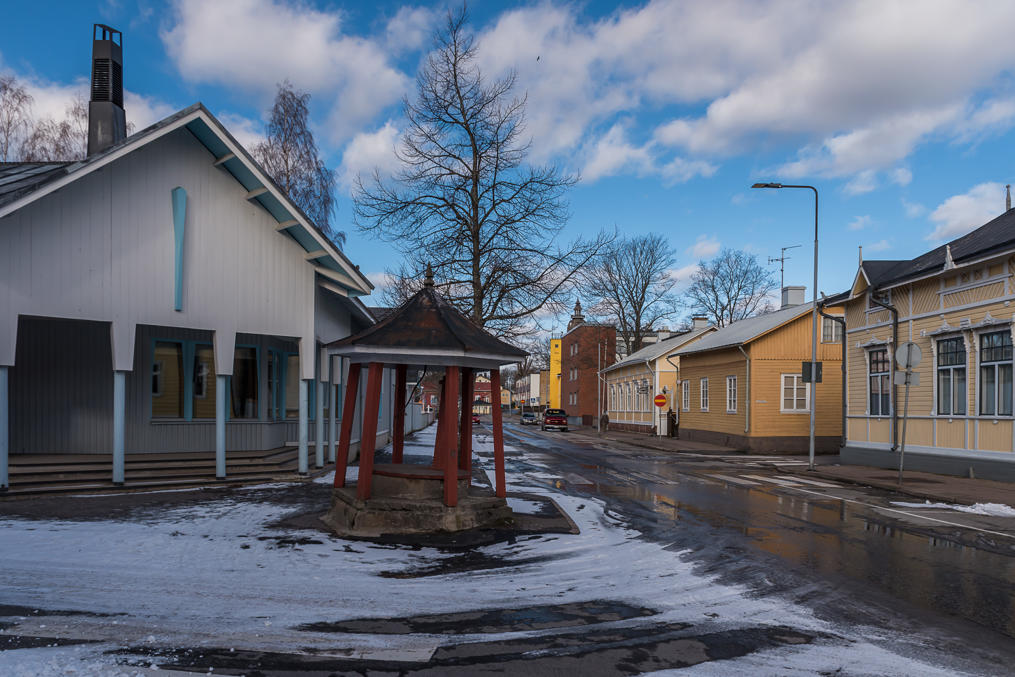 18. True to the name, the street has an old well in the middle of it.
19. Somewhat sad-looking dragon in the window of what might be a kindergarten.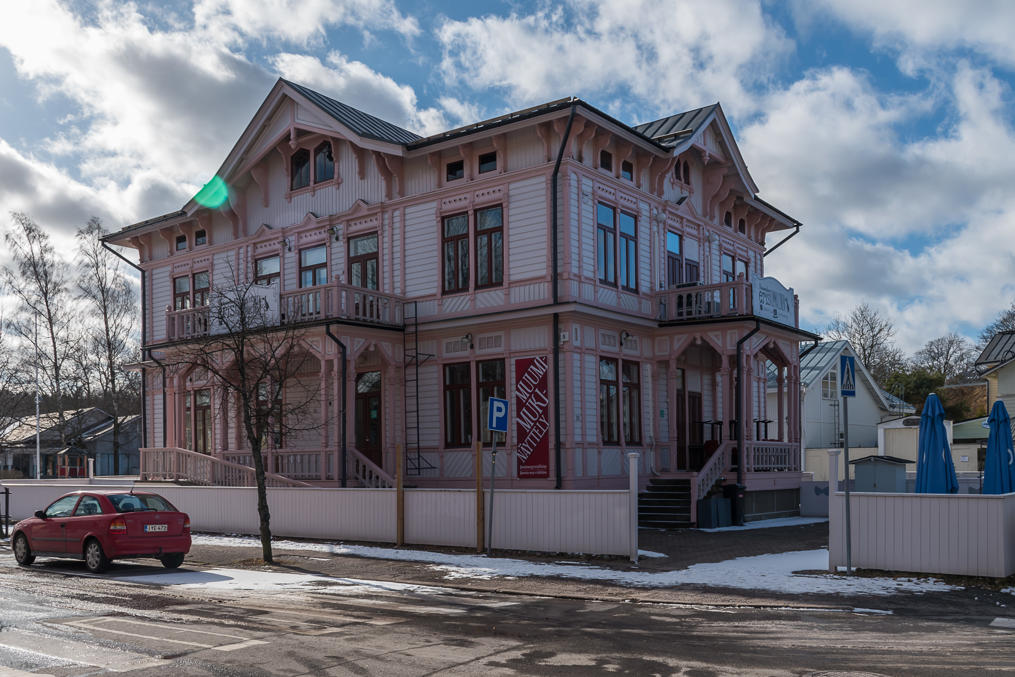 20. "The Peculiar Café", a part of the Moomin World in the old town itself.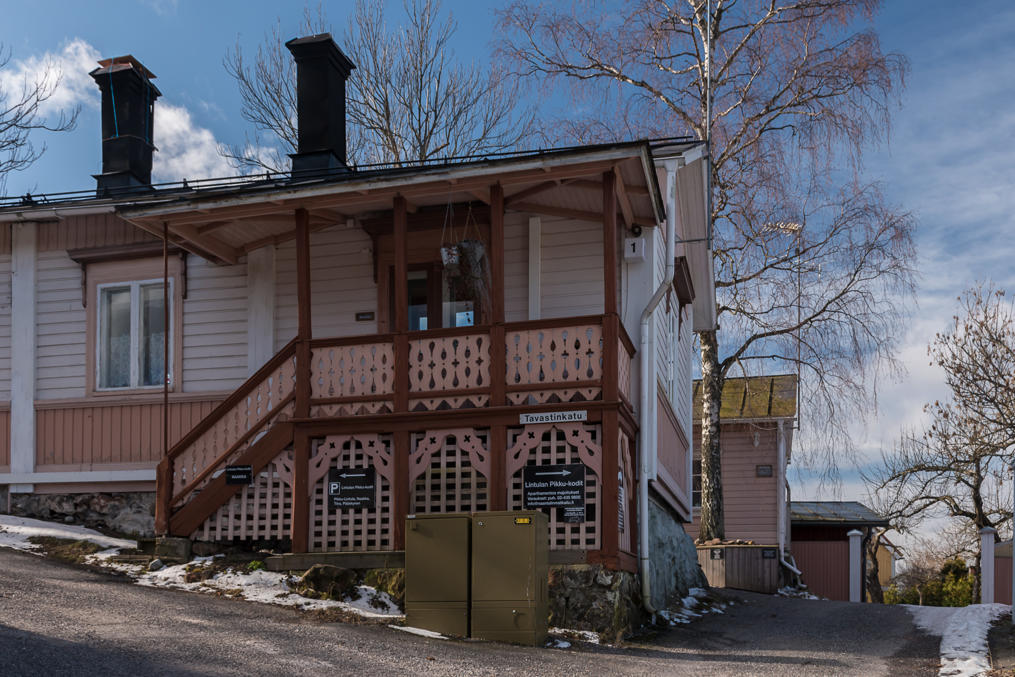 21. A guesthouse at Tavastinkatu (Tavast Street).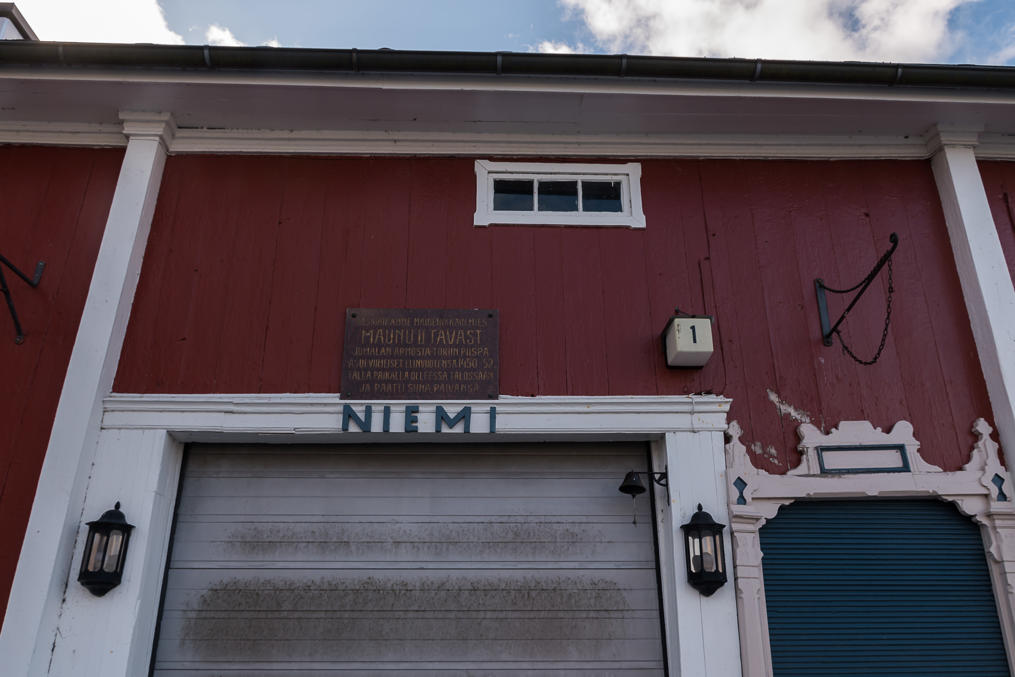 22. What does "Tavast" mean? A plaque on a nearby house states: "The most renowned man of our Middle Ages, Maunu (Magnus) II Tavast, by God's grace the Bishop of Turku, lived the last years of his life in 1450-1452 in the house that stood in this place, and concluded his days here". Magnus Tavast was indeed the most prominent bishop of Finland of the Middle Ages, serving in Turku in 1412-1450. The Vallis Gratiae monastery was established thanks to him, and he was a prominent political leader of Finland at the time. Thanks to him it was allowed to read in churches the Ave Maria, the Lord's Prayer and the Christian creed in Finnish for the first time. The House of Tavast ("Tavast" referring to Häme or Tavastia, one of the oldest Finnish provinces) is one of the most prominent noble houses of medieval Finland. Some Nils Tavast is in fact the first known knight of Finnish blood, but it is not clear if he was related to Magnus Tavast, Tavast apparently being a common surname (or even something like a honorific name) at the time.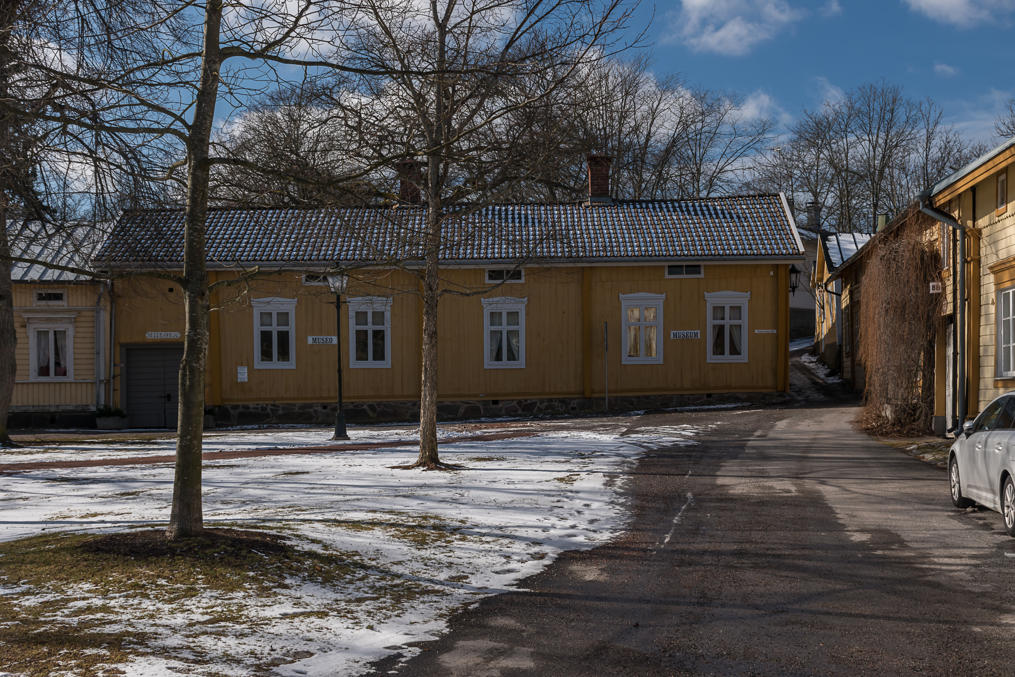 23. Small square in the middle of the old town.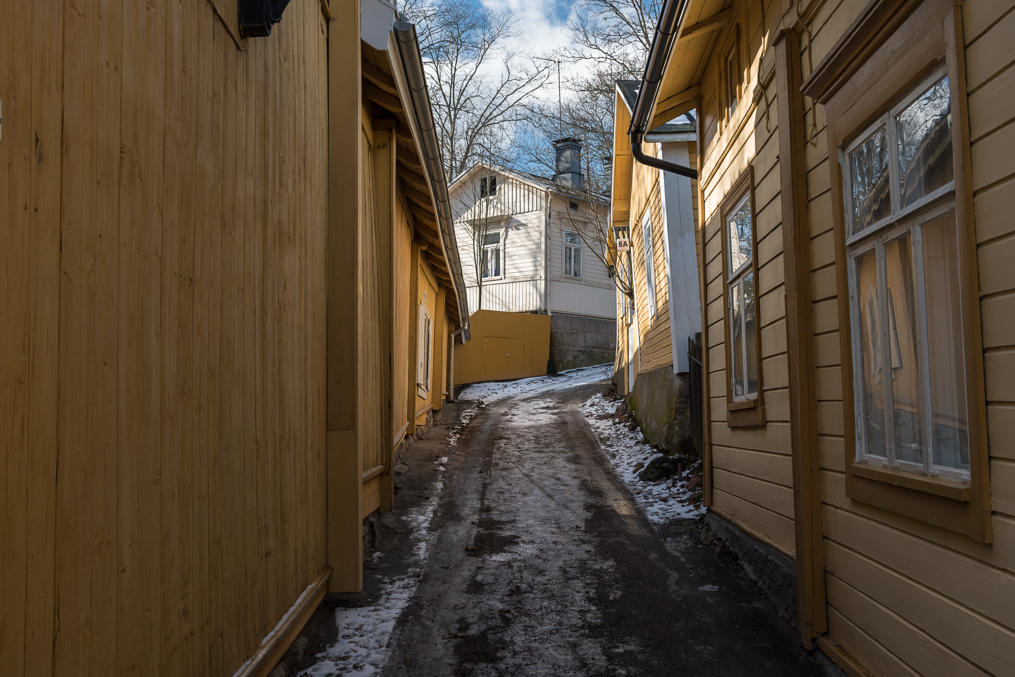 24. One of the narrow streets (Raatihuoneenkatu, City Hall Street) climbs a rather steep hill.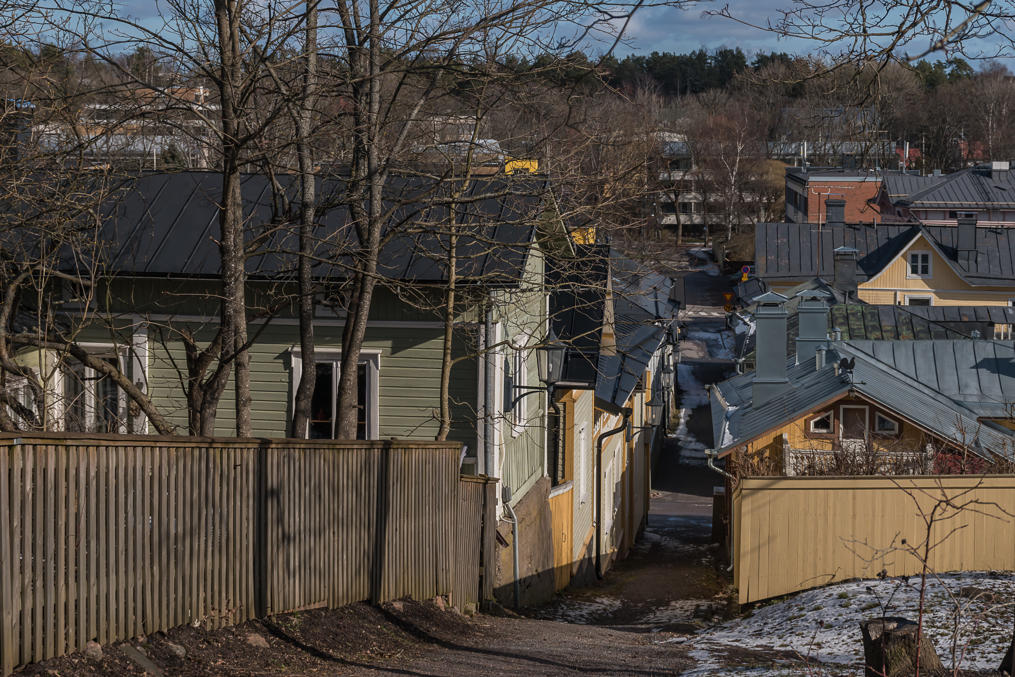 25.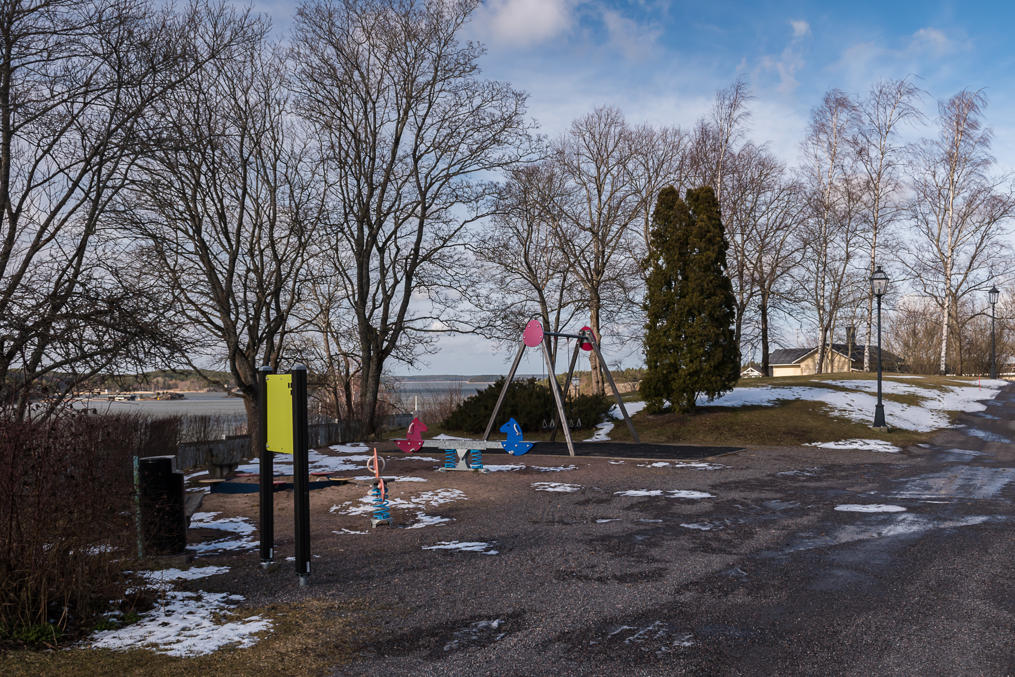 26. On the top of the hill is a somewhat open area with a playground.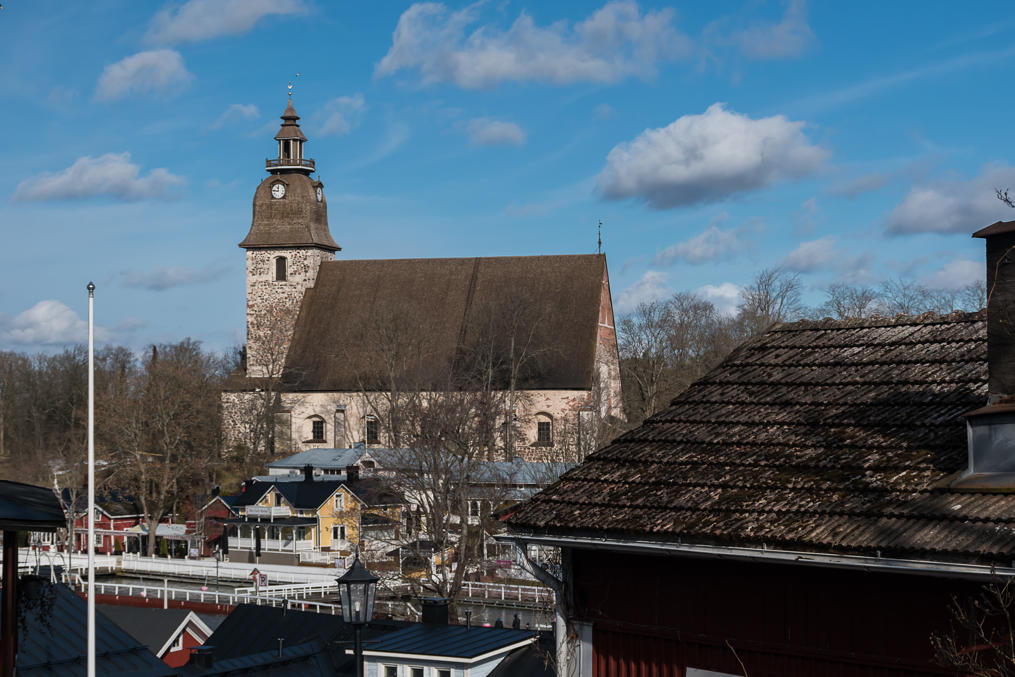 27. From one point on the hill you can enjoy a rather good view of the church.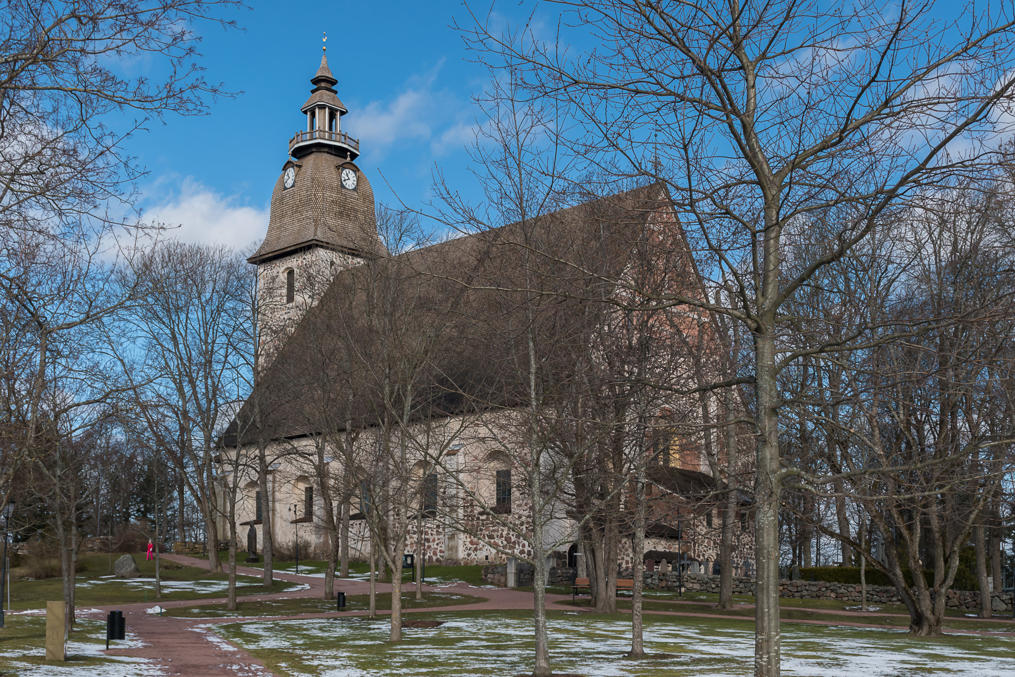 28. Here is the church up close. I already told its history in the introduction; this is a medieval church, built somewhere between 1480 and 1500, as part of the Vallis Gratiae (Valley of Grace) Brigittine monastery, and is the only surviving part of that monastery, which was abandoned in late 16th century (due to the Reformation) and eventually demolished. The belltower was added only in 1797.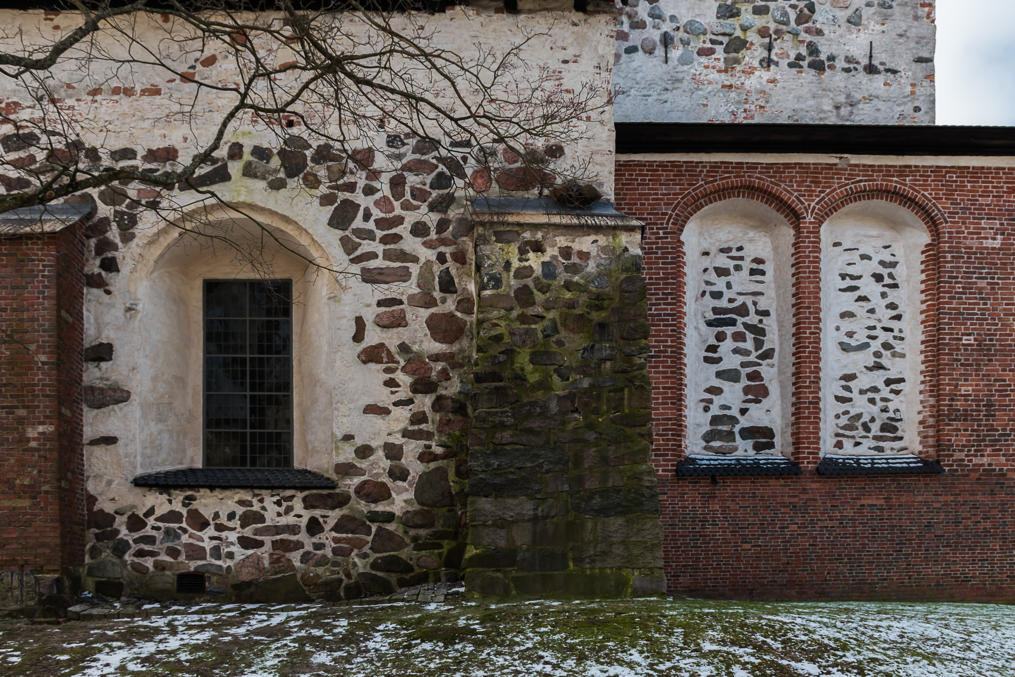 29. Church wall.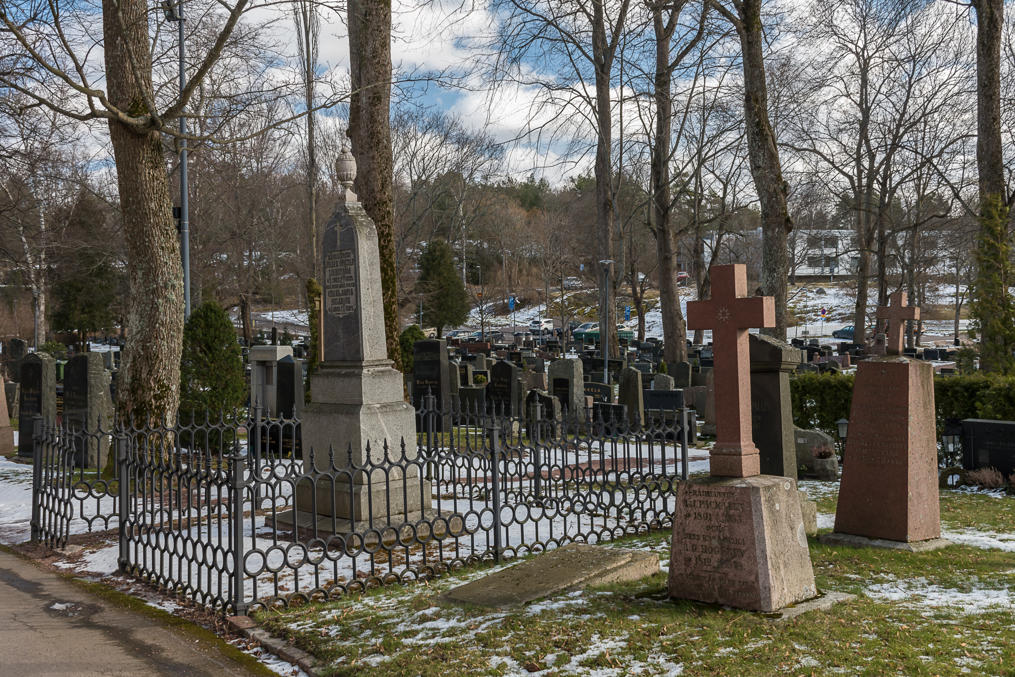 30. Graveyard near the church has some quite old graves and is used to this day.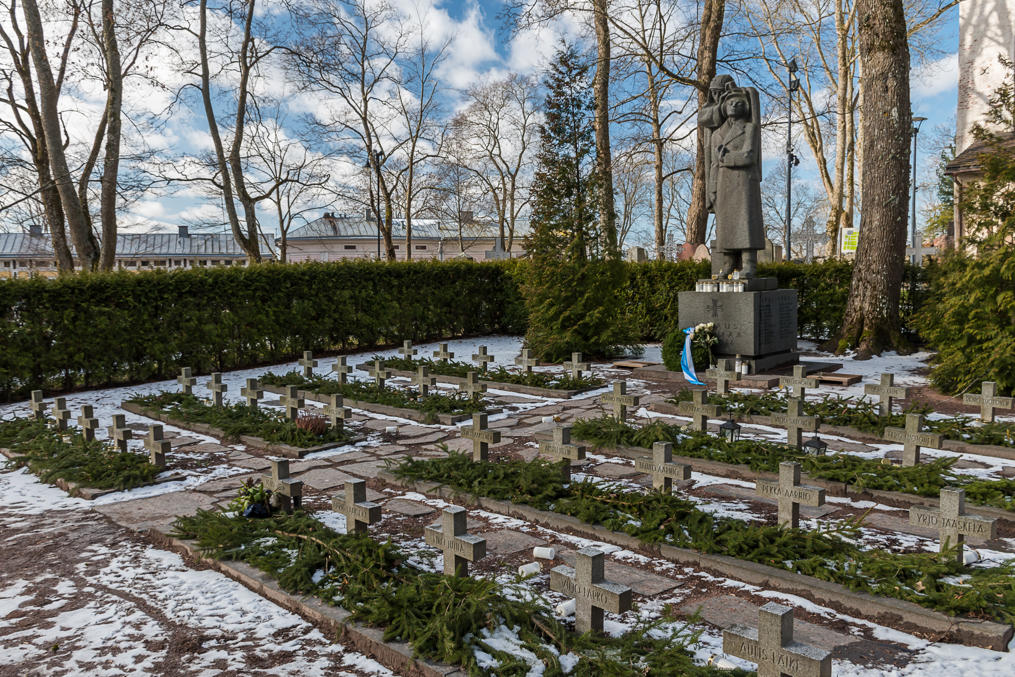 31. The traditional war cemetery is surprisingly small, I've seen much bigger ones in rural places. Was Naantali so tiny at the time of the war? Turns out, it was! According to the Finnish statistical yearbook of 1961, only 1047 people lived in Naantali in 1940, making it one of the smallest cities of Finland. (Naantali was at the time surrounded by the Naantali Rural Municipality (Naantalin maalaiskunta), which however was not much bigger either.) Modern Naantali, while by no means big, is still far from the smallest city in the country.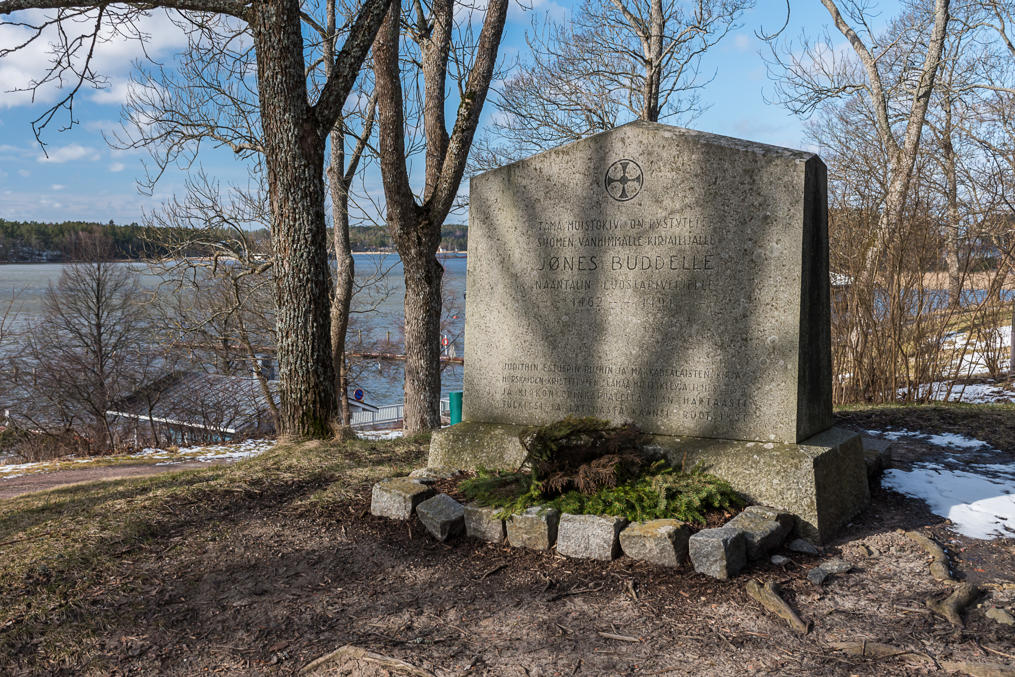 32. One interesting monument near the church is to some Jønes Budde, the supposed "first Finnish writer". His name is more commonly spelled elsewhere as Jöns Budde. He was a monk of the Vallis Gratiae monastery, known to live and work here at least in 1461-1491. He is indeed the first known person in Finnish history who can be called a writer, if only in a very loose sense. He was almost certainly born in Finland, but his native language was most likely Swedish, and he only ever wrote in Swedish (the written form of Finnish hadn't even really existed then). He was pretty much only doing translations of church texts (hagiographies and some Old Testament books) from Latin into Swedish, but his translations were generally quite loose and he used a lot of artistic freedom in them, as was not uncommon for the time. Some of his works survived but we don't really know anything about him otherwise. In any case, he is a rather obscure figure; I had previously had no idea about his existence.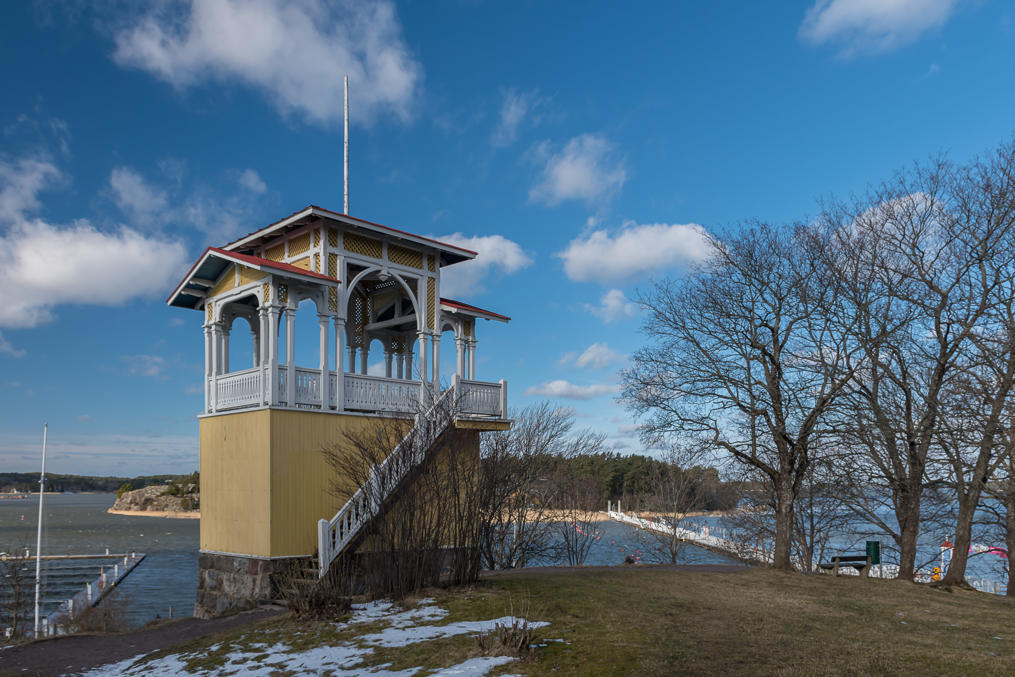 33. At the end of the church hill, above the sea, is a nice small observation tower.
34. And from the tower you can see the Kailo island with its Moomin World, not that it is possible to see much of the Moomin World from here. Let's go there now.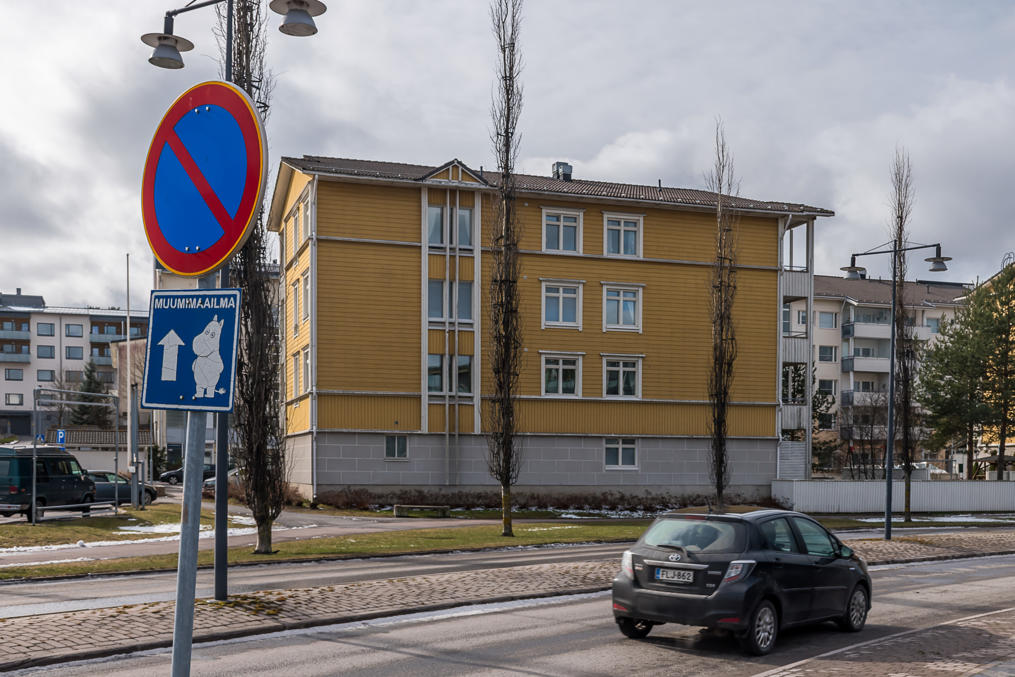 35. Road to the Moomin World is in fact signposted throughout the city, which looks rather cute. Although in practice there are no parking places immediately next to the Moomin World, so there are vast parking lots outside the city (and free buses).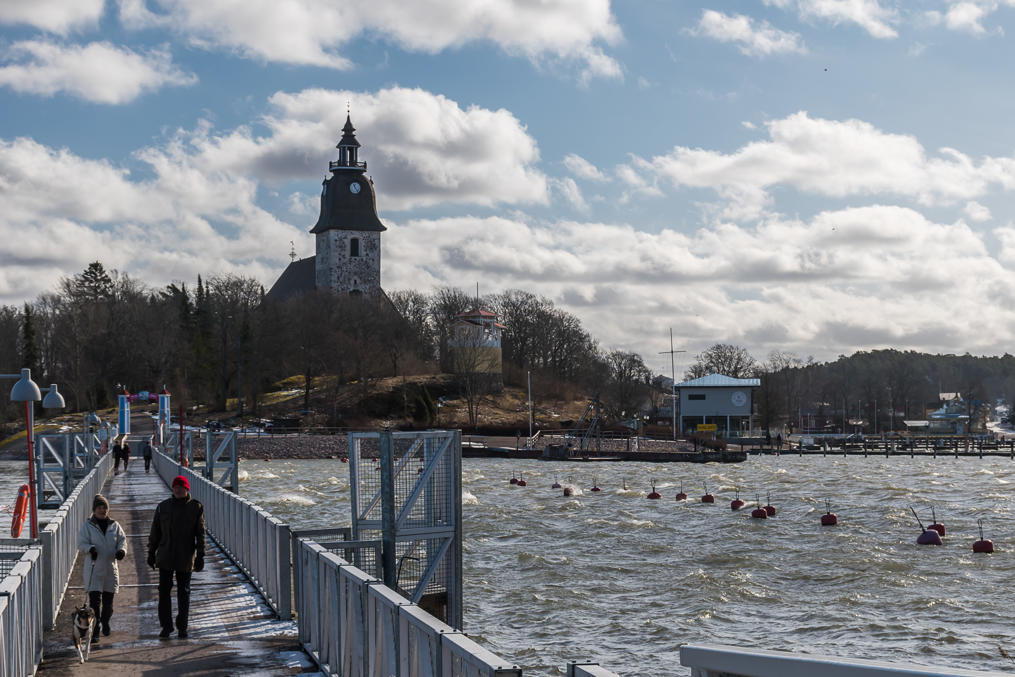 36. The pontoon bridge to the Moomin World. The sea in Airisto was rough enough to splash us on that bridge a few times.
37. The Moomin World is open only in summer months, and we didn't really expect to see any of it at all in March. The bridge was open so we decided to walk closer but assumed that it would end in a locked gate. To our surprise the Moomin World is actually open and freely accessible to the public in off season! Of course all buildings are locked and there is no one here (except a few workers repairing some stuff) but you can still walk everywhere. Which might in a way be even better, without crowds and kids and everything.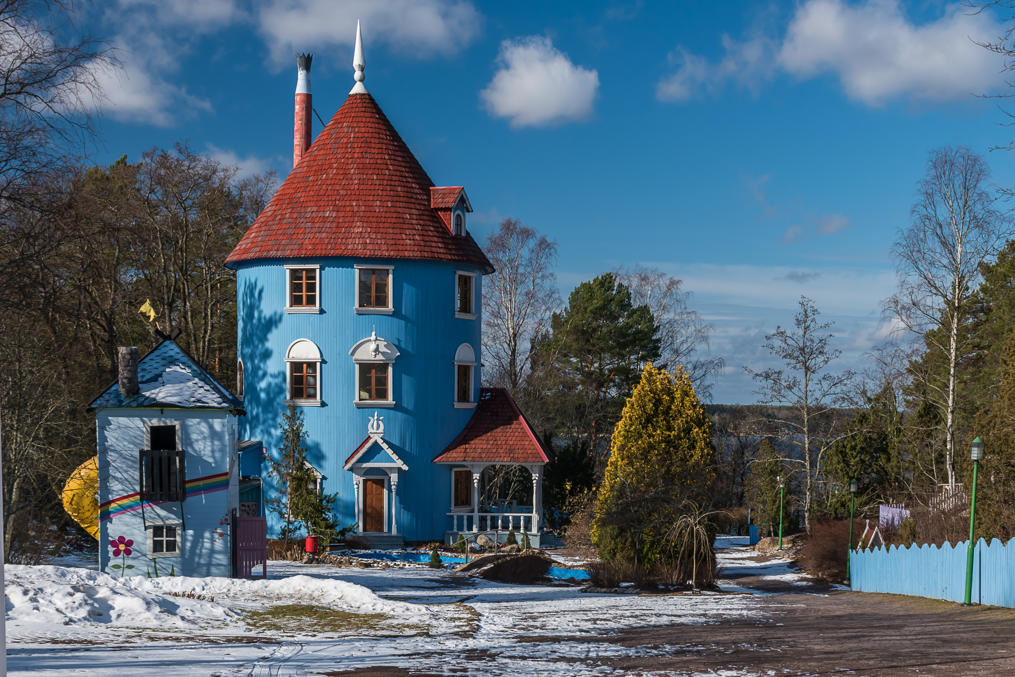 38. So here it is, the glorious Moomin house! You can even peek into windows a bit!
I unfortunately cannot really do justice to the Moomin World as I'm quite poorly familiar with the books (and didn't watch the famous 1990s Finnish-Japanese TV series), having only ever read the first two, about the comet and the Hobgoblin's hat, although as I understand the latter ones are even better. Of course now that I live in Finland it is probably a good idea to get acquainted with one of the most famous works that came from here. On the other hand, the author, Tove Jansson, was a Finnish Swede and the books were originally in Swedish, and since I kind of want to learn to at least read Swedish at some point, it feels like it would be appropriate to read the books only then.
Annika on the other hand grew up in Finland and read the books and watched the TV series as a child and greatly enjoyed the Moomin World (which she had never visited before), spotting various references and observing how various parts of it were close (or not so close) to the canon.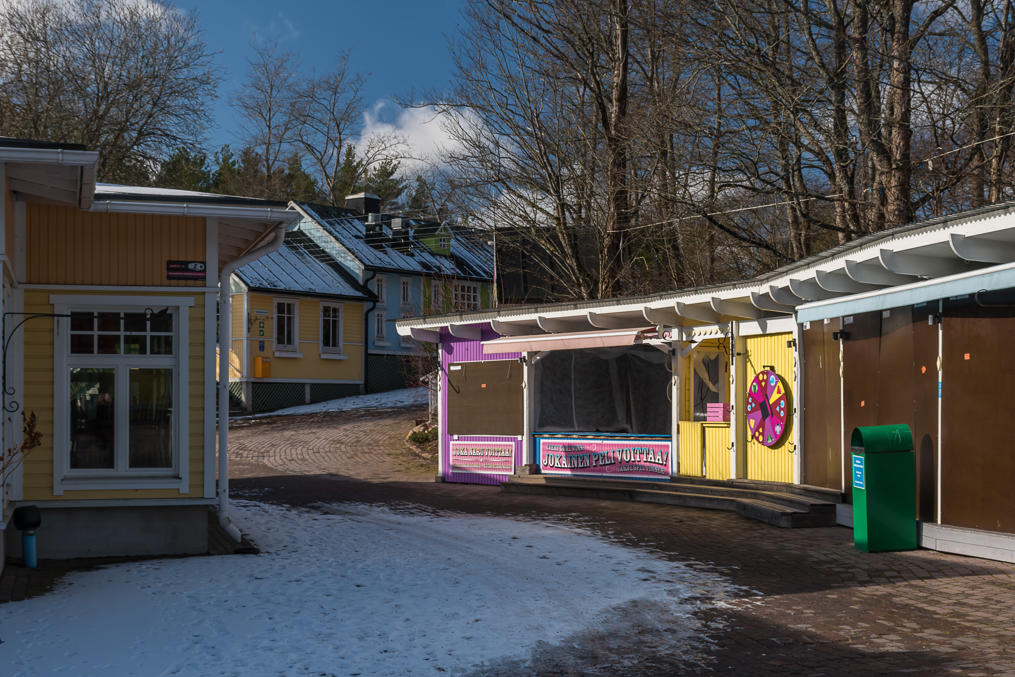 39. The "main street".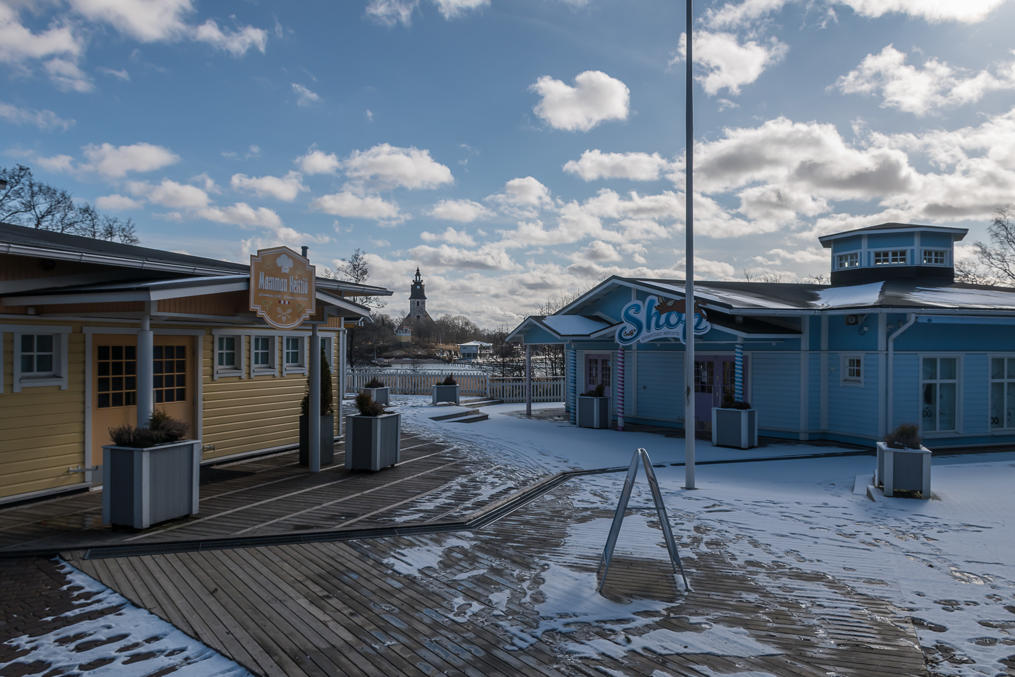 40. Moominmamma's Kitchen and Sniff's Shop. Moomin World is actually not an amusement park, as I had assumed. Tove Jansson, who was alive at the time the park was being constructed (in 1993) and had the final say of what is and what isn't going in, apparently was strictly against this being an amusement park with any rides etc. So this is simply a theme park, where you can enjoy some places from the familiar stories, and meet the familiar characters (in summer, of course, when it's actually open). I'm not a huge fan of amusement parks myself so I approve of that.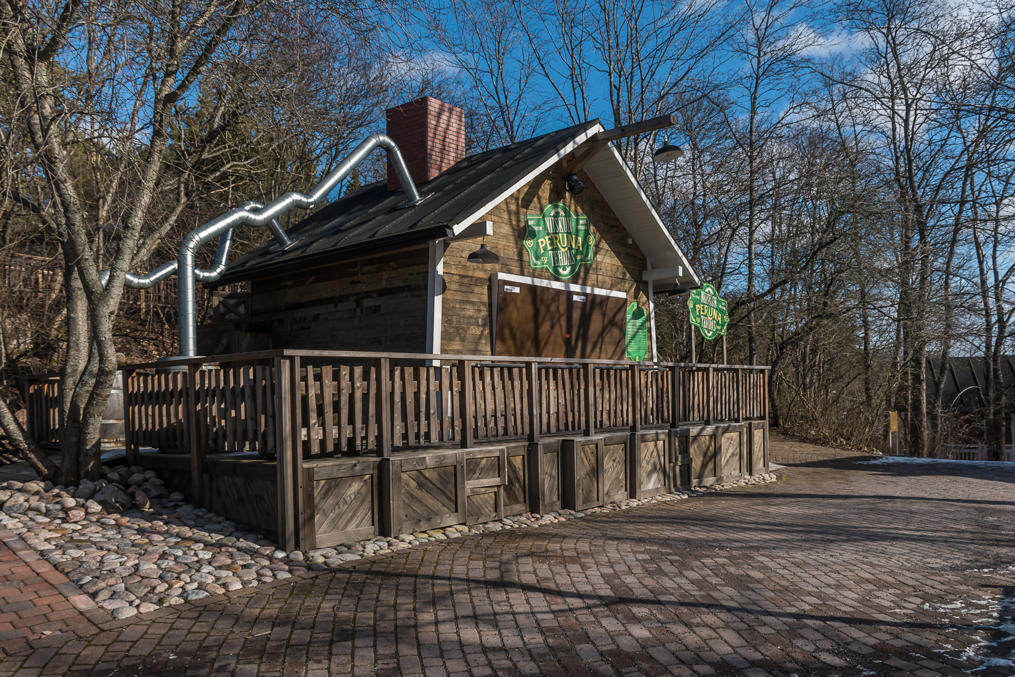 41. The Snork's "potato factory". I wasn't aware he was supposed to have one.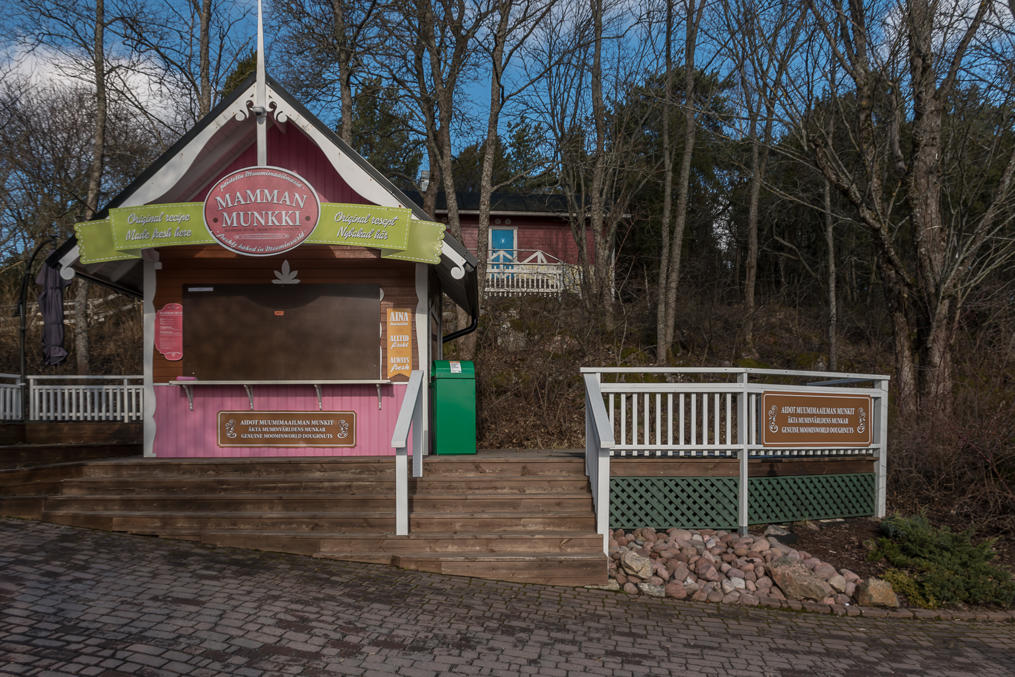 42. Moominmamma's Doughnuts.
43. The Police Inspector Hemulen's station (although it looks more like a fire station).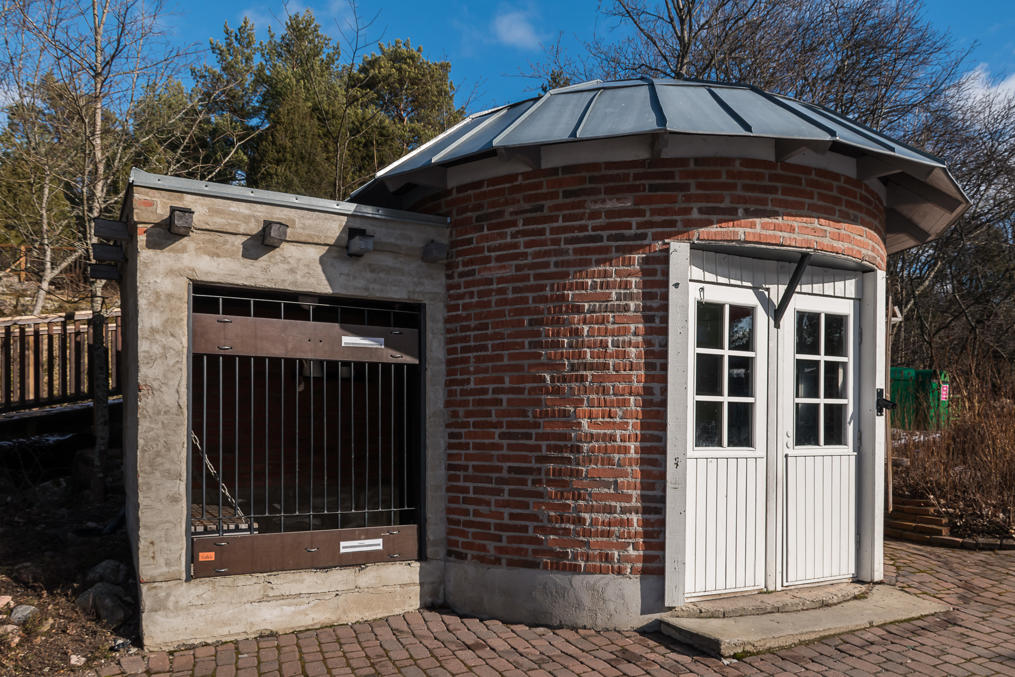 44. There is also a prison.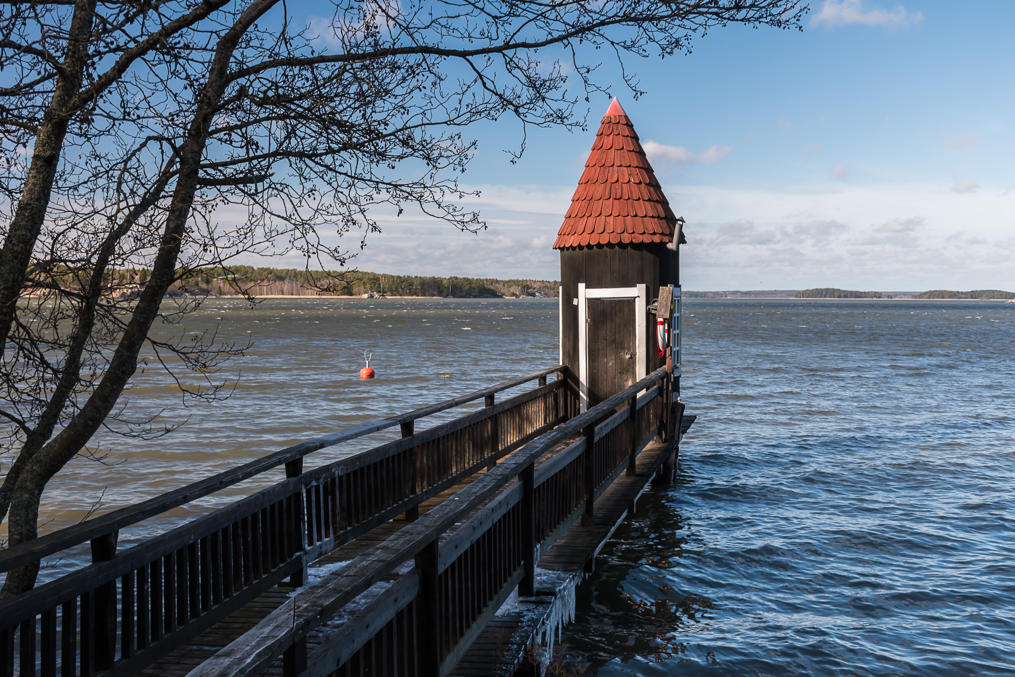 45. The bathhouse on a pier on the northwestern side of the island, looking out on Naantalinaukko (Fin. Naantali Opening) bay.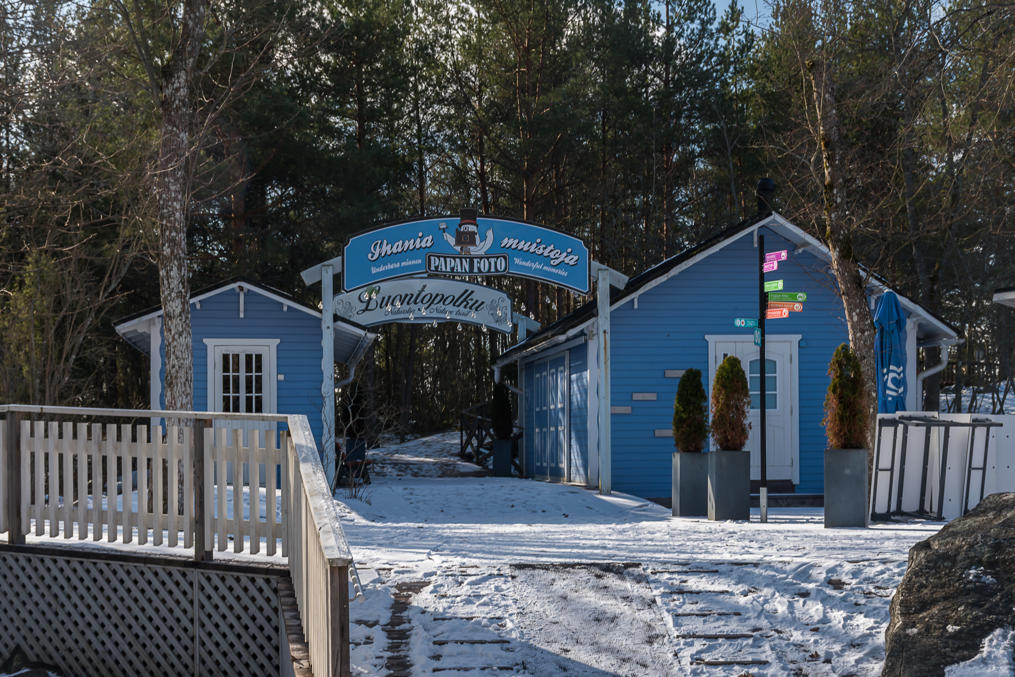 46. Moominpappa's Pictures and then a tiny "nature trail". The island is not big (200-300 m across) but the Moomin Park is not huge either and there are quite many swathes of nature remaining, forests and bare rock.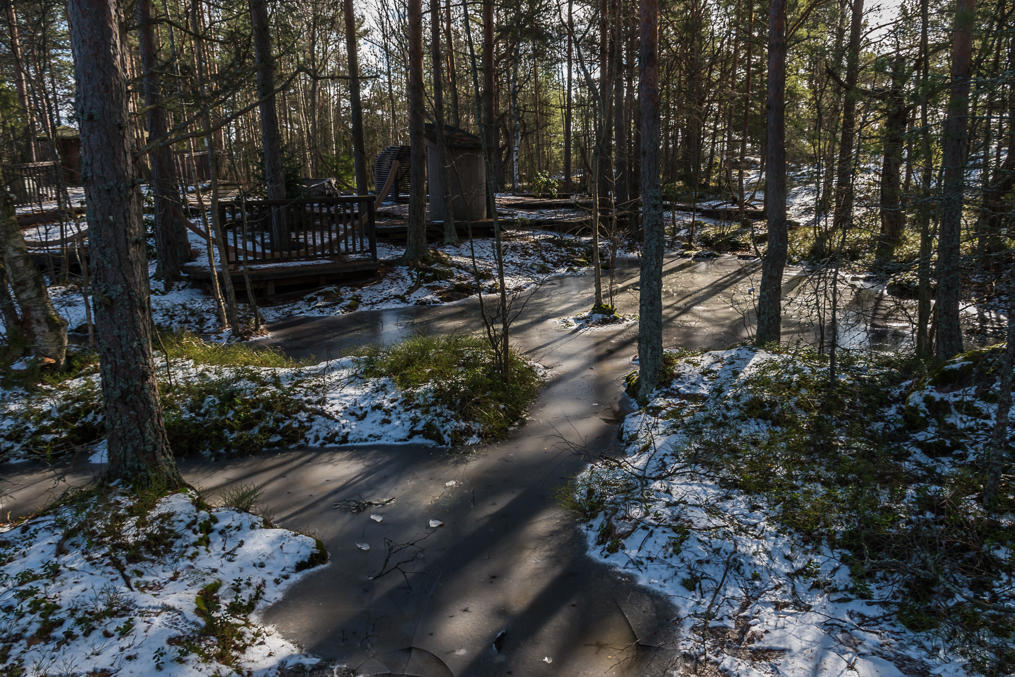 47. At the "nature trail".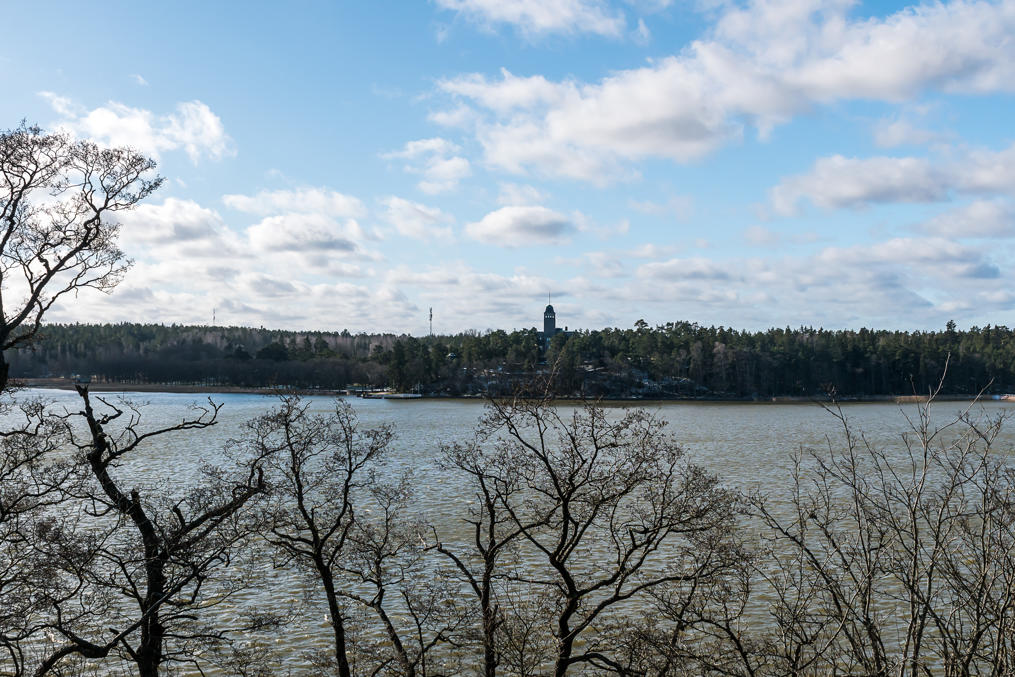 48. The tower of Kultaranta mansion visible from a rocky precipice (with a safety fence).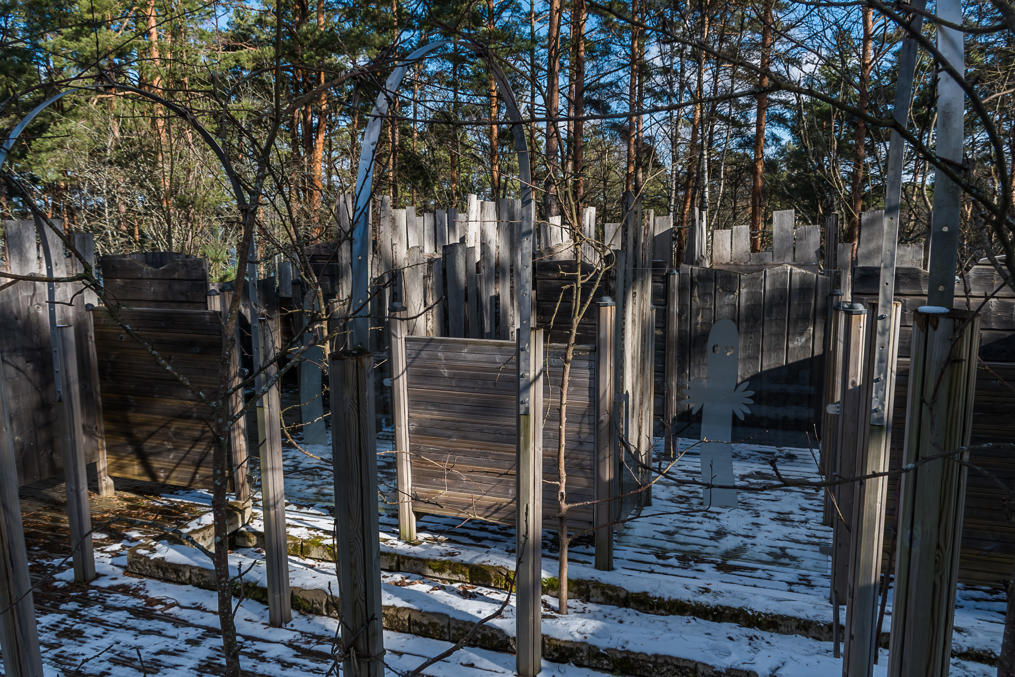 49. Hattifatteners' Maze.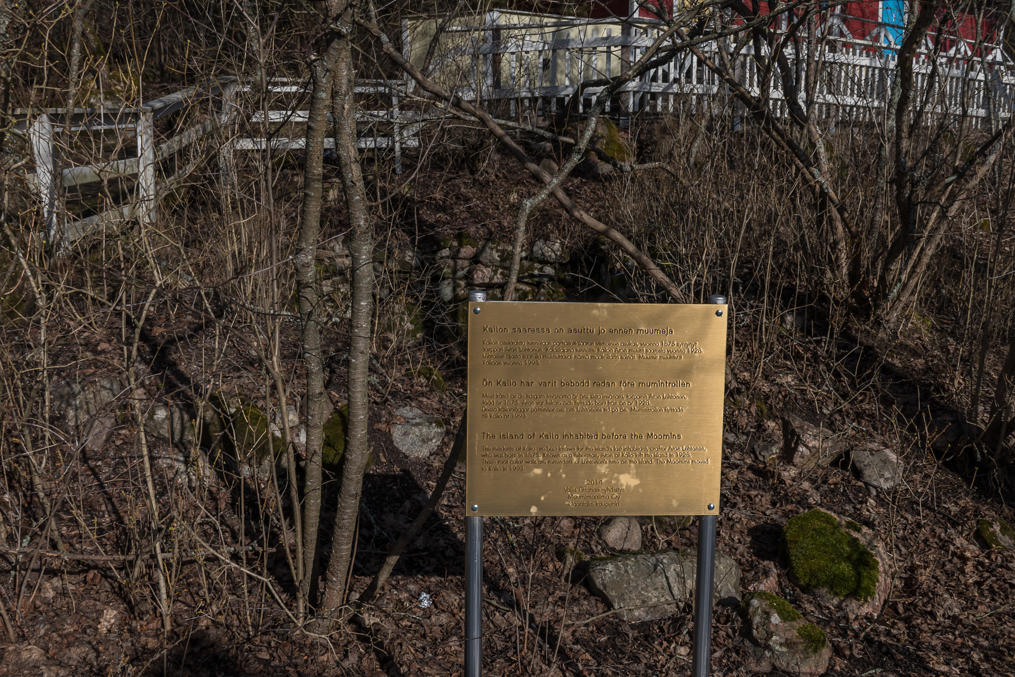 50. A short note about the Kailo island's pre-Moomin World history, which was unremarkable; throughout its history it was inhabited only by a few peasants and fishermen (originally working for the Vallis Gratiae monastery). As the sign says, the last fisherman left the island in 1928 (or 1932, according to Wikipedia) and this is the remains of his cellar. For half a century then the island belonged to the church, which held some confirmation camps there, and in 1978 the city bought the island and built the pontoon bridge; until the establishment of the Moomin World at 1993, the island was simply a city park.
51. And the Hattifatteners say, don't forget about our sponsors! (this place near the toilets is the only one mentioning sponsors, though.)
All in all, the Moomin World looks pretty good and I can completely imagine that it would actually feel magical to kids; a very Finnish sort of place and doesn't really feel commercialized. Although, as I said, it's not particularly big, I still haven't shown all of its parts.
And that is all for the first part, in the second one we'll explore the mundane modern city center, the beautiful rocky Airisto coast, and will have a short look at the industry and the harbor.
Published on: