---
It's been some months since I last wrote anything here, having just almost finished the "Coming to Finland" story. It's also been 8 months since I moved to Vaasa in Finland. Ever since the warm days came in early May, I've been visiting various places pretty much every weekend. Eventually I even started to feel overwhelmed by the sheer number of the places that I was seeing and the pictures I was taking.
For the most part I've been travelling around the Ostrobothnia region where I live and some adjacent ones, and so far there were only two relatively big trips this year. The first one was around the east coast of the Bay of Bothnia, to Kalajoki, Raahe, Oulu, Kemi, Tornio and Haparanda, and the second one was a three day hiking trip to Abisko National Park in Northern Sweden. Since I've got to begin somewhere, I might as well start with Abisko, because this is a mighty cool place, completely different from Ostrobothnia.
I hadn't been in any mountains for a whole year, after my huge 36-day trip around Northern Sweden and Norway in May-June 2017. I wanted to see some already pretty badly, and luckily the Midsummer, which is a public holiday in Finland (juhannus), meant that I had three days off in a row, the Midsummer eve (22.6) and the weekend immediately afterwards. While Vaasa is still disappointingly too far from any mountains for a weekend trip, three days were already something. The area I chose (after considering Urho Kekkonen National Park in Finland, Kebnekaise and a few other places) was Abisko National Park, a relatively small but scenic, well-accessible and well-travelled area of the Scandinavian Mountains. I had visited Abisko last year rather briefly; 2017 was a cold year and in early June there still was plenty of snow there at the time. This time I wanted to do something I rarely do, a multi-day hike.
This was the route that I chose: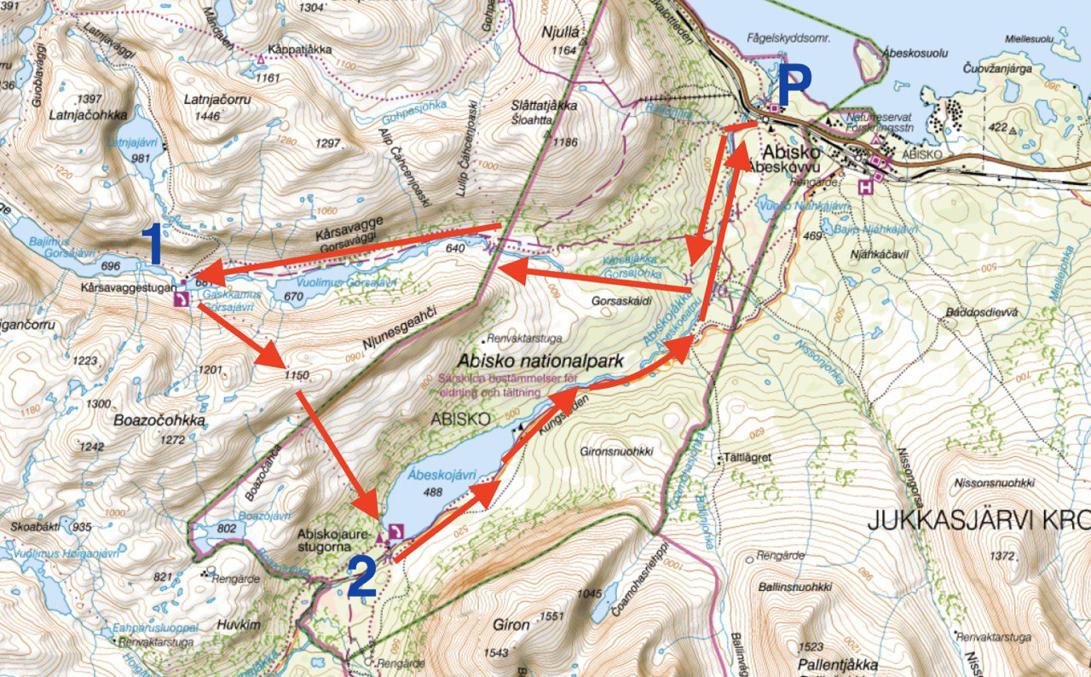 I was to drive 900 km from home to Abisko mountain station and main national park entrance, walk some 15 km up Gorsavággi valley, spend the night in Kårsavagge hut or near it, climb up to a mountain pass near Boazočohkka mountain and descend again into the valley of Abeskoeatnu river, spend the second night in Abiskojaure huts or near them, and walk 13 km down this valley back to the car. I packed up my big rarely-used backpack with similarly rarely-used sleeping gear, but was also curious to try out mountain huts. There are quite a few of those in Swedish mountains, in their commonly visited areas. Most of them are operated by STF, the Swedish Tourist Association (choose "Mountain cabin" as the accomodation type if you want to see them on the map, as STF also operates regular hostels and the like). They are staffed, and offer warm beds and sometimes other amenities, like a sauna or even a small food store. Of course using them is not free but prices are fairly reasonable.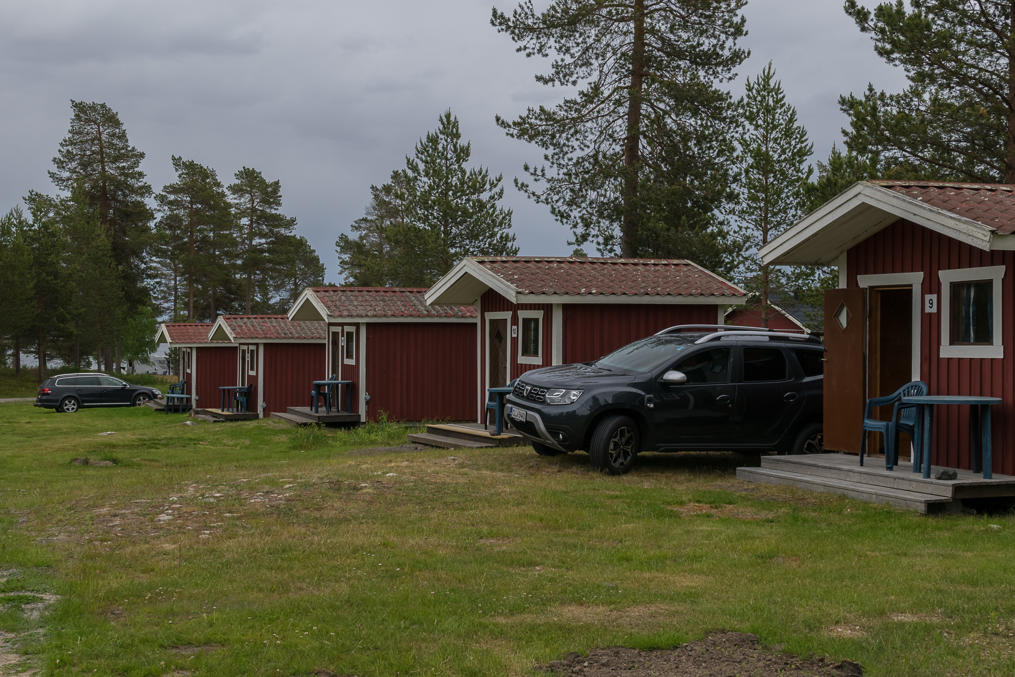 1. Driving 900 km is no small task in itself, and normally takes most of the day. I didn't want to start the hike late on Friday evening and already tired from driving so much, so in fact I booked a place for overnight stay and set out on Thursday evening. The place in question was Seskarö Camping near Haparanda, somewhat past Finnish-Swedish border, 475 km from home and 450 km from Abisko. In fact I drove a bit over 500, as instead of the most direct road via Finnish National Road 8 I went with an inland route through less busy roads. This one goes through places like Kauhava and Kaustinen and Ylivieska, and if these names say nothing to you this is because there is pretty much nothing there, just villages and fields. It's pretty much flyover country and driving through it was really boring. I crossed the border in Tornio and arrived to Seskarö pretty late, at 23 or so.
If you read some of my older posts you might have remembered my red Sandero. I sold that trusty car in March in Russia with help of my cousin, and in late April finally got a new one, this Dacia Duster. It feels like a bigger and better version of Sandero, which it pretty much is, a Sandero in SUV shape. I quite like it so far and it's been as reliable as Sandero before it, although it feels significantly slower and cost me much more. Well, all new cars in Finland cost a ton of money. Low loan rates thankfully make this less painful, and in general buying a car and associated things like insurance in Finland turned out to be very effortless. I should probably make a post about it too. But anyway here we are, my Duster near my cabin in Seskarö.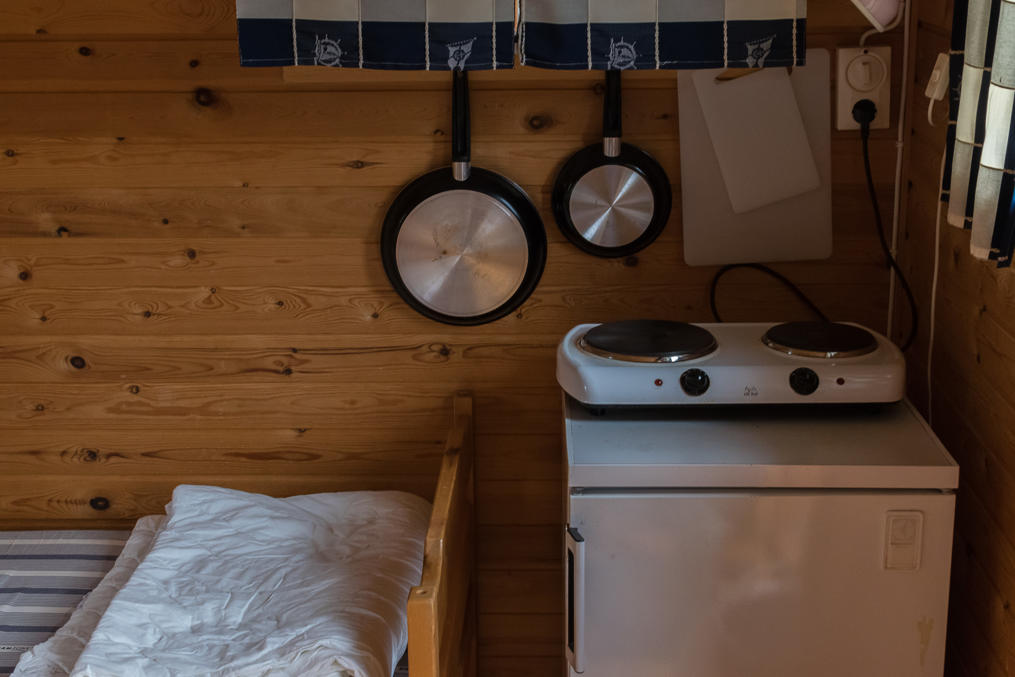 2. The cabin was quite basic, just two beds, a table and some cooking stuff. I hadn't paid much attention when I had been booking it, and was annoyed to learn this one had no toilet or shower. Of course, this is normal for campings and I should have expected it for the price. More annoyingly, I had no Internet connection! My prepaid SIM card from DNA, which I use for everything in Finland and which works quite well there, refused to give me any Internet roaming (even though the tariff should include it), my Swedish SIM card from Telia from last year had no money on it, and there was no Wi-Fi. Well, there seemed to be some Wi-Fi near main buildings. I spent some time peering through the windows of the locked cafe, hoping that they have the password put up somewhere, and even managed to find some staff; they gave me a password but it didn't work. Frustrated I went to bed finally. At least I had something to read with me.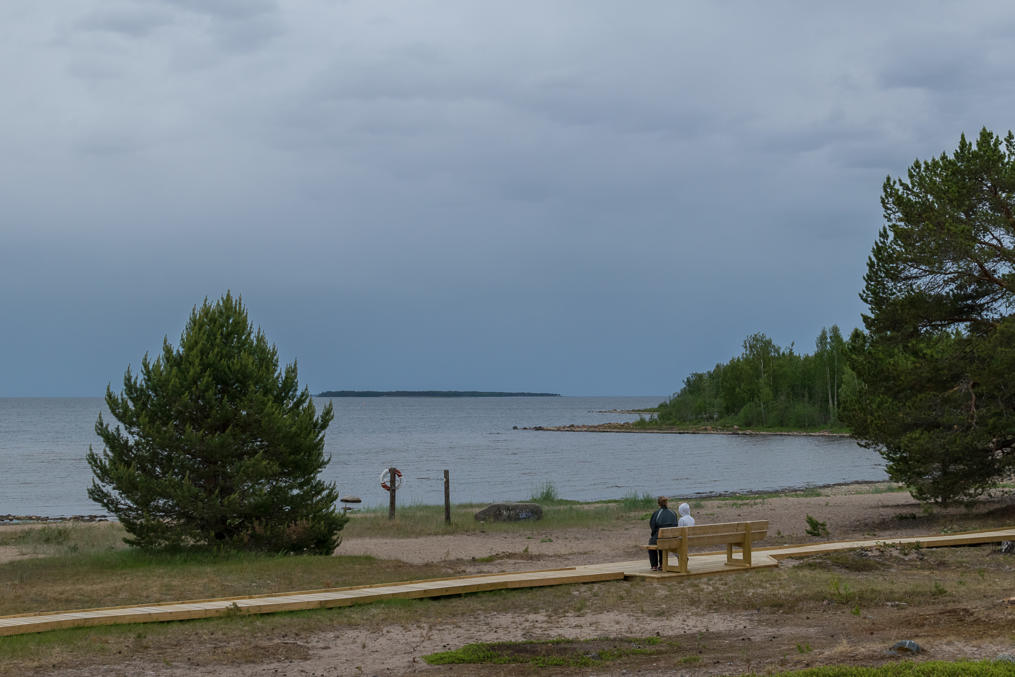 3. Seskarö is actually a pretty nice place, mind you. It's a rather big island in one of the northernmost parts of the Bay of Bothnia, and therefore of the entire Baltic Sea. It has nice beaches, pine woods on sandy ground, and some hiking trails. However it wasn't my actual destination, and I had neither time nor any particular desire to explore it at the moment.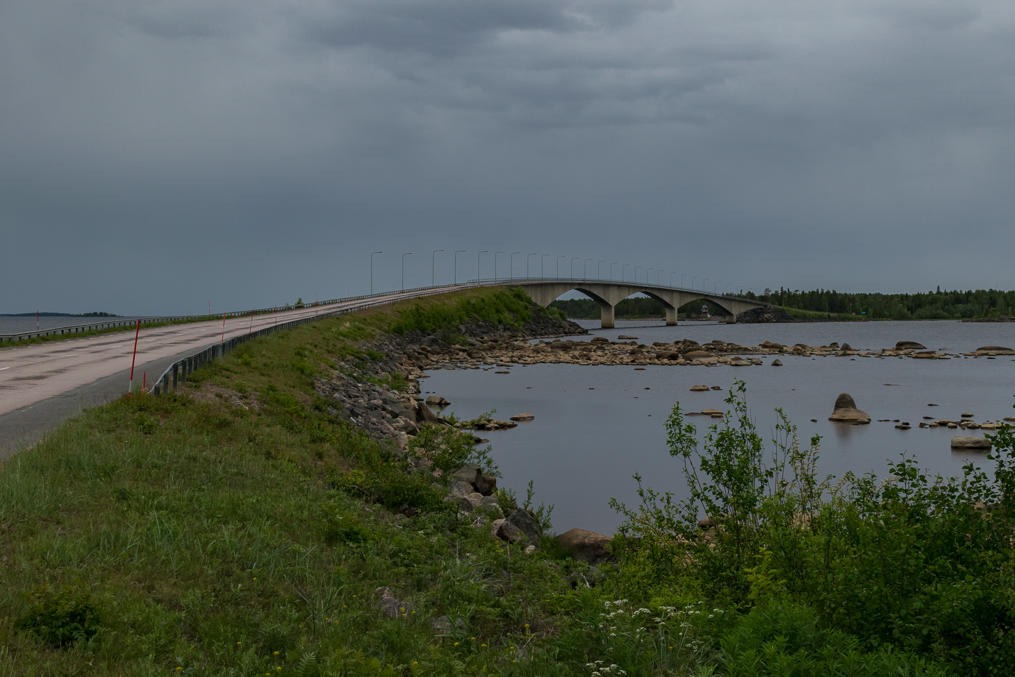 4. Bridge to Seskarö. The next day, after having some breakfast (in that closed cafe, they specifically walked me through a back door there), I left the island, briefly dropped to Haparanda again for some final grocery shopping and for catching some Internet from Finland, and then set off towards Abisko.
The entire period since early May has been exceptionally hot and dry in the Nordics, but Midsummer was one of the few exceptions. The weather forecasts were not encouraging at all, with continuous rains around most of Sweden including Abisko. The rain started on this day when I was in Haparanda, and for a while got strong enough that it was difficult to drive and hiking in such conditions would have been extremely miserable. I thought about giving up the idea altogether but in the end still drove on hoping for the best. Indeed the torrential rain soon ended, but overcast weather and minor to average rains kept plaguing me throughout the actual hike.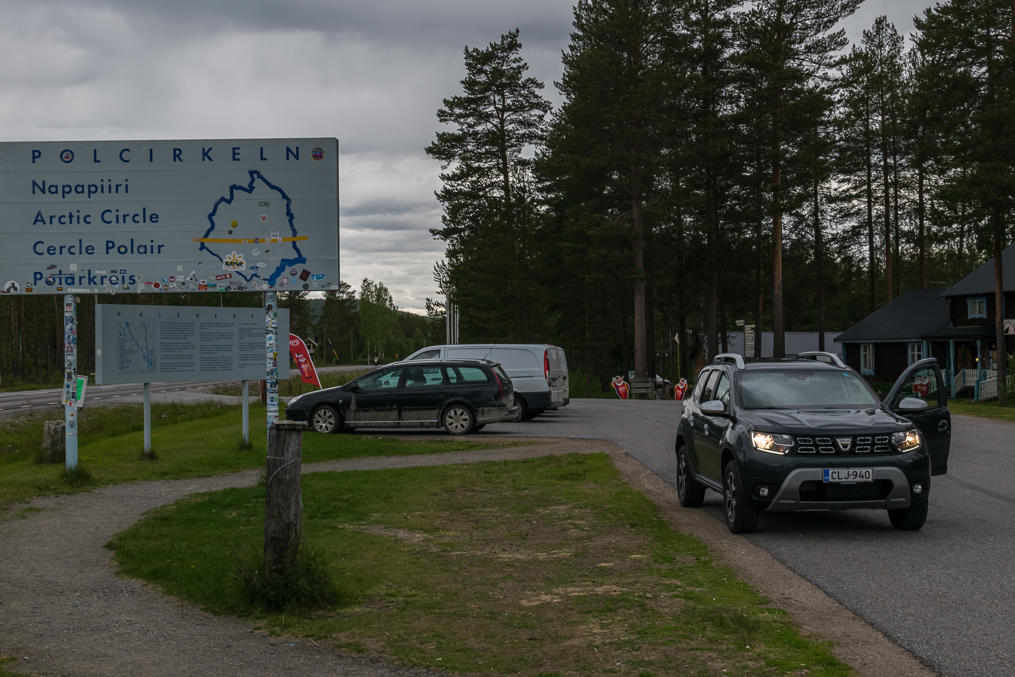 5. I drove west to the town of Kalix, then on some shortcut road along the bank of Kalix river (which was surprisingly scenic but I have no pictures), and then onto Route E10, the road across the northernmost parts of Sweden via Kiruna and Abisko to Narvik and Lofoten in Norway. Soon after passing the village of Överkalix the road became quite empty and remained this way all the way to Abisko. There aren't any particular sights along this section, but at least I got to cross the Arctic Circle in a new location.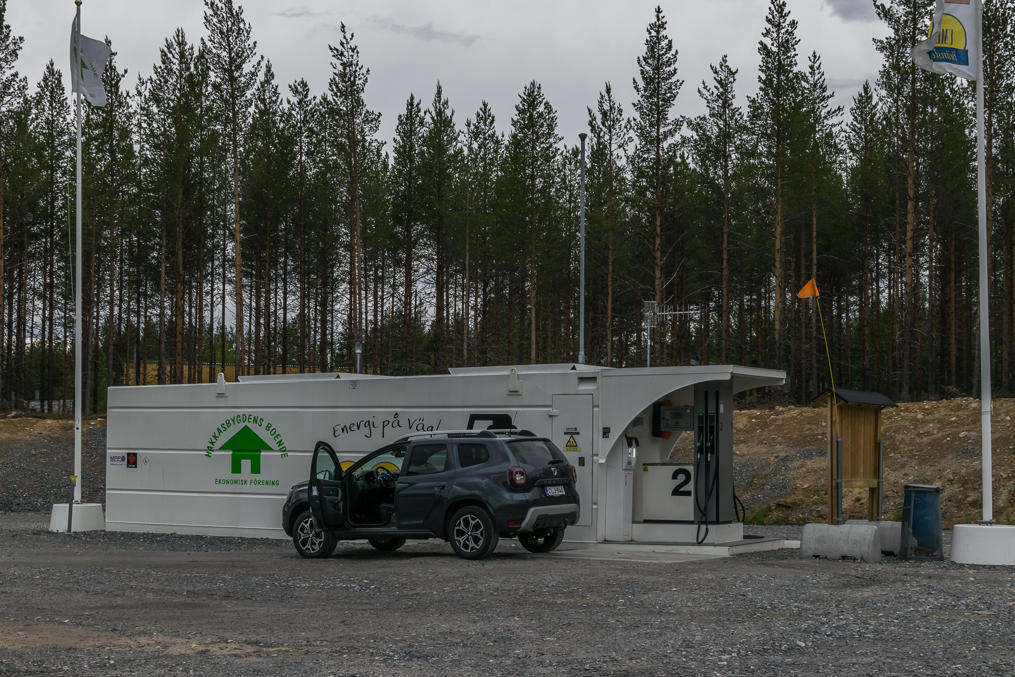 6. Some pretty minimalist gas station closer to Gällivare. The mileage on this Duster (1.2l turbocharged gas engine) is quite good, around 6.4 l/100 km on highways, driving with no passengers and without overusing A/C, but the fuel gauge is pretty inaccurate so I always keep thinking I use more gas than I really do.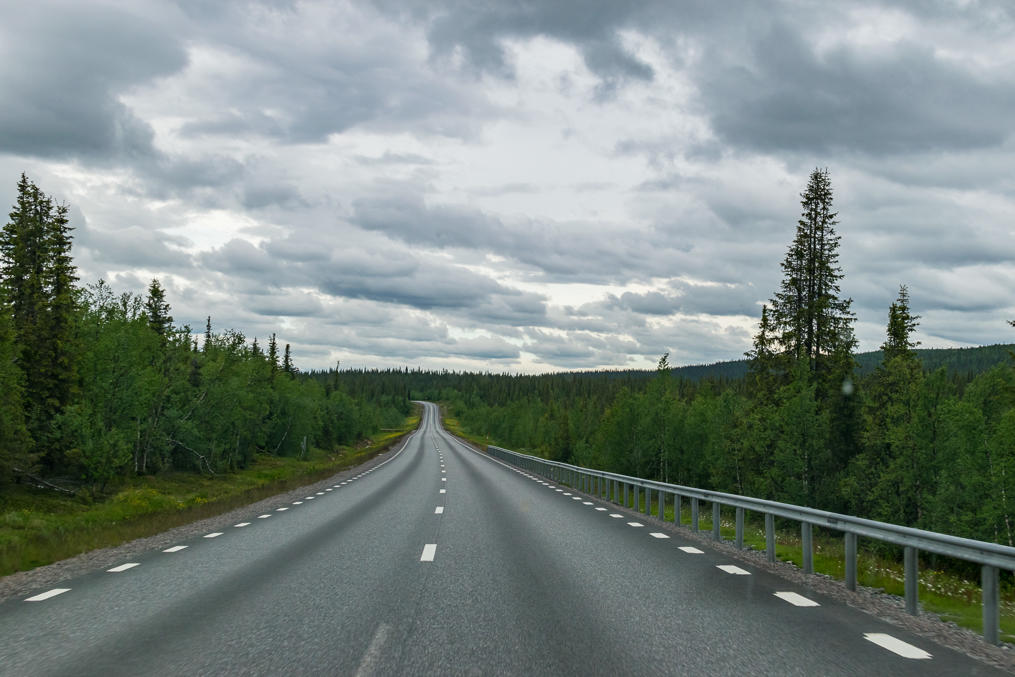 7. The road around Gällivare and between it and Kiruna passes through some vast stretches of taiga forest.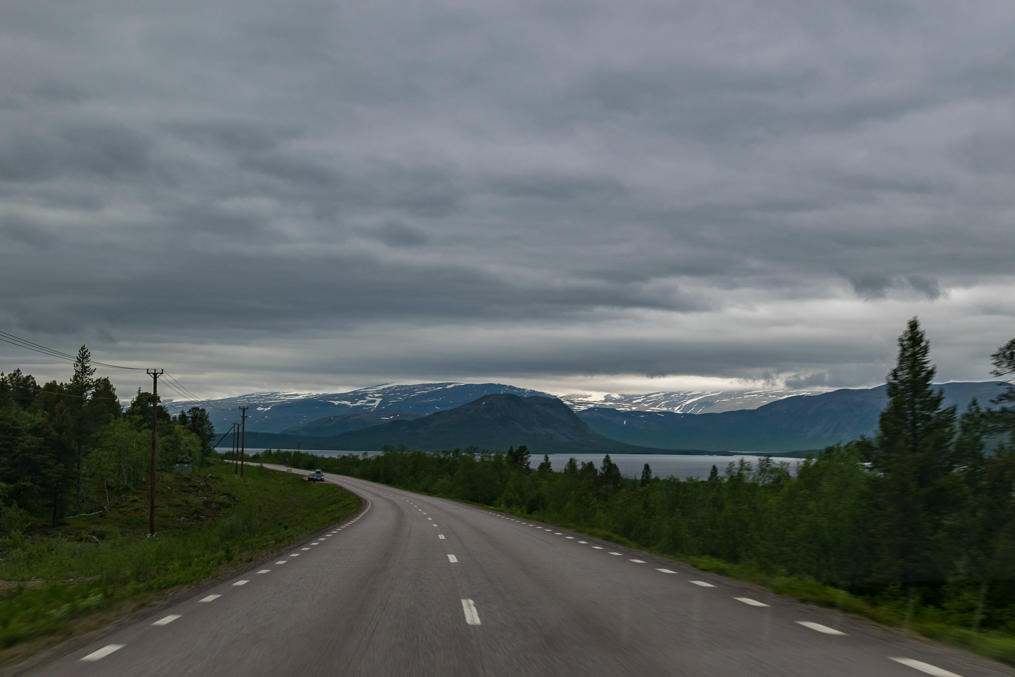 8. But eventually after the city of Kiruna the true mountains begin, around the same time when the road starts following the shore of the huge Torneträsk lake. Not much remaining to drive at this point.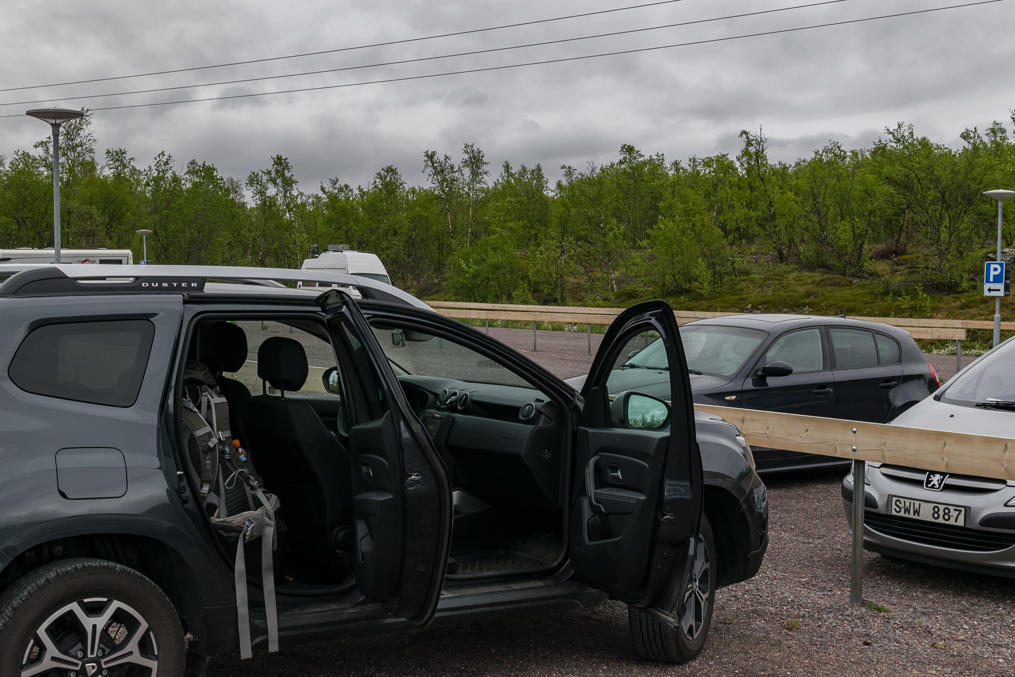 7. In the end I arrived pretty late anyway, past 18. There were plenty of cars at the parking lot at the trailhead in Abisko, but it's huge enough to accommodate much more. Time to go, I guess.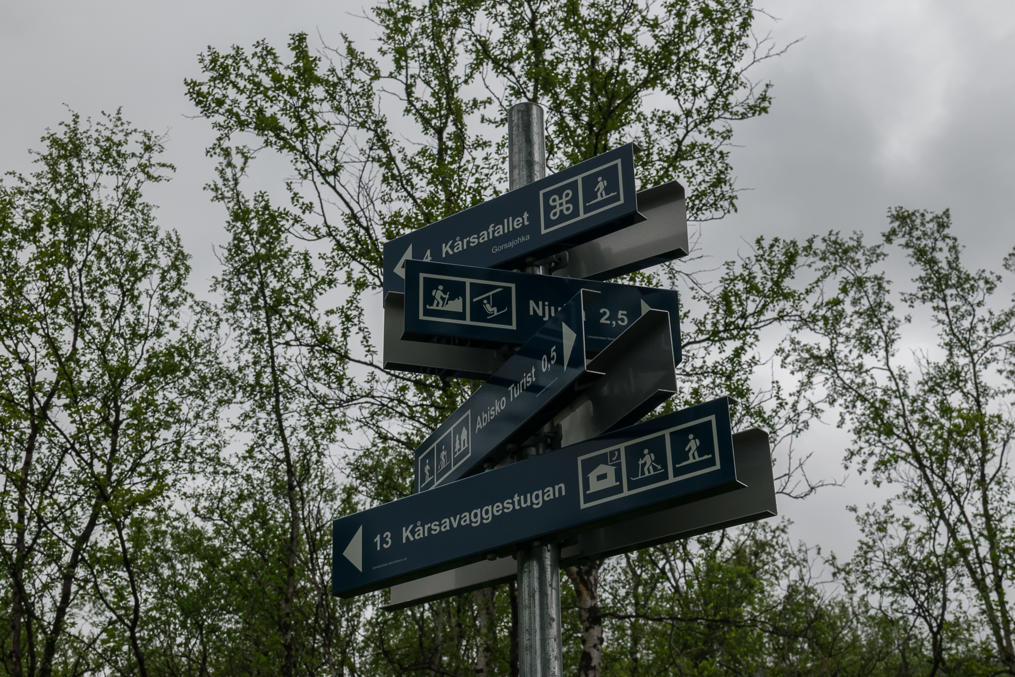 8. Abisko is the starting point of the Kungsleden trail (King's Trail), the most popular long distance trail in Sweden. It follows beautiful valleys along a large part of Scandinavian Mountains. The full trail is some 450 km long to Hemavan, and of course not many people walk it all, especially in one go. The most popular route is Dag Hammarskjöldsleden, which follows Kungsleden from Abisko but then splits off to the east, goes past Kebnekaise (the highest mountain in Sweden) and ends in Nikkaluokta village. It is 105 km long and doable in 7 days (although realistically you should allocate more for it, to allow for side trips or days of nasty weather), and all huts along the way are very well equipped so you won't even need full sleeping gear. I would like to try it someday of course, although I want a hiking companion for that. Multi-day hikes alone are not that much fun for me, and staying in a hut with strangers would feel awkward (and it actually did feel very awkward later on this hike).
But this time I had to started not at the Kungleden trailhead, decorated with a little wooden gate, but on the other bank of Abeskoeatnu river. The destination for the day was Kårsavagge hut. I intended to walk not directly to it though, but via Kårsafallet waterfall also shown on this sign, which would make the total distance 15 km or somewhat more. I didn't bother checking out the visitor center a short distance across the road, it was probably closed for the night already anyway.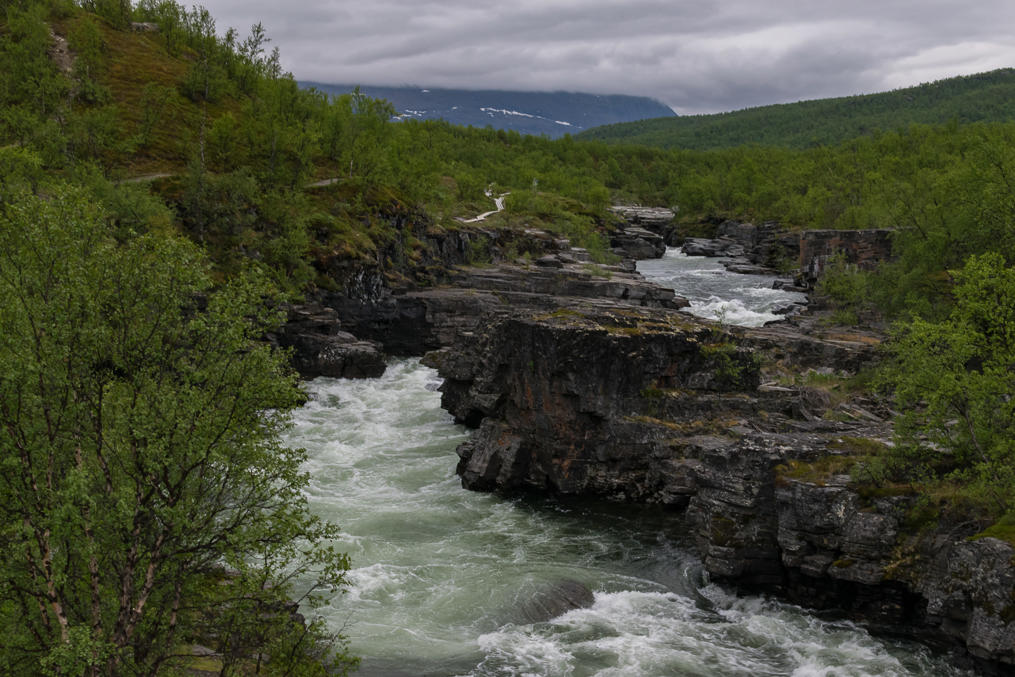 9. Abeskoeatnu river canyon is very beautiful and easy to see just a few hundred meters away from a parking lot. In general Abisko's main sights are very easy to get to, and it would be a good destination for someone who wants to get a feel of what the northern mountains look like, but can't or won't do any big hikes for that. And you don't even need a car to get here, there's a train station! Abisko thus will be one of the places I'll be showing to my parents, with whom we're about to go to a vacation this August.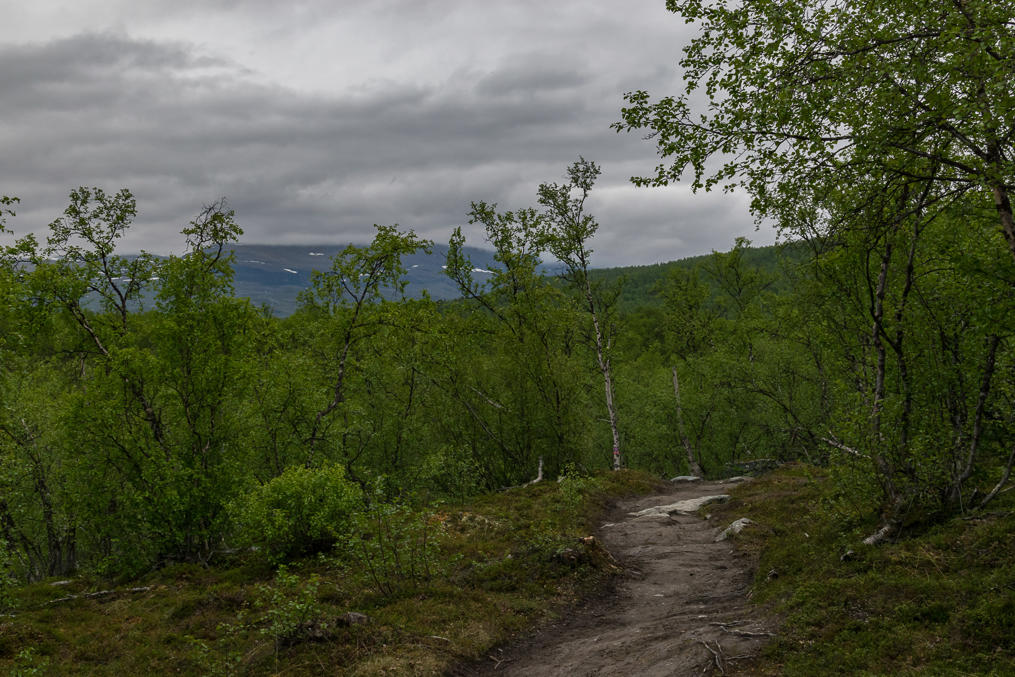 9. Abeskoeatnu valley is mostly covered with fell birch forests. These are pretty enough but still make you wish to get past the treeline as soon as possible. One very pleasant surprise was that there were zero mosquitoes! These are normally pretty nasty in the north, and I fully expected to meet some (and had mosquito spray and hat with me of course), but it turned out the season was still a bit too early for them.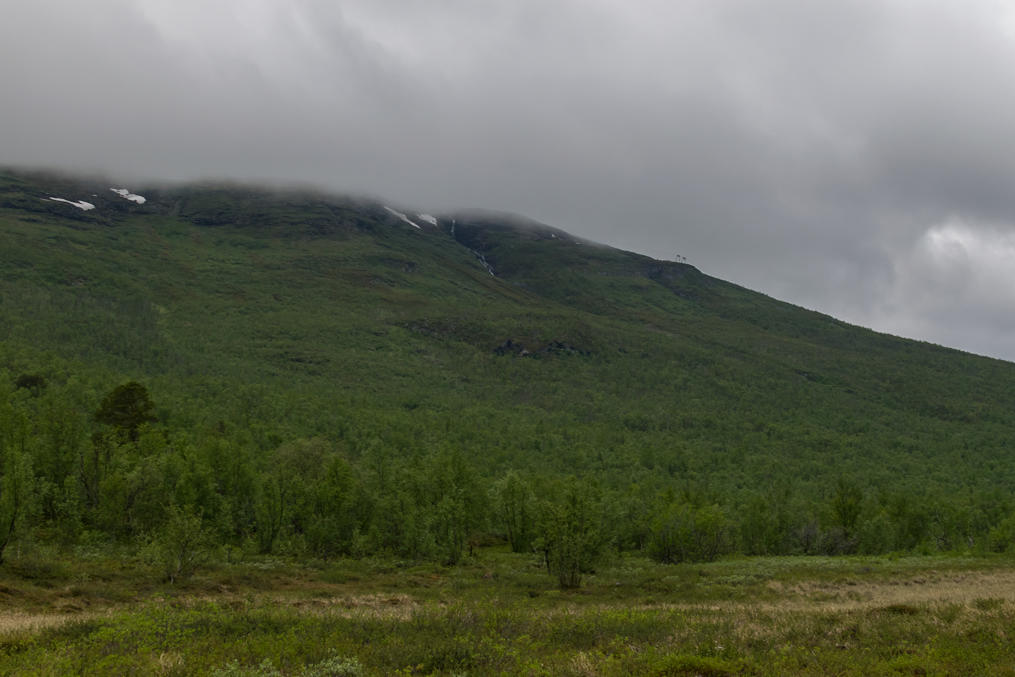 10. Njullá mountain dominates over the Abisko trailheads. You can actually go up this mountain on a ski lift, you can see it on the right. The low lying clouds of course were hiding all the mountaintops, and there was little hope of seeing the valley of Lapporten in the distance, one of the most magnificent Abisko sights.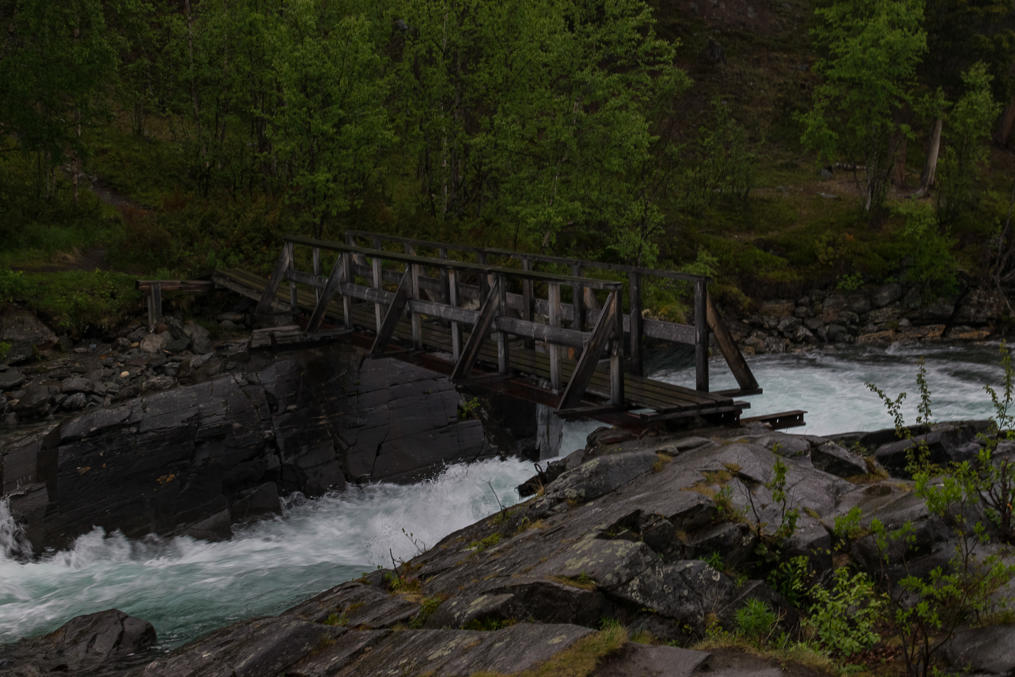 11. Walking 4 km on a well-marked trail you arrive to a small bridge over Gorsajohka river.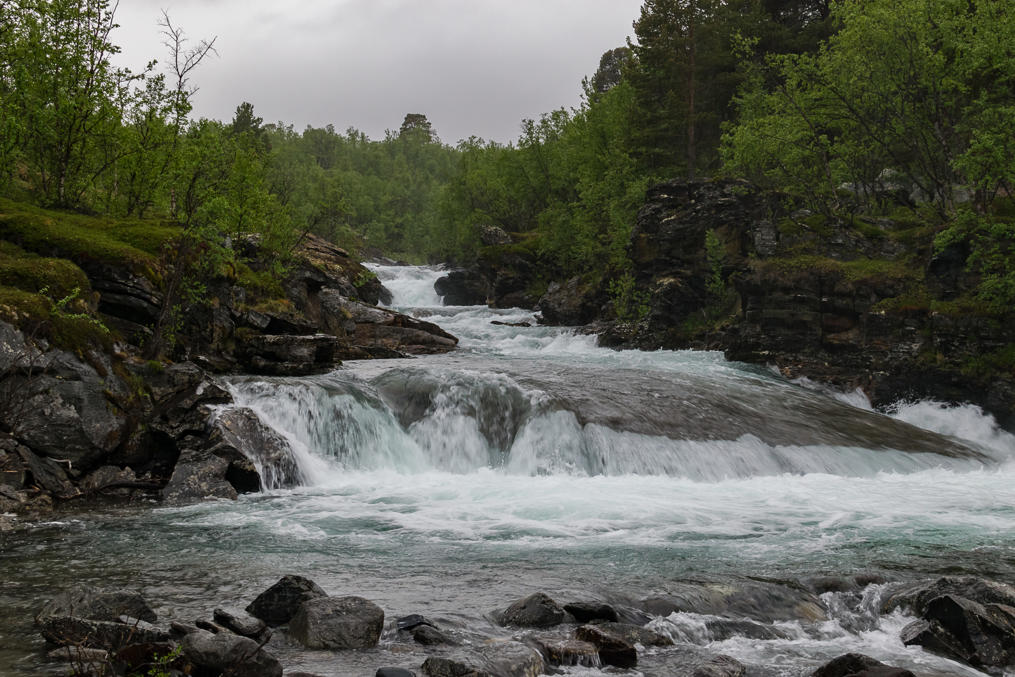 12. And right nearby is the Kårsafallet waterfall. It's not a very big one but it's very scenic indeed. As is common with mountain glacial rivers, Gorsajohka water has a beautiful bluish color.
You might have noticed that "kårsa" and "gorsa" word stems look a bit similar. The original inhabitants of the area are the Northern Sami people (indeed they still herd reindeer in these mountains, and occasionally you can find some summer Sami camps), and most if not all geographical features have Sami names. These names can be easily recognized by the prevalence of á, č, ž, š letters and the general weird sound. Some of these names were Swedish-ized, so the valley of this river can be called both Gorsavággi (in Northern Sami) and Kårsavagge (in Swedish). I think using the Sami name is more proper in this case. Some places however never had a Sami name, like Kårsavagge hut (build by the Swedish people in the 20th century) or this Kårsafallet waterfall (as you'll shortly see it's not all that special and probably didn't warrant its own name), in these cases of course I use the Swedish one.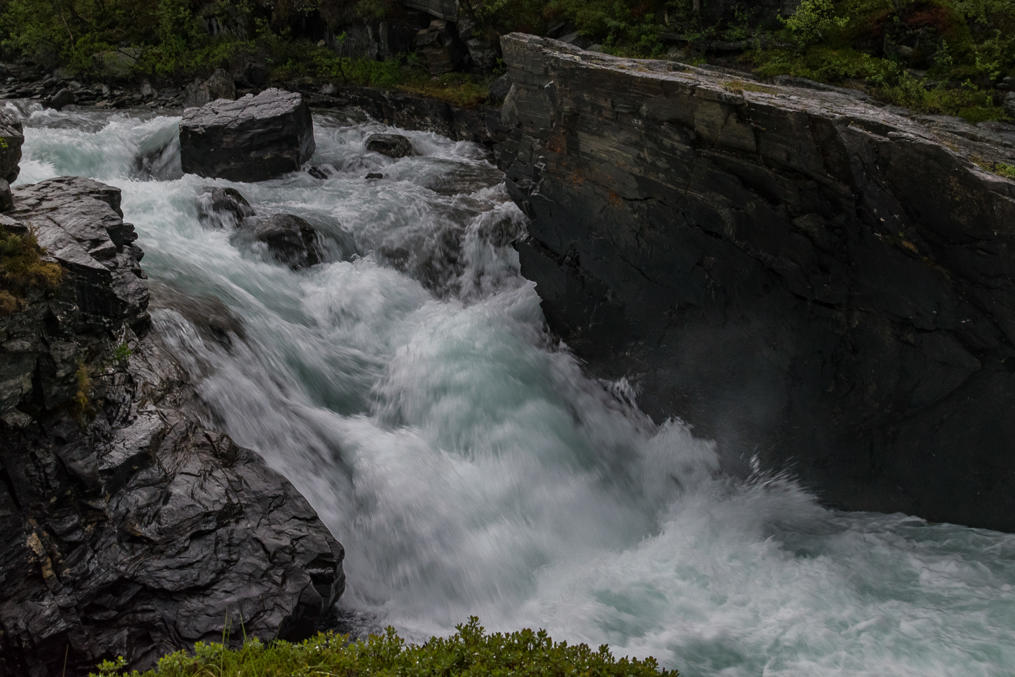 13. The official topographic maps do not show a trail along the south bank of Gorsajohka, and that small bridge at Kårsafallet seemingly leads nowhere. However I planned that hike using the excellent guidebook of the area by Calazo, which mentioned the option of walking along the south bank up the river to the next bridge, as an alternative to the direct trail to Kårsavagge. This seemed fun, so this was what I did. The trail there is unmarked and in places seems to completely disappear, but you can't stray too far from it, as you just need to follow the river in any case. And this route is highly rewarding, as you get to see not just Kårsafallet but a series of many more waterfalls, some of which I would rate even higher! Indeed the word gorsa in Sami actually means "gorge" or "canyon".
I generally highly recommend guidebooks and maps by Calazo by the way. I also had their very detailed (1:25,000) map of the area with me, although in the end an offline version of the common fjällkartan topographic map on my phone was enough. The guidebook was actually in Swedish, but even though I know barely any Swedish it was easy enough to use it, and it contains a wealth of information on some pretty unique routes. For Kungsleden/Dag Hammarskjöldsleden there's generally plenty information online, but one step off that and there's barely anything, and what little information there is would be in Swedish too anyway. And sure, a good map will help to plan a trip but it cannot tell you precisely how scenic an area is, or how easy to walk the unmarked trail is, or how and where exactly it's better to ford a small river.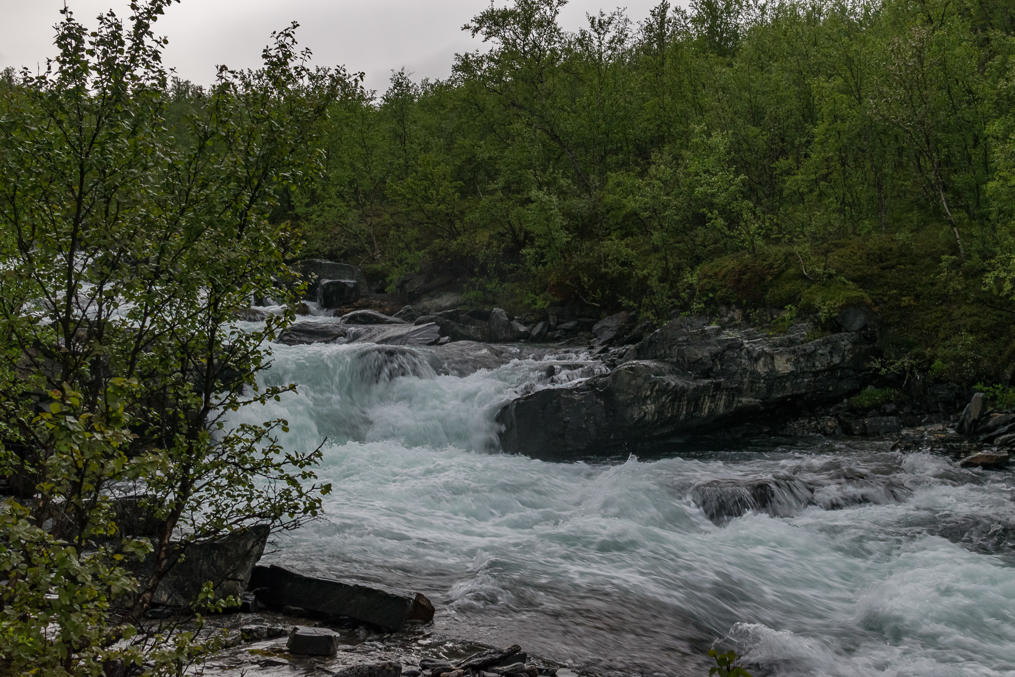 14. I don't think I ever saw that many waterfalls in such a short distance.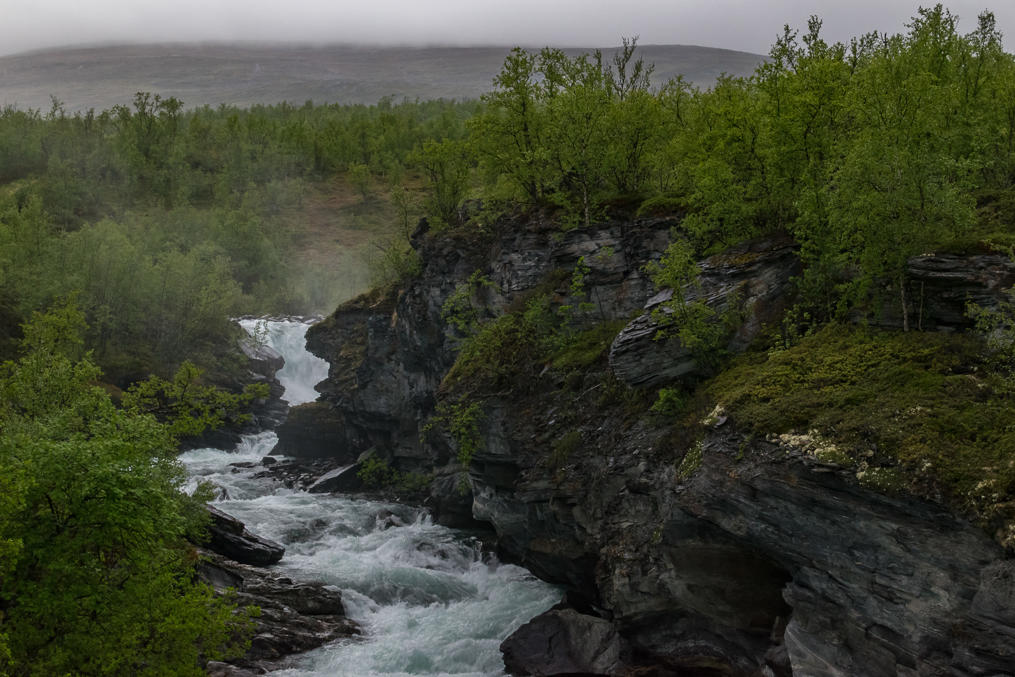 15.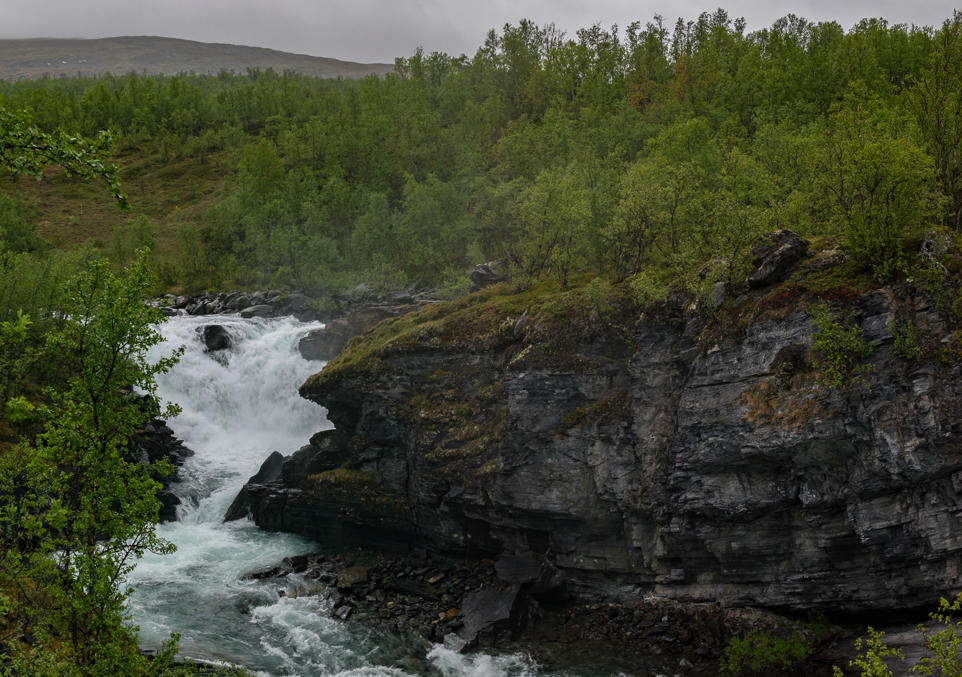 16.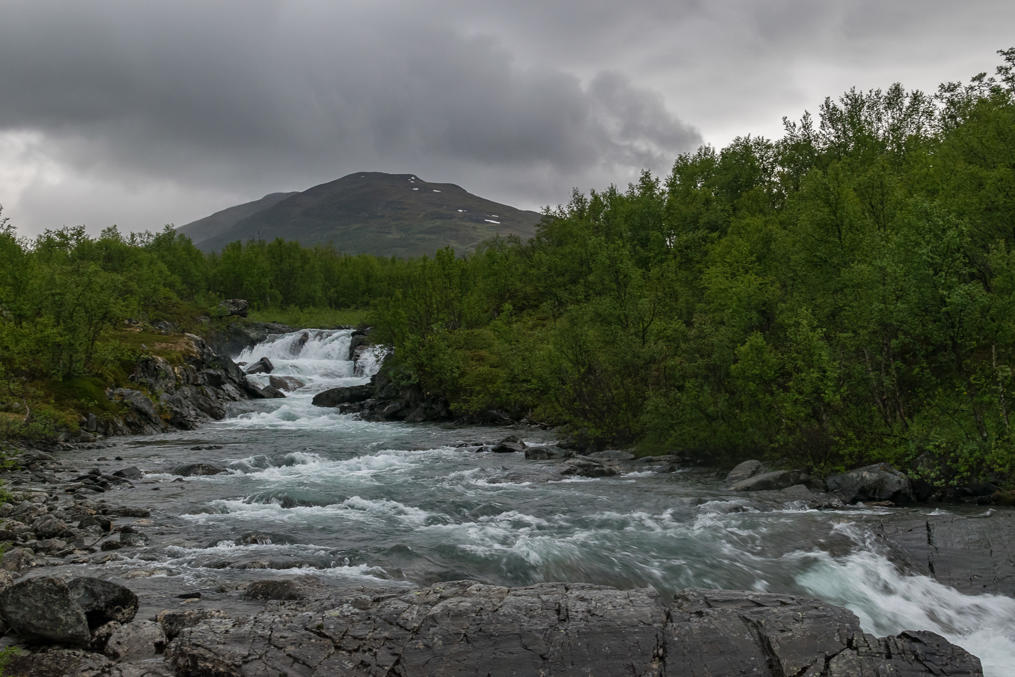 17.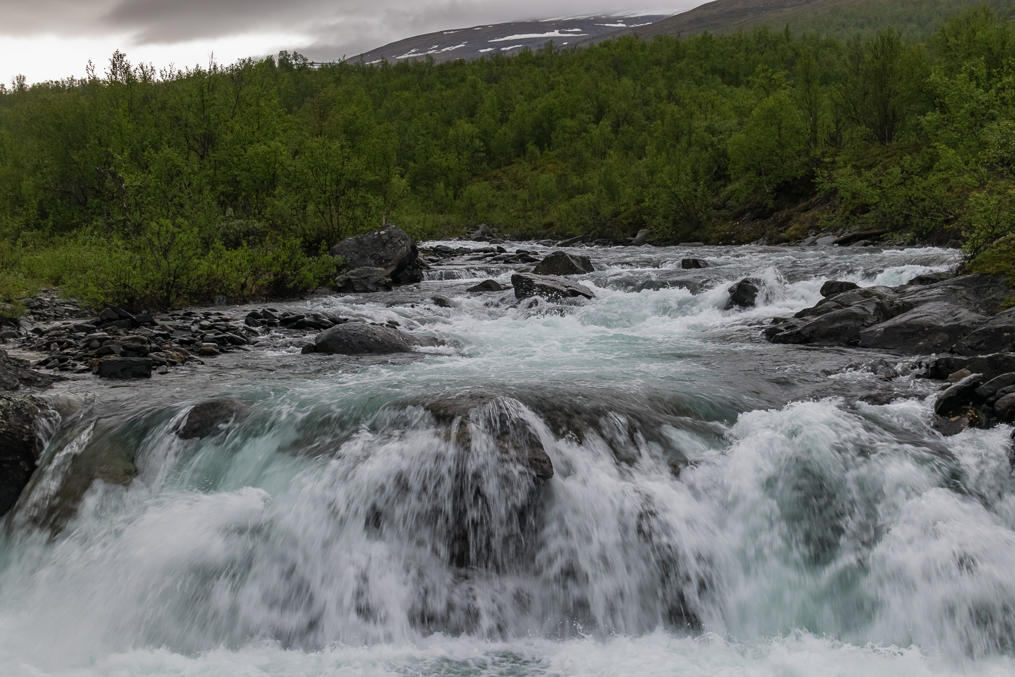 18. Not much to comment here really.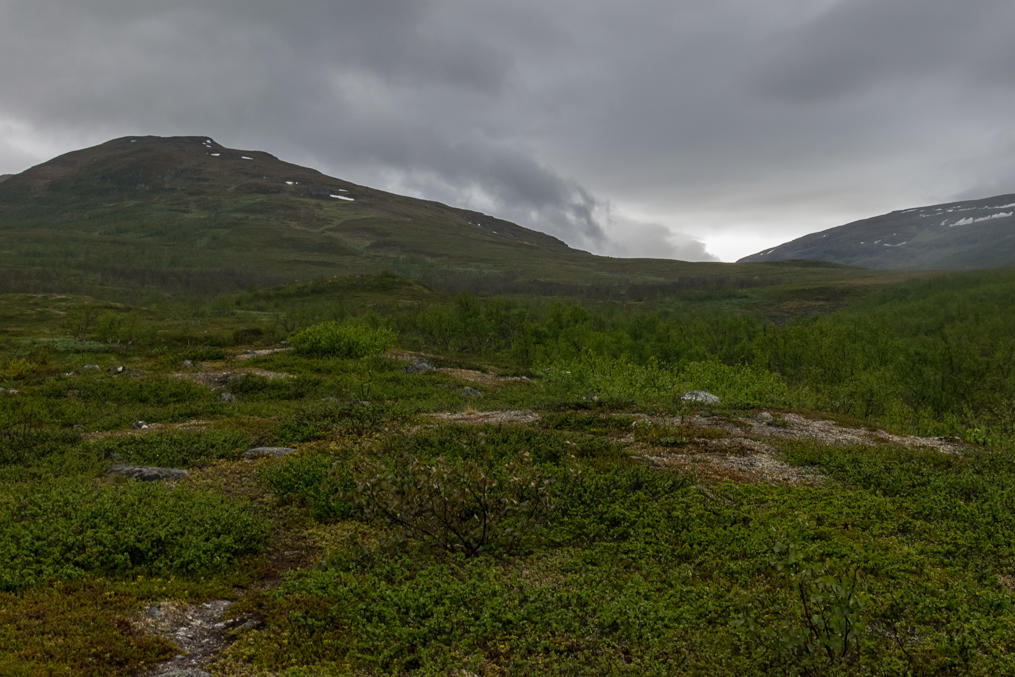 19. Meanwhile I was slowly gaining some elevation. The trail started about 380 m above sea level, Kårsafallet was at 420 m, but my destination, Kårsavagge hut, was at about 690 m. A shallow and long climb, but at about 560 m the fell birch forest finally receded, and I found myself in the open tundra landscape. It's called kalfjäll — "bare mountain" — in Swedish, and I love how this word sounds.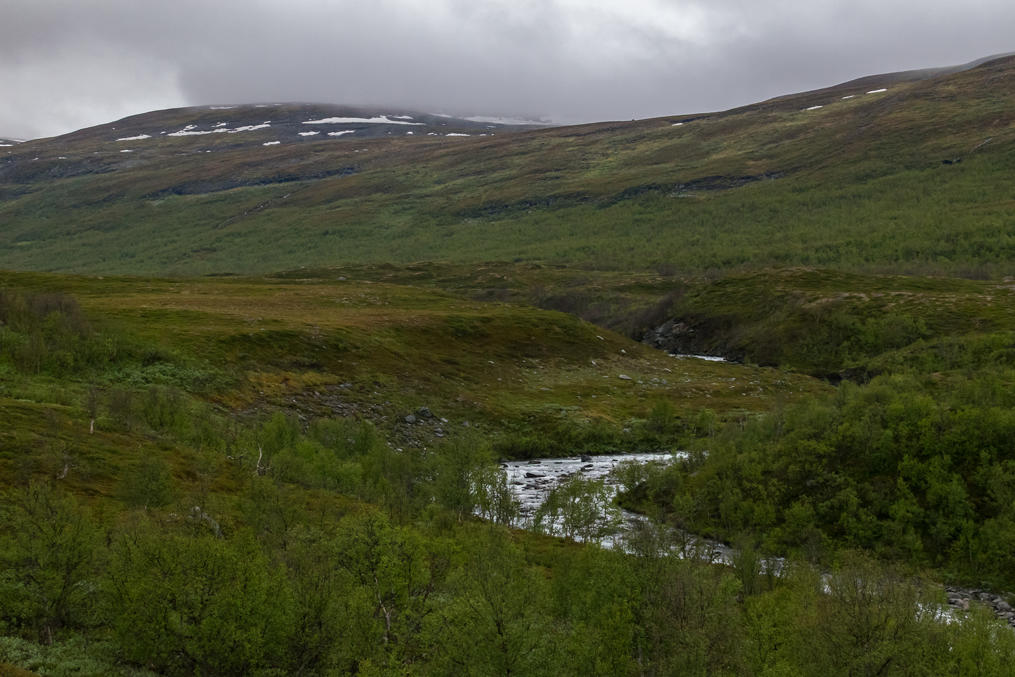 20. Continuing up the Gorsavággi valley up the river gorge through the kalfjäll.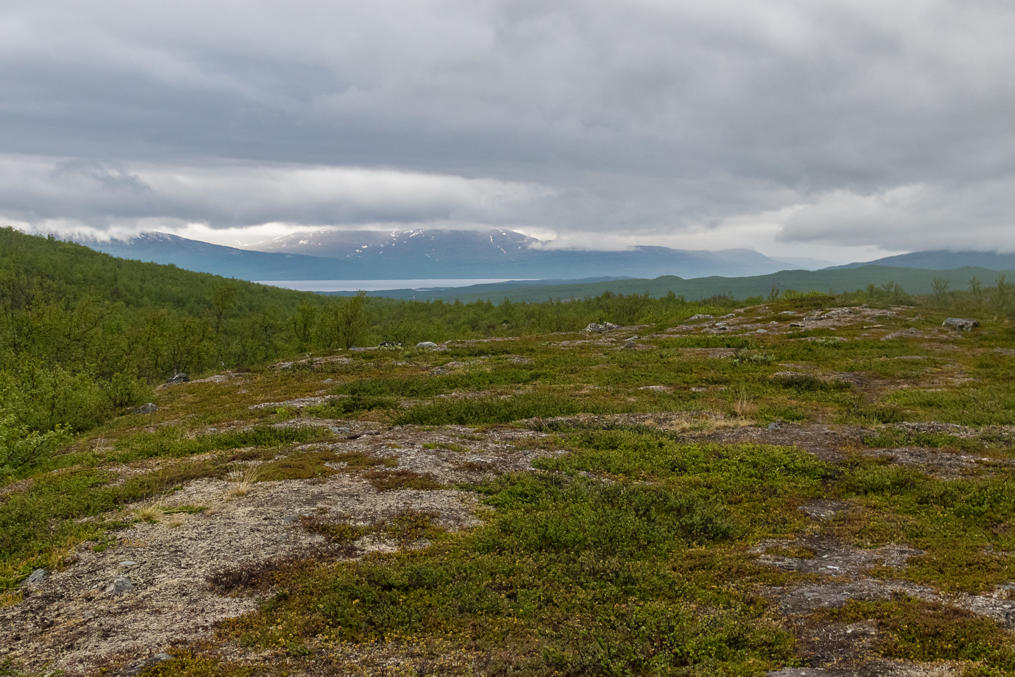 21. Eventually it was possible to see the Torneträsk lake far behind me again. Somewhere close to its coast was the trailhead and my car.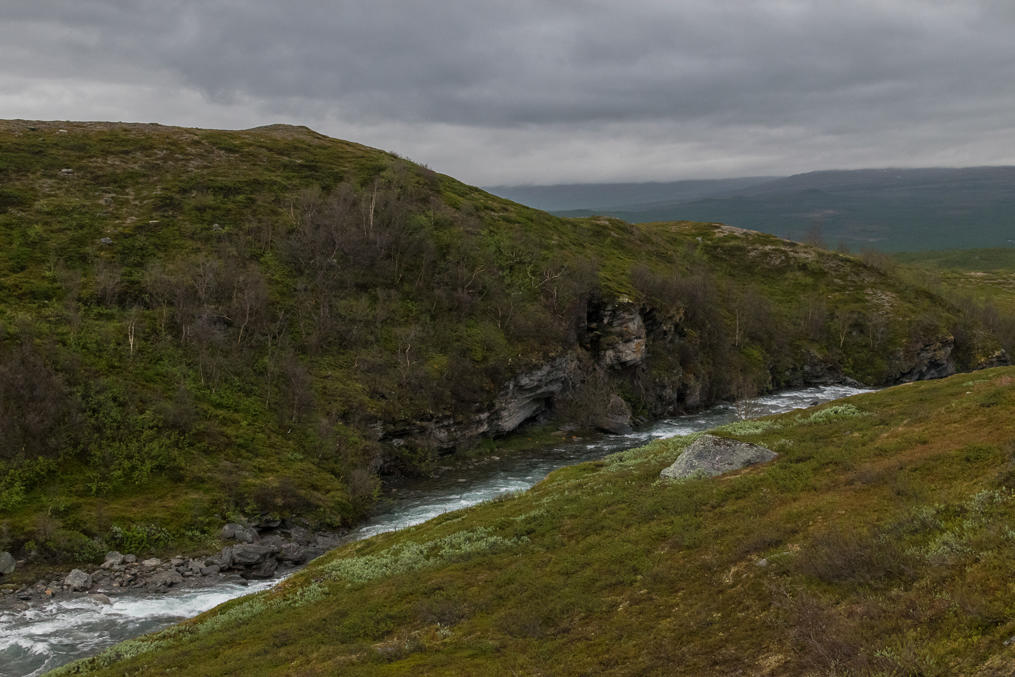 22.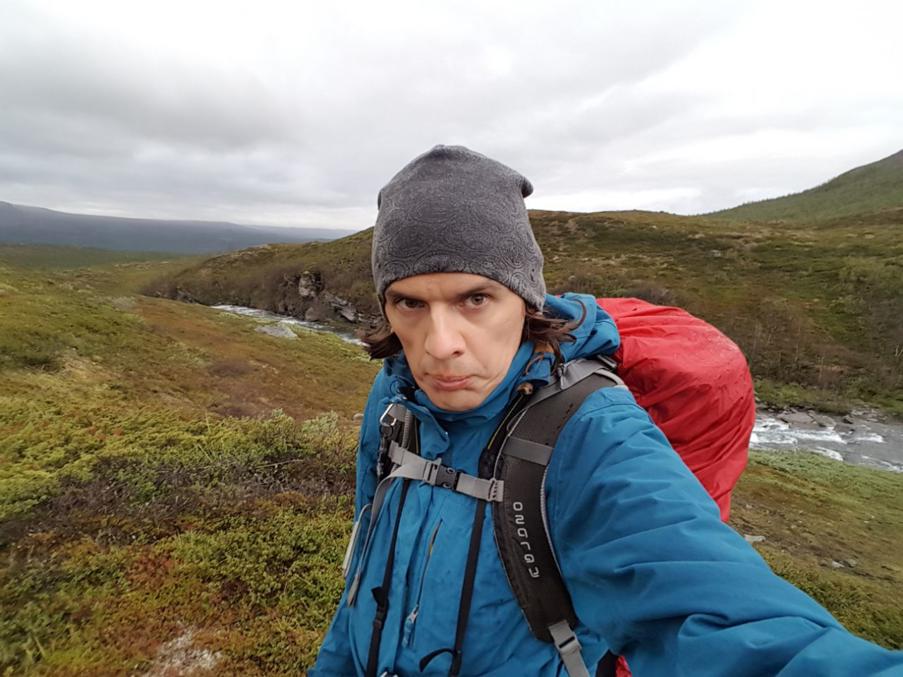 23. I rarely ever post my own mug anywhere but here it is.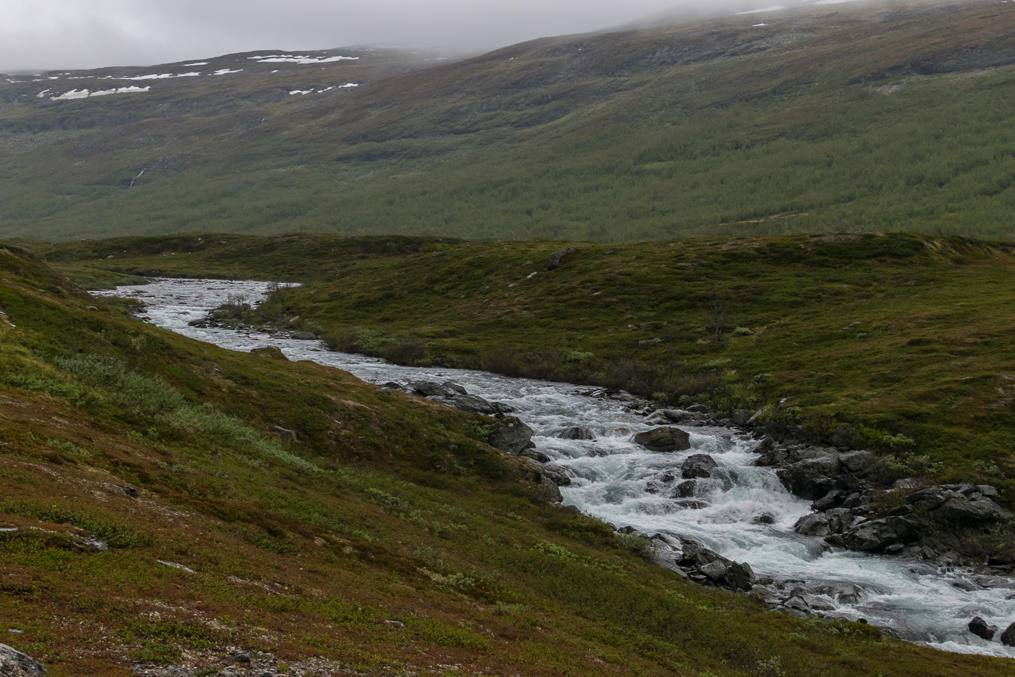 24. Somewhere in the kalfjäll there should have been another bridge, which I had to use to return to the official trail. I passed a few river bends expecting to see the bridge right after, but it didn't appear for a while. I was getting a bit worried; after all you cannot really 100% rely that a small foot bridge in the mountains relatively far from civilization would actually still be there, and wasn't for example washed away by spring floods. The season was still pretty early after all.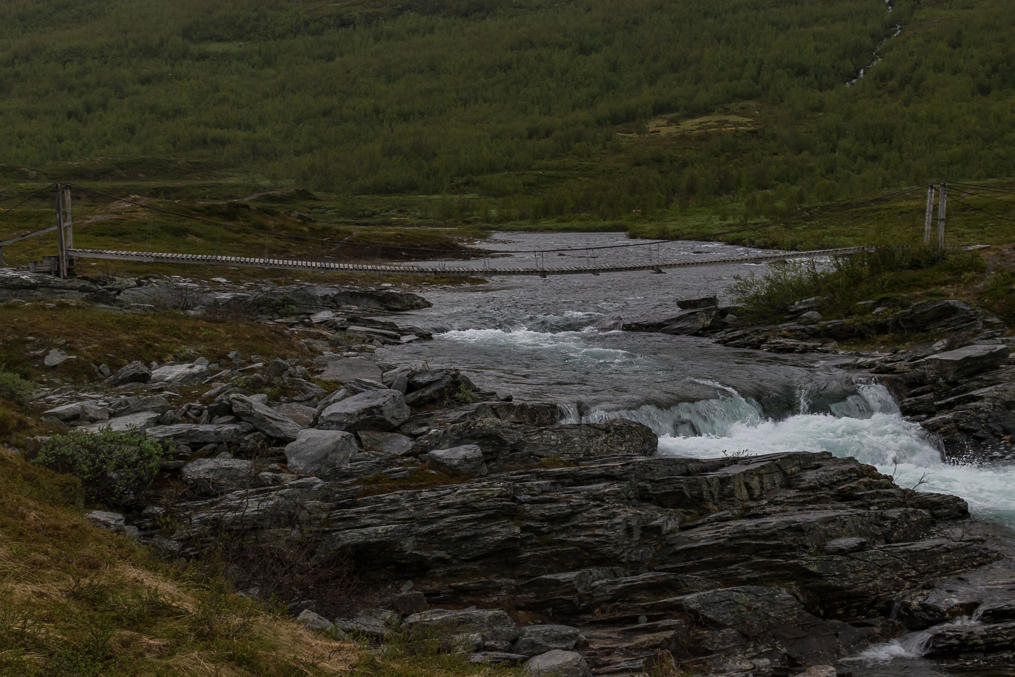 25. But sure enough, here it was.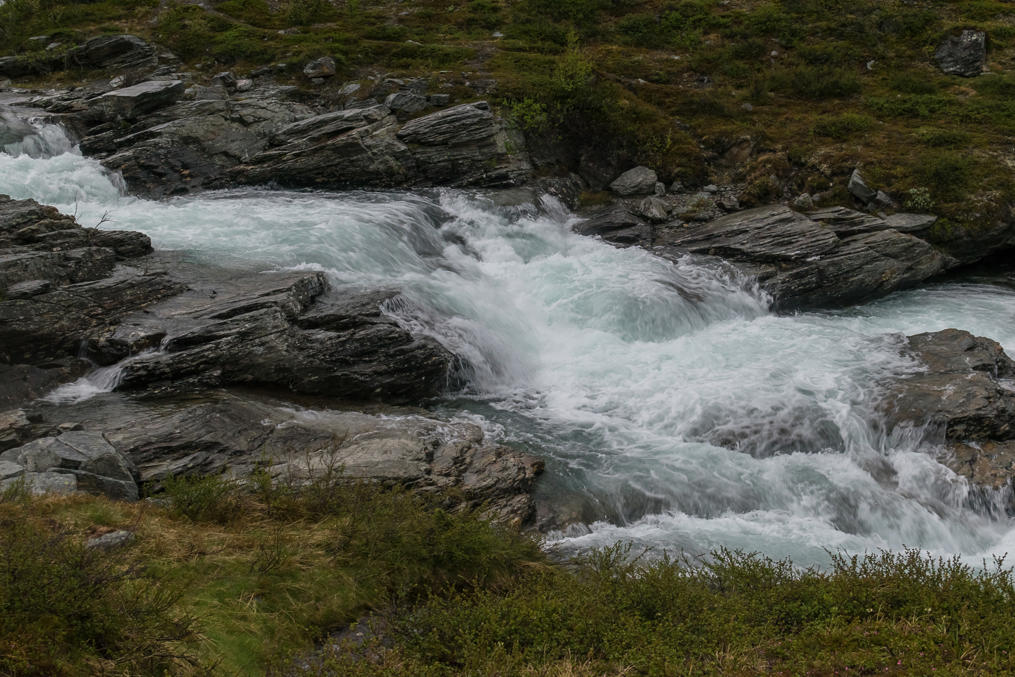 26. I refilled my water bottles here. I love the fact that you can generally drink any running water in Nordic countries.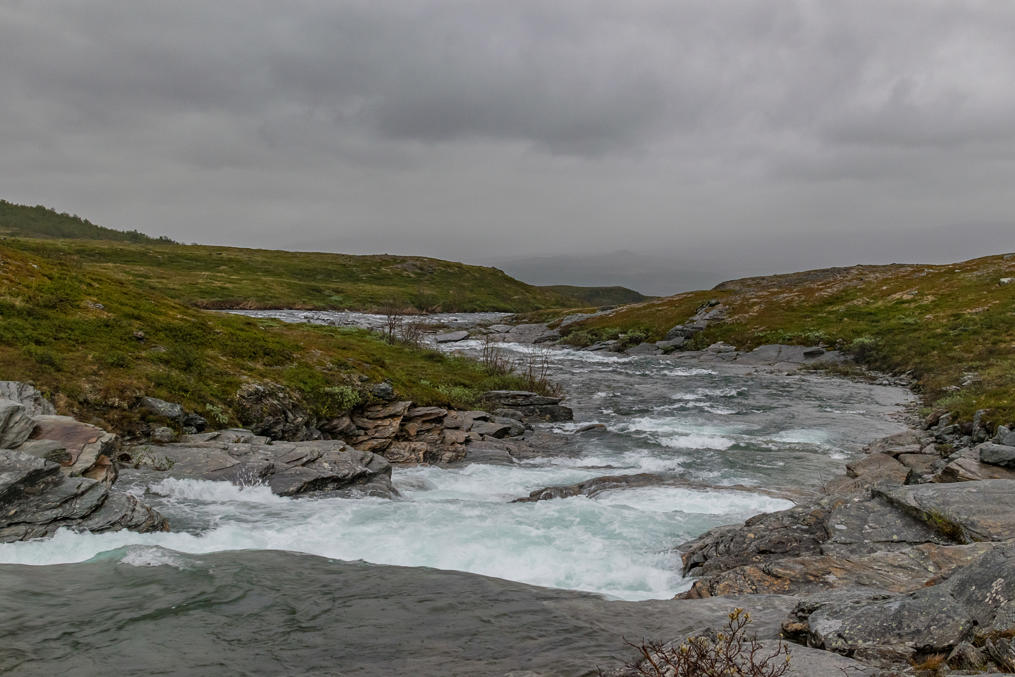 27.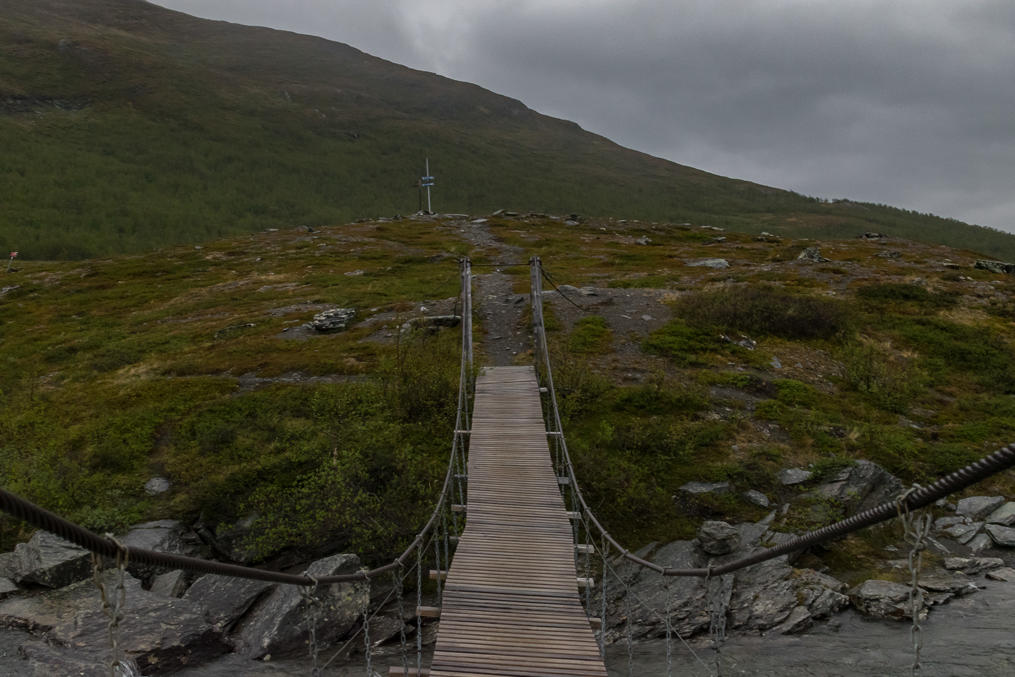 28. And a sign on the other bank points onto the main trail.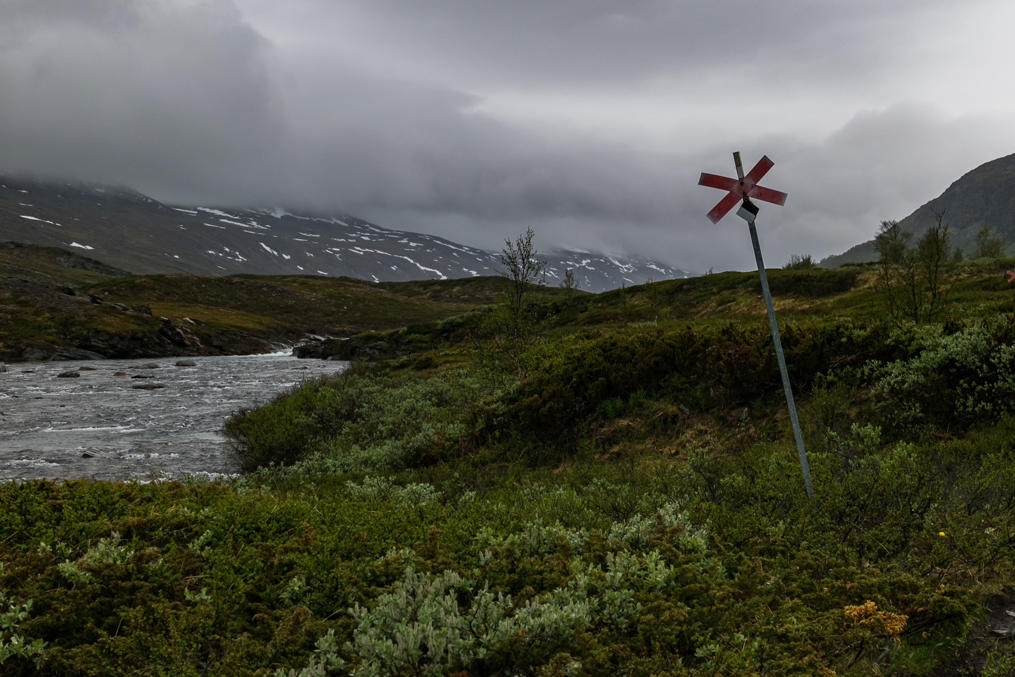 29. Most locations in Abisko are reachable in winter by skiing too (and the huts are in use in winter and in summer but not in between). Skiing tracks are marked with these red crosses. The track to Kårsavagge hut goes parallel to the summer trail. I assume snowmobiles go to the hut in winter there as well; snowmobiles are the only reasonable way to resupply such huts, as there are no roads and doing everything by helicopter would be pretty expensive.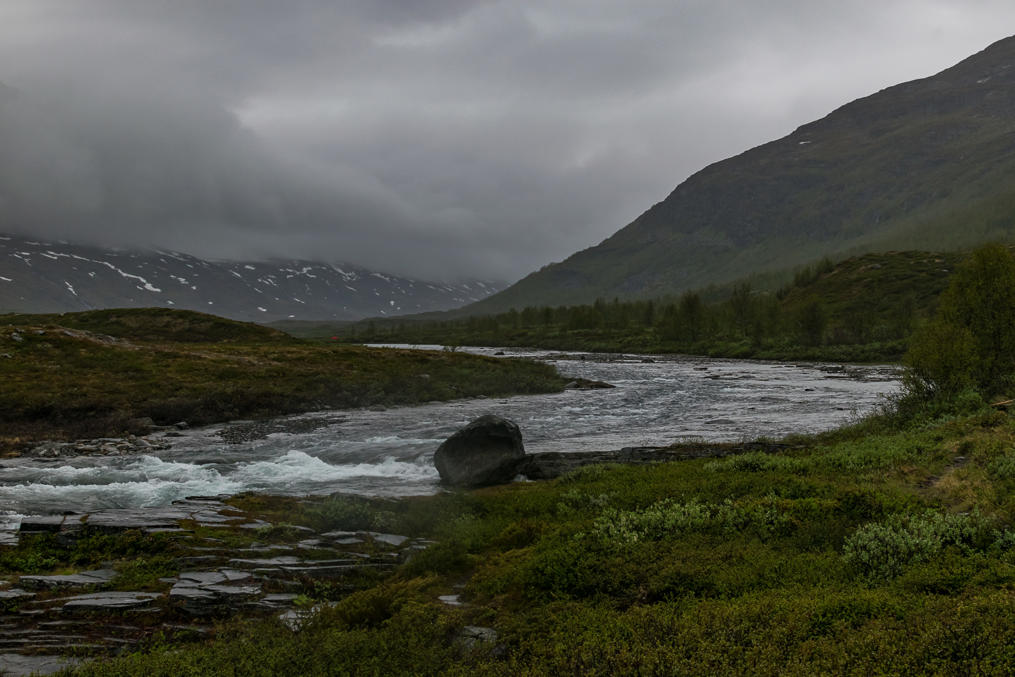 30. I spotted a few tents put up near the river in some places. You can see one here, a tiny red patch in the distance. The river gets wider after the bridge and the waterfalls mostly cease to appear. From here on it forms a chain of narrow lakes: Vuolimus, Gaskkamus and Bajimus Gorsajávri. The mountain hut is behind the second lake, that is, Gaskkamus Gorsajávri.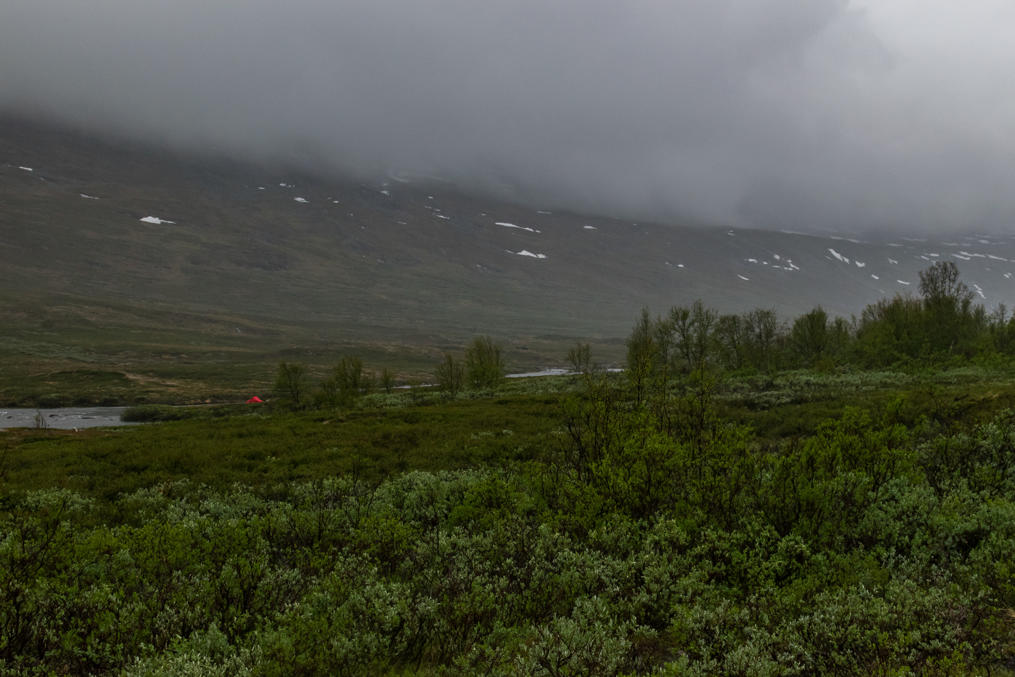 31.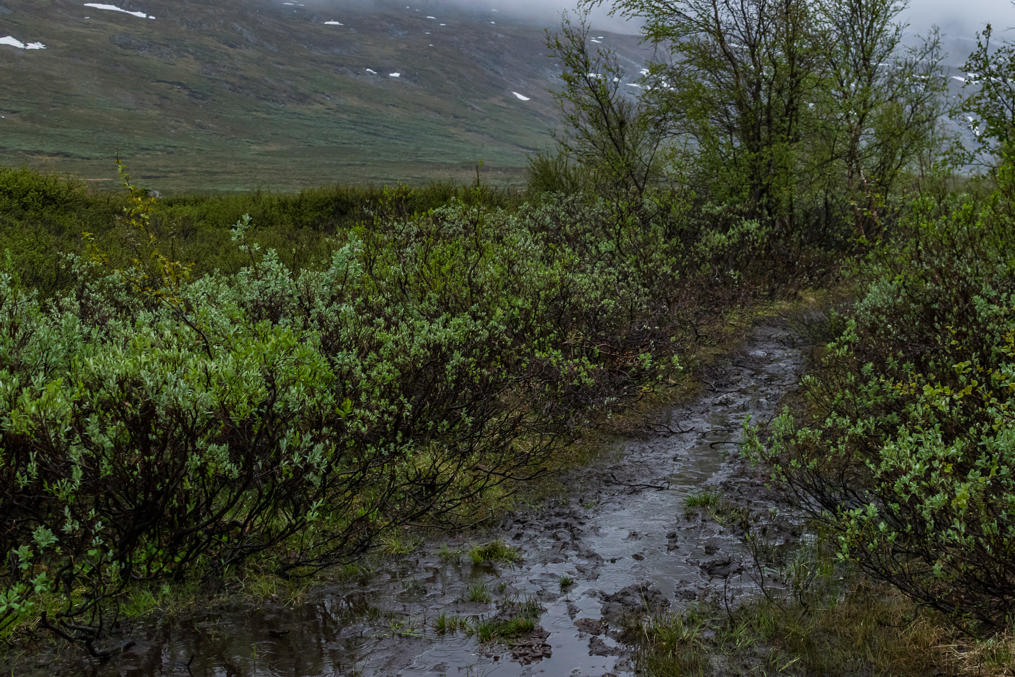 32. The rain was getting worse, and the trail was very muddy in places.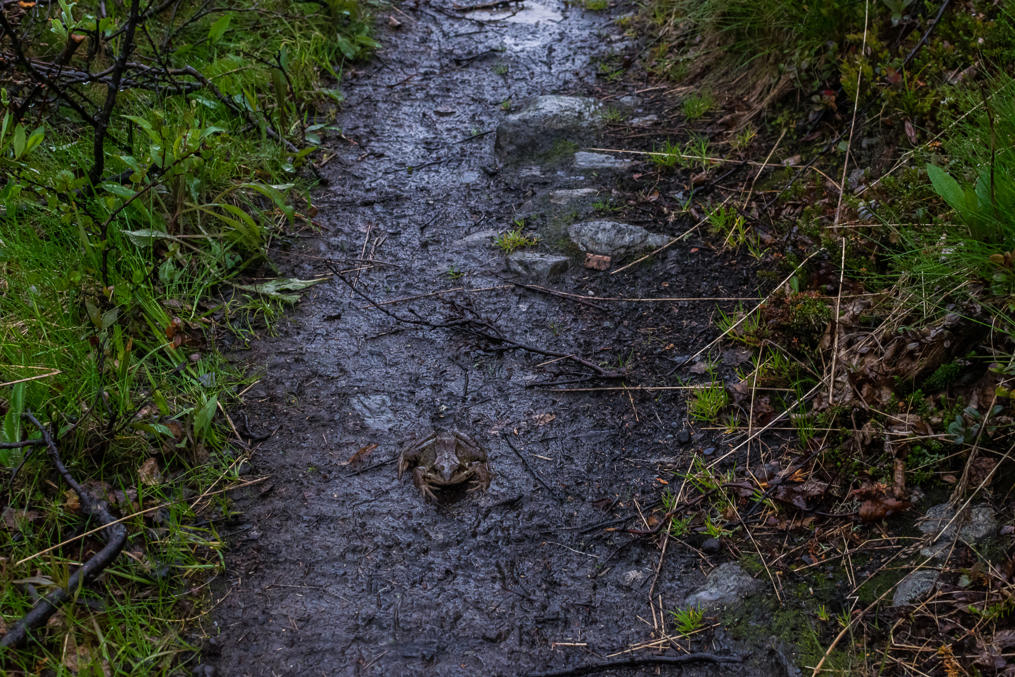 33. That's some trail guardian!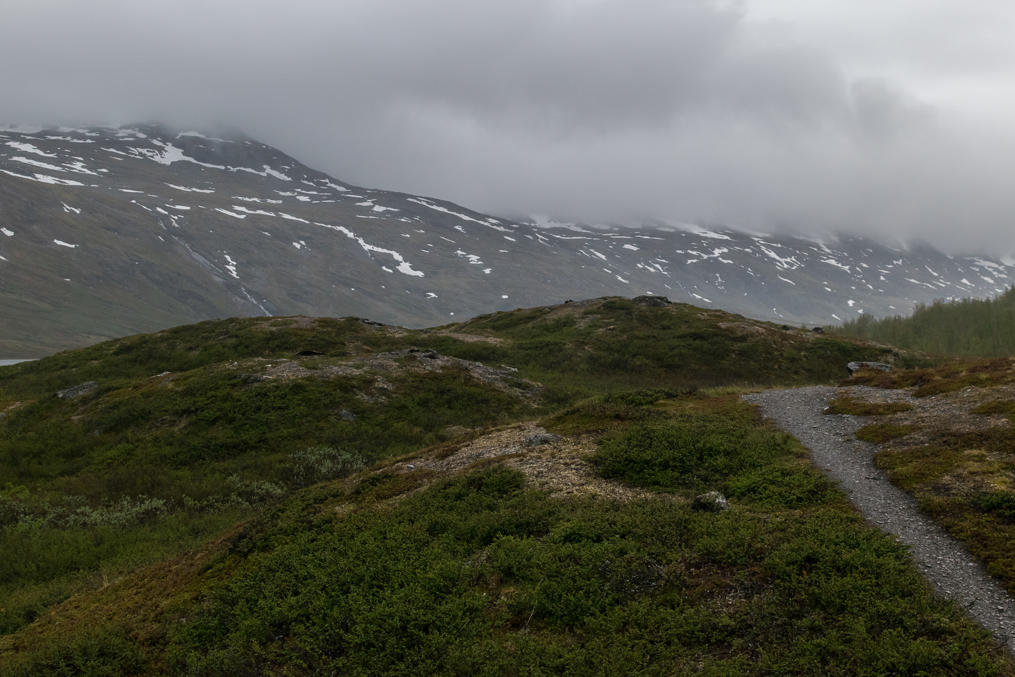 34. While there still are some areas of fell birch here and there, you can notice how there is already quite a few snow patches on the nearby mountains.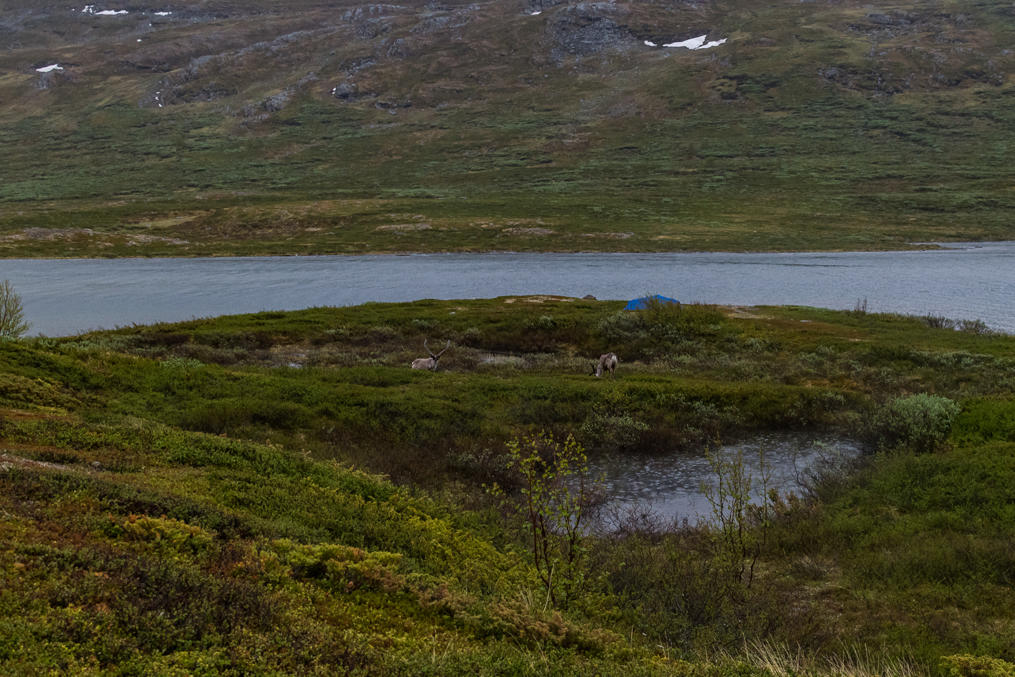 35. Another tent and it looks people there are having some guests!  Reindeers!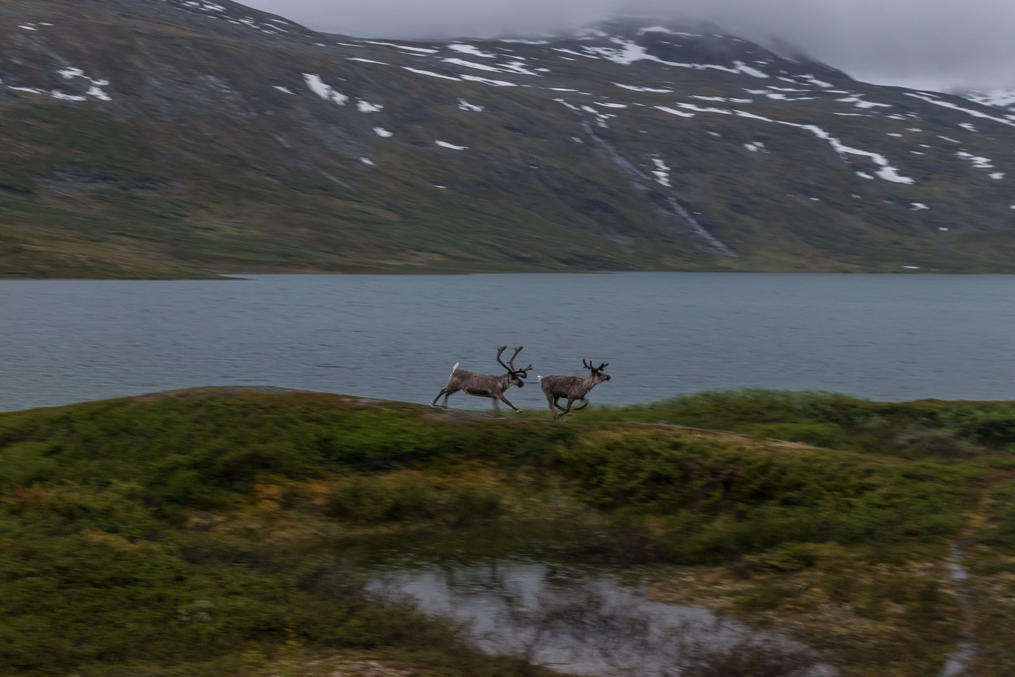 36. I love reindeers and you can usually see quite a few of them here in the north, even when just driving around, but in fact I saw disappointingly few on this hike. Maybe they are higher up in the mountains in this time of year. These two were the only ones I saw on that day. Of course they sprinted away when they spotted me.
37. Getting close finally, this on the horizon is Gaskkamus Gorsajávri.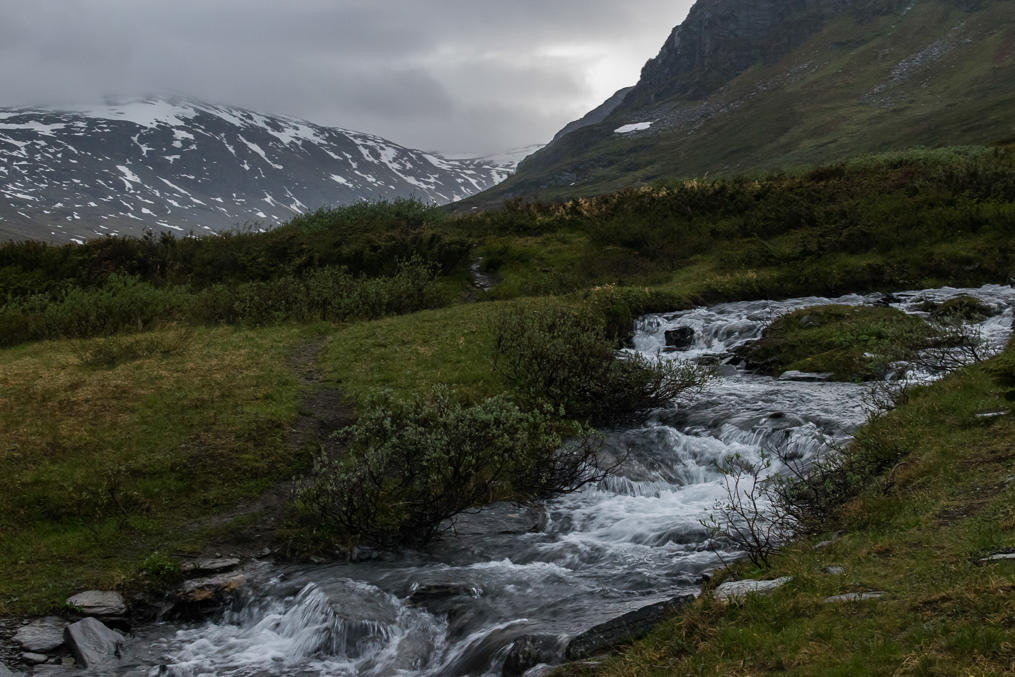 38. While this trail was well-trodden and hard to lose, I had to cross a few streams on it, and the last one was pretty wide and impossible to just hop across. I was very disappointed that I had to get my boots wet so close to the hut on the very first day.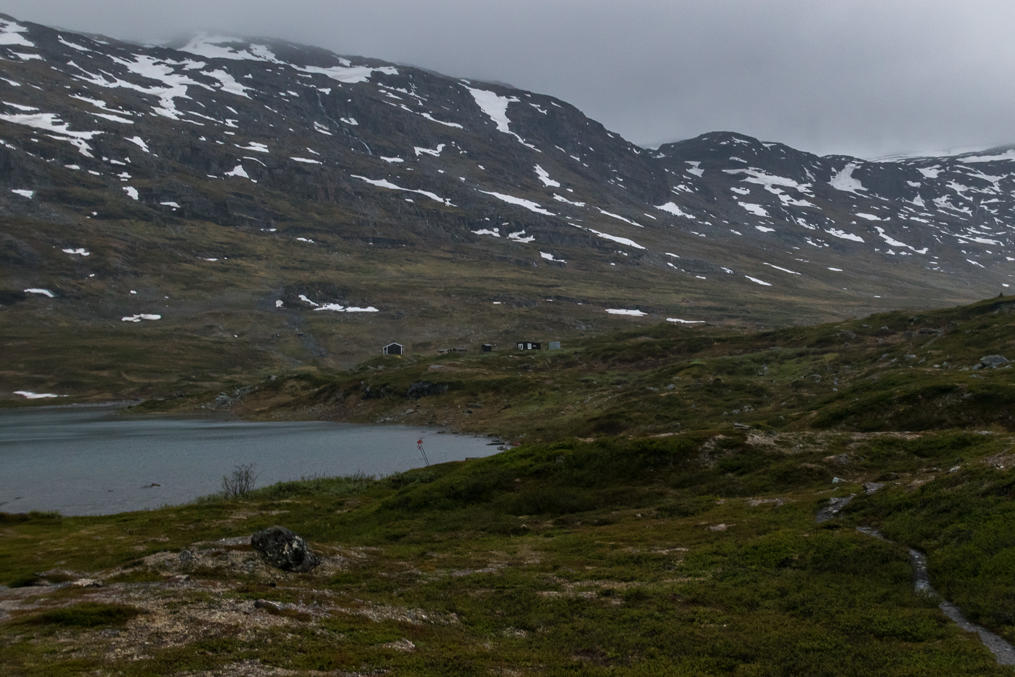 39. But this last obstacle is behind, and here it is at last! Kårsavagge Hut! The actual hut is the cabin on the left. To the right there is the warden's cabin, and other buildings are a toilet and a firewood shed.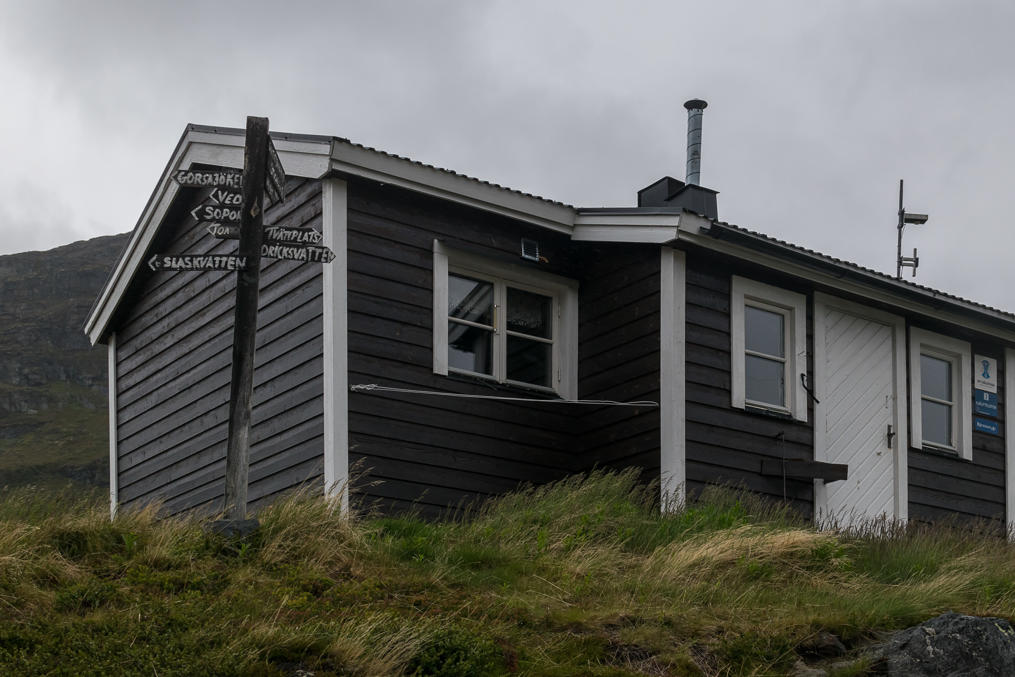 40. And so yeah, this cabin is in fact pretty small — one of the smallest and the oldest operated by STF. It has 10 beds in two rooms (a 6-bed and a 4-bed one; worth noting that you're always allowed to sleep on the floor if all beds are occupied). Initially I was debating with myself whether to try to use the cabin or just to put a tent somewhere nearby, but being thoroughly wet and tired by the time I actually got here I was pretty sure I wanted to be inside.
Unfortunately the cabin turned out to be quite crowded, and moreover everyone was already sleeping, as it was already well after midnight. Yeah, I was beyond the Arctic Circle and technically this was the midnight sun time! Even though in practice it was more like "midnight overcast sky". At least I spotted an empty upper bunk in the bigger room. I didn't want to wake anyone up so I had to undress in the tiny lobby and hang my clothes there, instead of inside of the room where it was very warm from a wood stove. I didn't want to eat so I just took my sleeping bag and a bottle of tar-flavoured liqueur inside to have a few sips before sleep.
In the end I slept very poorly though, barely getting any sleep in fact. I can't really sleep well in a room with strangers, and the fact that the bed was about 5 cm shorter than me didn't help at all. At least it was dry and warm and I could get some rest until morning.
Published on: