---
Loviisa (Swedish spelling: Lovisa) is a Finnish town in the east of the capital region, 90 km east of Helsinki, on the coast of the Gulf of Finland, about halfway between Helsinki and Russian border; a rather small one, with the population of about 15,000.  Of the four cities along the National Road 7, commonly passed by Russian tourists (including myself) on their way to Helsinki, Loviisa is the smallest, and likely the least often visited.  For me it was the closest Finnish town where I had never been before, so that's why I decided to choose this destination in first place.
Loviisa was founded in 1748, soon after the Russo-Swedish War of Hats (1741-1743).  In the period between the Great Northern War (1700-1721) and the War of Hats Sweden, for some reason, mostly ignored the question of defense of its Finnish territory, despite having just lost a good chunk of it (including Vyborg) to Russia.  The War of Hats was revanchist in nature, and apparently Sweden assumed it would generally be on the offensive side in that war.  Well, they were mistaken, and another chunk of Finnish land, including fortresses of Lappeenranta, Hamina, and Savonlinna fell to Russian hands.
Thus Sweden was in a great hurry to build some new fortresses: Sveaborg and Svartholm.  Sveaborg, near the (then very minor) town of Helsinki, was to be the great impregnable fleet base; it is currently also known as Suomenlinna, and is the best known attraction of Helsinki.  The much smaller Svartholm was to be the new frontier fortress, replacing Hamina (Fredriskhamn) in that role.  The construction of both fortresses started in 1748, under the command of Field Marshal Augustin Ehrensvärd.
Ehrensvärd actually intended to construct both sea and coastal frontier fortresses.  The coastal one, intended to protect the King's Road (main Turku — Vyborg highway of the time) and named Degerby, however was never fully completed.  Sweden lacked the funds to finish all their fortresses.  For that matter, the modest-sized sea fortress was also never finished, although at least it looked formidable enough.
A town naturally sprung up at Degerby together with the fortress.  In 1752, the town and the fortress of Degerby were renamed to Lovisa, after Queen Louise Ulrika, wife of King Adolf Frederick.  The king (actually installed at the Russian insistence in 1751, as the previous king died childless), was a nice but fairly harmless guy, and Louise Ulrika overshadowed him a lot; a powerful woman relentlessly trying to increase the royal power, as Sweden at the moment was a constitutional monarchy and the King's powers were rather limited (a really novel idea for the time).  So unlike the king she was utterly hated by pretty much anyone, but in the end her son Gustav III managed to restore absolute monarchy for some decades.
Lovisa (spelled Loviisa in Finnish) coastal fortress never saw any military action, while Svartholm served as Swedish base in Gustav III's War of 1788-1790 which ended in a draw.  In the Finnish War of 1808-1809 the unfinished and ill-equipped fortress was besieged by the Russians and quickly surrendered.  The coastal fortress fell into disrepair, while Svartholm was used as a prison for a while, and then was destroyed in the Crimean War of 1854-1856 by the British fleet.  Luckily enough was left that both fortresses were eventually partially restored and currently are the primary attractions of Loviisa.
Loviisa the town burned down in the great fire of 1855, as so many of the old wooden Nordic towns did.  Some quarters did survive the fire though.  The new town was built slightly to the southwest of the fortress.
Modern Loviisa is a nice cozy coastal town.  It is very much bilingual, with 54% Finnish and 43% Swedish speakers.  Not much happens here but it's a pleasure to look at and to walk around.  Probably its two biggest enterprises are the cargo port of Valko (specializing mostly in wood exports), and the nuclear power station.  The fortresses are its main sights, and I visited both of them, but first let's have a look at the town itself.
Loviisa is located in the easternmost part of Uusimaa, the capital region of Finland.  Loviisa along with the city of Porvoo used to belong to Eastern Uusimaa (Itä-Uusimaa) region, which existed from 1998 to 2011, and the signs on some government buildings etc. still refer to Eastern Uusimaa.  This to date has been the only major change in the Finnish region (maakunta) system since it was first formalized in 1994.  (A county (lääni) system existed before, coexisting with region system for some years, and was abolished altogether since 2010.)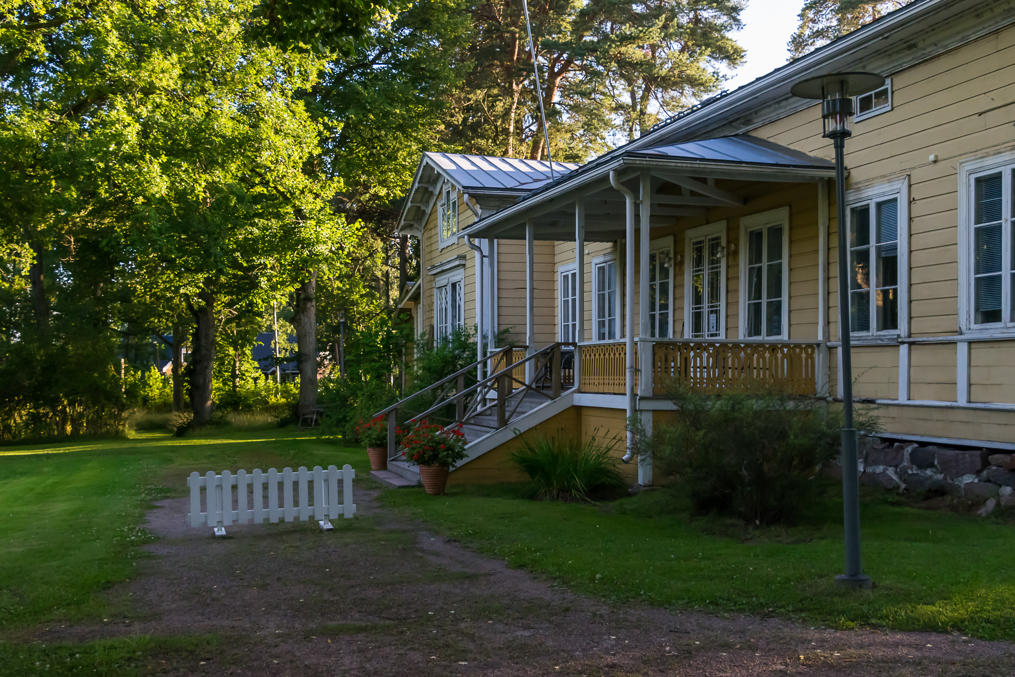 1. I booked a room at Tamminiemi Camping.  Tamminiemi (Finn. Oak Cape) is a very nice place, which operates both as a campground for tents and RVs, and as a hostel in two 19th century-era wooden villas in a beautiful garden.  It's not the cheapest accomodation option but still relatively affordable, and I wanted a room in Loviisa itself rather than some backcountry village.  The rooms offered have a shared bathroom (maybe there are more expensive options with a private bathroom, I don't remember) but that's not a problem in practice.  And on the other hand there's a shared kitchen too which can be useful.  Highly recommended overall.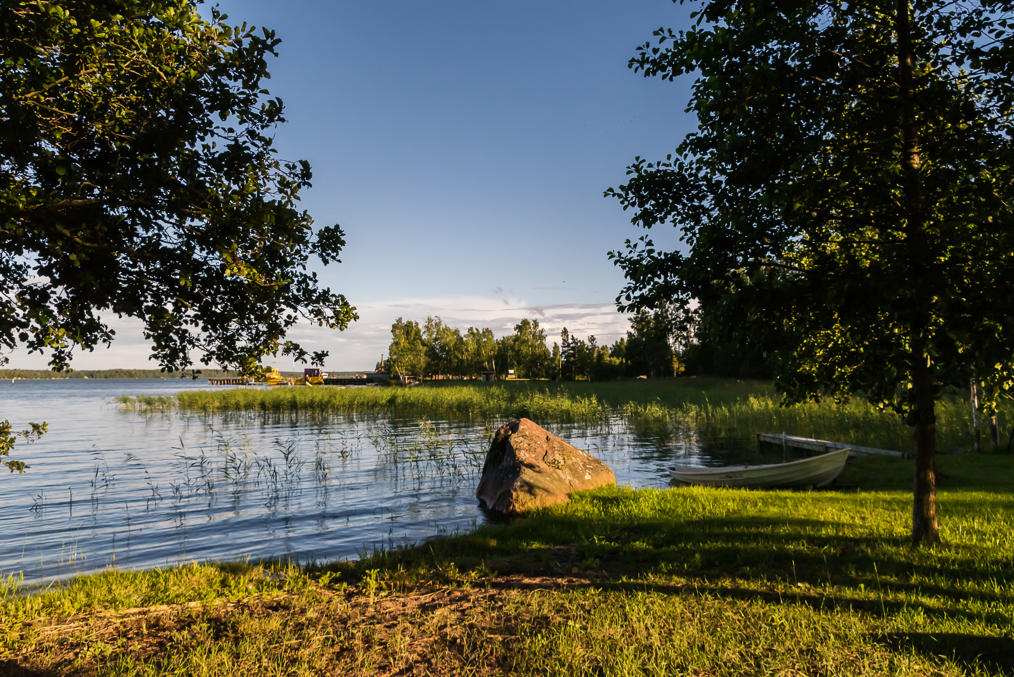 2. As the name suggests Tamminiemi is actually located on the sea coast, so you can go have a beer sitting by the water if you want.  Loviisa is located on the western coast of a long, fairly narrow sheltered bay named Loviisanlahti.  So you can't see open sea from here and it feels more like a lake.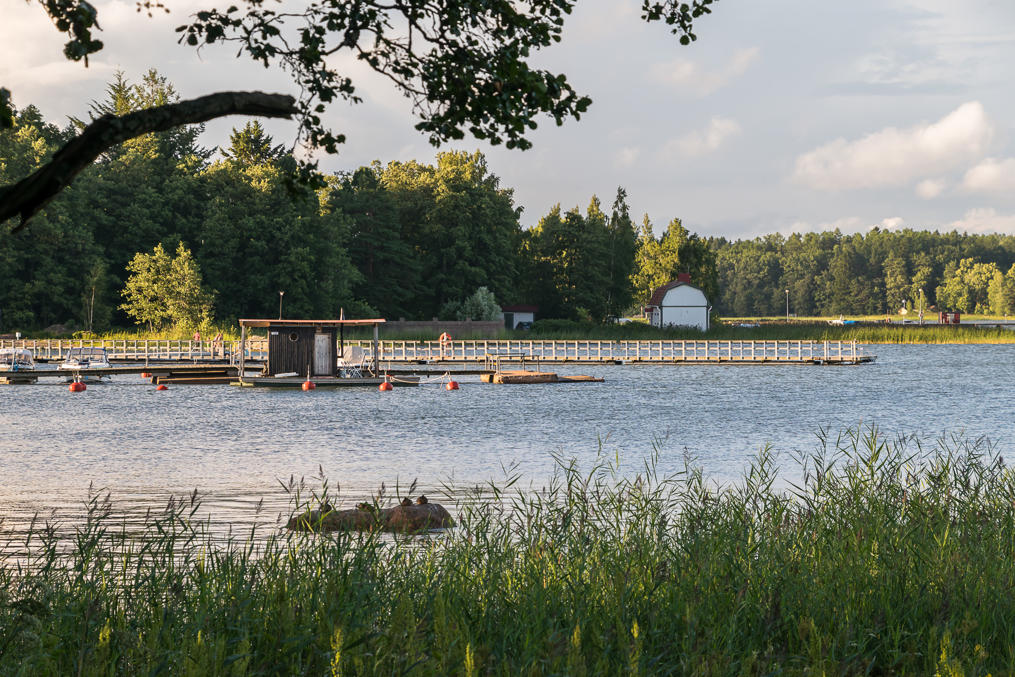 3. I'm pretty sure that's a sauna on the pier.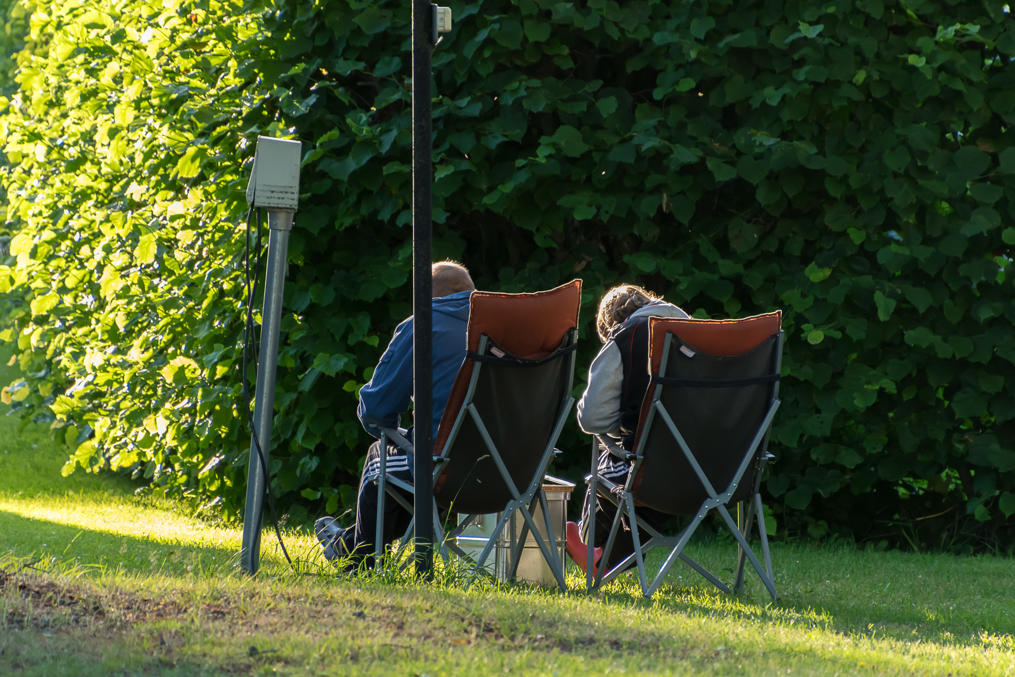 4. Older Finns relaxing near their RV.  With a fridge full of beer I assume.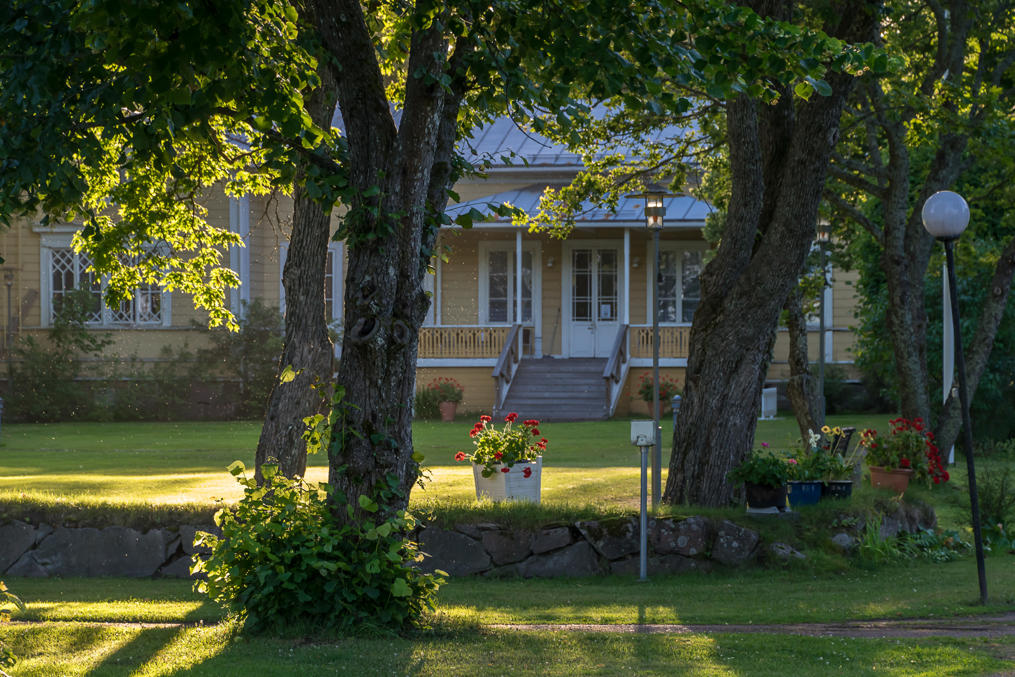 5. One of Tamminiemi's villas in the evening sun.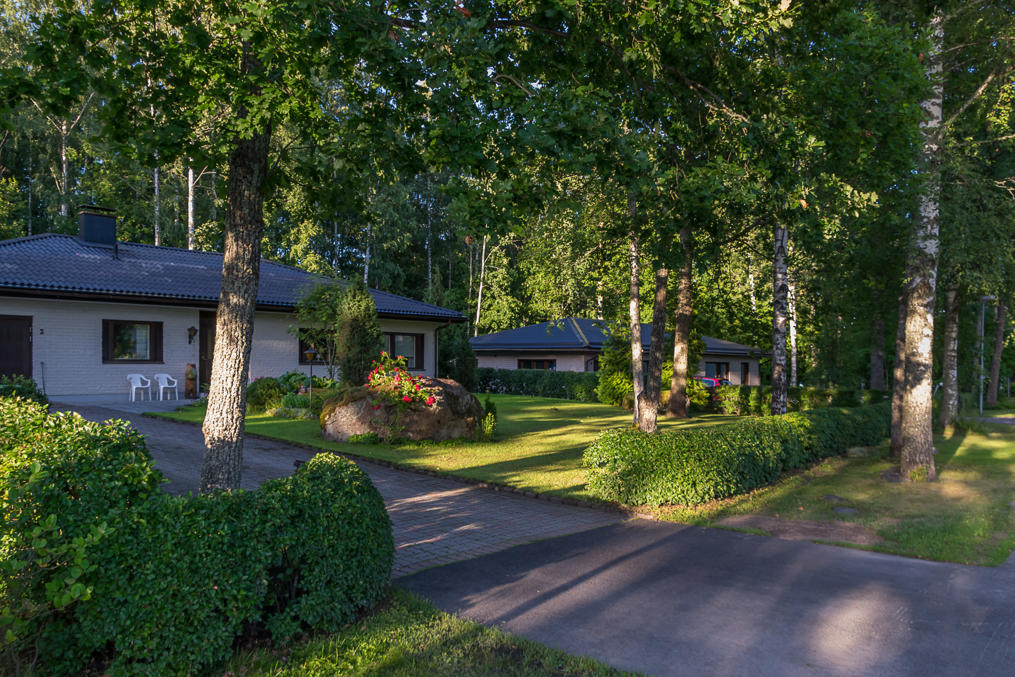 6. A long wooded ridge named Myllyharju (Finn. Mill Ridge), about 20-30 meters high, runs through Loviisa and serves as one of the town parks.  (This makes Loviisa feel a lot like Jyväskylä which has a similar ridge, although Jyväskylä is many times bigger of course.)  I walked from the camping to the ridge along a street full of nice spacy detached homes.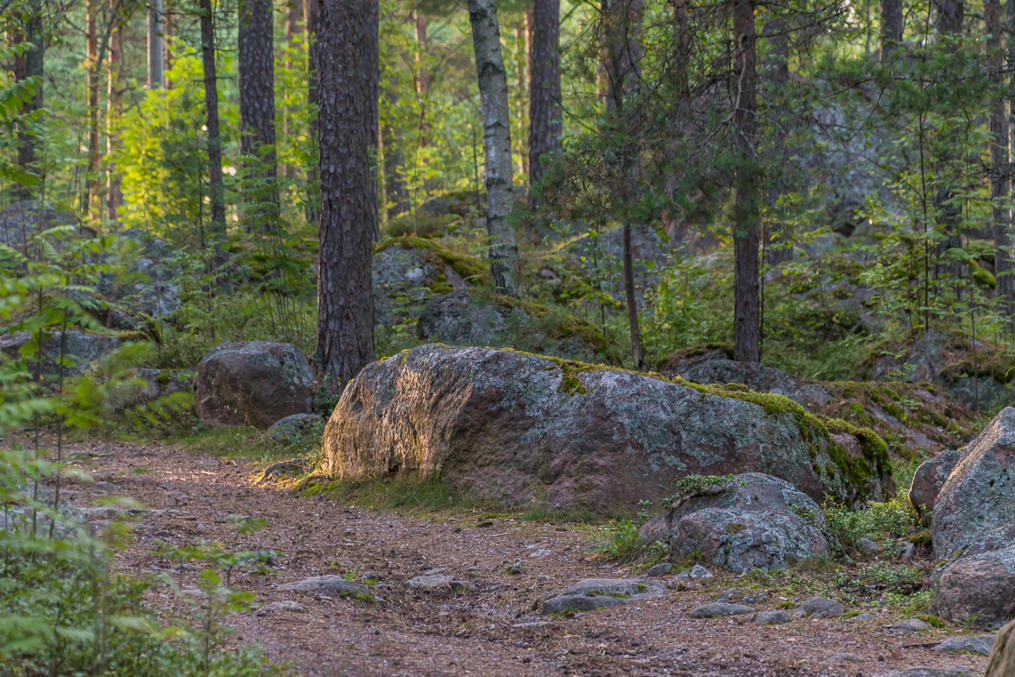 7. Forest tracks on Myllyharju.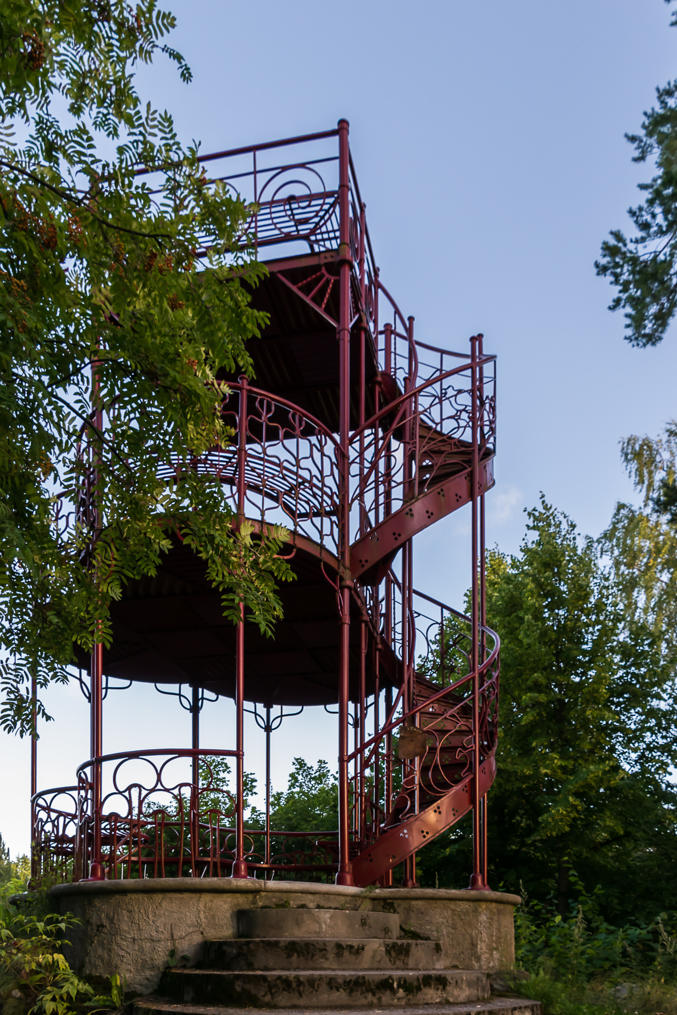 8. There is an observation tower on the top of Myllyharju, not really very tall but painted red and with fancy handrails.  The tower is named Kukkukivi (Finn. Cuckoo Rock?).  There were two Finns sitting and drinking at the top but I waited a bit and they came down.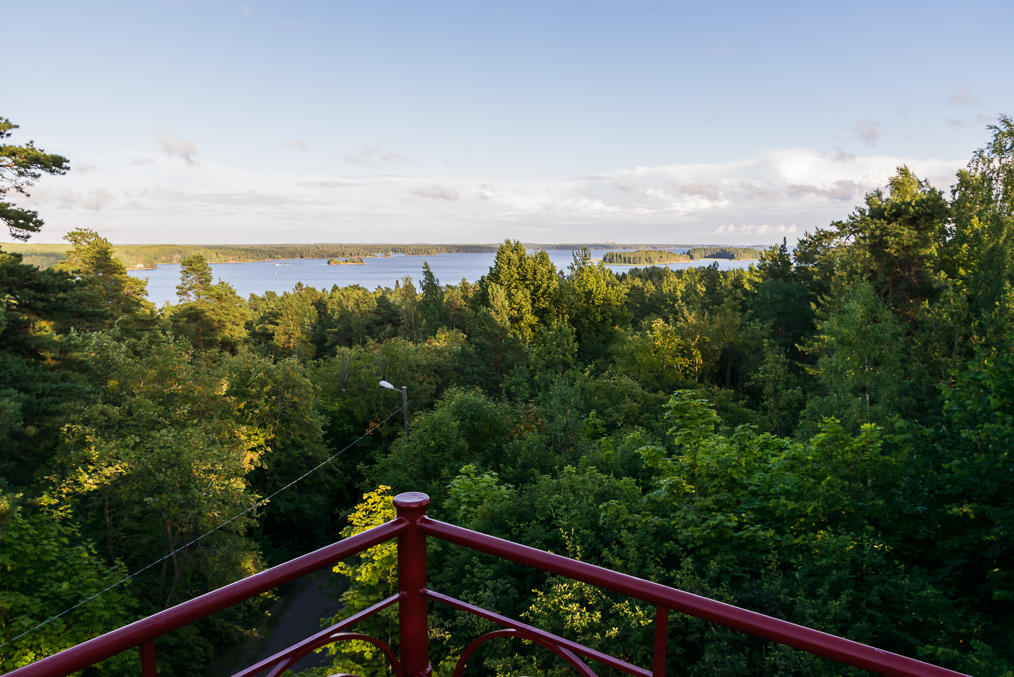 9. The top platform of Kukkukivi is located at 49 m above the sea level.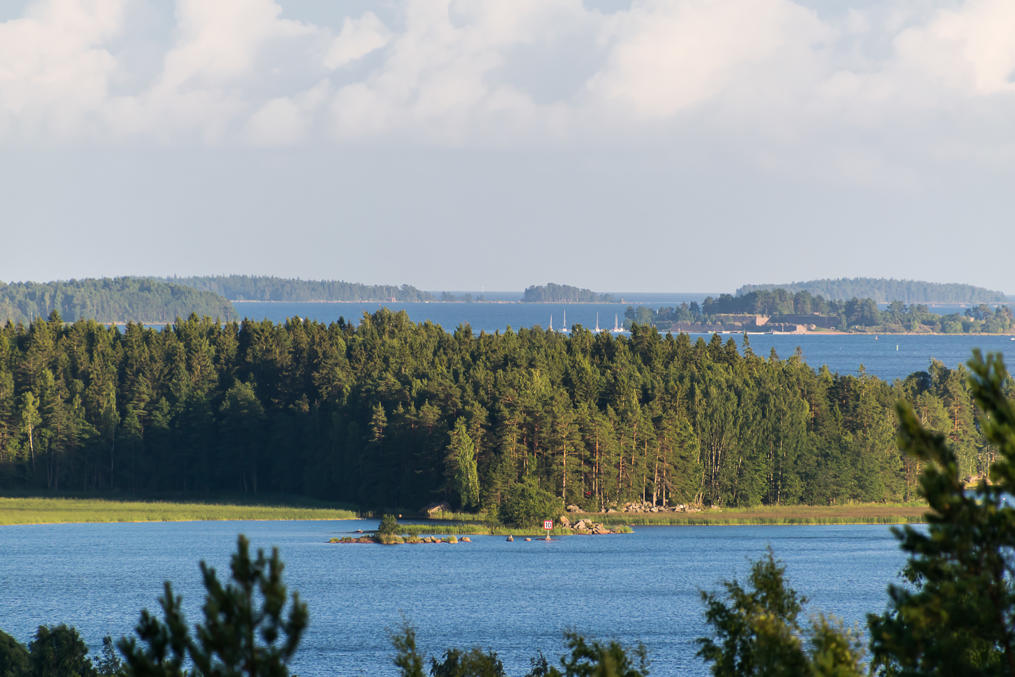 10. You can see a much bigger chunk of Loviisanlahti from the top, including the fortress of Svartholm (on the island in the right side of the picture, with low fortifications visible).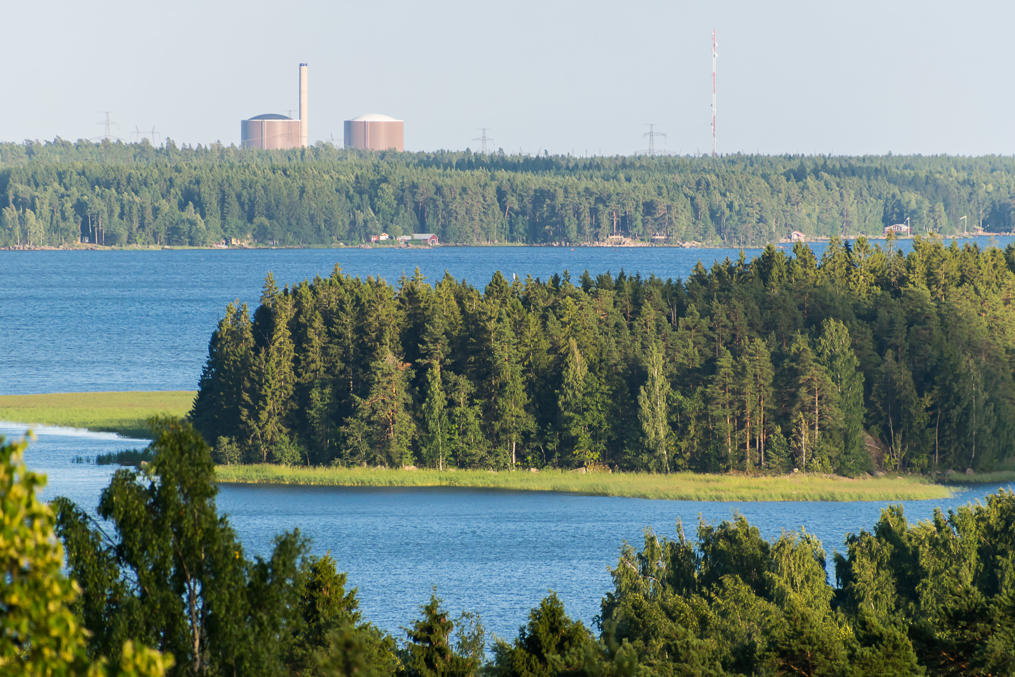 11. And the Loviisa Nuclear Power Station, too.  It's located some 15 km from the city, on the eastern side of the bay (so probably closer as the crow flies).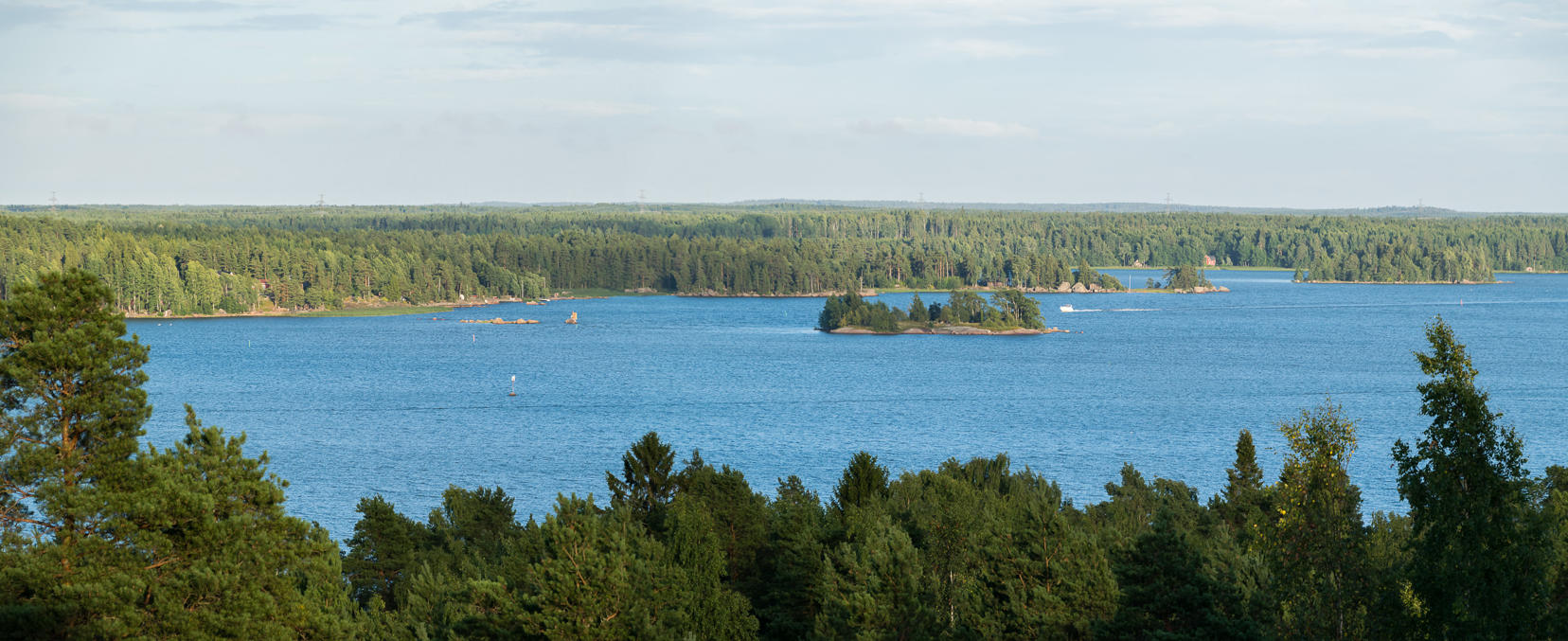 12. And the views of Loviisanlahti itself are also very nice.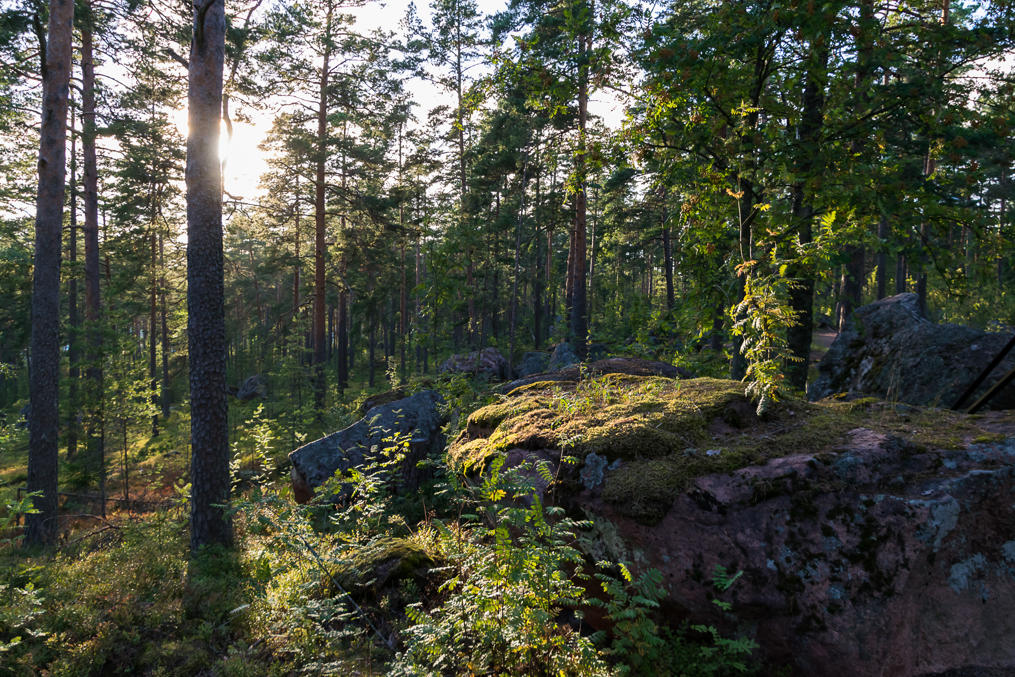 13. Rocks on Myllyharju.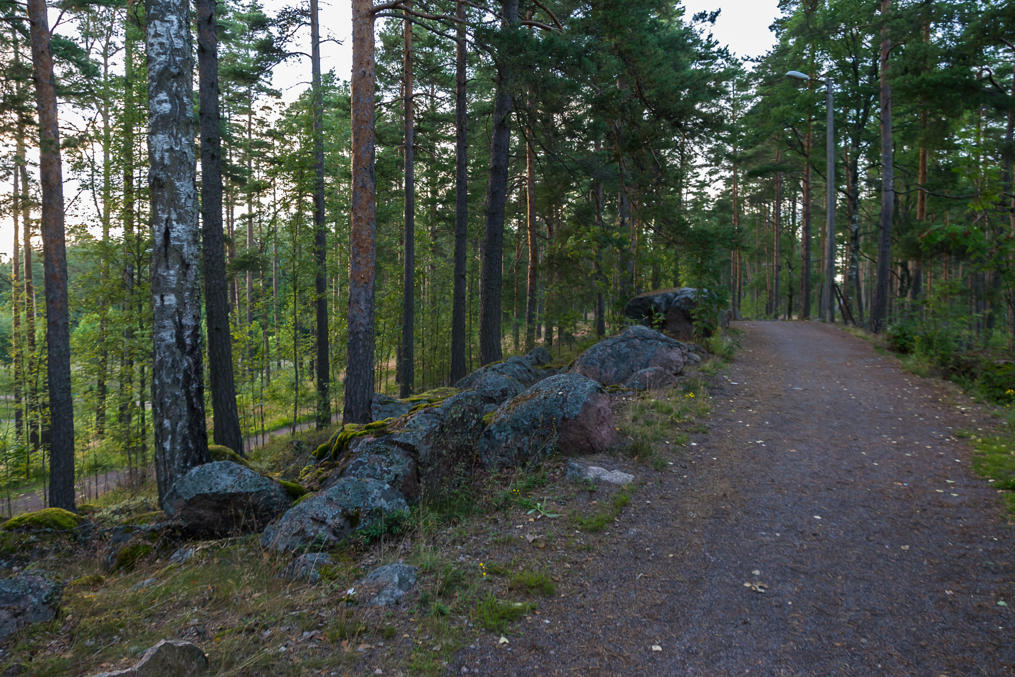 14. The trail goes on top of the ridge, gradually descending towards the center of the city.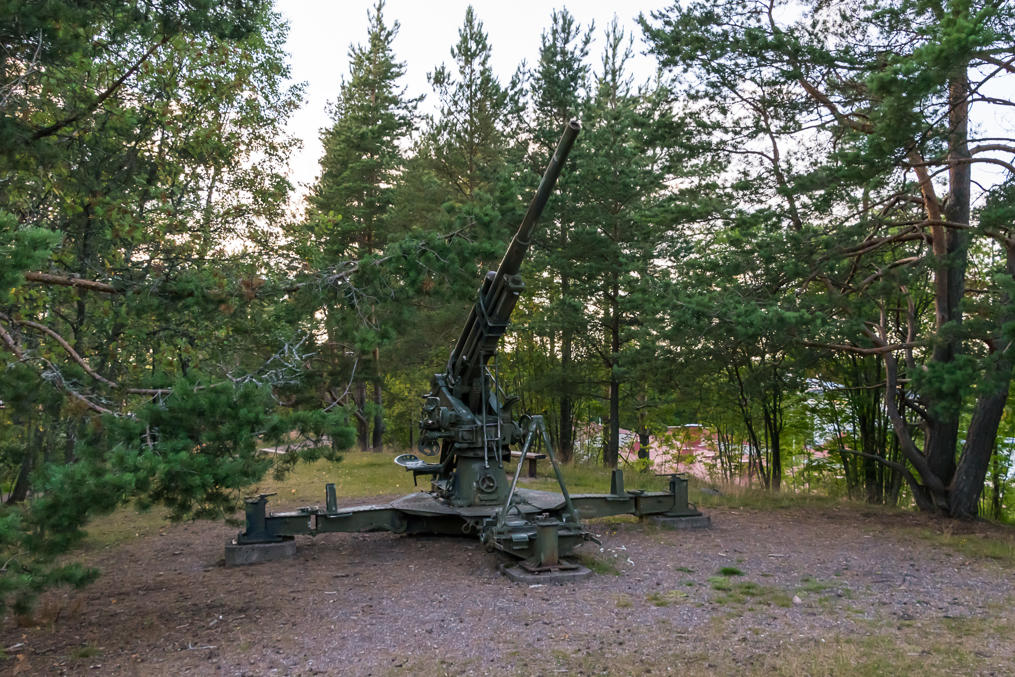 15. WWII-era air defense gun.  There is also a windmill nearby, which is probably where Myllyharju gets its name from.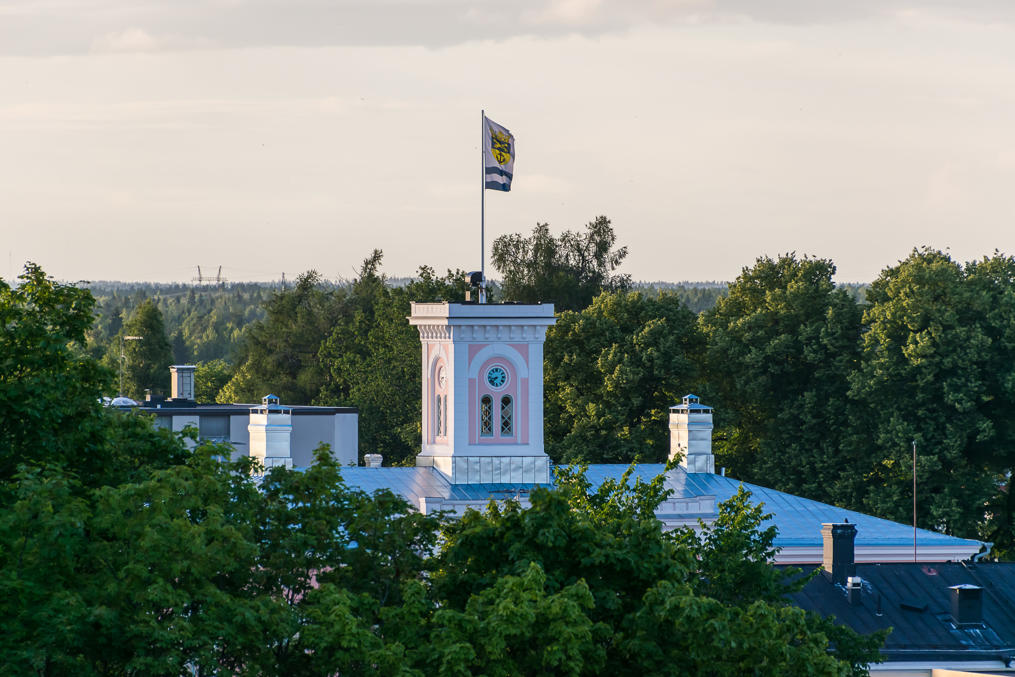 16. Loviisa City Hall's tower.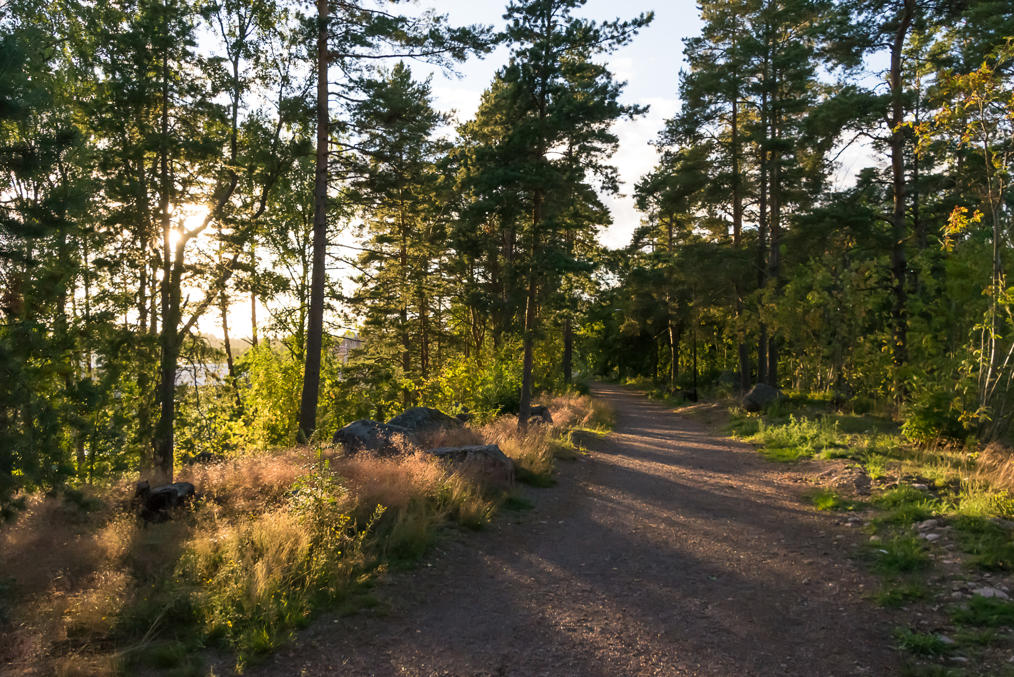 17.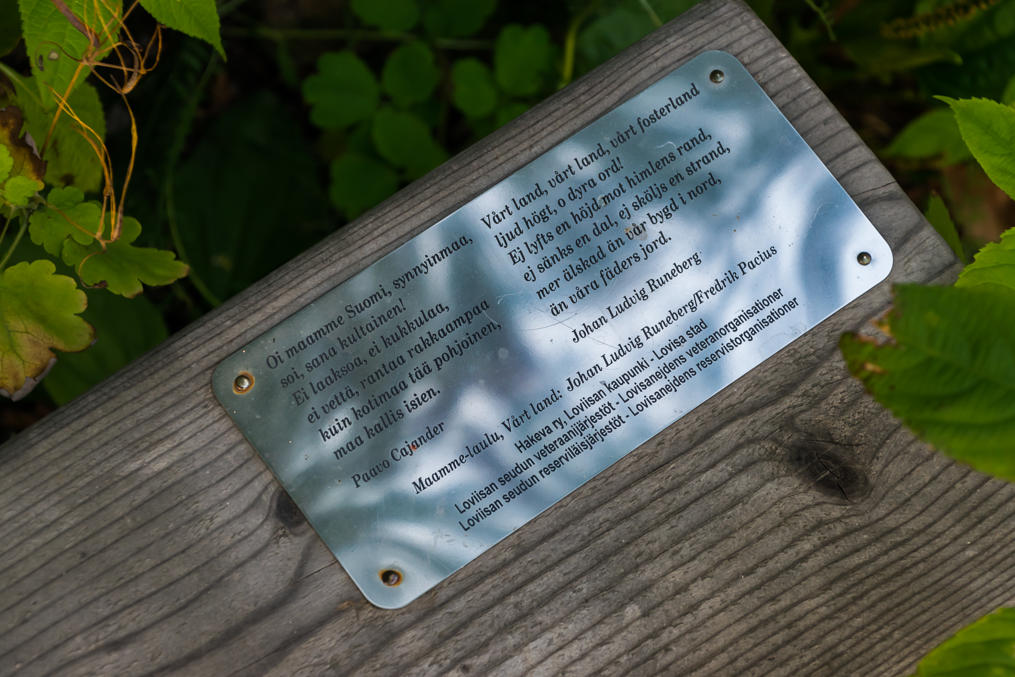 18. Each bench on Myllyharju has a plaque with an excerpt from some Finnish poetry, for example, Maamme (Our Land) by Runeberg, which is the de facto national anthem of Finland (although not formally recognized as such).  Exactly the kind of detail I enjoy spotting.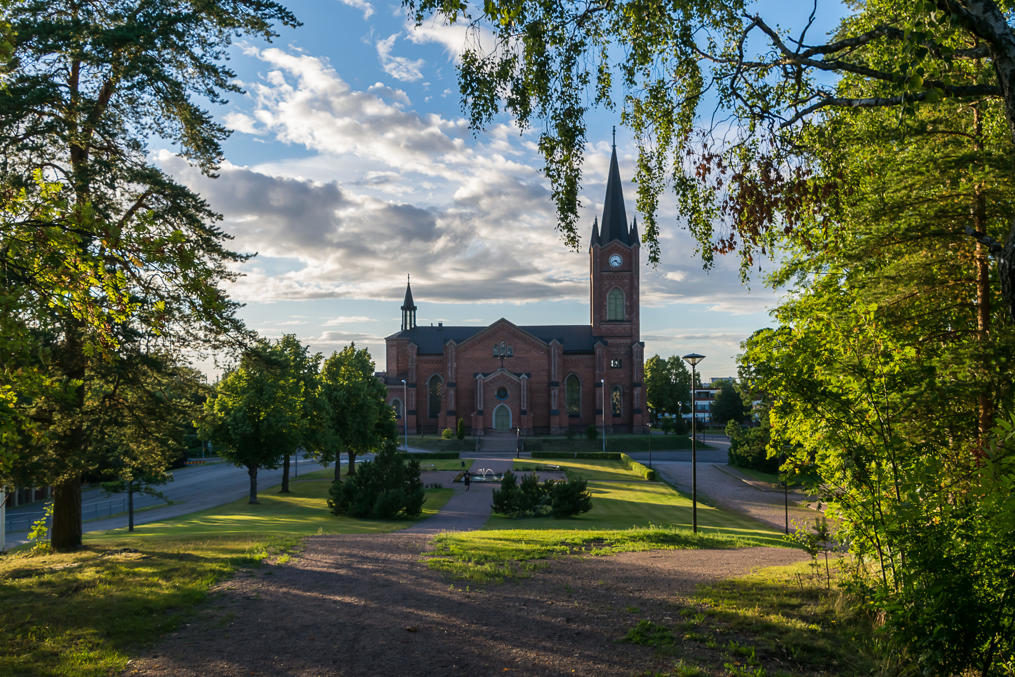 19. The ridge ends just near the Loviisa Church, with a small garden and a fountain in front of it.  The neogothic church, built in 1865 by Georg Theodor Chiewitz, is very pretty although the design isn't particularly unique for Finland.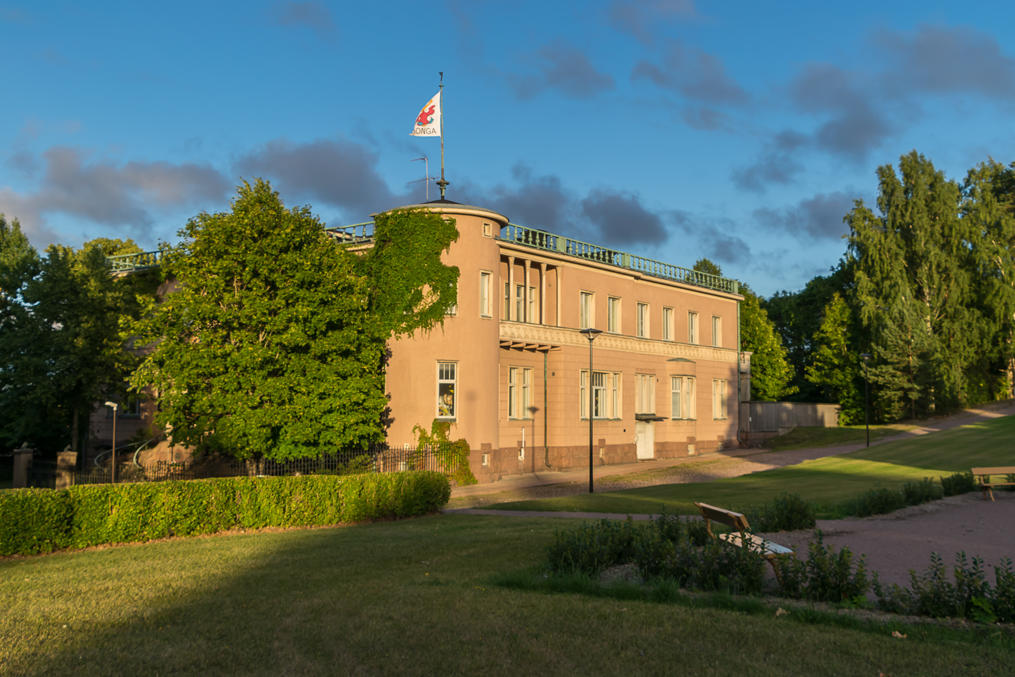 20. The building on the right side of the church garden.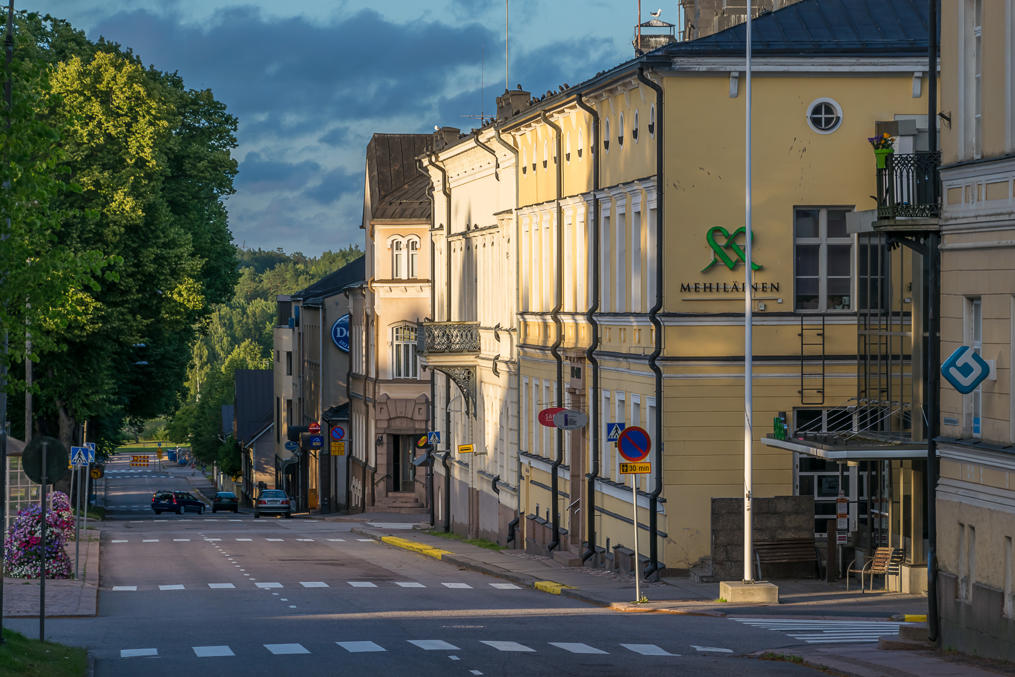 21. Loviisa's main street is a wide but fairly short esplanade.  Its northern side, Mannerheiminkatu (Finn. Mannerheim Street), is actually the main road through the city, the Regional Road 170.  It used to be the main National Road 7, carrying traffic to Kotka and St. Petersburg.
The street on the picture above is the quieter southern side of the esplanade, Brandensteininkatu Street.  This name refers to the German colonel Otto von Brandenstein, whose detachment of 3000 troops landed in Loviisa in April 1918 and provided some much-needed assistance to the Whites in the final stages of the short but bloody Finnish Civil War.  (The newly-independent Finland was really close to becoming German satellite state, going as far as inviting a German to be installed as the King of Finland, but then of course Germany lost the war and the king business and other nonsense was promptly forgotten.)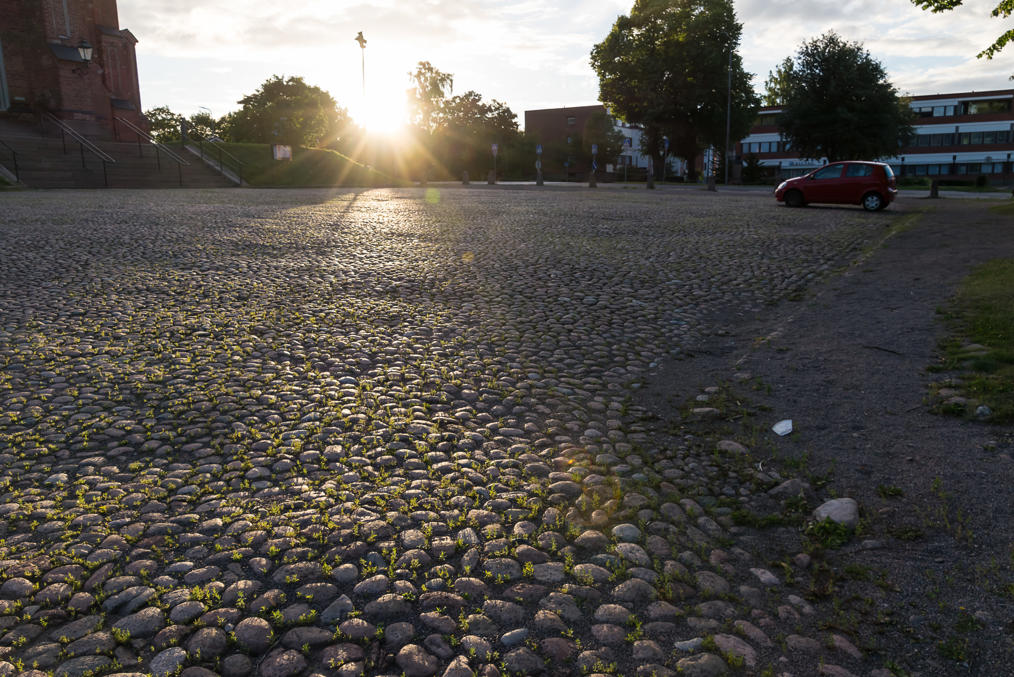 22. Cobbled square near the church.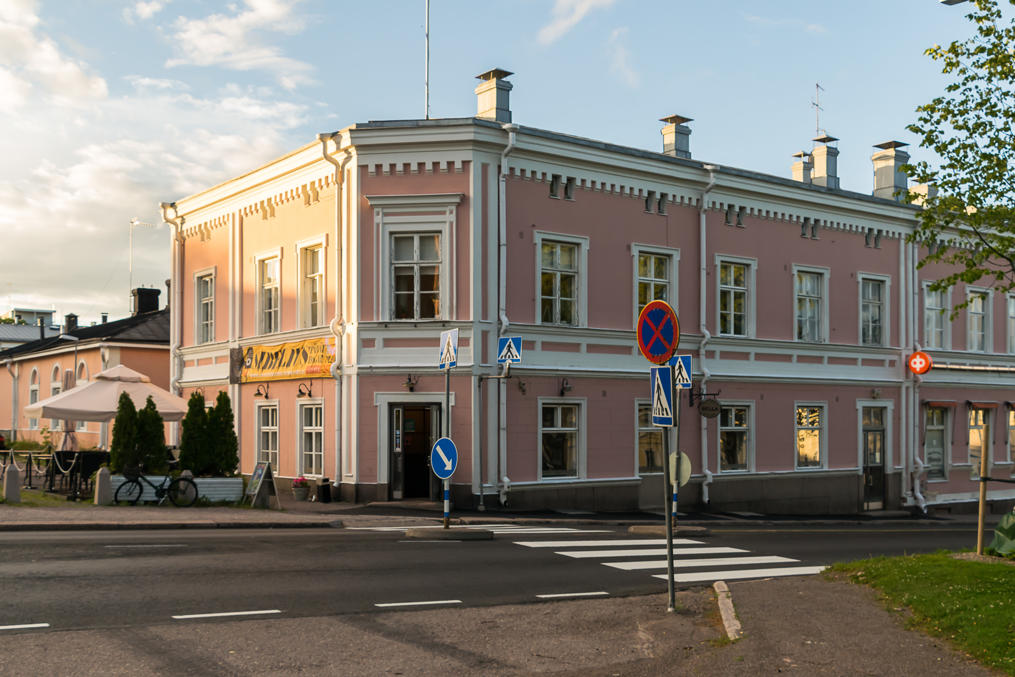 23. Restaurant on Mannerheiminkatu.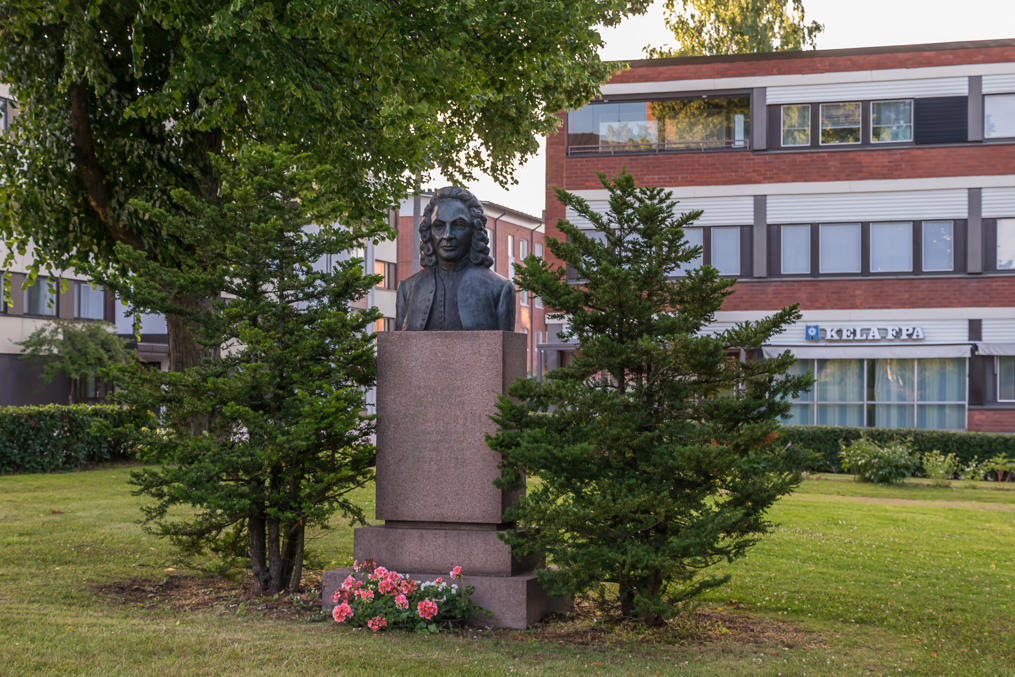 24. A monument to Jacob Forsell, one of the first owners of the nearby Ruotsinpyhtää Ironworks, and the founder of a dynasty which continued to operate Ruotsinpyhtää for a century or so.  The local office of Kela, the Finnish social security bureau, is in the background.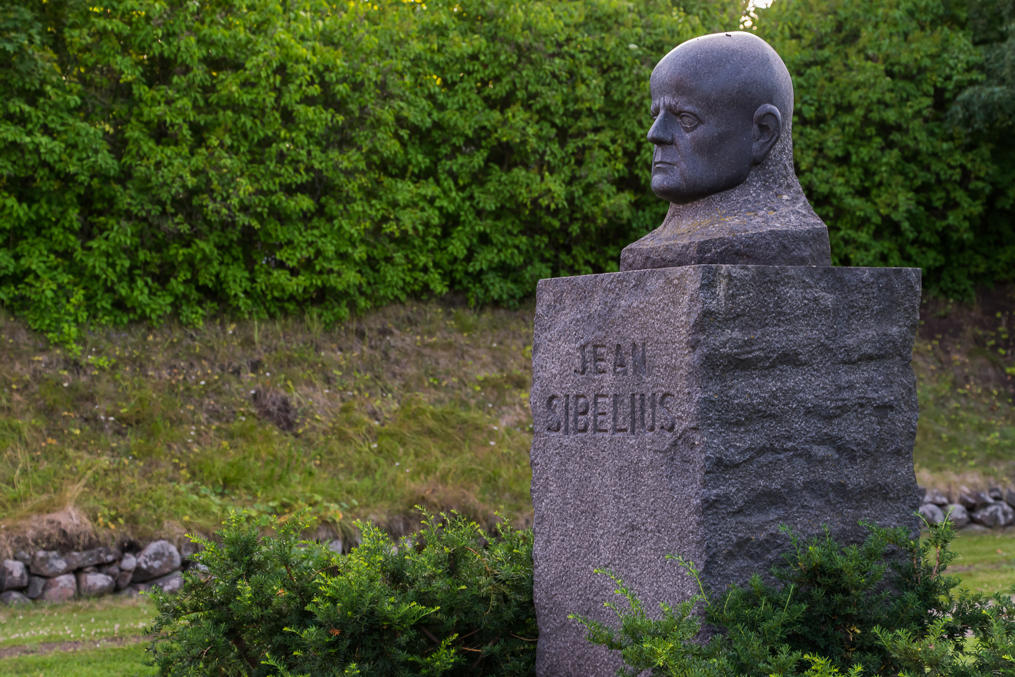 25. Another monument nearby is to Jean Sibelius, the most famous Finnish composer by far.  He looks kind of gloomy here, but according to the photographs he really used to have this expression most of the time.  He is pictured bald here, unlike the famous monument in Helsinki; this is his appearance from his later years, when Sibelius lived long enough to see himself becoming famous and revered, but completely failed to write anything of significance over the latter thirty years of his life.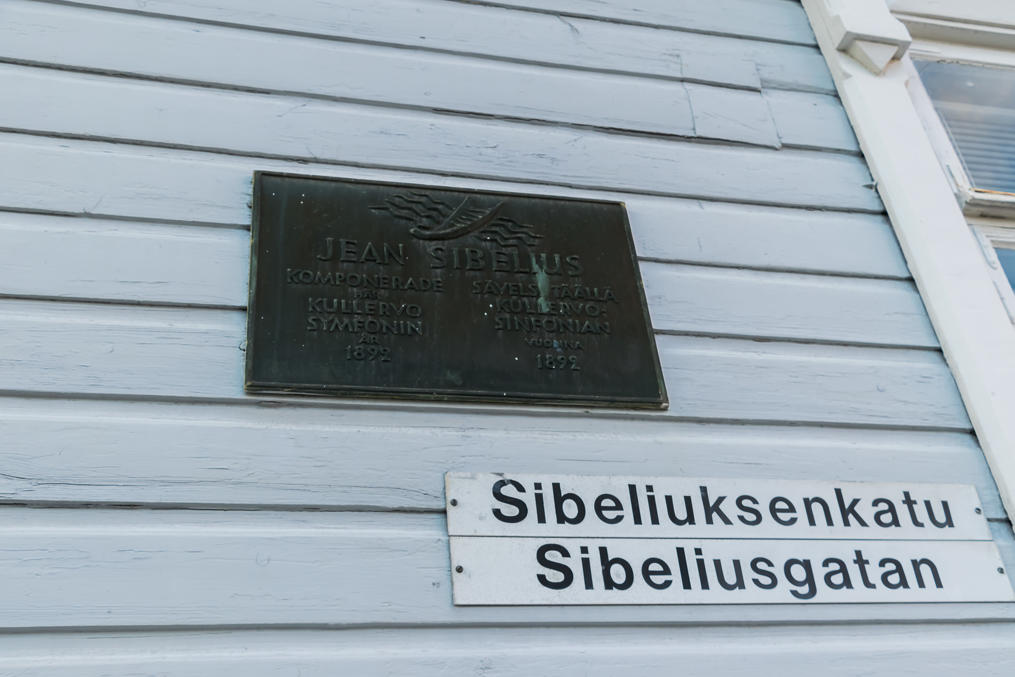 26. Apparently Sibelius actually lived in one of the old wooden houses here in 1892 while writing his Kullervo symphony, one of his Kalevala-based works.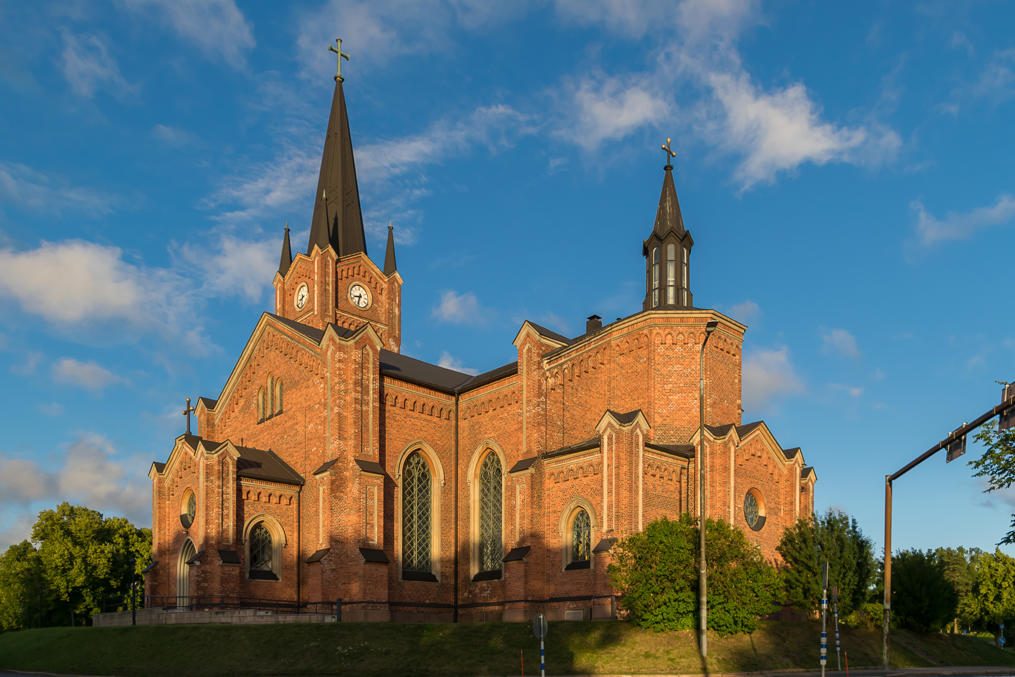 27. The church from the sunlit side.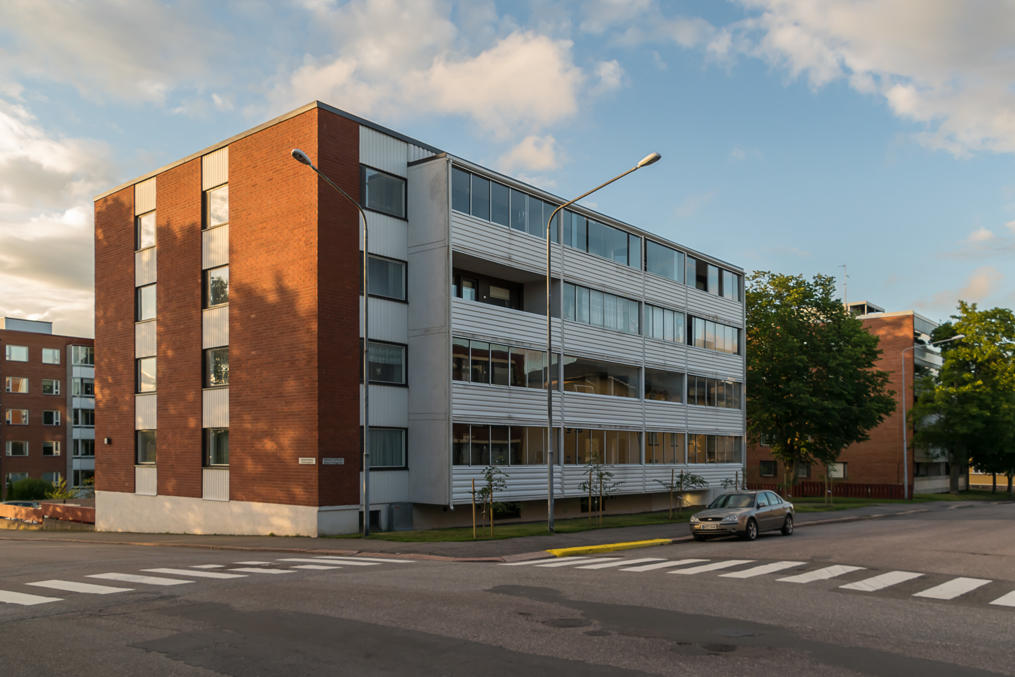 28. I walked a bit around modern residential areas north of the center.  Apartment blocks in such towns are usually not fancy at all yet, as always, there is something beautiful in the simplicity of the design.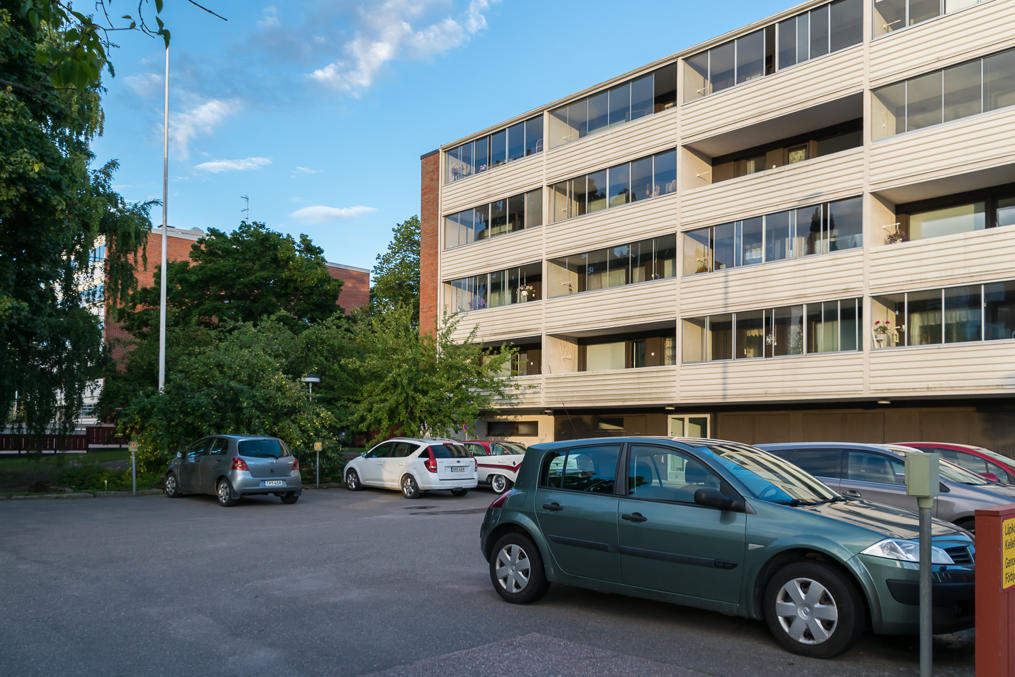 29. Finnish apartment blocks (mostly newer ones) commonly have very beautiful green backyards.  Sometimes there is just a parking lot right under the windows though.
I'm not a huge fan of driving, as I always said, and I particularly don't like using a car for commuting to work.  Still I must admit that in a small town like Loviisa owning a car really has very few downsides (apart from the cost).  No traffic jams, mostly free parking (towns the size of Loviisa in Finland do not bother with parking tolls at all), ample parking space virtually anywhere, small distances.  And the streets are still usually empty and you don't feel like you're occupying valuable space with your car.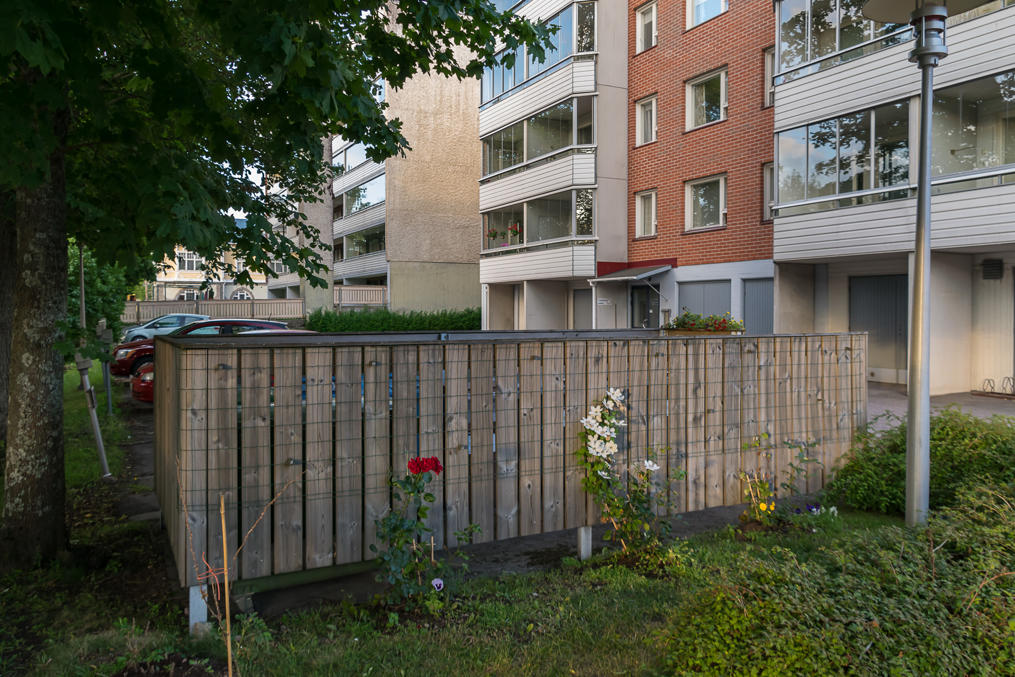 30. Backyard with garbage bins.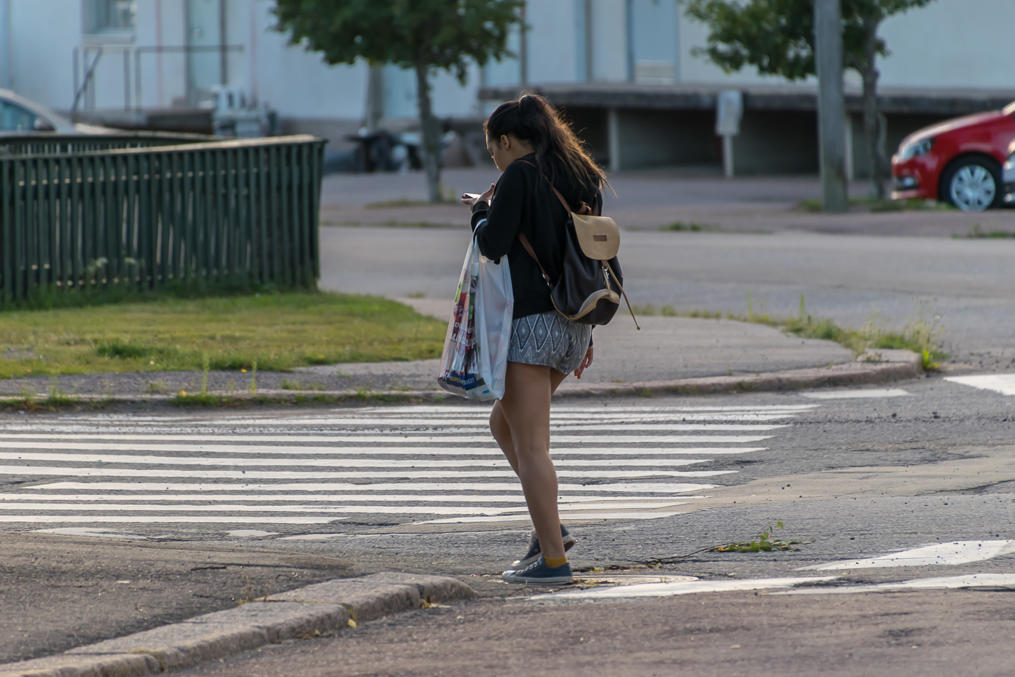 31. A lone pedestrian.  The streets looked very deserted, which is again expected for a Saturday evening in a small Finnish town.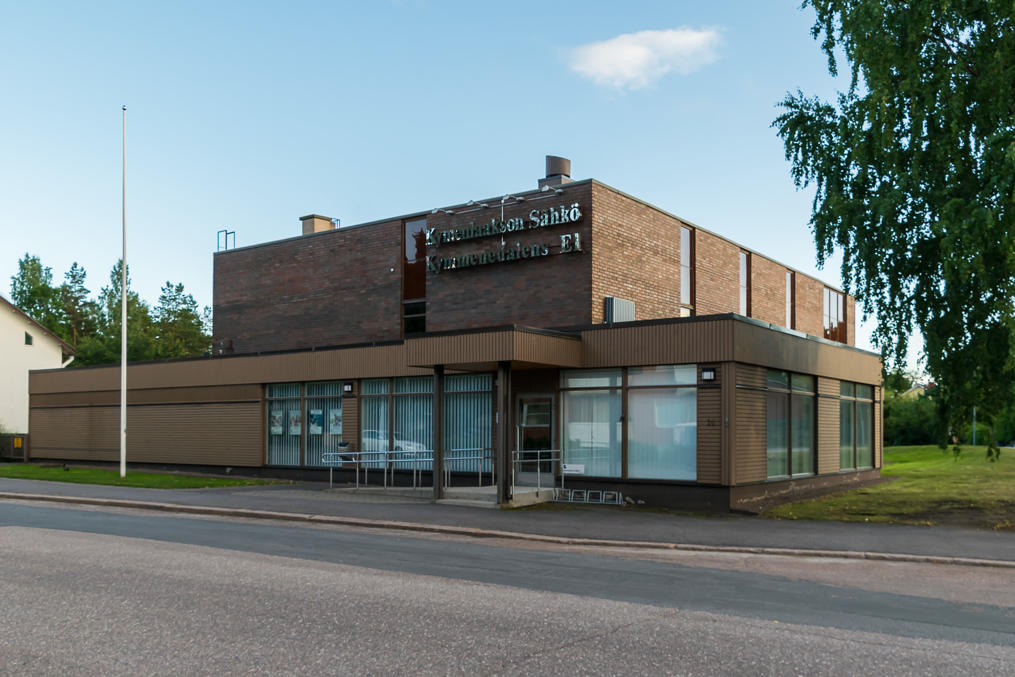 32. Local energy company.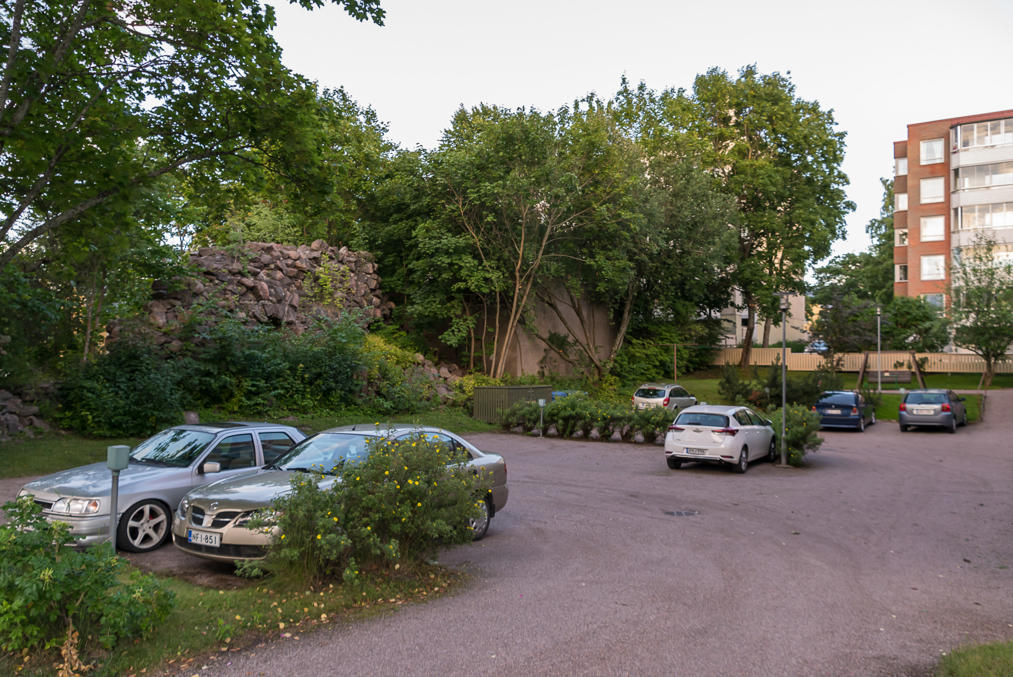 33. Are these actually some ruins in someone's backyard?
34. There are some newer apartment blocks too.  Of course they are still pretty small.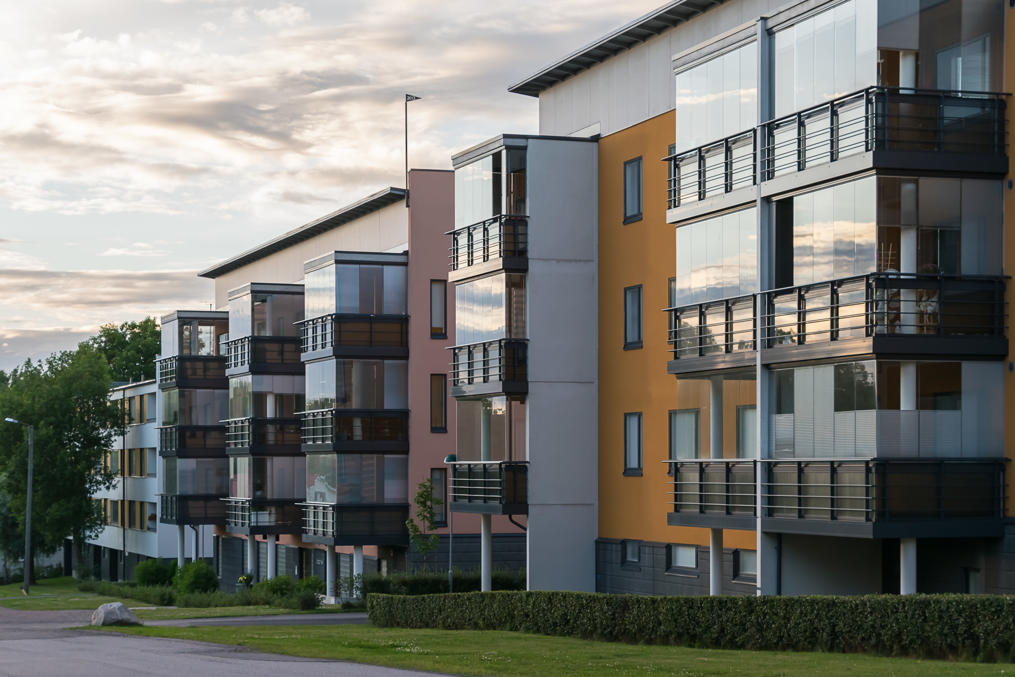 35. And some of them even have those wonderful glass balconies that I adore so much.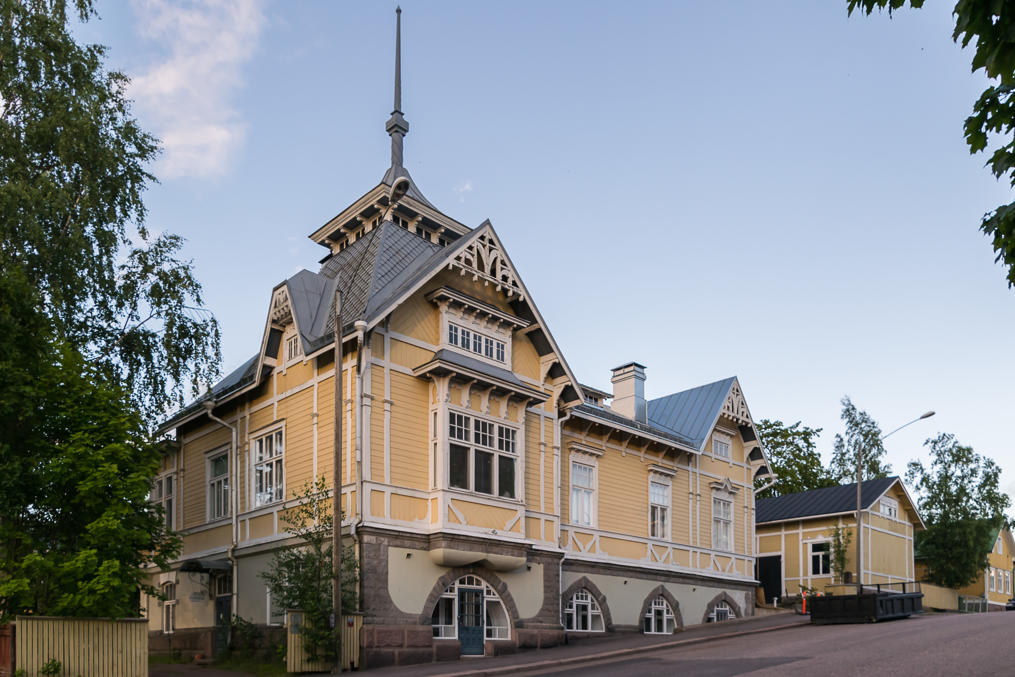 36. This building reminds me a lot of some of the old mansions in St. Petersburg and its suburbs.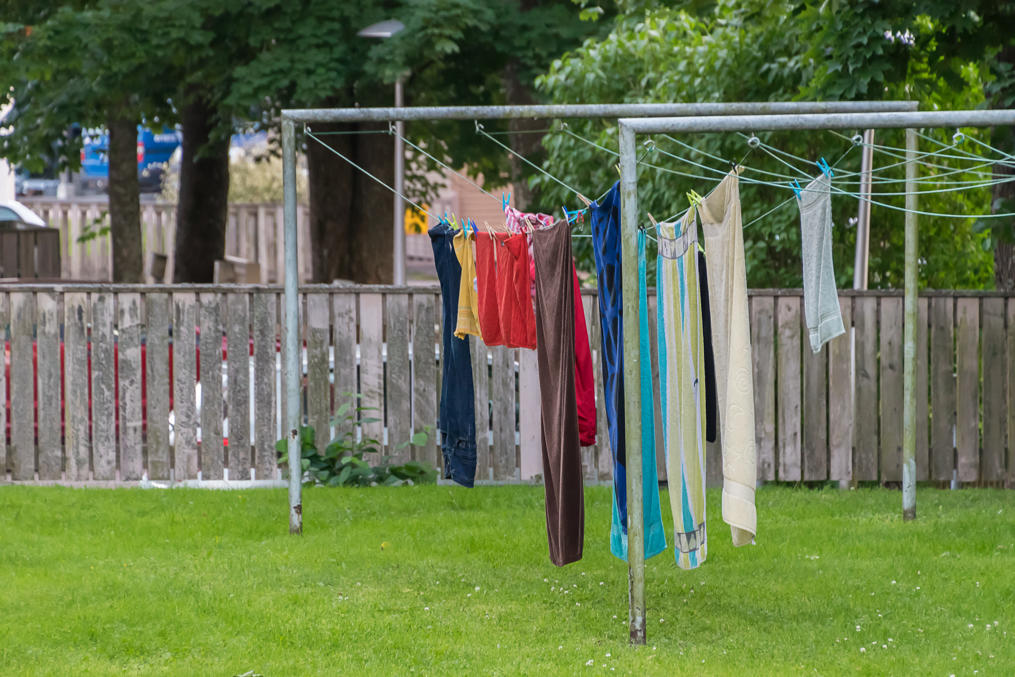 37.
38. I wonder how many people in Loviisa actually commute to Helsinki for work.  90 km is a lot to cover daily, but the road to Helsinki (Road 7) is very good, a motorway with 120 km/h speed limit in summer.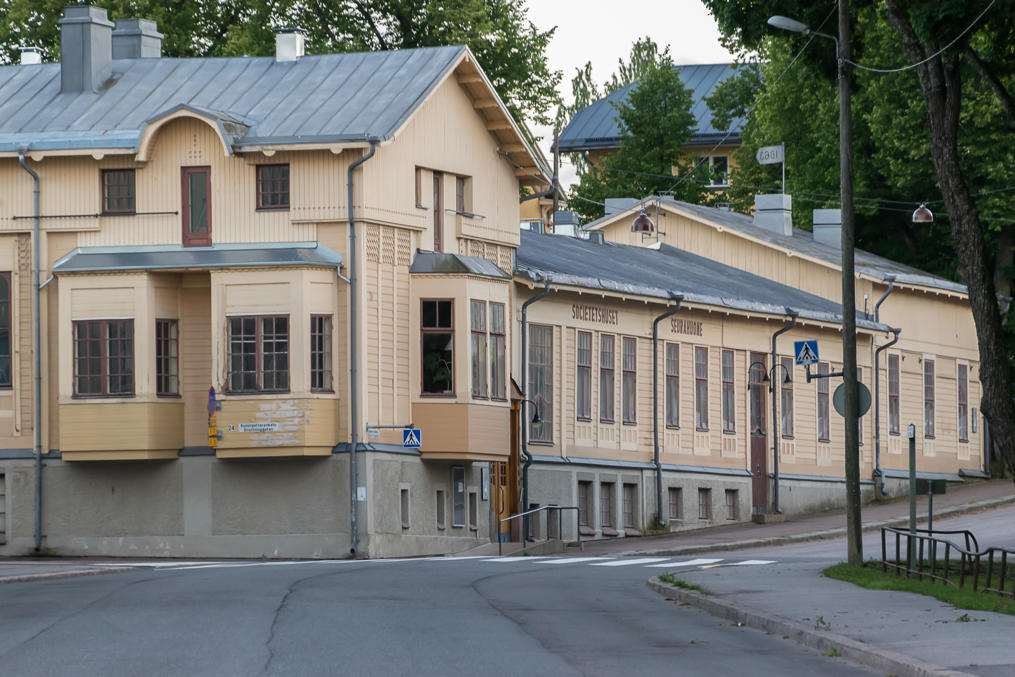 39. Local Seurahuone house.  Seurahuone (Finn. Assembly Room) is a type of building which existed in all Finnish towns of any size in the 19th century, which was basically used to hold various events, for example, concerts and dances.  I'm not sure if any are actually still used for this purpose (or, for that matter, what this Loviisa building is used for).  Most existing Seurahounes are currently repurposed as hotels; some also hold city halls, etc.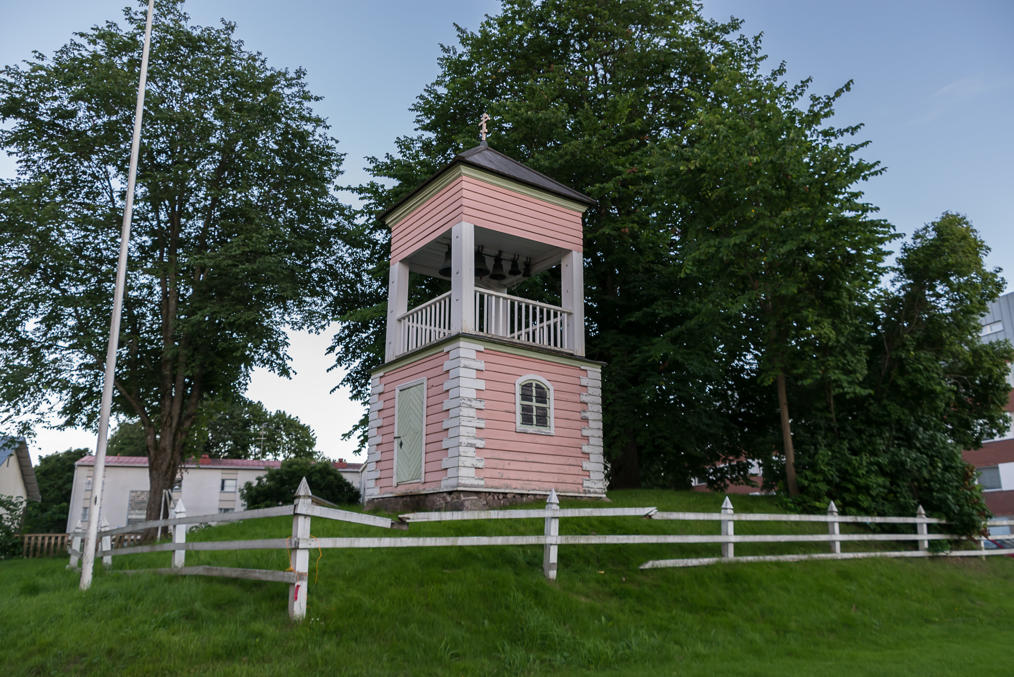 40. An odd small bell tower standing here seemingly on its own.  Some Googling revealed that it belongs to the nearby Our Lady of Kazan Orthodox Church which occupies a nearby building which does not look like a church at all (so I've got no pictures of it).  Or maybe I understood incorrectly, there's nearly no information available online (even in Finnish or Swedish).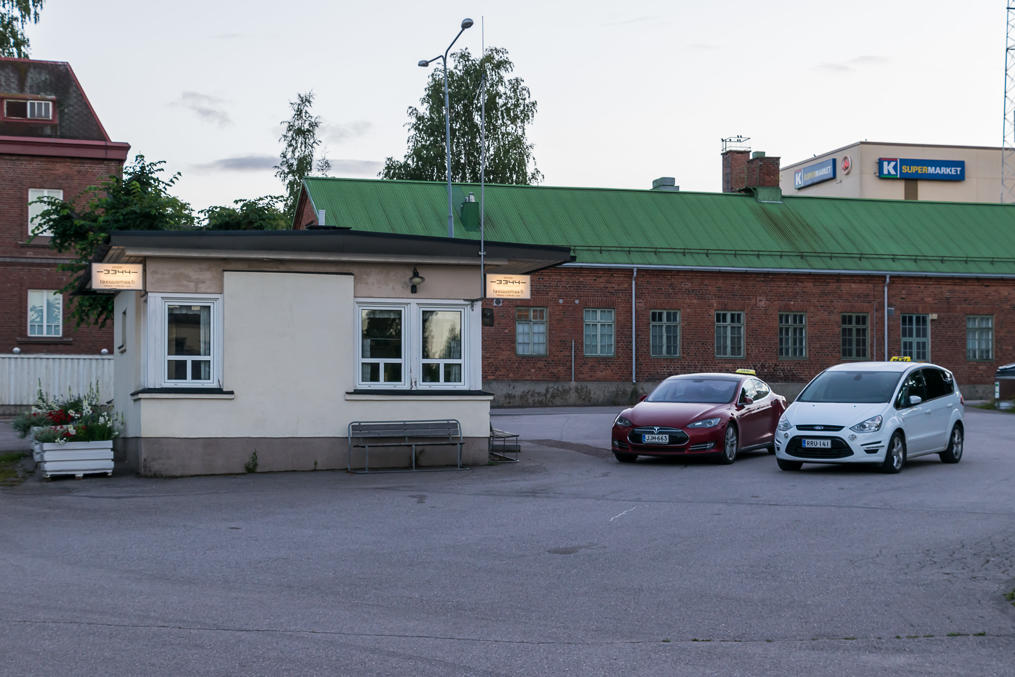 41. The local taxi station looks like a Russian public toilet.  No, really.  (Maybe this was a public toilet originally?)  On the other hand one of the cars waiting for orders here was a goddamn Tesla.  I found this utterly hilarious.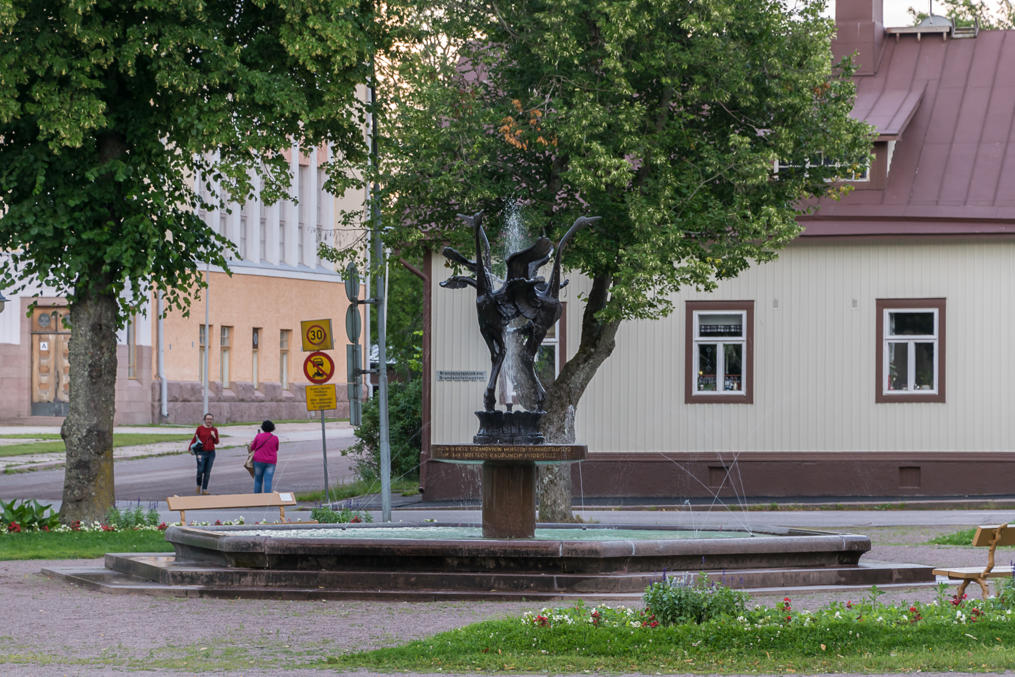 42. Fountain with crane statues back on the central esplanade.  And apparently two more tourists in the town.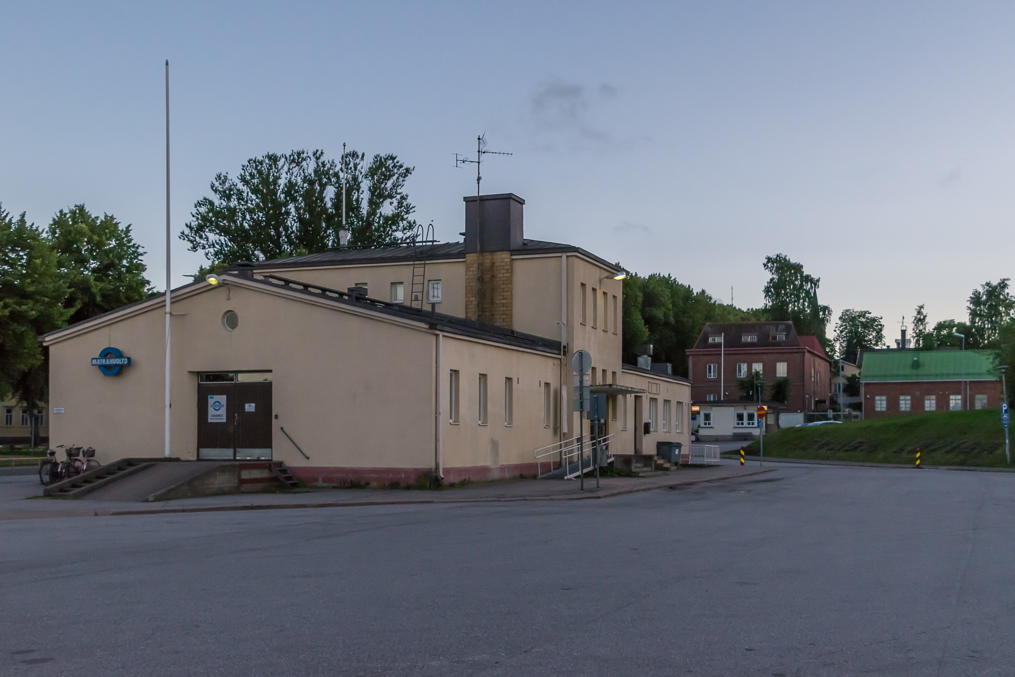 43. The bus station also looks very unimpressive.  Loviisa has a rail line, 77 km long, connecting it to the city of Lahti; but it's only used for seaport freight, and there hasn't been any passenger service since 1970s.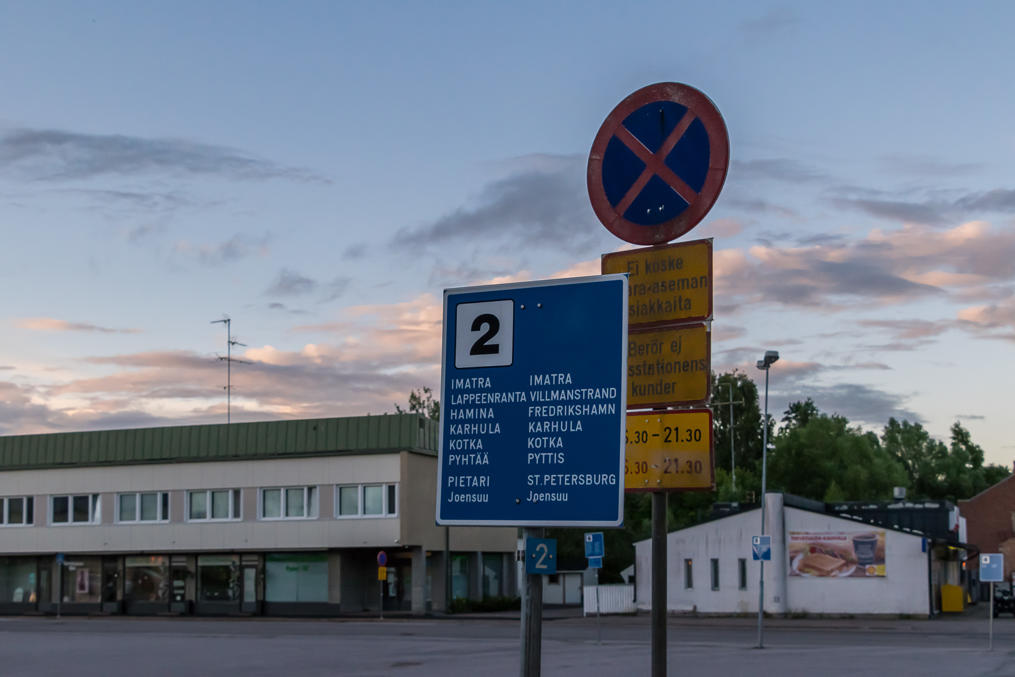 44. The signs at the station promise quite a lot of destinations.  I'm not sure there's actually a scheduled bus to St. Petersburg.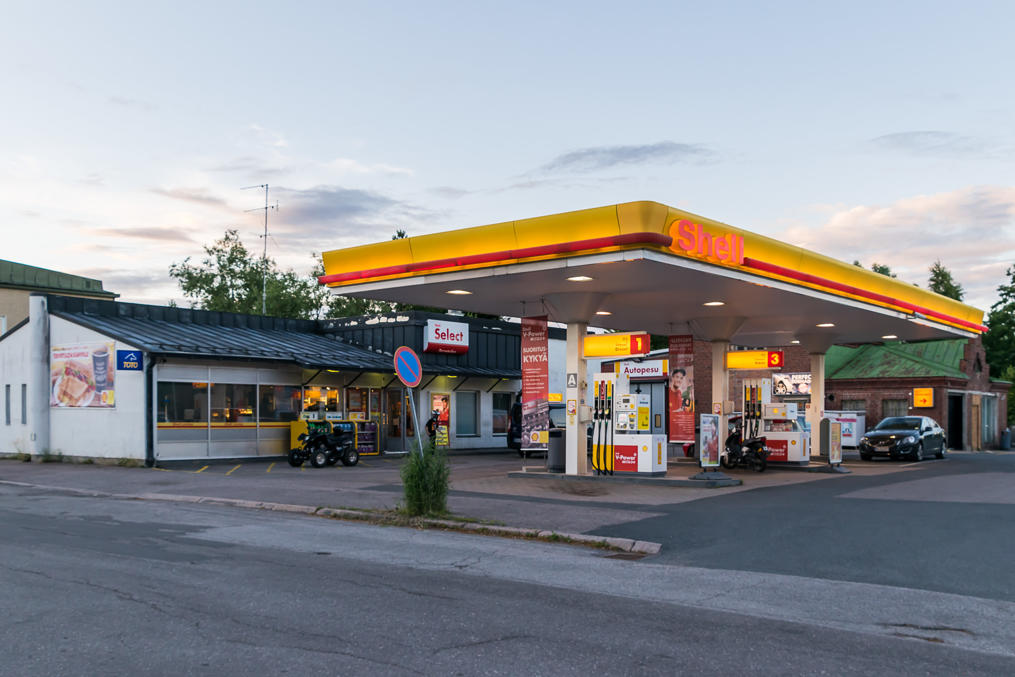 45. Gas station, a small island of light and life.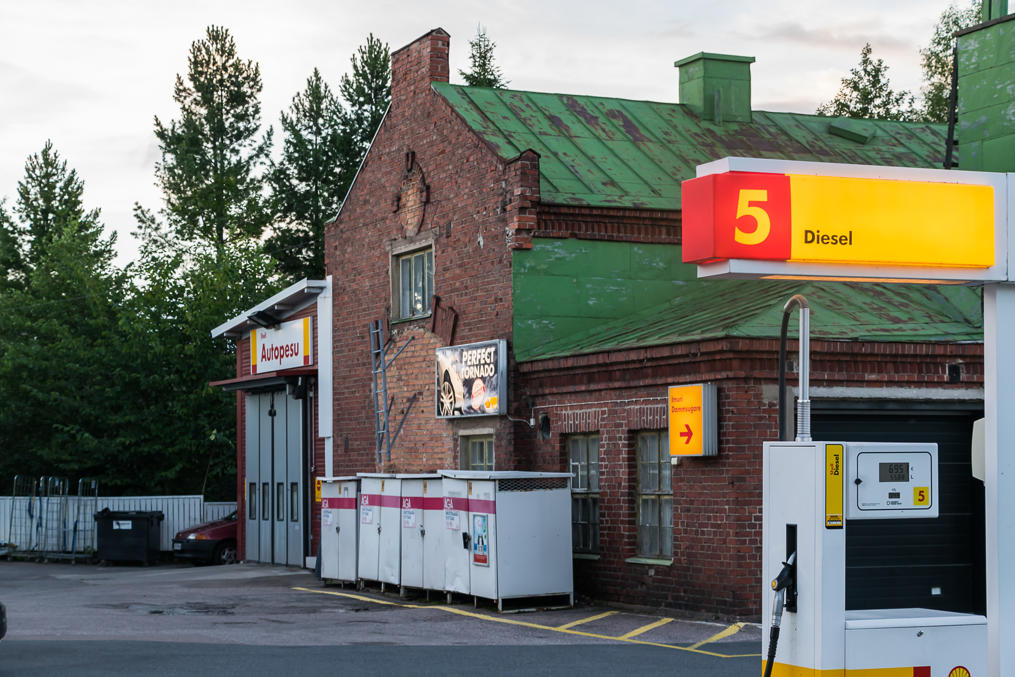 46. A small old industrial building behind the gas station is used as a car wash, with little regard to its looks.  That's something not common for Finland.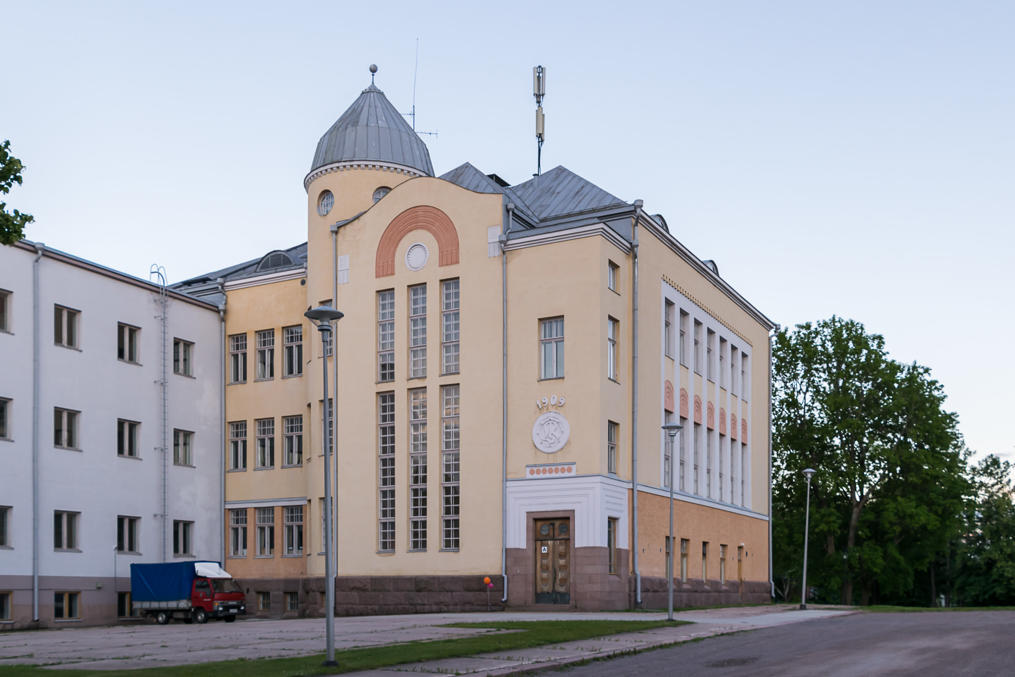 47. Local gymnasium (Swedish-language university-preparatory school).  The city also has a lukio (lyceum, same thing but for Finnish-speaking students).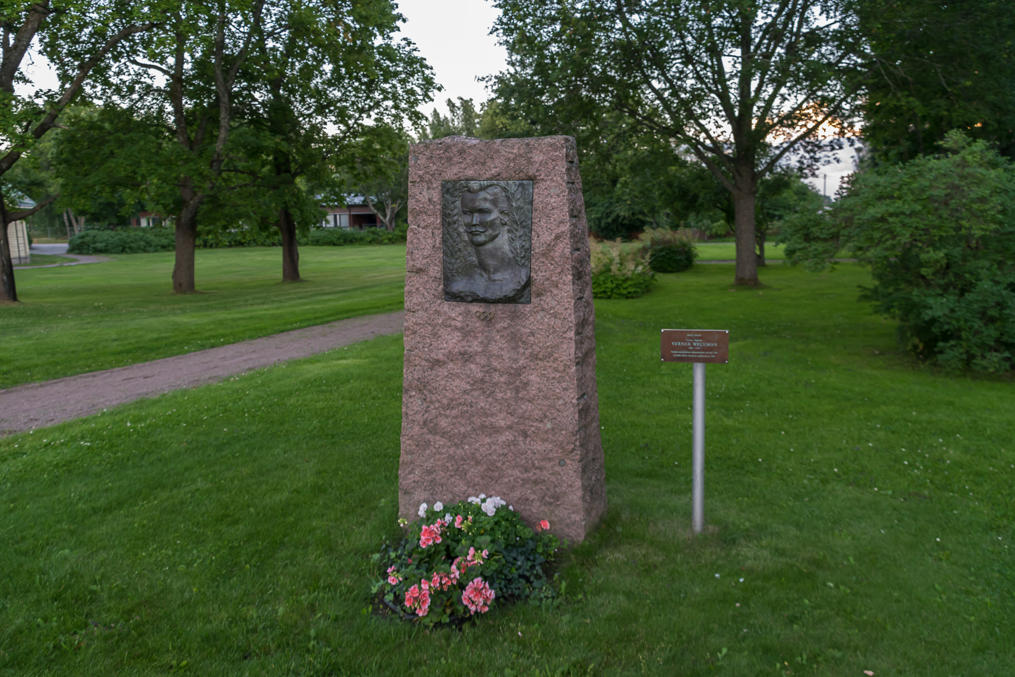 48. A small monument to Verner Weckman behind the gymnasium.  A Loviisa native, he was the first ever Finnish Olympic champion, winning a gold medal in Greco-Roman wrestling at 1908 Summer Olympics.  He actually studied and lived in Helsinki though.  He went on to work as an engineer, eventually serving as an executive director of Kaapelitehdas for 30 years.  Kaapelitehdas (Finn. Cable Factory) was one of a few Finnish industrial corporations which were eventually merged to become the great Nokia company as we know it.
In 1955 Weckman was awarded the title of vuorineuvos for his services.  Finland, being a republic, retains a number of noble families going back to Swedish era (which ceased having any particular privileges long ago) but lacks a king who could in theory grant more titles.  Although in practice other Nordic monarchies do not grant new titles anymore too.  Anyway to make up for this fact Finland has a system of honorary titles which may be granted by the president.  The highest two titles are valtioneuvos (State Councillor) and vuorineuvos (Mountain Councillor).  The first one is granted to statesmen, and the second one to businessmen (particularly industrialists).  The title does not confer any rights or privileges whatsoever, and it costs a lot of money (about 50,000 €) to nominate a person.  About 300 people were awarded the vuorineuvos title throughout the history of independent Finland.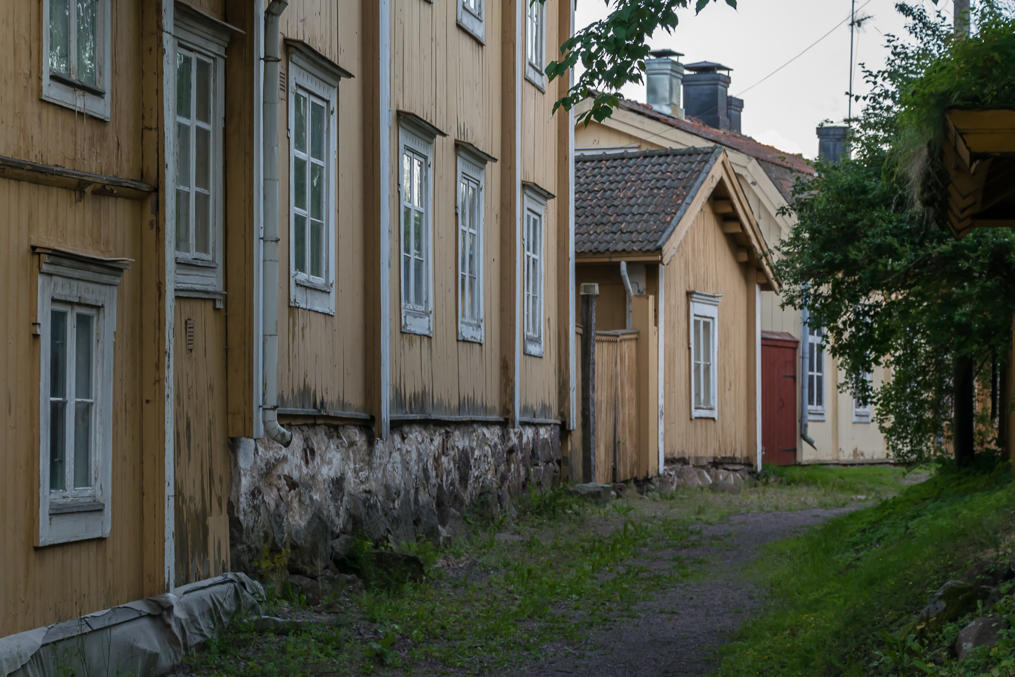 49. Wooden quarters of old Loviisa.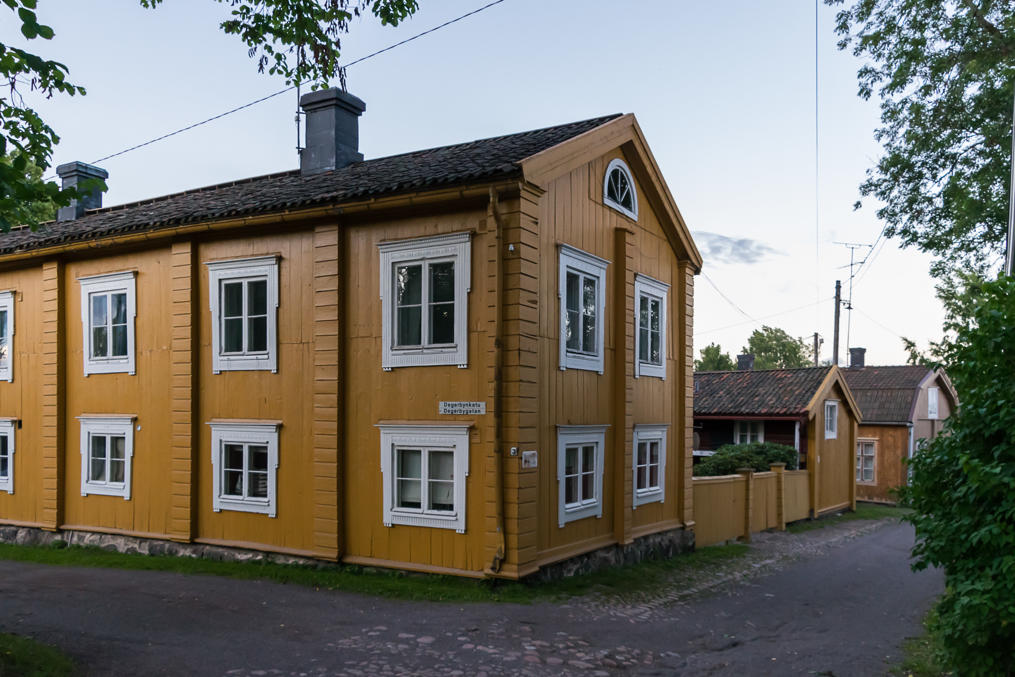 50.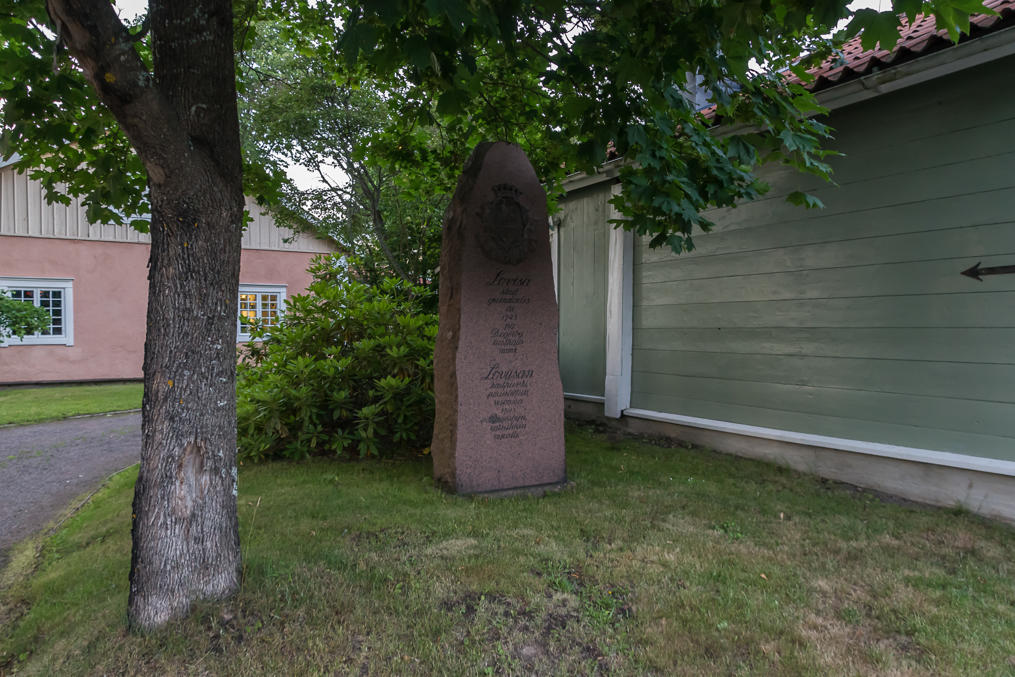 51. This monument in old Loviisa simply states "Loviisa town was founded in 1745 on Degerby Rusthåll land".  Rusthåll (Swedish)/Ratsutila (Finnish) is an old term dating to the era of Swedish allotment system, the system of keeping a trained army which was responsible for the renowned Swedish military successes.  A rusthåll farm was required to provide a horse and a trained rider for the army, in exchange for a major tax reduction.  The rider was allowed to stay at the farm in peaceful times, but was required to show up for service as soon as mobilized.  Similar arrangements existed for seamen and infantry.  The system existed from the 16th to the beginning of the 20th century (and was greatly reformed by Charles XI in late 17th century, paving way to the victories of Charles XII).
Curiously enough Sweden continued to employ and pay existing allotment troops even into the 20th century, up until the last one of them retired in 1961; in Finland's Russian era, on the other hand, the system was effectively abolished as soon as 1810 (existing troops were granted pensions), and for many decades Finland didn't have to maintain any sort of army at all.  So anyway, apparently Loviisa was originally founded on the land of one of these rusthåll farms.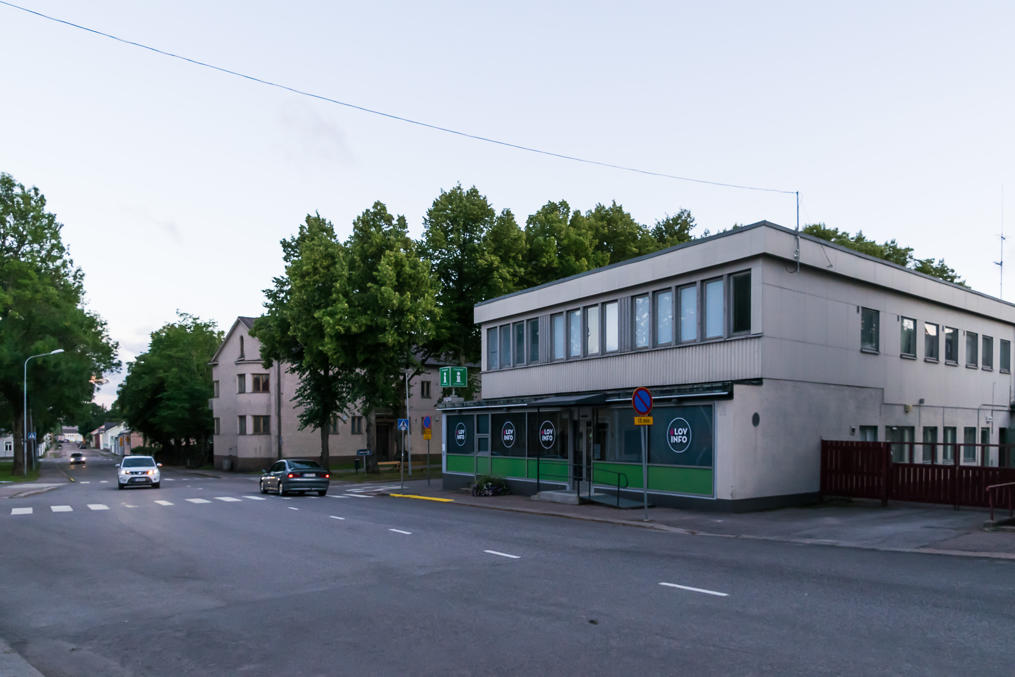 52. Tourist office outside the old town.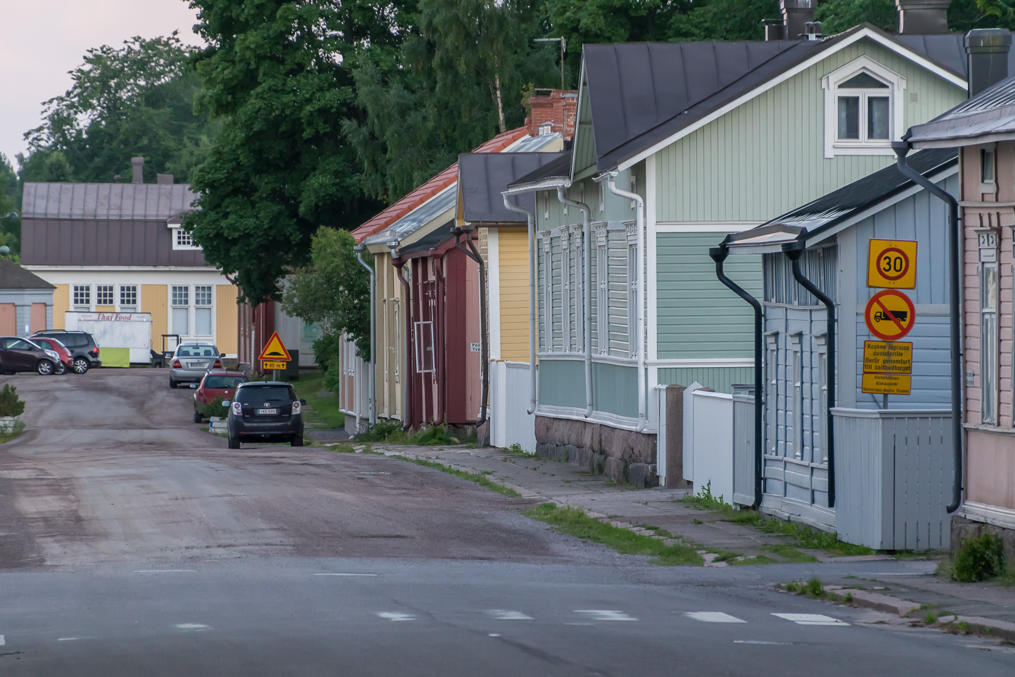 53. Some more old houses on an old unpaved street.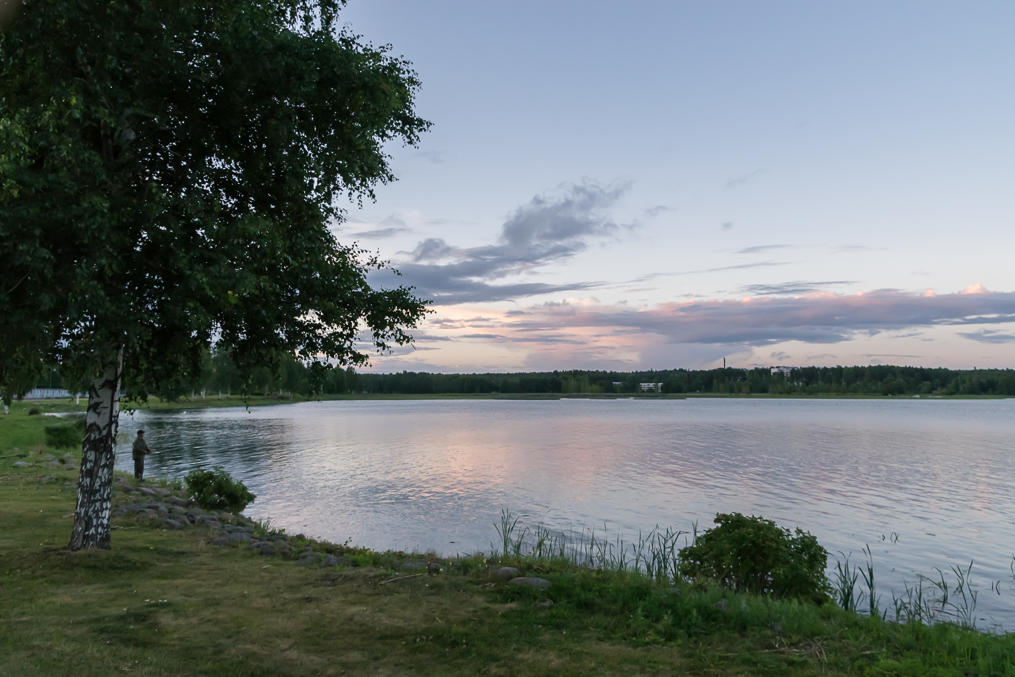 54. A park of sorts on the coast of the Loviisanlahti Bay.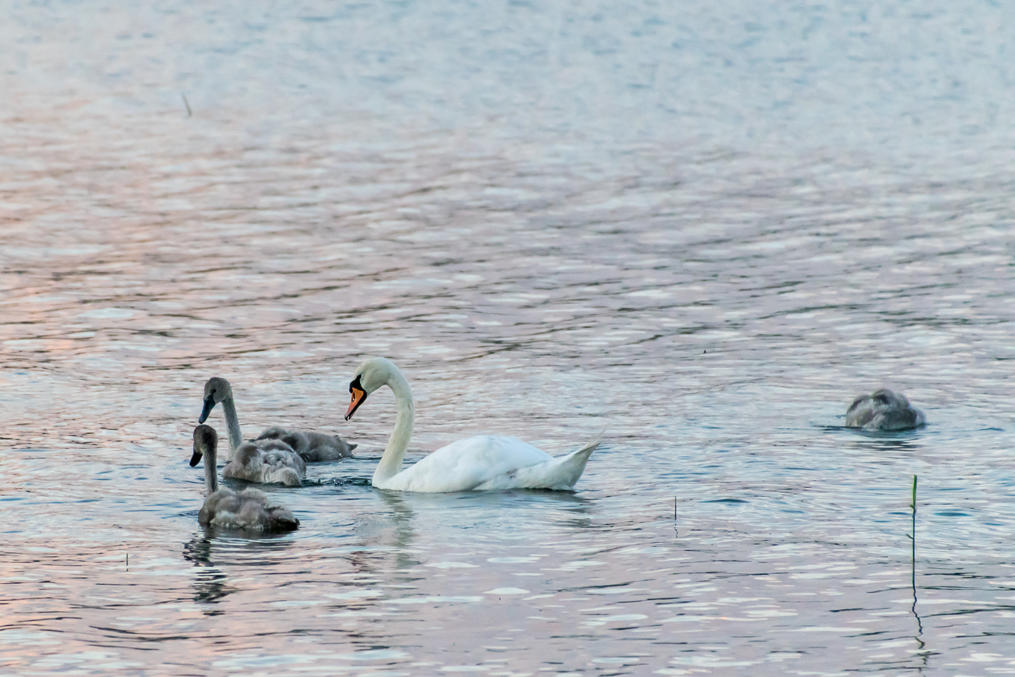 55. Mute swan family at Loviisanlahti.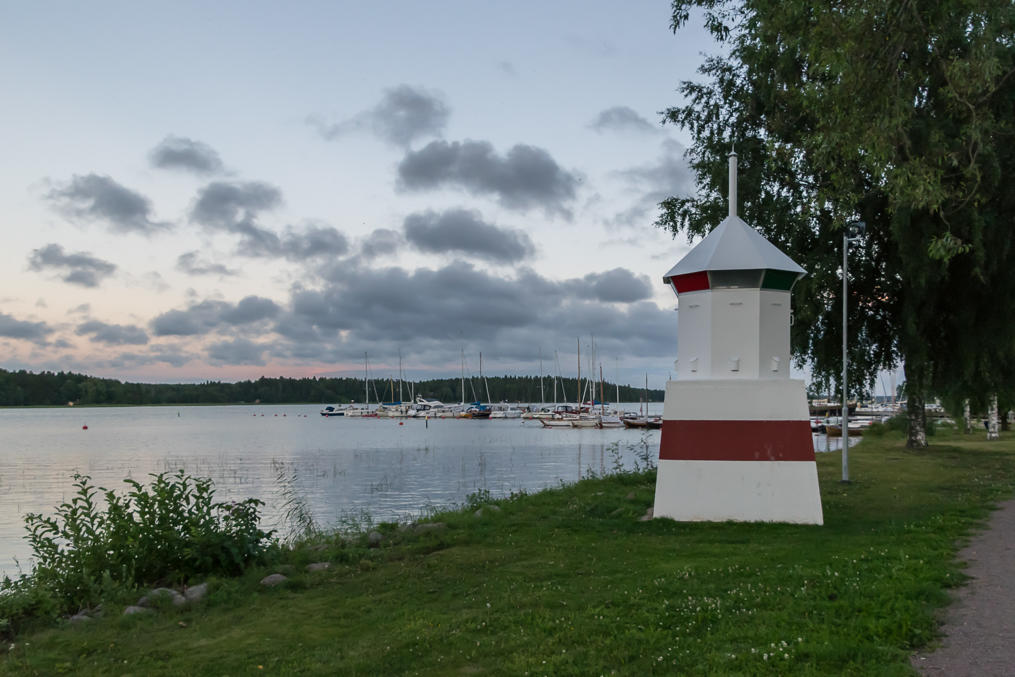 56. Tiny lighthouse near the marina.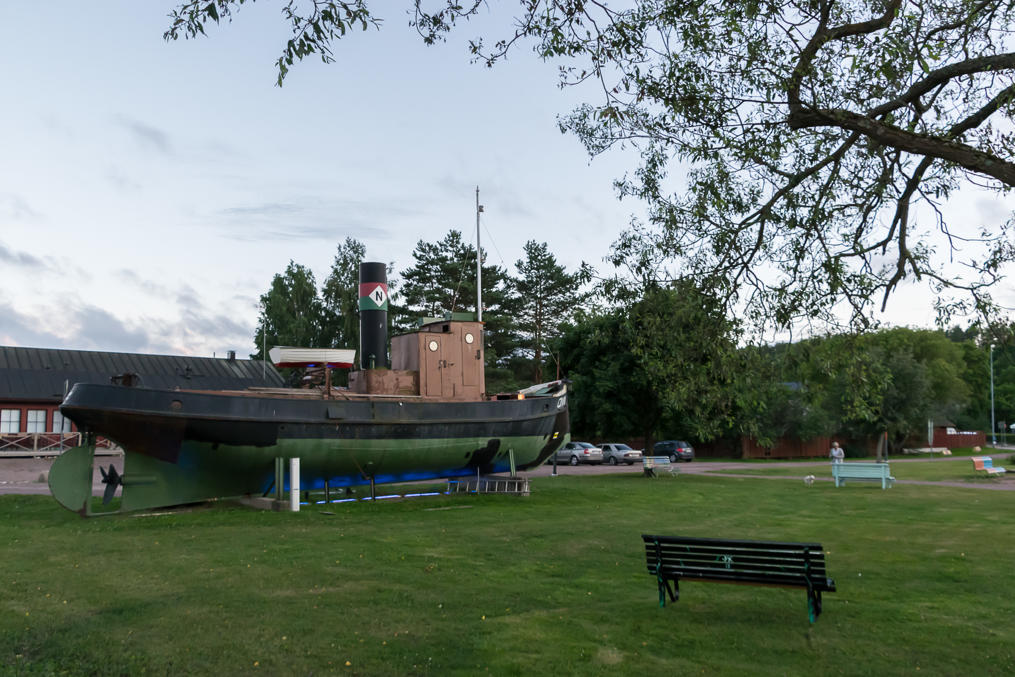 57. Onni (Finn. Happiness), an old tugboat on display near the Laivasilta Harbor.  The tugboat is pretty old, built in 1907 in St. Petersburg, but other than that isn't really notable.  It doesn't appear to be in a very good shape.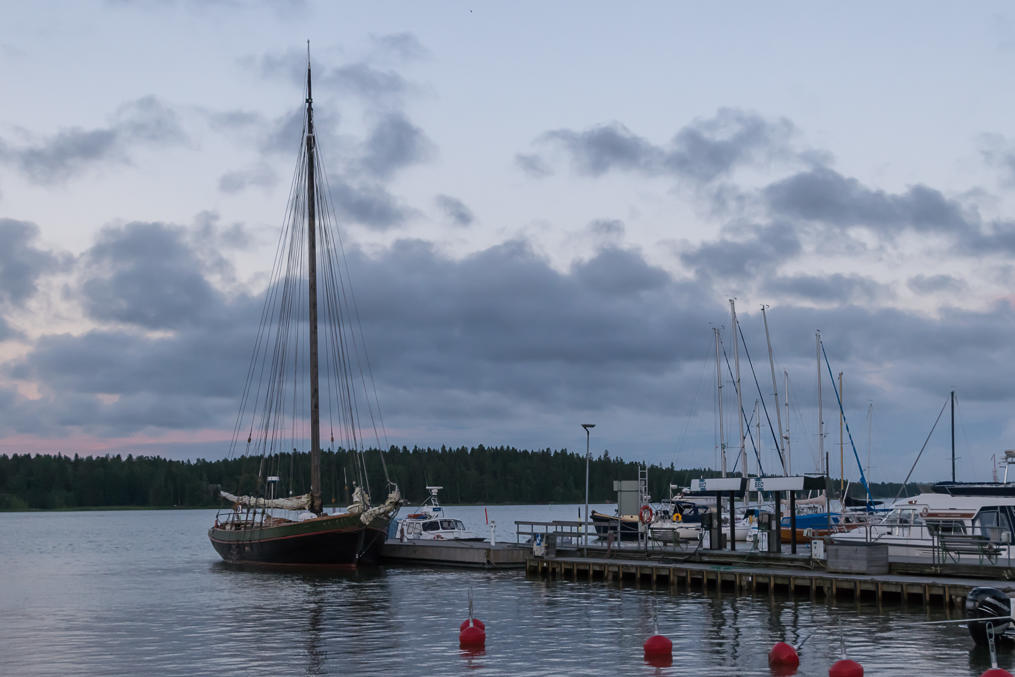 58. Laivasilta Harbor.  Laivasilta means "Ship Bridge" but there aren't any bridges in sight, apart from the piers of course.  It is used as a marina, and the boat to Svartholm Fortress also departs from here.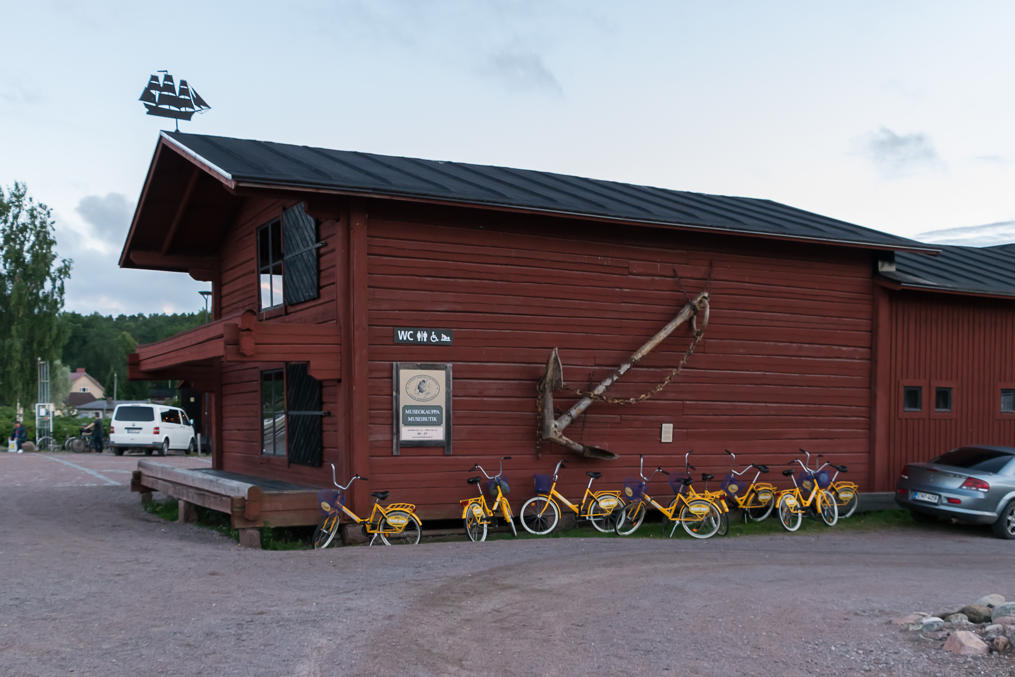 59. There are some shops and restaurants on the shore.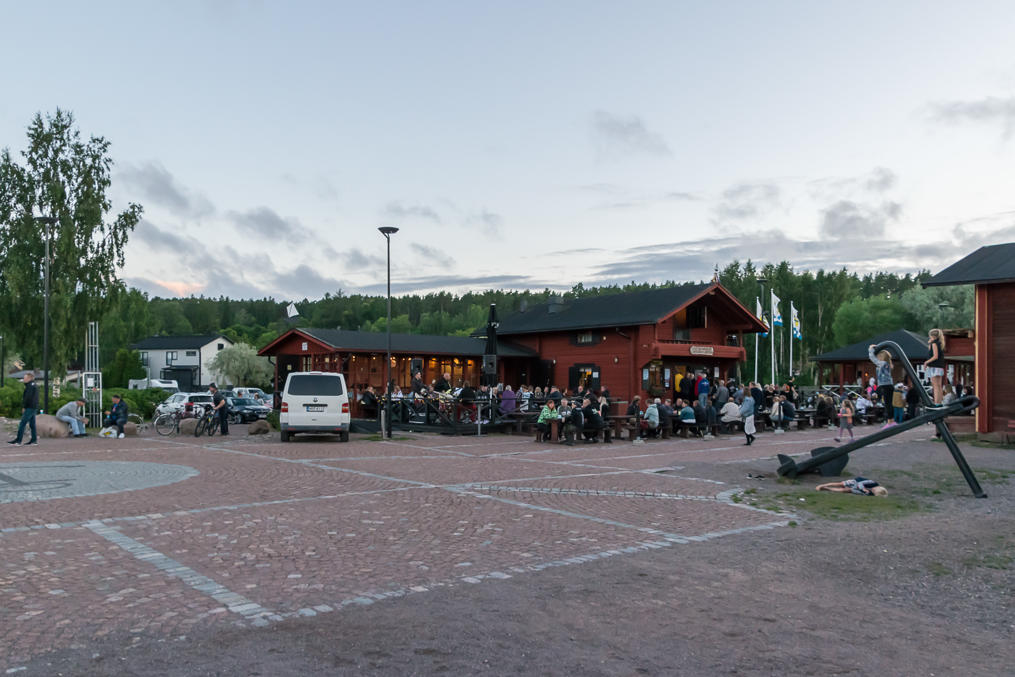 60. The restaurants were actually quite busy.  There were some pretty big celebrations ongoing.  I think that was a wedding; I saw a hand-written sign for "Kettu & Pupu" (Fox and Bunny) inside a heart.  I didn't actually see the groom or the bride though.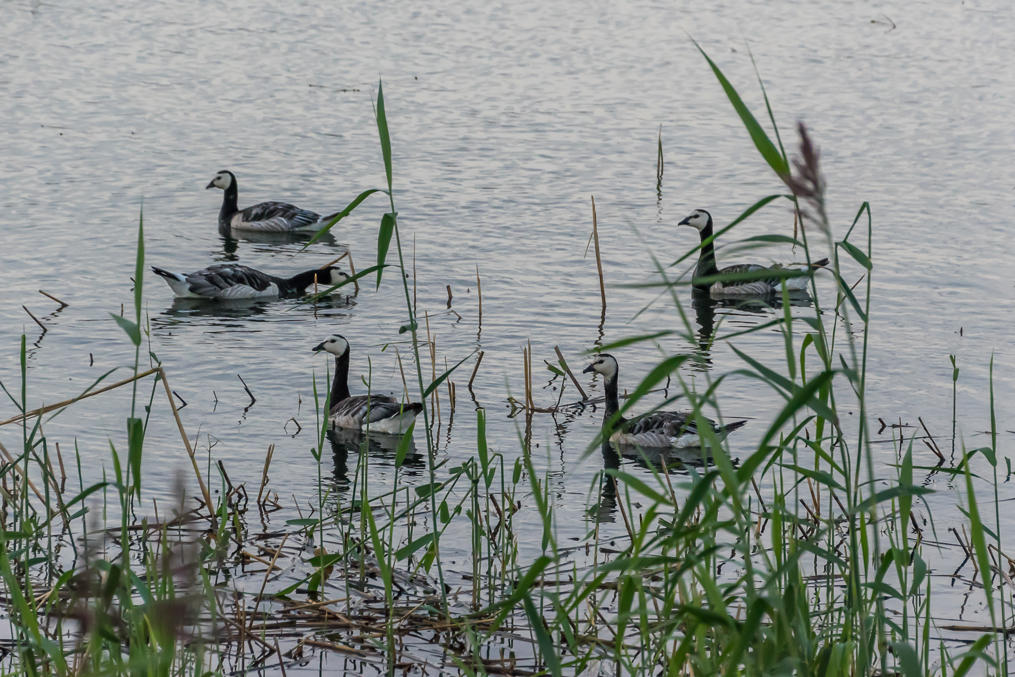 61. Walking on towards Tamminiemi after sunset.  Some Canadian geese in the reeds.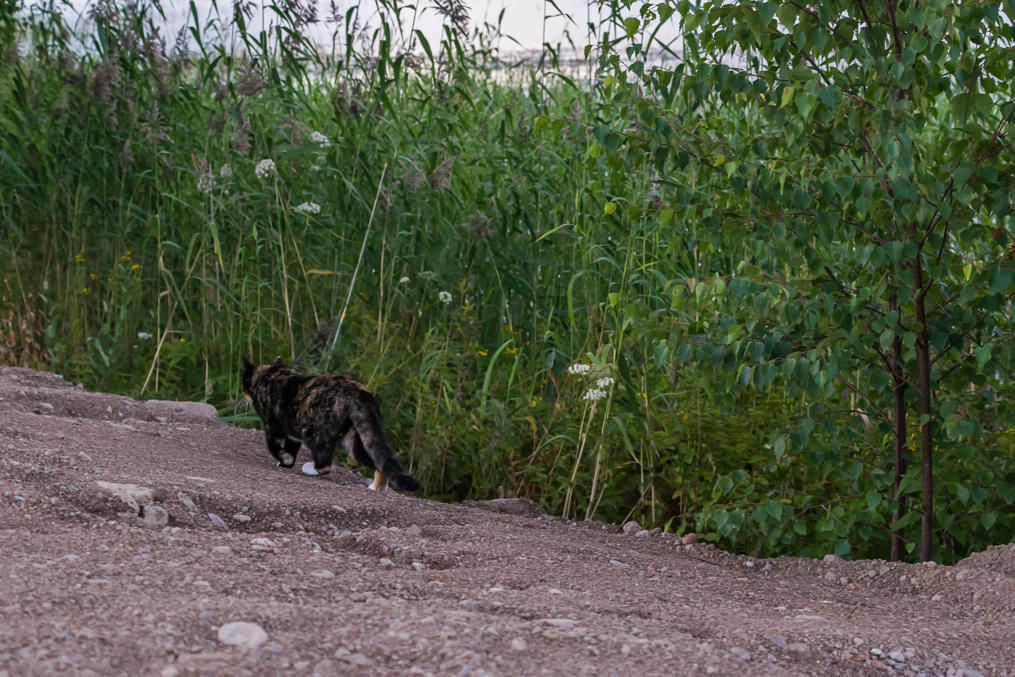 62. And a cat stalking them intently, with no way to reach them.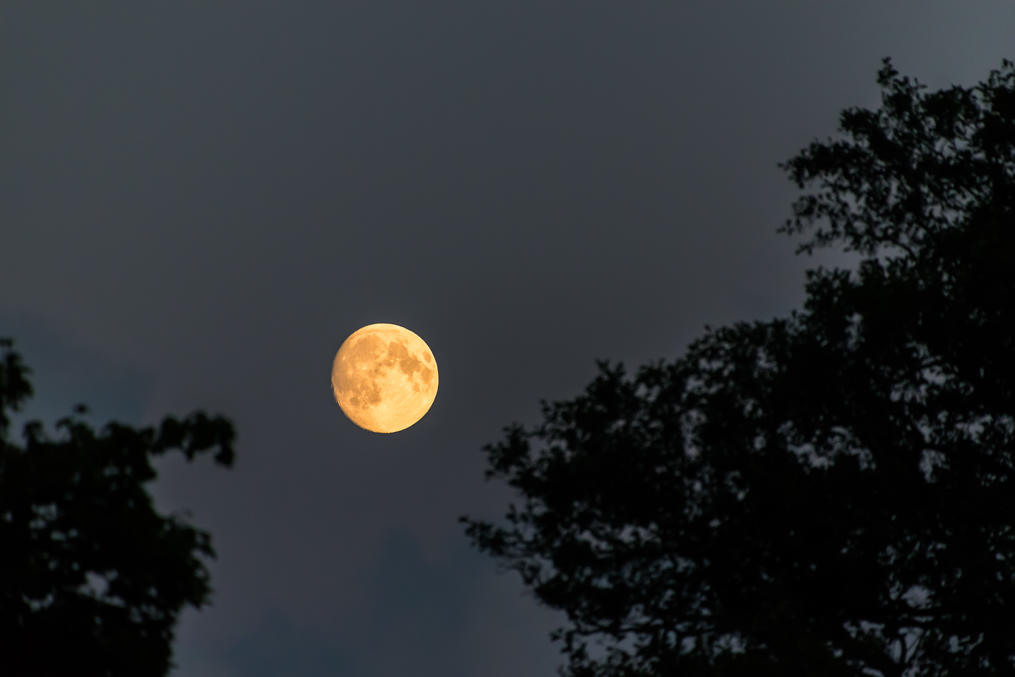 63. Loviisan moon.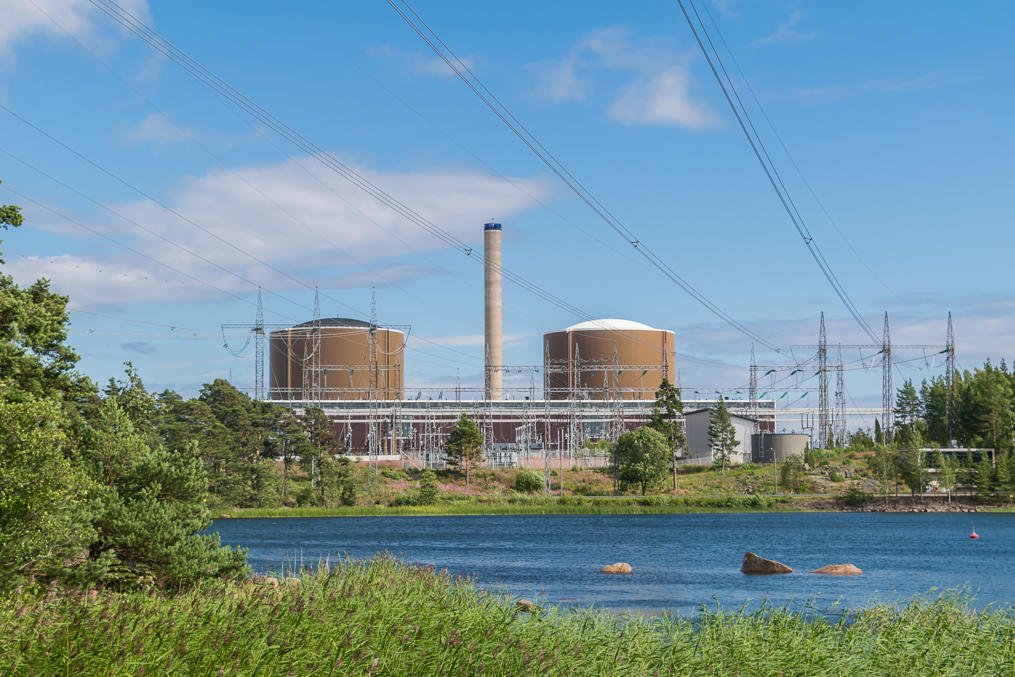 64. With that I went to bed, but one more place I'd like to show is the one I saw next day, the last place I visited before setting out towards home.  This is the Loviisa Nuclear Power Plant on the island of Hästholmen, southeast of Loviisa.  Finland is the only Nordic country using nuclear power, and has two nuclear power plants: this one, and Olkiluoto on the Bothnian coast near the town of Rauma.  Loviisa was built by the Soviets, and Olkiluoto by the French.
Loviisa plant consists of two reactors of the VVER type, widely used in former USSR countries.  The first reactor was launched in 1977, and the second one in 1980.   Much of the equipment apart from the reactors themselves was built by Western companies.  The plant, having underwent some upgrades over the years, currently generates 2×510 MW of electrical power.  This is less than the Olkiluoto plant (2×880 MW).  There are no plans to build more reactors at Loviisa; the third one is being built in Olkiluoto instead, also by the French, but the project is massively behind the schedule (was expected to launch in 2009, current plans are for 2018), and the costs were overrun almost three times.  There are also plans for a completely new nuclear power plant, Hanhikivi, in Pyhäjoki near Oulu.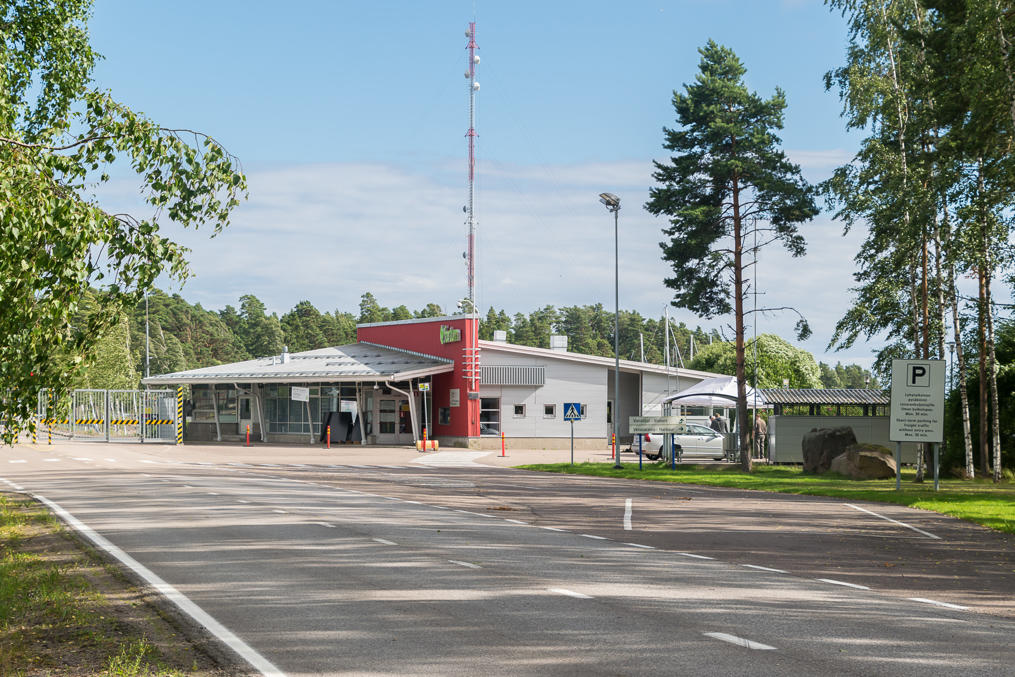 65. The nuclear power plant is of course strictly guarded, but it's located on an island, and it is possible to park at the huge visitors parking lot before the gates, and take pictures across the strait separating the island from the mainland.  I hope that wasn't illegal or something.  Anyway I didn't saw any warning signs, and I didn't try to hide what I was doing.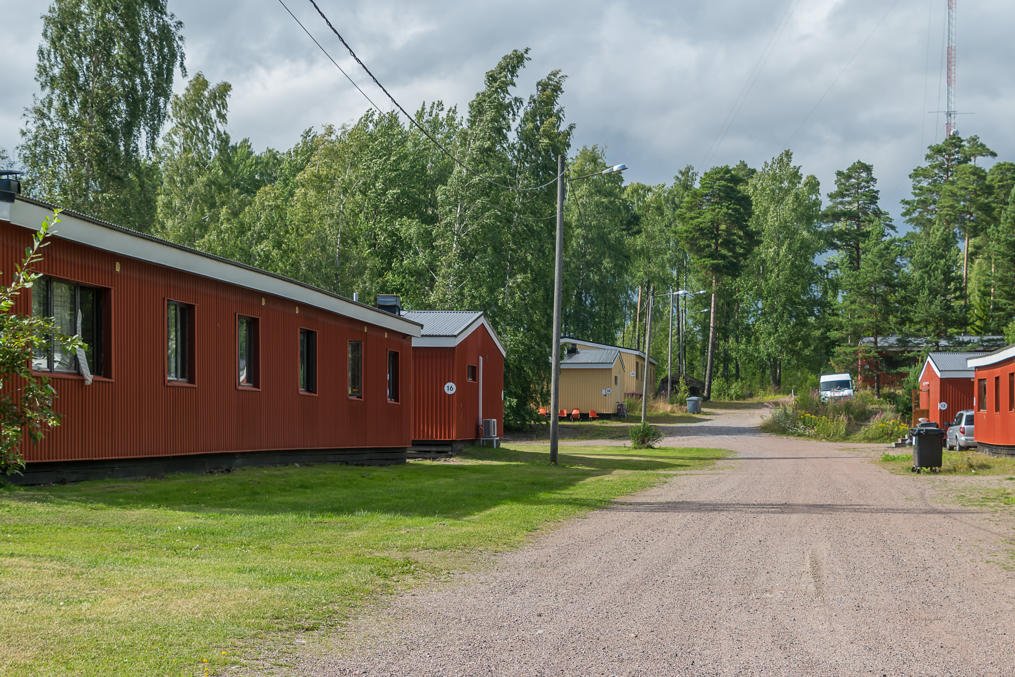 66. There's also a small workers village near the power plant, also freely accessible.  Looks almost like a camping.  I'm not sure why the village is necessary at all; it's not like it's a huge distance from Loviisa itself.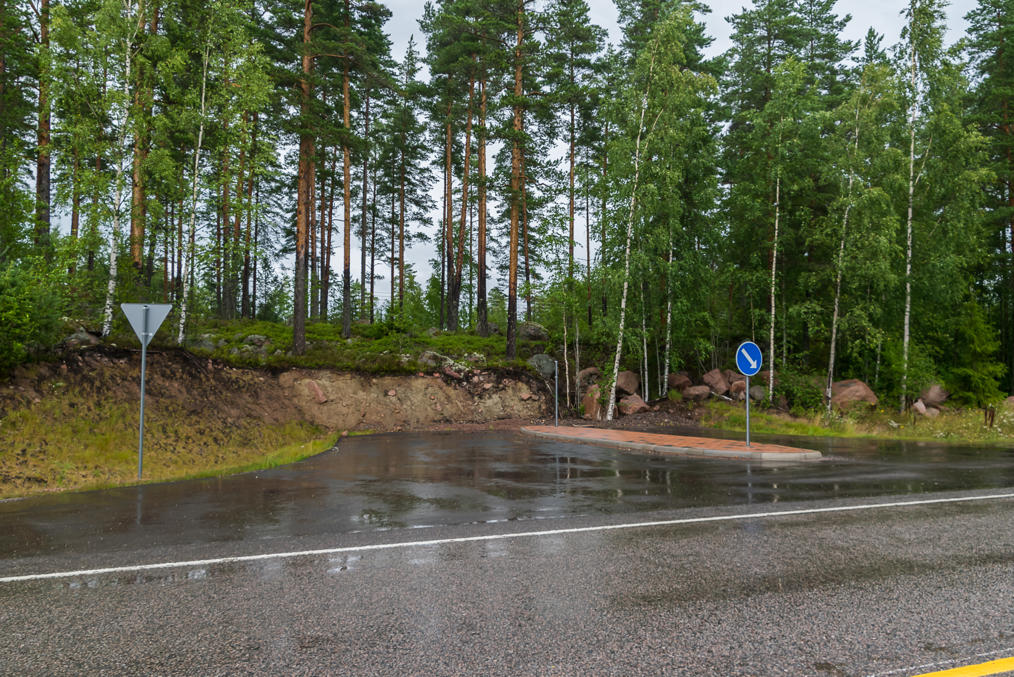 67. The final oddity I noticed when driving home from Loviisa were a few intersections on the road between Loviisa and the motorway interchange with Road 7 which looked like that — a nice safe turnoff straight into impassable forest.  Maybe some new outlying city quarters are planned here?  But anyway it's not common for Finland to just build something nonsensical like that in hopes for future development.  (I know of a few places in St. Petersburg that look like that though.)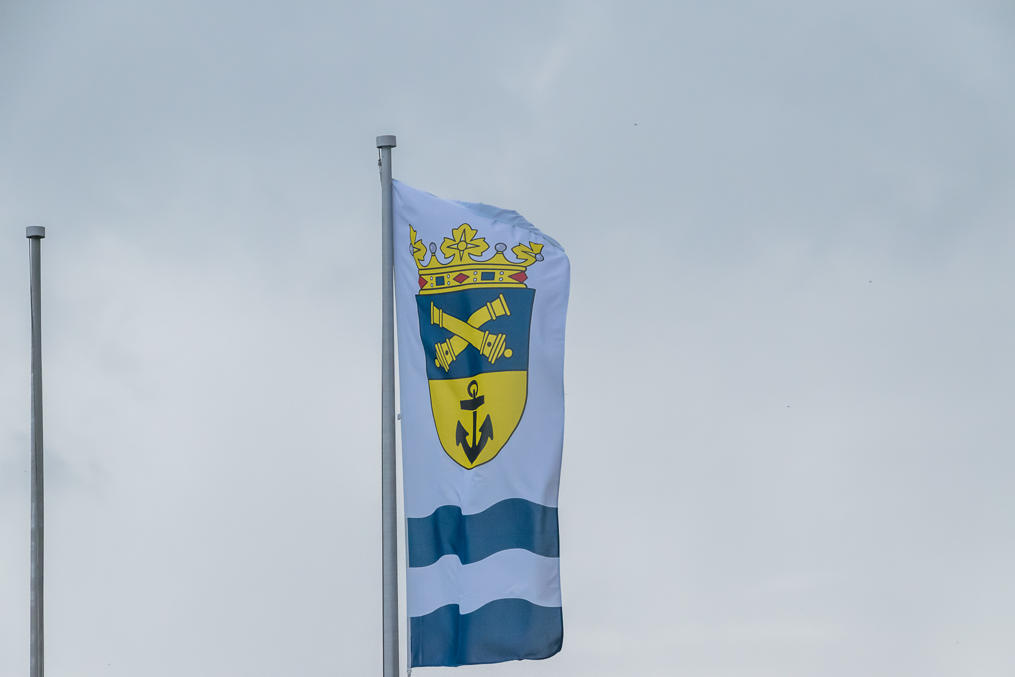 68. And that's all for Loviisa, a nice town with an anchor and two crossed cannons on its coat of arms.  I loved it a lot, just as I loved Hamina which is also a former Swedish border fortress.  I didn't cover Loviisa fortresses themselves though, so there will be two more posts, about Svartholm and Degerby.
Published on: