---
Kukuljärvi (also known as Skukulträsket in Swedish, which is also commonly used in Loviisa area) is a small forest lake to the southwest of Ruosinpyhtää.  Its shores are a minor natural protected area.  A 8 km circular hiking trail goes from Ruotsinpyhtää to Kukuljärvi and back, and is one of the most popular hiking trails of Loviisa Municipality.  Loviisa is not a very big municipality, in territory as well as population, and does not have any national parks or other major hiking areas, but Kukuljärvi is actually pretty nice.  It's been a while since I've last been in the Finnish forests, so after I explored the heritage ironworks in Ruotsinpyhtää I walked back to the car, put on my hiking shoes, and set out.
The trail is documented on the Loviisa Municipality website, in Finnish only, but there's really only a map anyway.  The trail is well-visible throughout its entire length and well-marked, which is a good thing as the map isn't really detailed enough to find your way in the woods.  It has a few relatively steep spots but overall should be easily walkable by nearly anyone.  Very few muddy parts as well, at least in reasonably dry weather.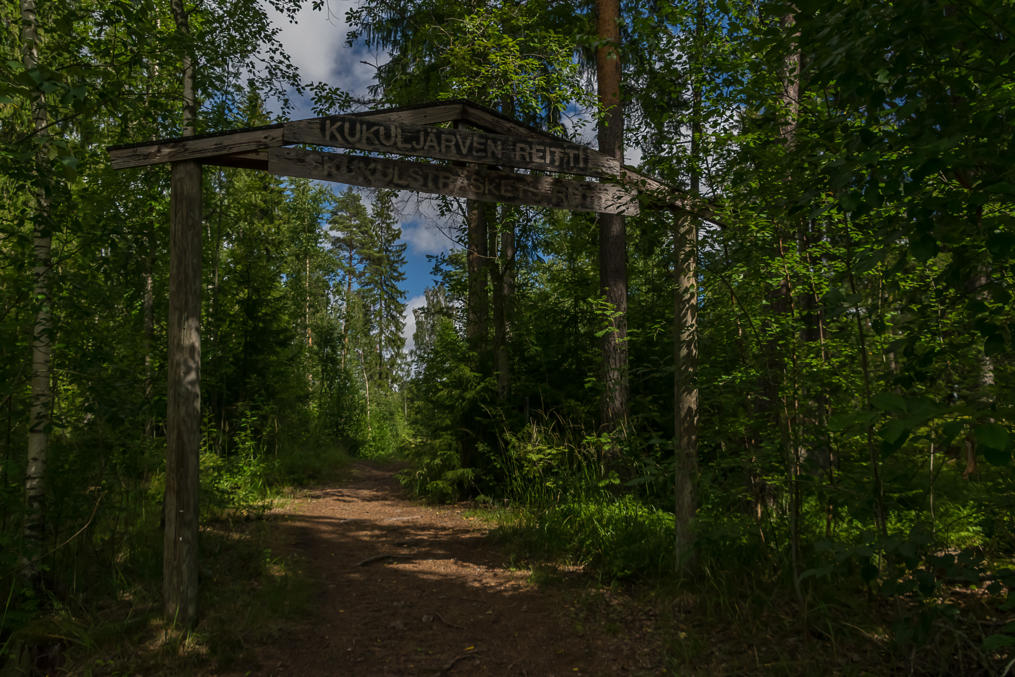 1. The trail starts near the Ruotsinpyhtää sports center (see Google Maps for driving directions).  This arch near the parking area marks the start.  It can also be walked from the church near the ironworks, which will add a kilometer or so to its length.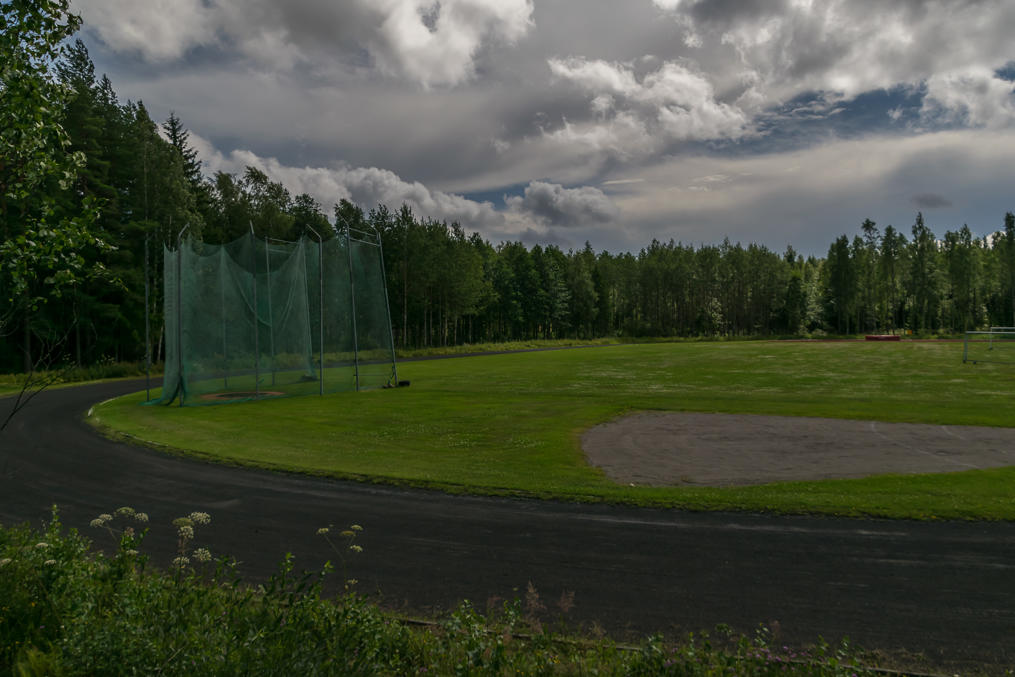 2. Ruotsinpyhtää stadium.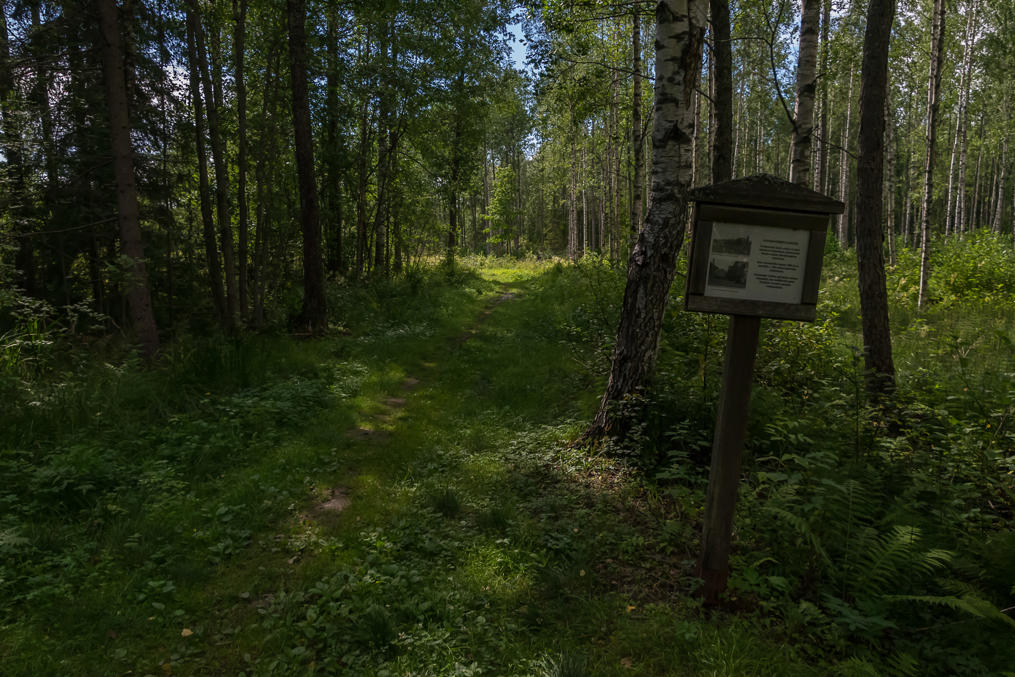 3. The sign says that this part of the trail close to Ruotsinpyhtää goes along the former railroad tracks, demolished long ago in 1955.  It was a 5 km long, narrow gauge (750 mm) line that connected the ironworks to a pier near Markkinamäki hill (Finn. Market hill; the one that has a tunnel for National Road 7 going under it these days).  It didn't have any real stations, didn't even have a triangle to turn the engine around.  There was only one steam engine ever used, which is currently displayed in the ironworks museum.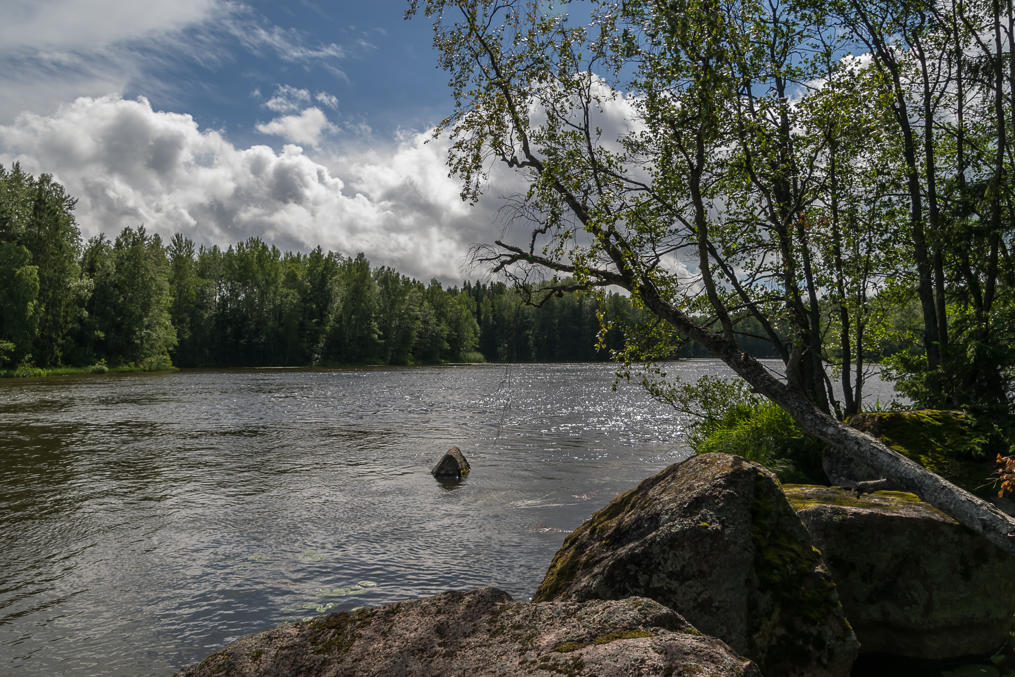 4. The trail reaches the coast of Kymi River arm at one spot.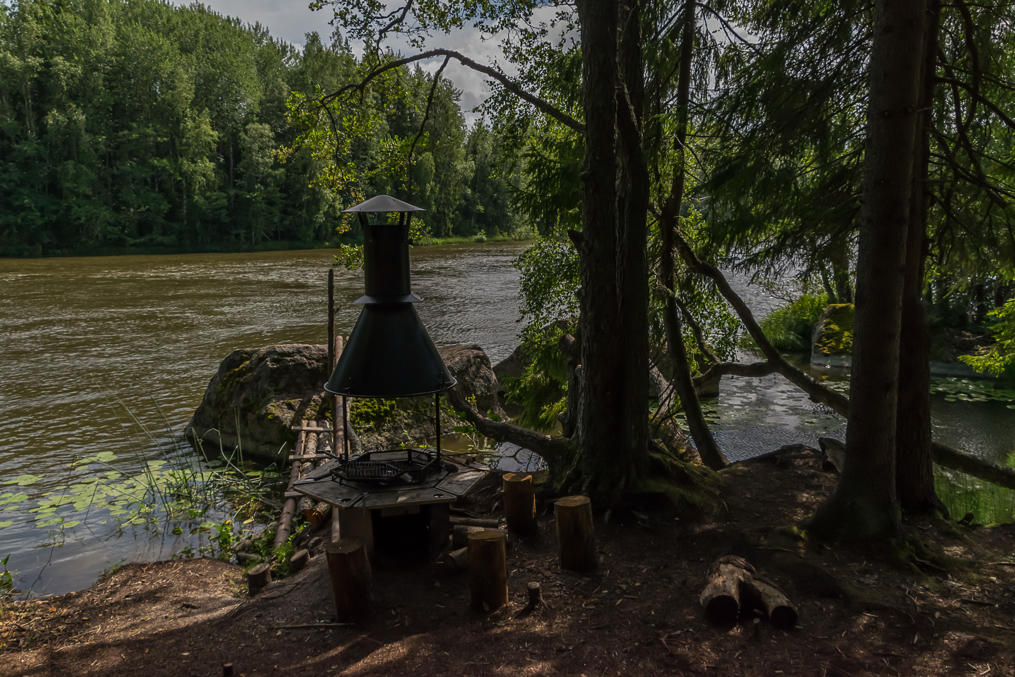 5. This spot is marked as laavu (lean-to) on the signs, but there's no actual lean-to, just a grill spot.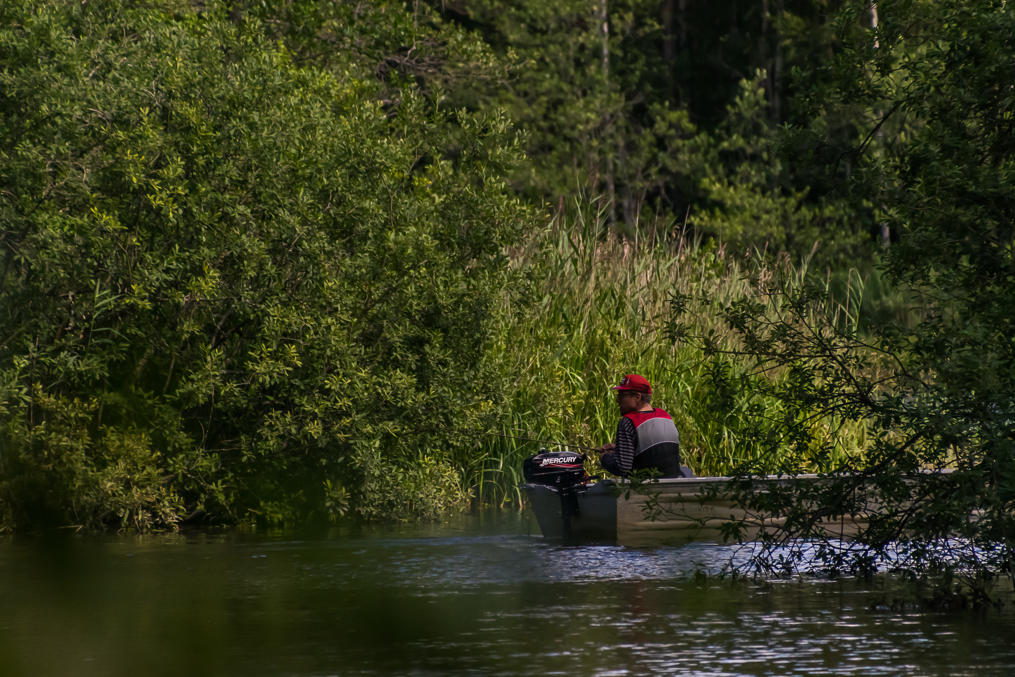 6. Fisherman on Kymi.
7. Some water lilies.  Not as pretty as those I saw later on Kukuljärvi Lake.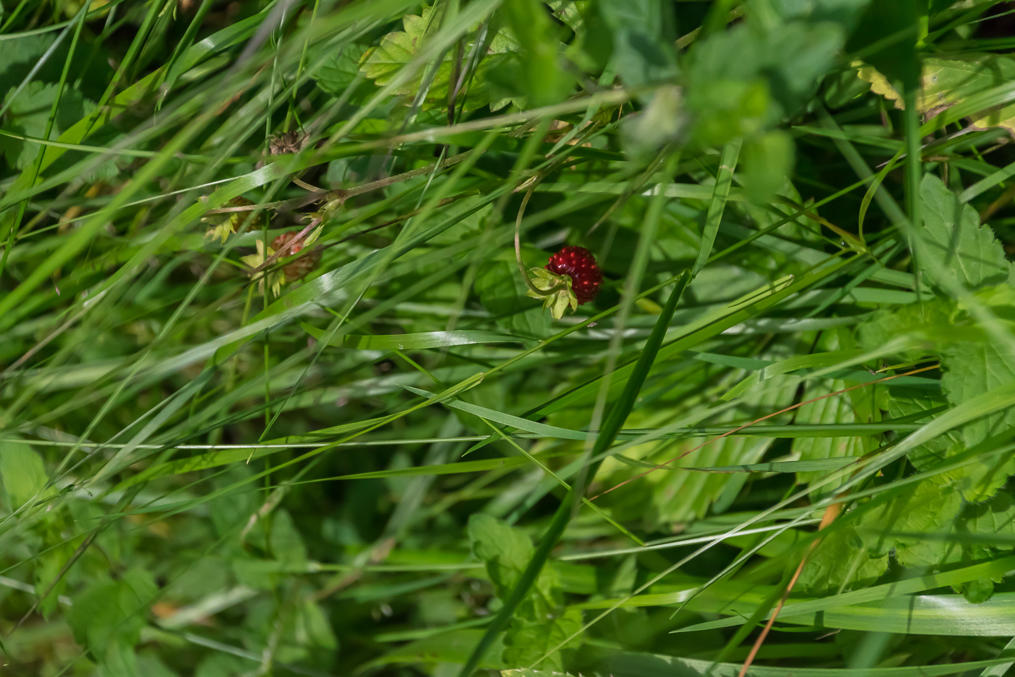 8. Wild strawberries!  I collected and ate a few, regretting that I wasn't going home until the evening of the next day, and couldn't bring these berries for my rabbit (the little guy loves sweet stuff) as they would certainly spoil in the heat.  However I actually found some more strawberries on the next day.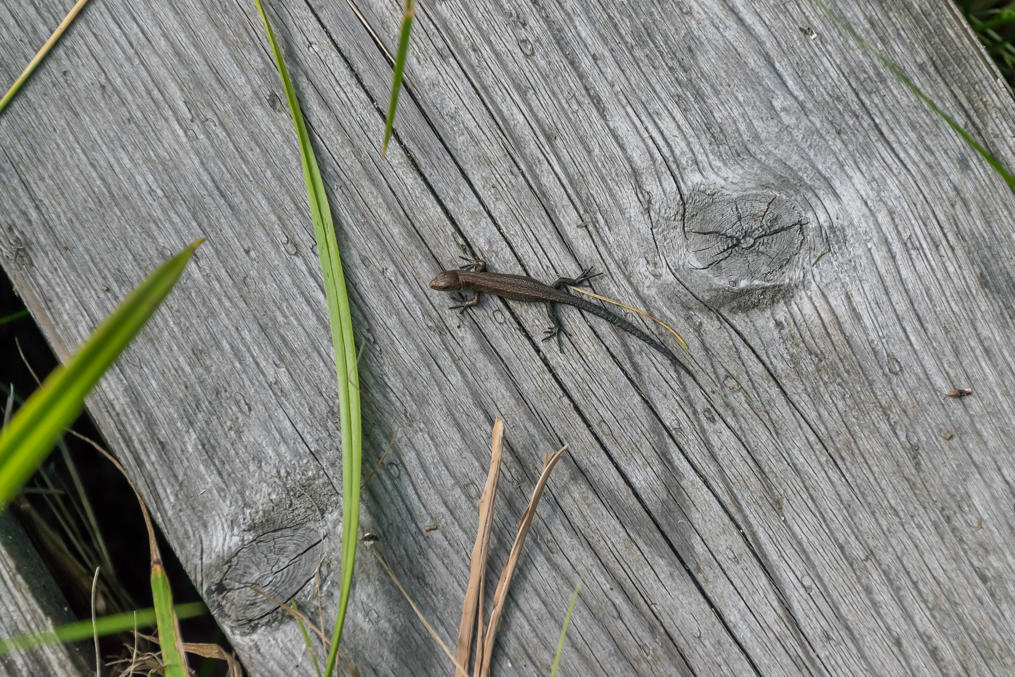 9. The trail crosses Road 1792 (Ahvenkoski — Ruotsinpyhtää — Elimäki, basically the only road going to Ruotsinpyhtää).  After the road there was a section with duckboards, for some reason teeming with tiny cute lizards.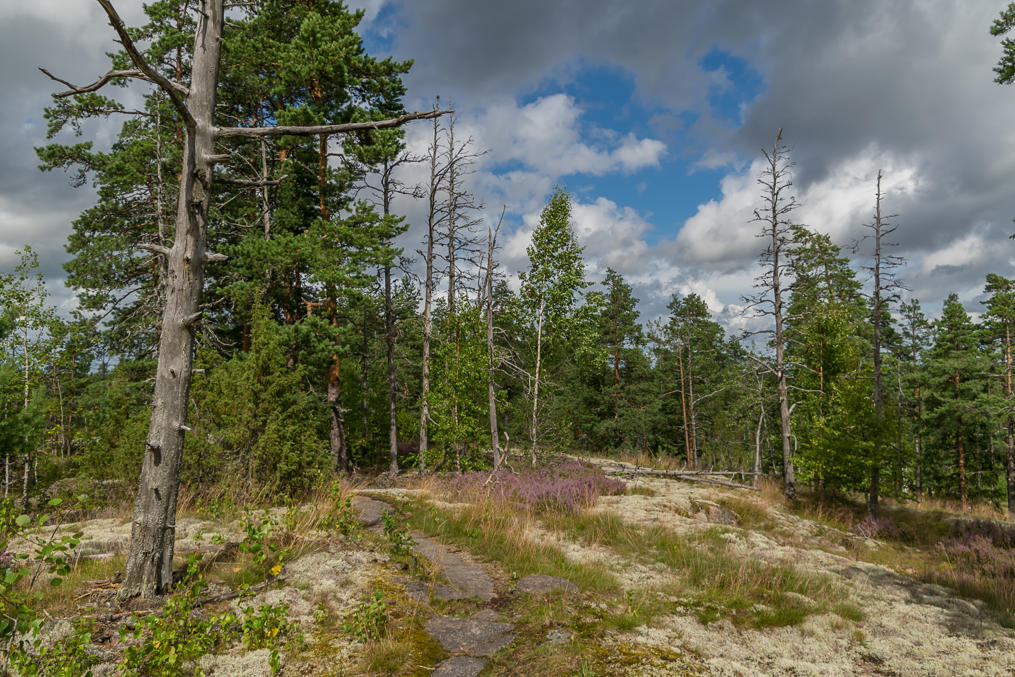 10. Between Road 1792 and Kukuljärvi Lake the trail goes mostly on top on huge rocks, named Hautuumaankalliot (Finn. Graveyard Rocks) and Kukuljärvenkalliot.  Hautuumaankalliot, on the picture, is probably named this after a small old graveyard located nearby, by the Road 1792.  It's not particularly sinister otherwise.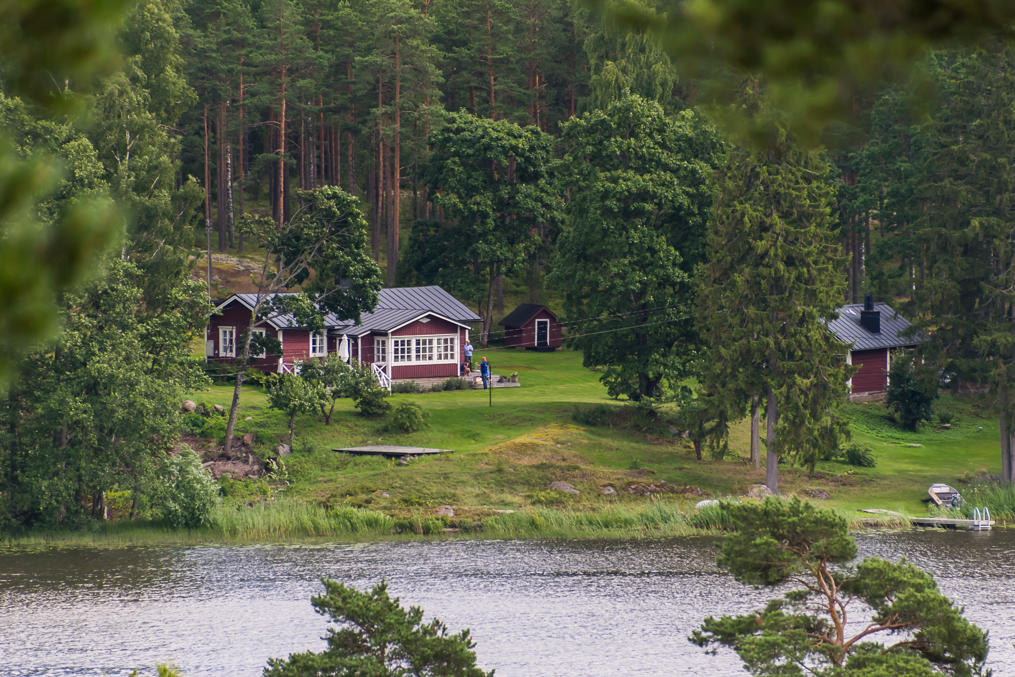 11. The rocks rise up to about 50 m above the surrounding landscape.  They are mostly forested but the trees are sparse enough that you can enjoy some views.  A wide arm of Kymi with summer cottages on the river bank is visible in the distance.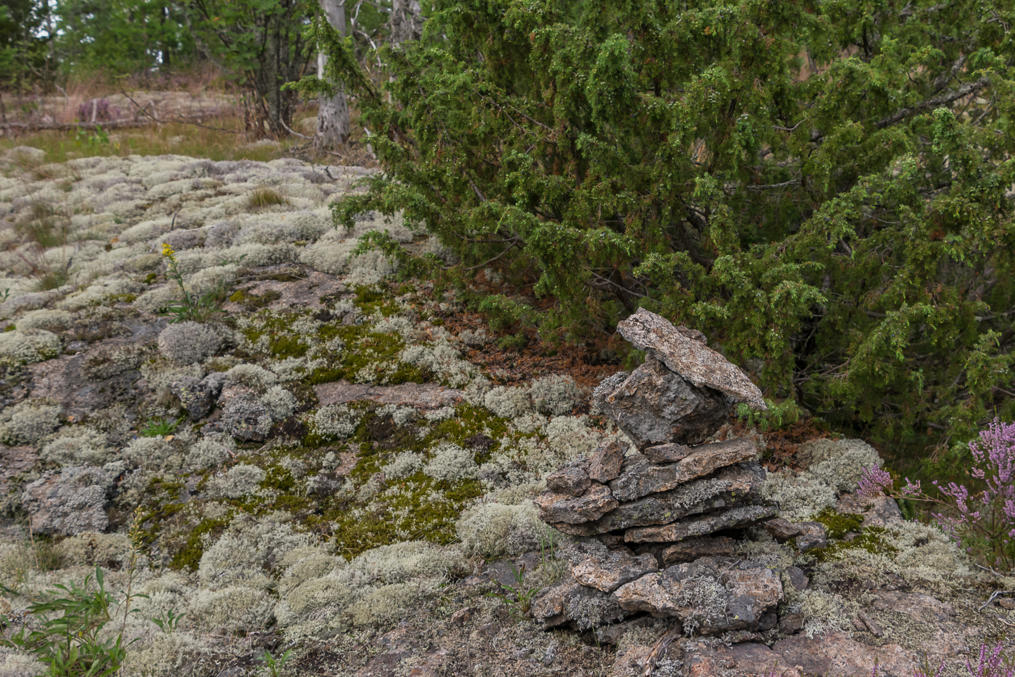 12. Rocks, lichens, juniper, and heather.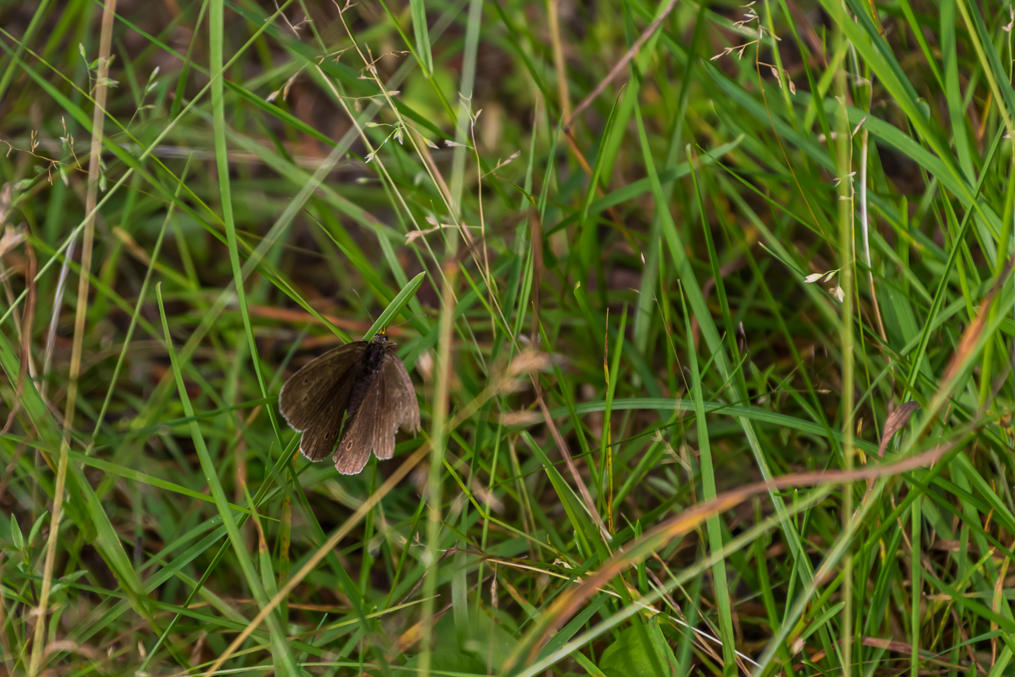 13. I recently found out that there is a website (and an iOS application — too bad I currently use an Android phone) for identification of common Finnish species (by features such as size, color, habitat, etc.): Luontoportti/NatureGate.  Extremely useful!  I always wished that something of the sort existed; I'm often curious what species e. g. trees or flowers I encounter belong to, but I don't really have any knowledge in that area.  The English version of the website currently has sections for butterflies, fishes (both freshwater and Baltic Sea), birds, and plants (flowers and trees).  Finnish version also has information on mammals, mushrooms, and marine organisms.  They don't currently have anything on lizards, so I have no idea what species the previously-mentioned lizard belongs to.  But as for butterflies, I think this one is a ringlet, a forest butterfly common across nearly entire Europe.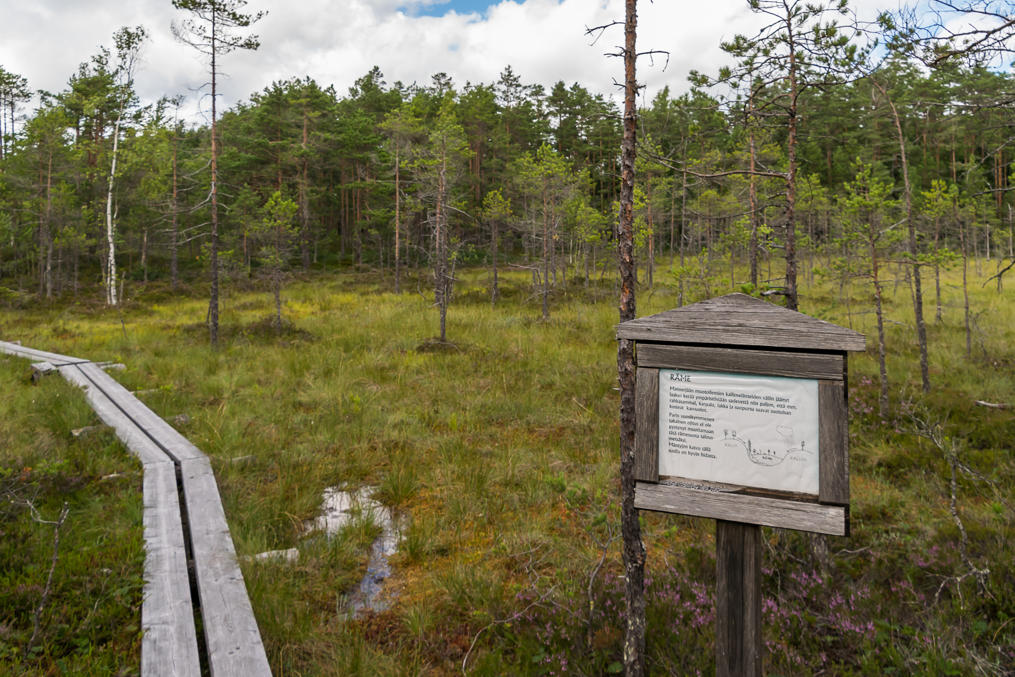 14. A short section through a mire, with an information board about this kind of mire.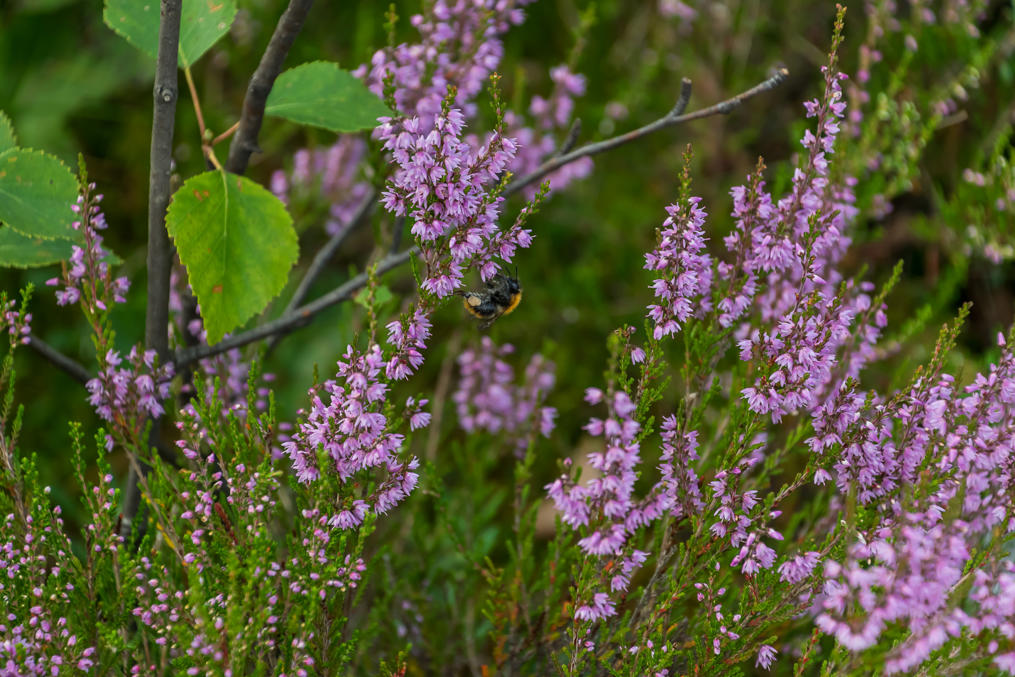 15. Heather on the rocks.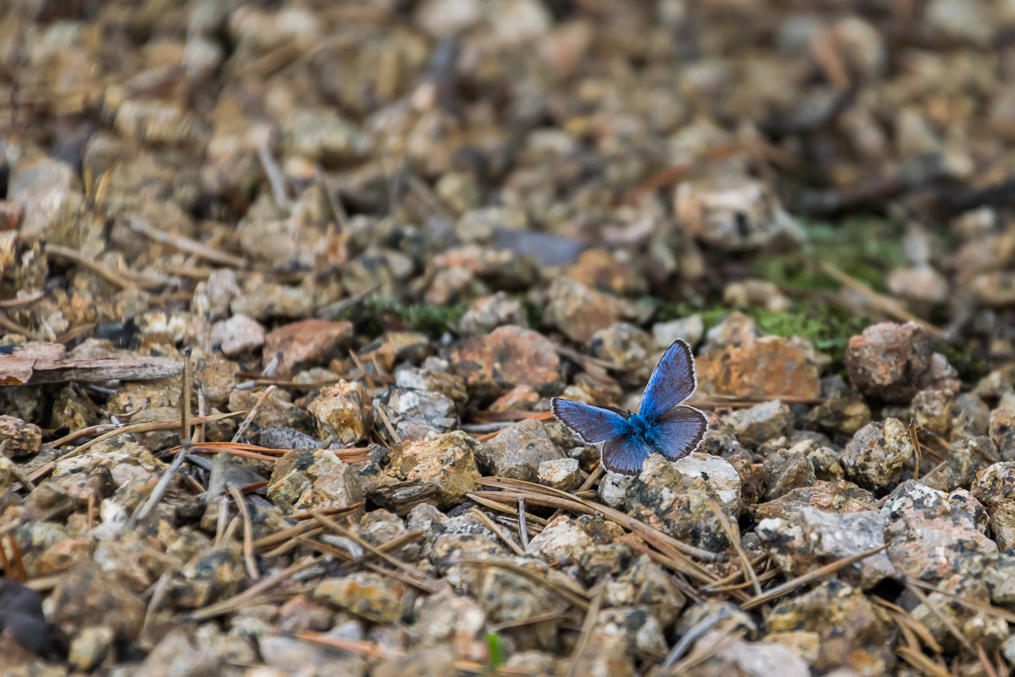 16. And this is a silver-studded blue, I believe.  Another ubiquitous European butterfly that particularly favors chewing on heather.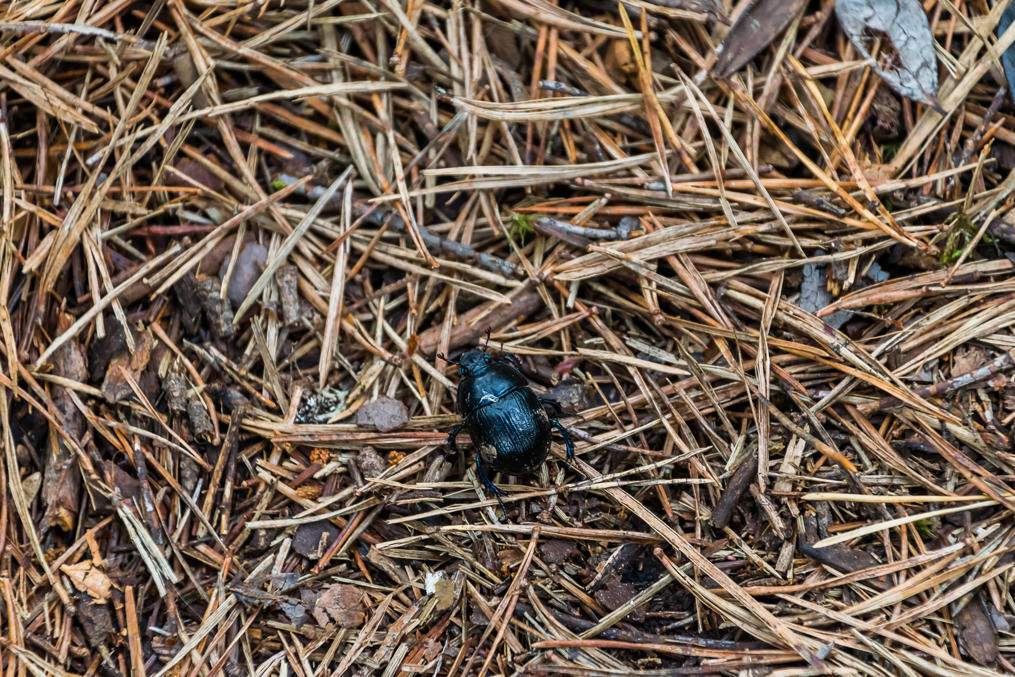 17. Luontoportti has no section on bugs either, but even I know a dung beetle when I see it.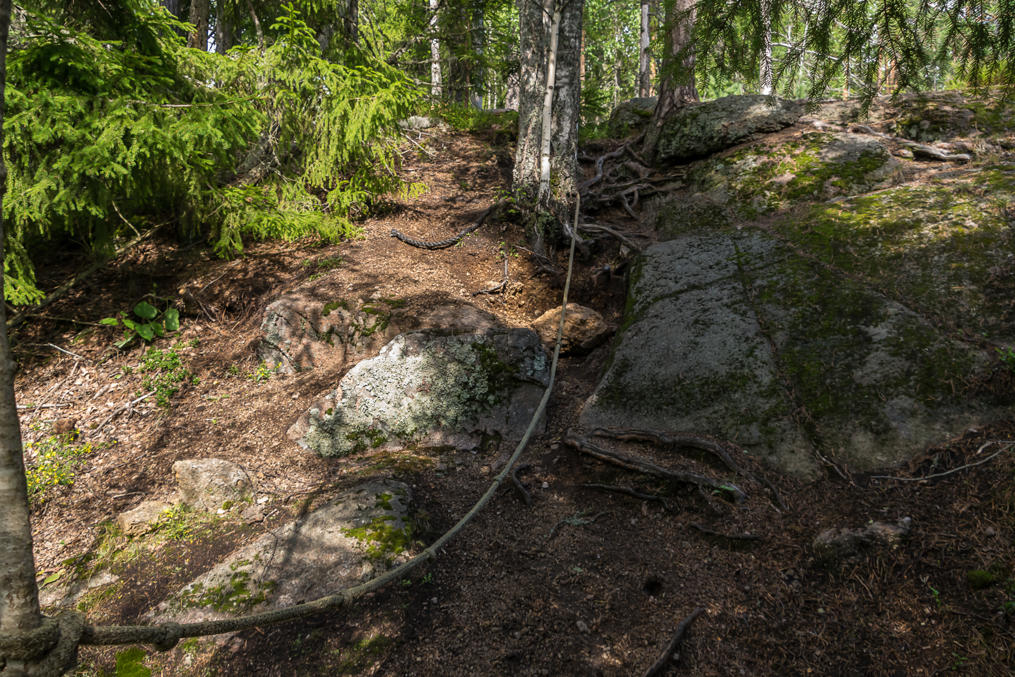 18. A few slopes have ropes tied to the nearby trees to assist climbing/descending, which gave me flashbacks of the Lofoten Islands mountains, where similar ropes or chains are commonly needed to cross sheer steep rock faces, which naturally usually are right by some huge precipices too.  Of course there is nothing of the sort on this trail, and you don't really need to hold onto the ropes anywhere.  I suppose they can be more useful in spring months, when forest trails get very slippery with thawing snow.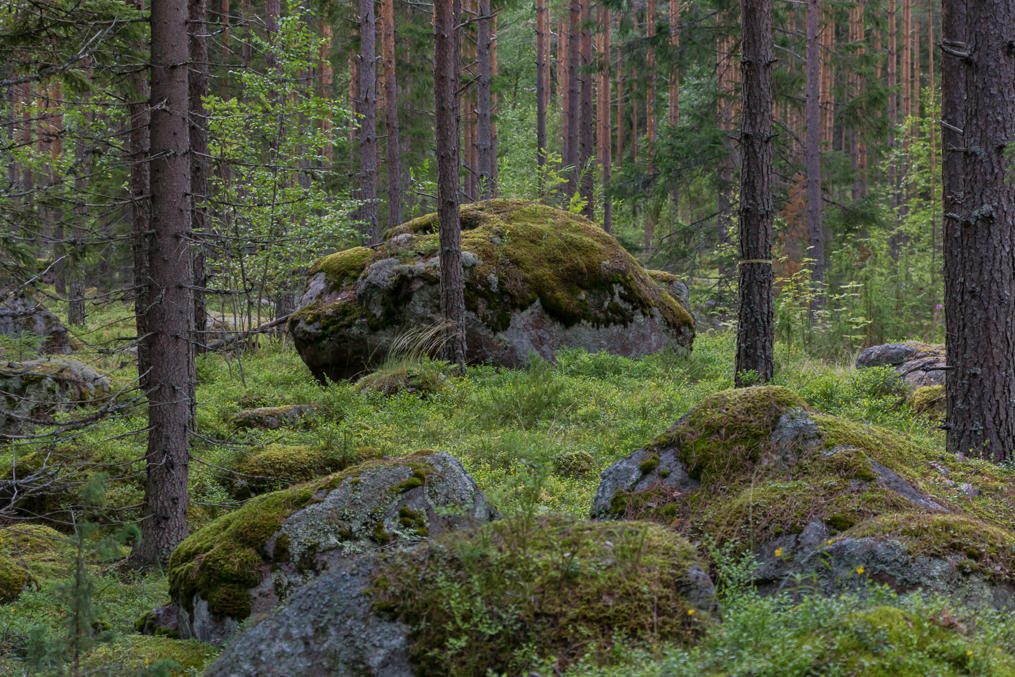 19.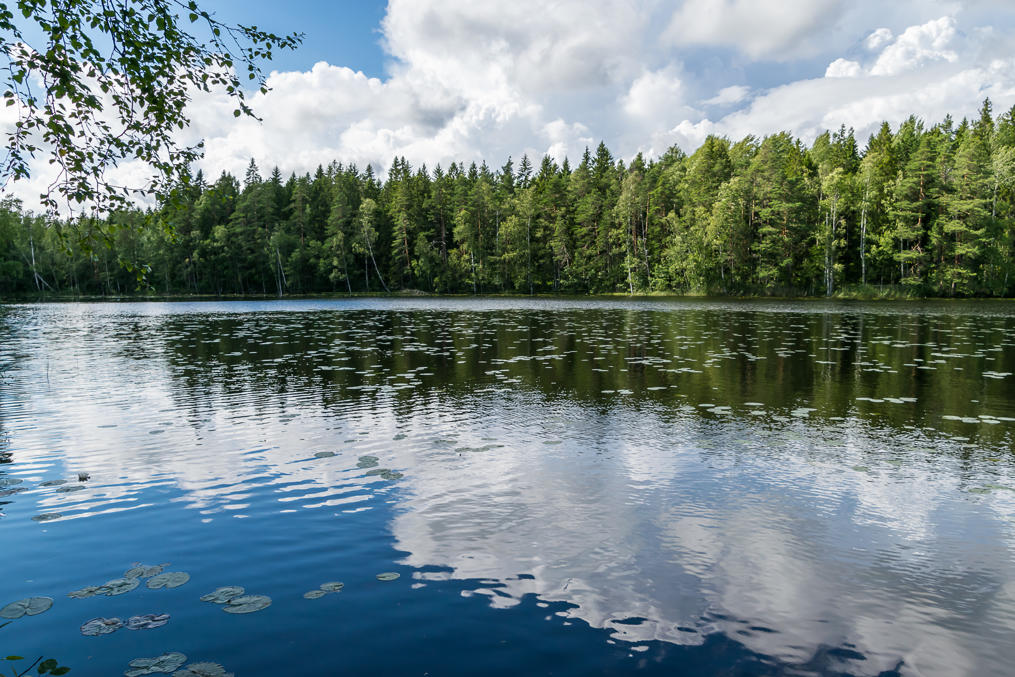 20. And here's Kukuljärvi.  That's a funny-sounding name; I couldn't find what it means.  The lake is fairly small, about a kilometer long, and surrounded by forest on all sides.  The trail goes right along the shore for quite some distance, allowing you to enjoy many views of the lake.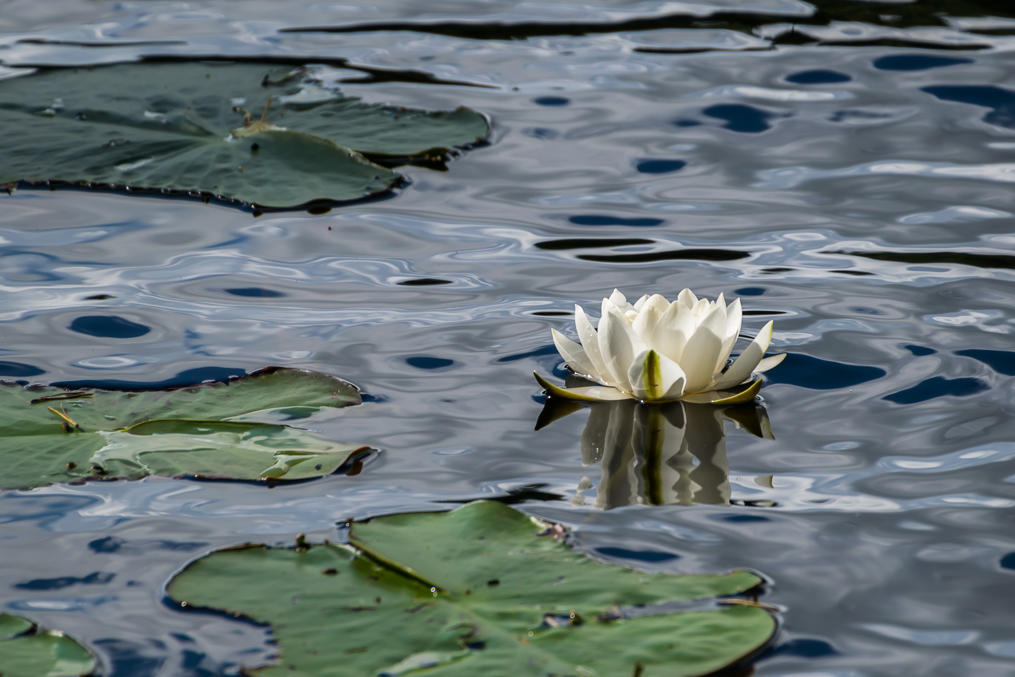 21. Kukuljärvi has lots of big beautiful water lilies.  According to Luontoportti these all appear to be common white water lilies, pretty hard to confuse with anything else really.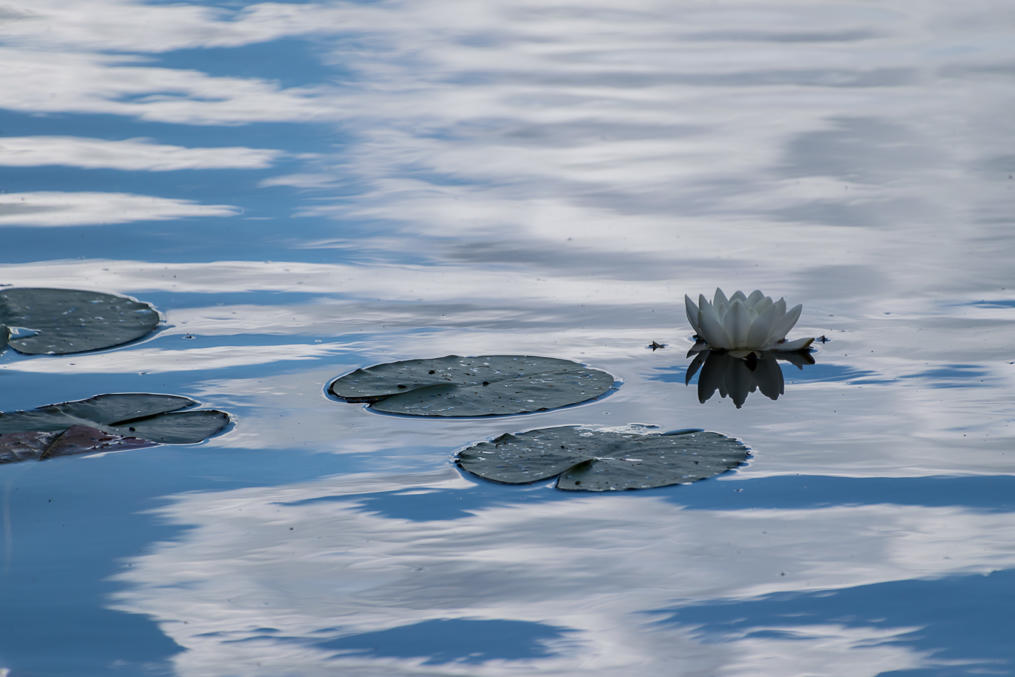 22.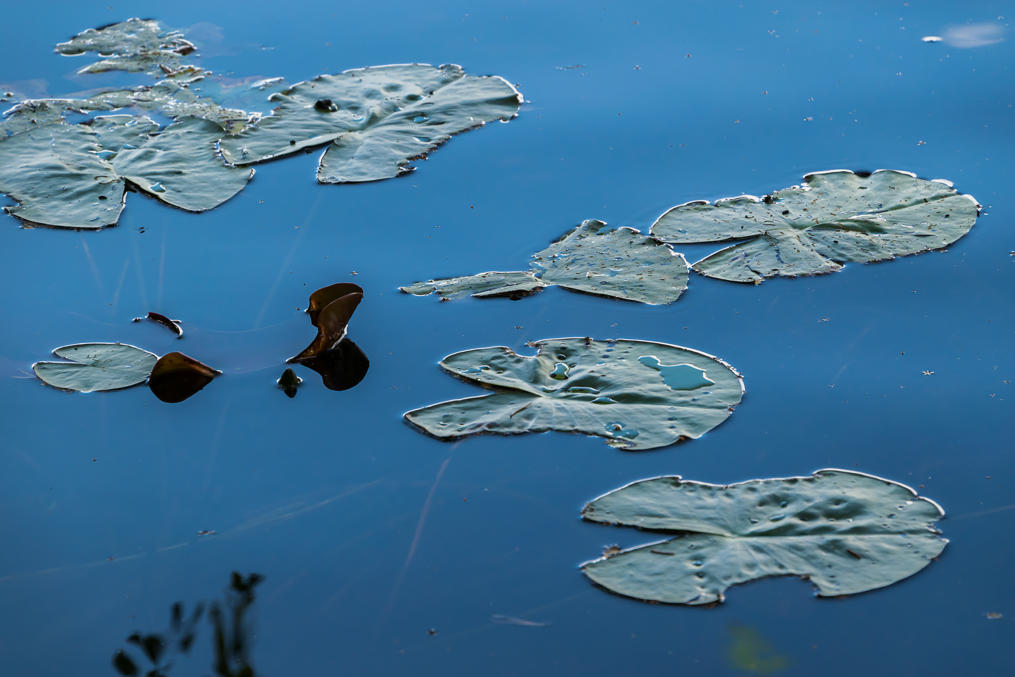 23.
24.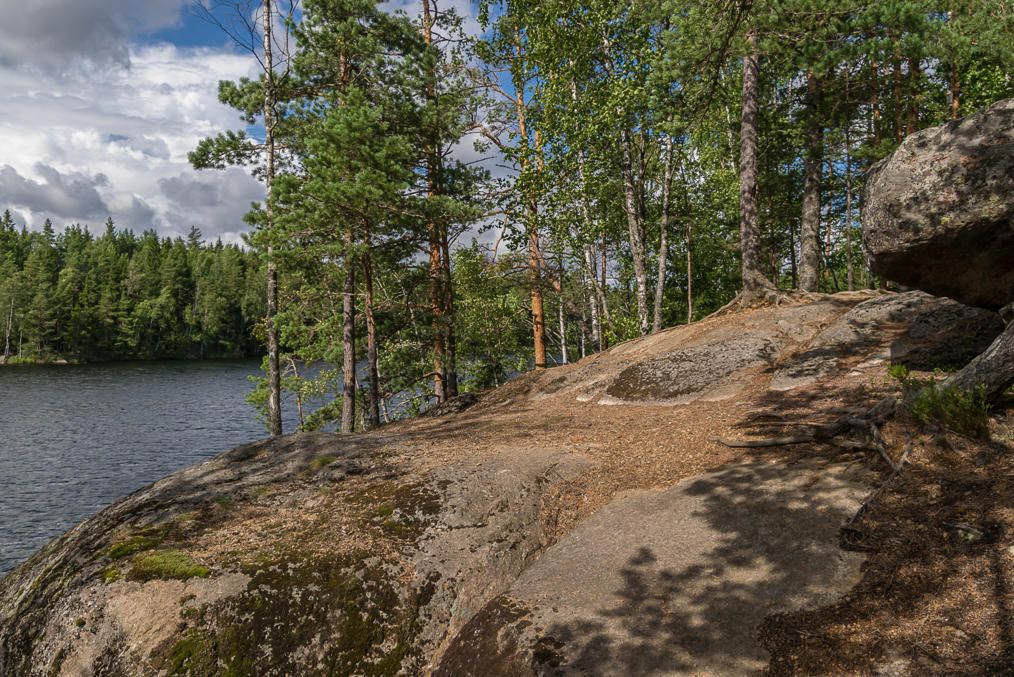 25. Rocky Kukuljärvi shore.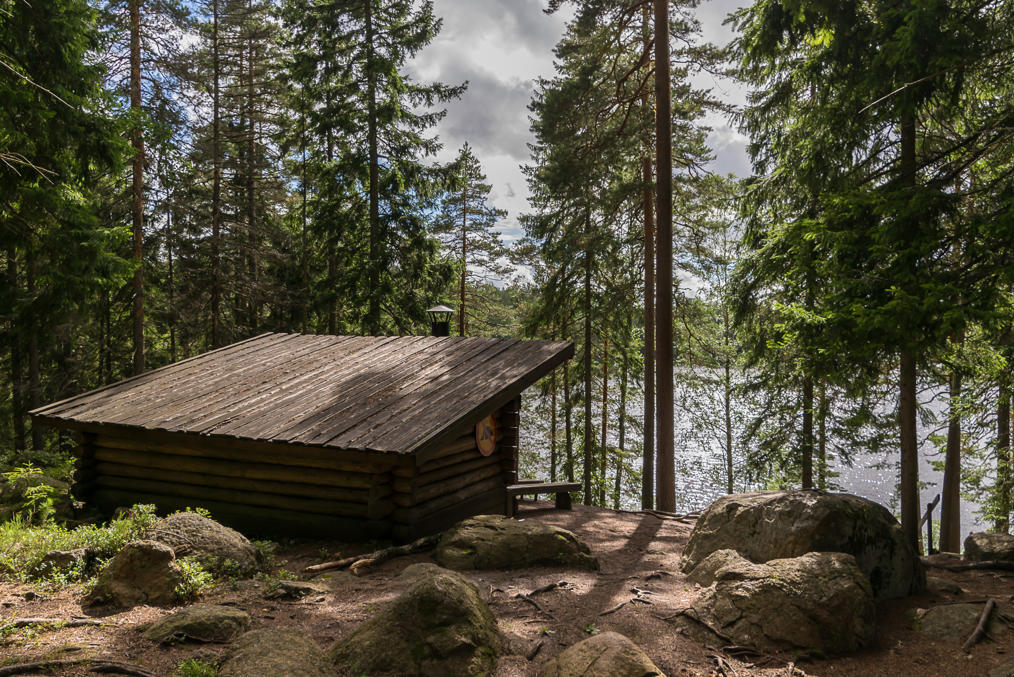 26. There is a laavu lean-to on the northern shore of the lake.  Unlike the spot on the Kymi seen near Ruotsinpyhtää, this place actually has a lean-to, a rather well-built one actually.  There is a designated bathing spot below too.  A couple was resting here, so I didn't stop by.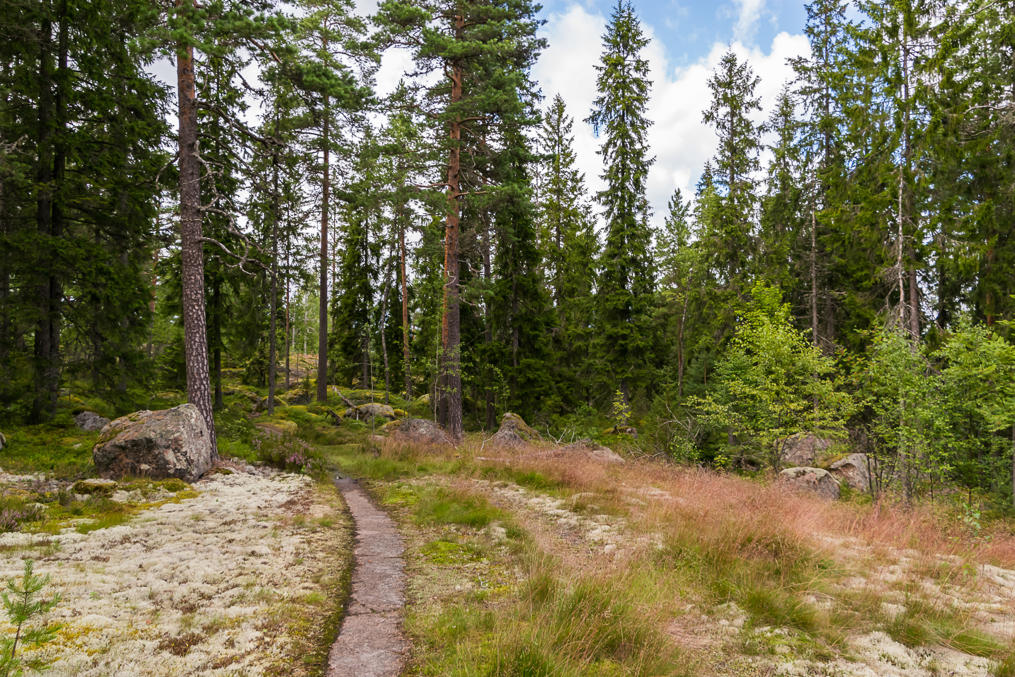 27. From the lean-to, the trail climbs up the rocks and departs from the lake.  There was a sign pointing to some parking lot, so apparently you don't need to walk all the way from Ruotsinpyhtää if you're only interested in the lean-to.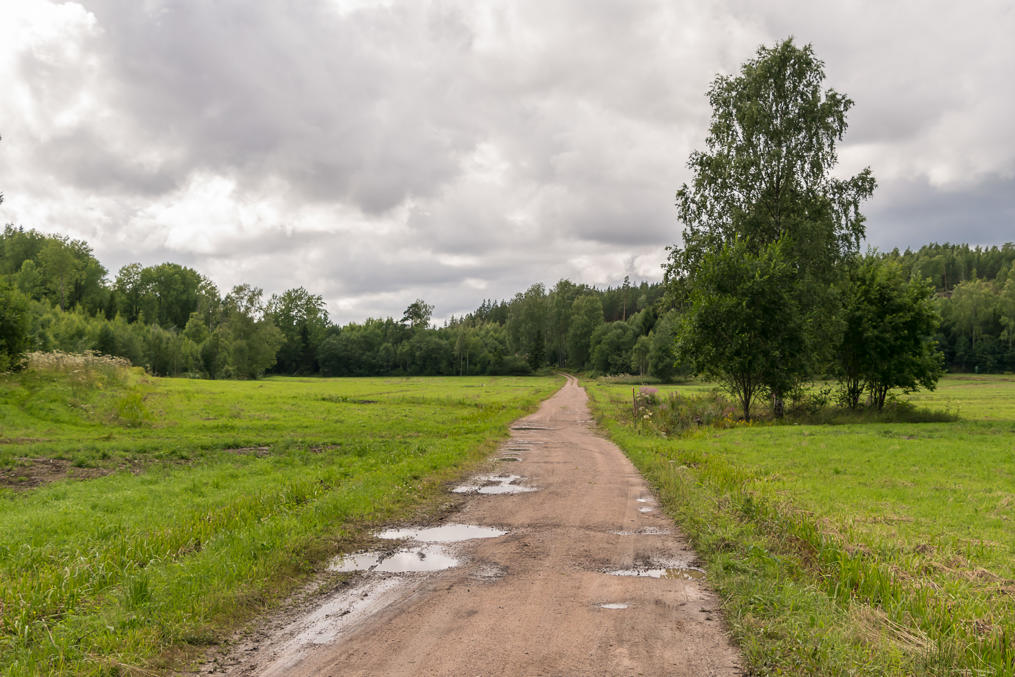 28. A narrow valley of sorts, with rocky forested hills on both sides, and a small creek flowing in the middle, is used as farmland.  A poor gravel road crosses it, and the trail briefly follows the road.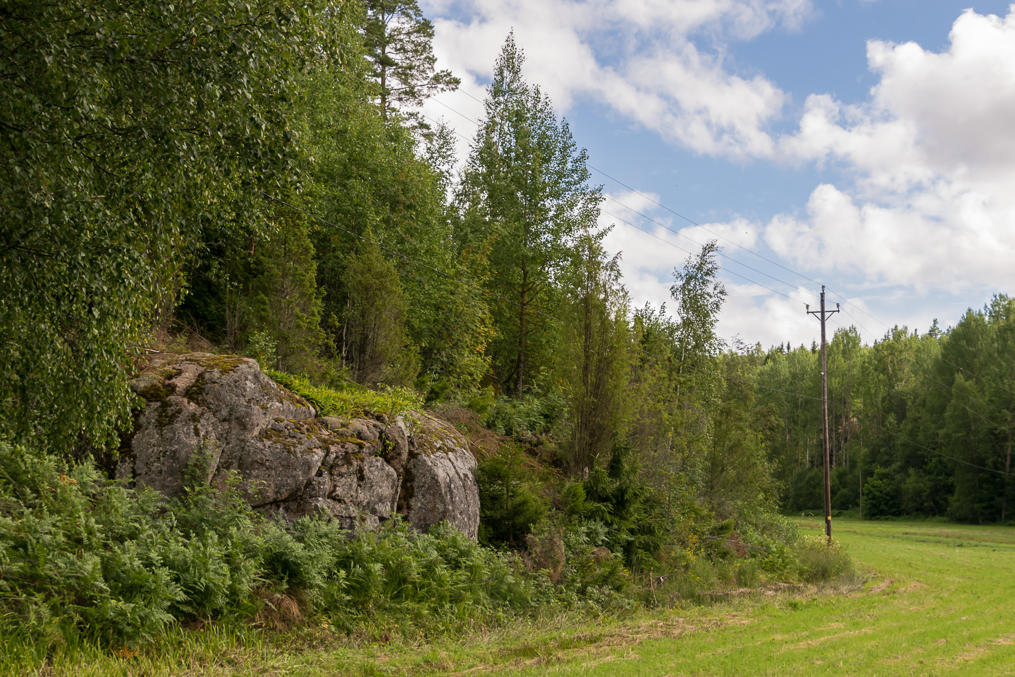 29.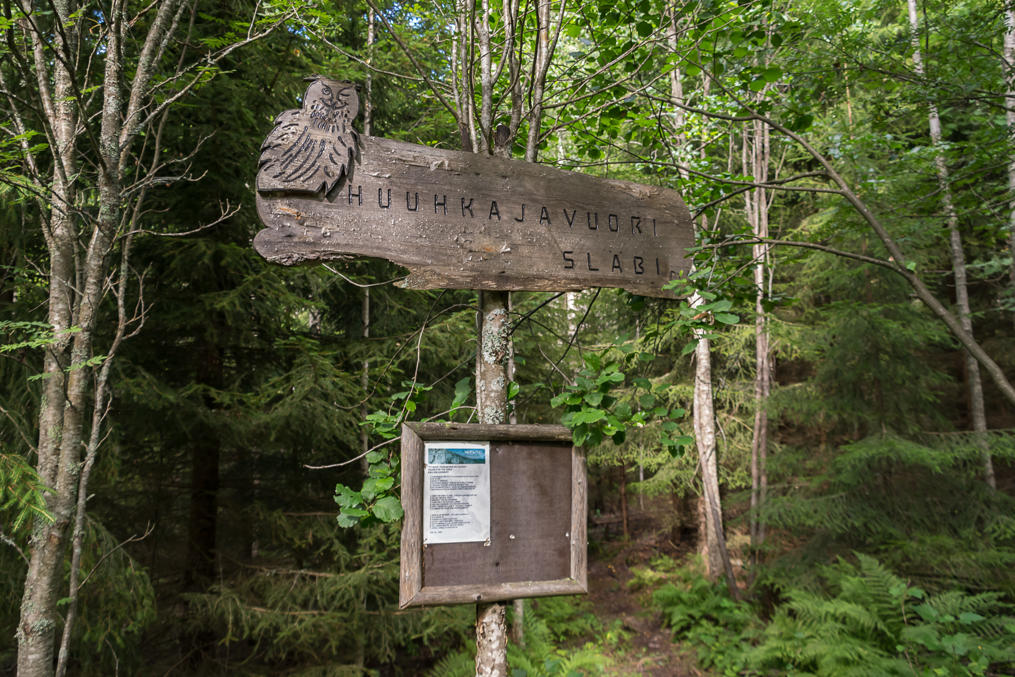 30. The highest point of the trail is Huuhkajavuori (Finn. Eagle-owl Mountain) hill, with a sign on the top proudly proclaiming "72 m a.m.s.l.".  The views are poor though.  The rock faces of Huuhkajavuori are used for rock climbing, and a trail to the rock climbing spot branches off the gravel road.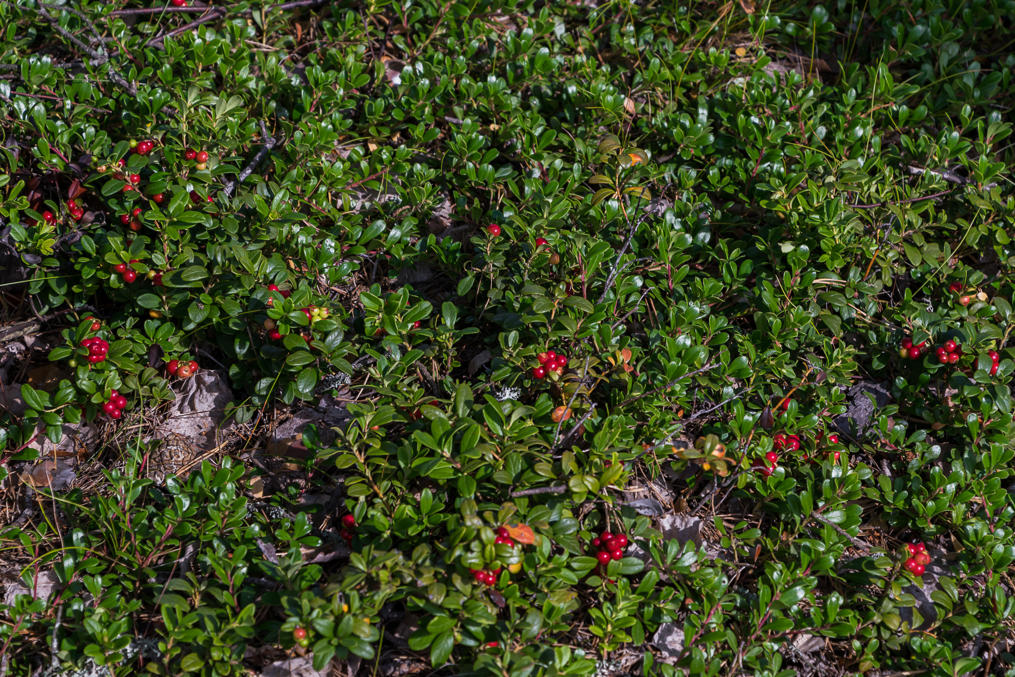 31. Cowberries!  I also found more wild strawberries near Huuhkajavuori.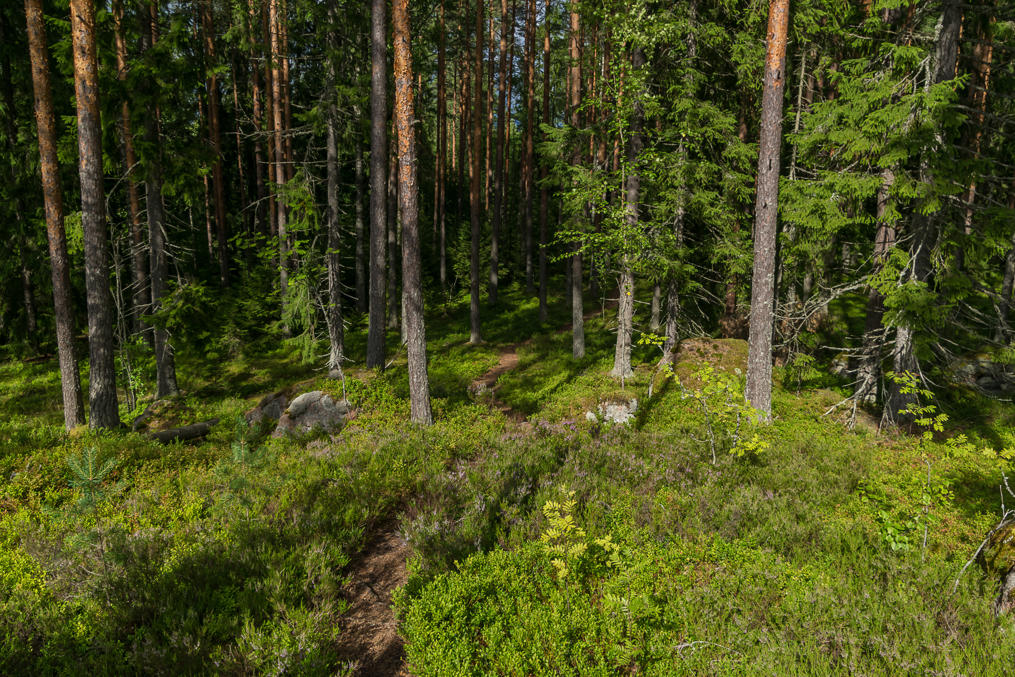 32.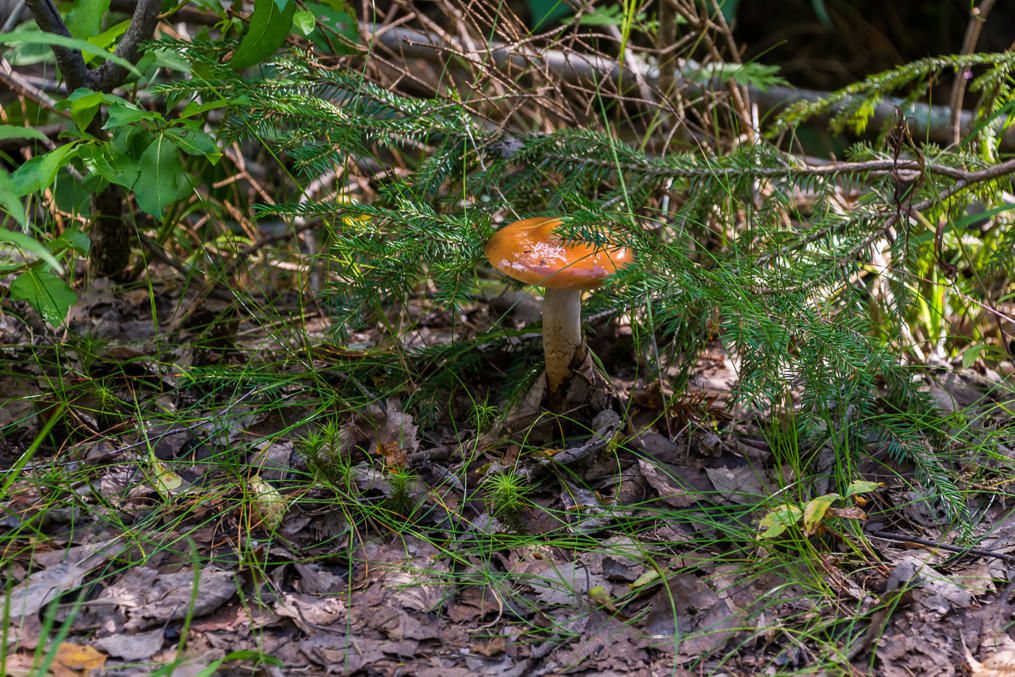 33. Didn't really see many mushrooms though.
34. After Huuhkajavuori the trail went along a gravel forest road again.  A van with a trailer and a small painted Thai flag appeared and parked on the shoulder.  A number of Asian men and women exited the van, took huge buckets and baskets from the trailer, and went off into the forest in different directions.  Thai berry pickers!  The most popular occupation for seasonal workers in Finland by far; 80-90% of all commercial berry pickers is done by foreign workers, mostly Ukrainian, Thai, and Russian, in that order.  They are issued a special kind of temporary work visa.  In 2016, a peak year, 9000 Ukrainian, 3500 Thai, and 1850 Russian workers came here.  Unfortunately it seems they are more or less left at the mercy of their Finnish employers, as they do not enjoy the kind of legal protection Finnish citizens and holders of regular work permins have.  This year Thai government actually issued an official warning to its citizens that there have been multiple instances of Finnish employers swindling Thai berry-pickers.  This resulted in a big decrease in the demand for these visas; only 2500 visas were issued this year in Thailand.
Nonetheless this Thai guy, singing some sad-sounding song, walked by, and suddenly beamed at me for a moment.  Well, Thailand is the land of smiles, or so they say.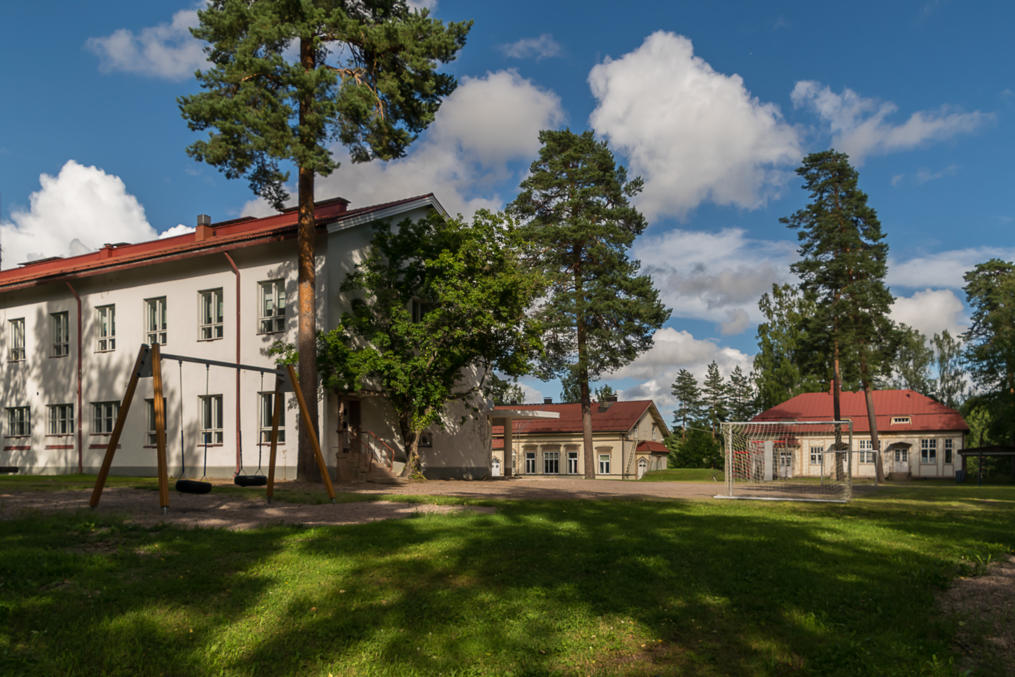 35. Soon the trail passed through a small pedestrian tunnel under Road 1792 again, emerging right near the Ruotsinpyhtää primary school.  Was this tunnel built specifically so that schoolkids could safely go to the forest at recess?  Quite cool if that's the case.
And thus the trail looped back to Ruotsinpyhtää again; it was only a short walk remaining from the school to the sports center.  I got back to my car, and drove on to Loviisa, where in less than 20 km away a hotel room was already waiting for me.
Published on: