---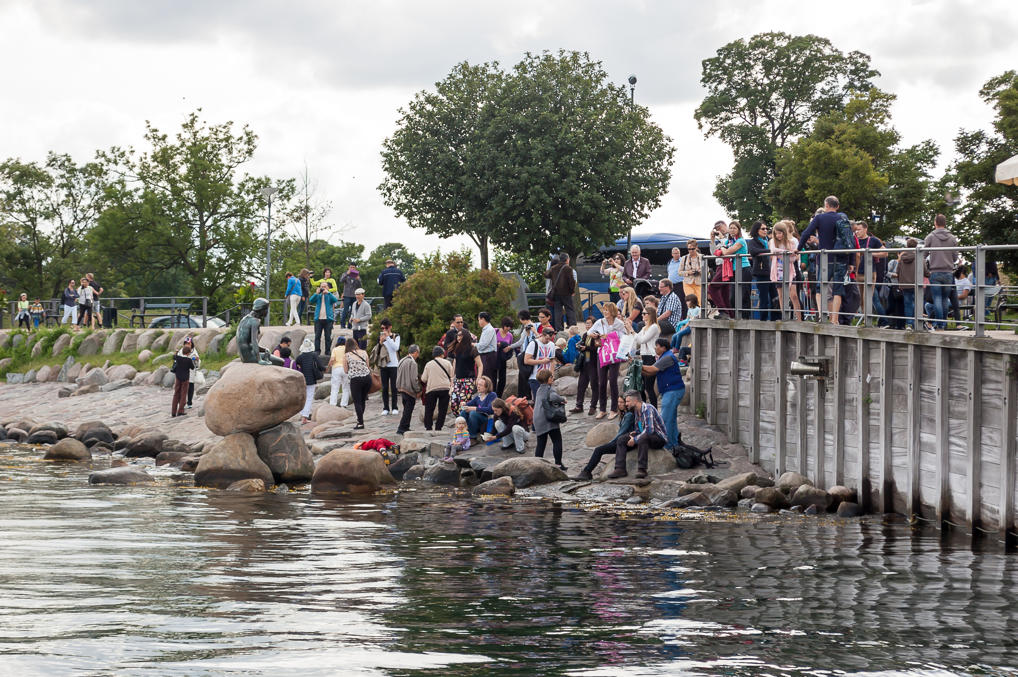 1. So that's it. The biggest sight of Copenhagen. The Little Mermaid. Yeah. It's pretty little alright. The statue was commissioned in 1913 by Carl Jacobsen, son of the founder of Carlsberg brewery, which is a pretty big Copenhagen enterprise (we'll visit Carlsberg in the next part). He just was a fan of Little Mermaid ballet. The statue, located at the shore of the main channel quite far from city center, was damaged and restored many times. Tourist crowds milling around are annoying, but the statue is really very beautiful and heartful.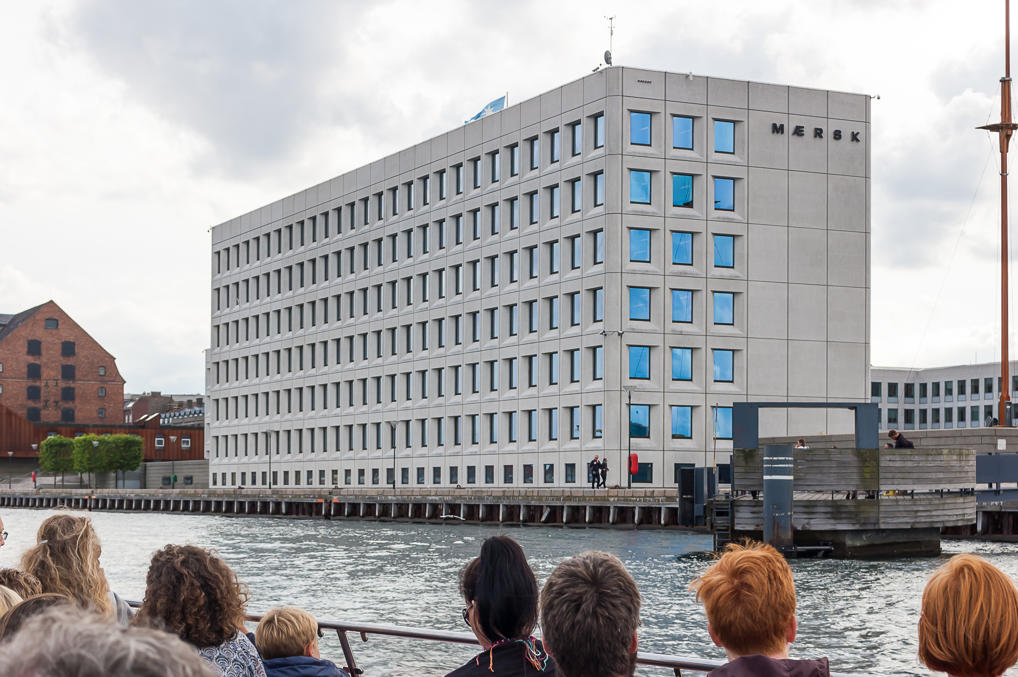 2. Heading back towards Copenhagen center along the main channel. This featureless office block is the headquarters of Moller-Maersk Group, a huge Danish conglomerate. Its largest division by far is Maersk Line, the biggest container shipping company in the world, operating over 600 container ships. Its "Triple E" class ships are the biggest container ships in the world as well. (Oh, just rechecked Wikipedia and apparently some Arabs made an even bigger container ship since our trip, d'oh.) I don't know about other countries, but if you drive a busy highway in Russia you're pretty much guaranteed to eventually see some semi hauling a gray container with "Maersk" sign and a seven-pointed-white-star-on-cyan logo. That's how huge they are.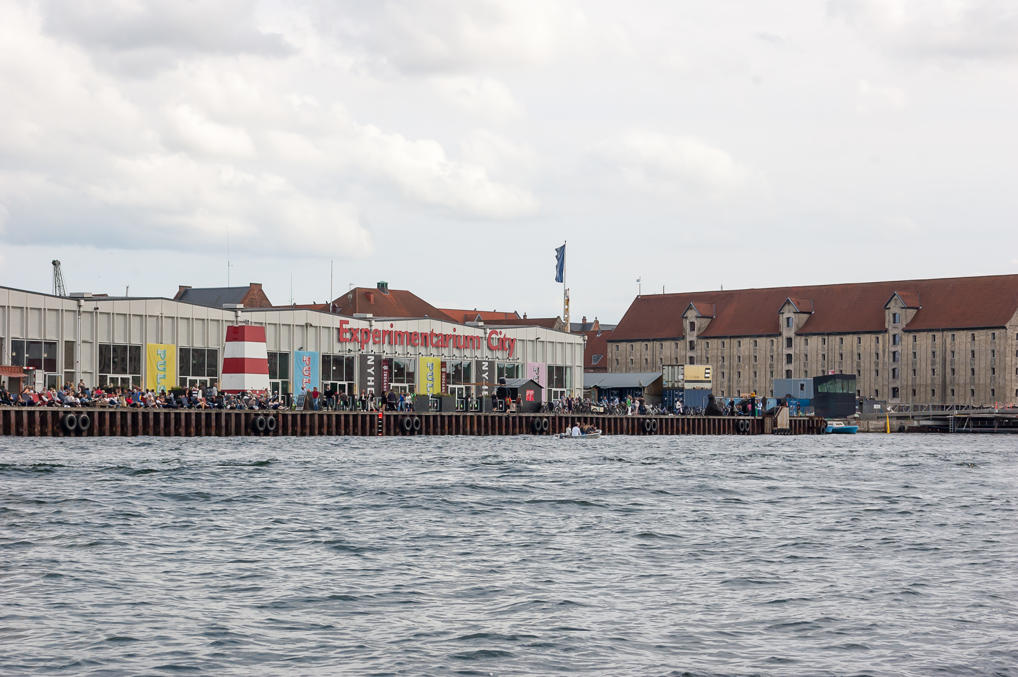 3. Experimentarium City, a science museum for kids.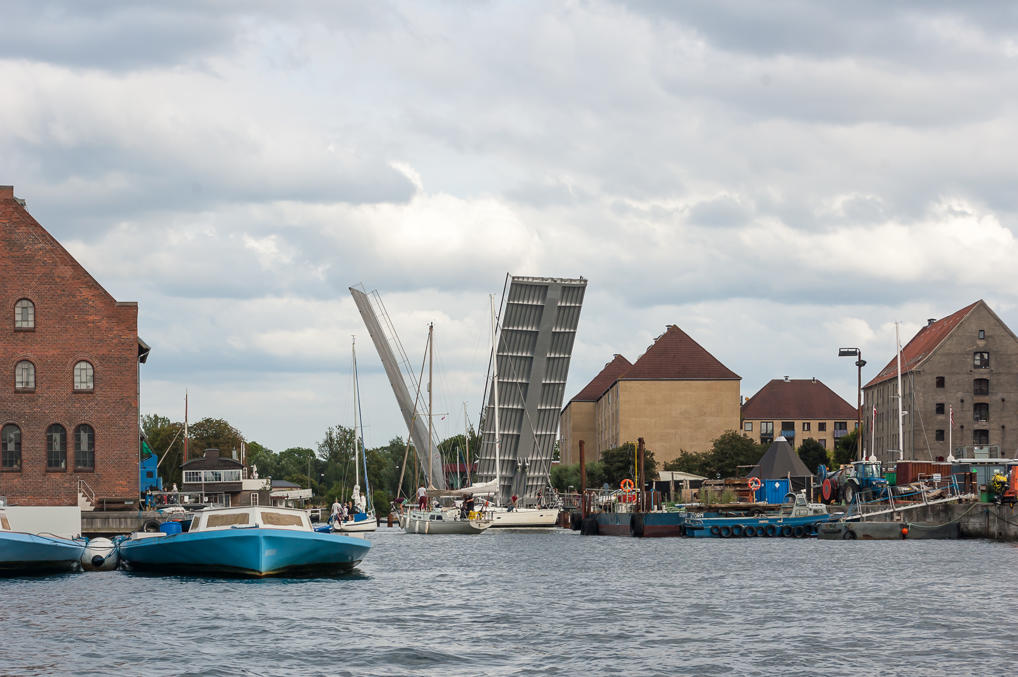 4. About to enter yet another Christianshavn channel, Trangraven. The thing in the middle is a new three-sided pedestrian/bike bridge, Trangravsbroen, built in 2014. All its sides can be raised on demand for sailboat passage, and two of them are raised right now. The bridge was funded by the aforementioned Moller-Maersk Group; these guys are huge philantropists. The entire new Opera House (2004), seen in previous post, and Amaliehaven park (1983) are also gifts to Copenhagen by Maersk.
5. Approaching Trangravsbroen bridge, one of its sides swinging down.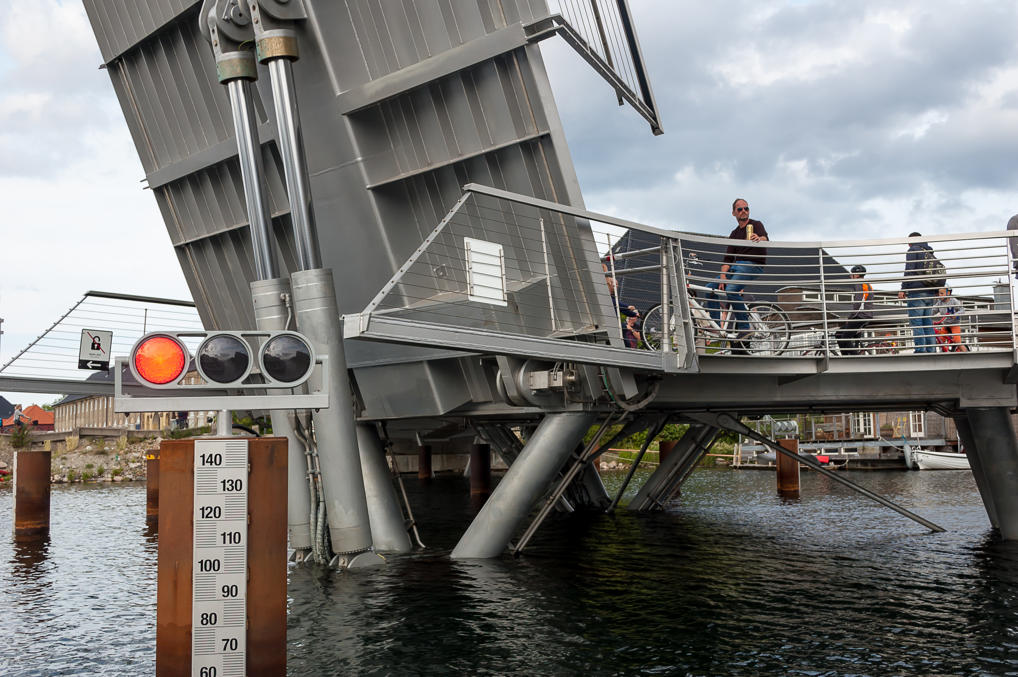 6. Trangravsbroen bridge mechanism.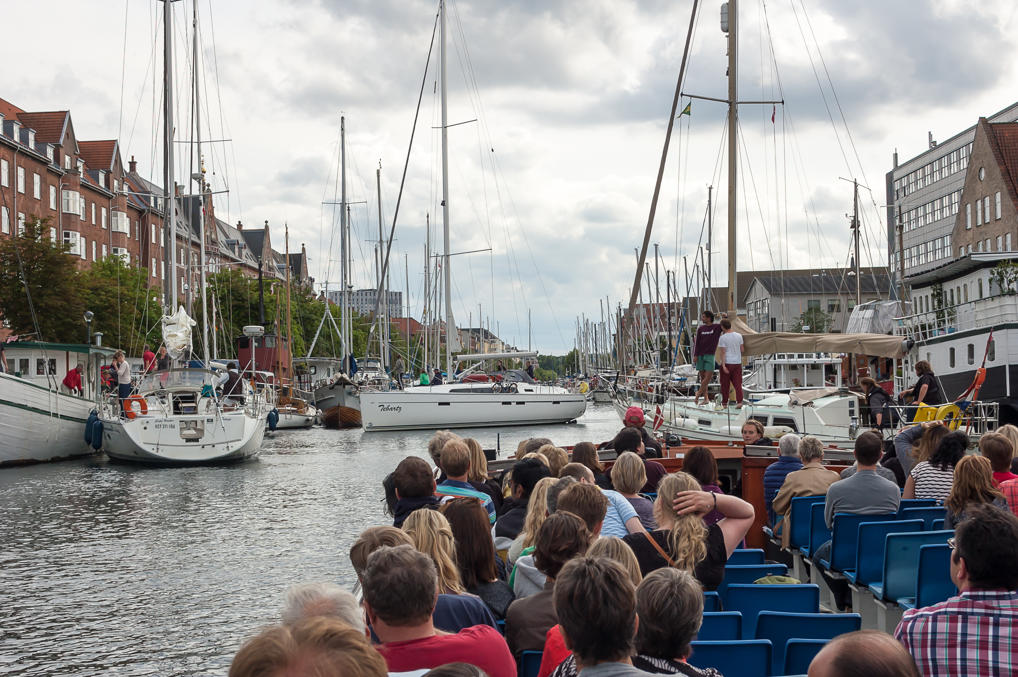 7. At Trangravsbroen we turn into Christianshavn channel, which is the biggest channel in Christianshavn. It is a very pretty channel, lined with nice 18th century buildings, and absolutely stuffed with sailboats.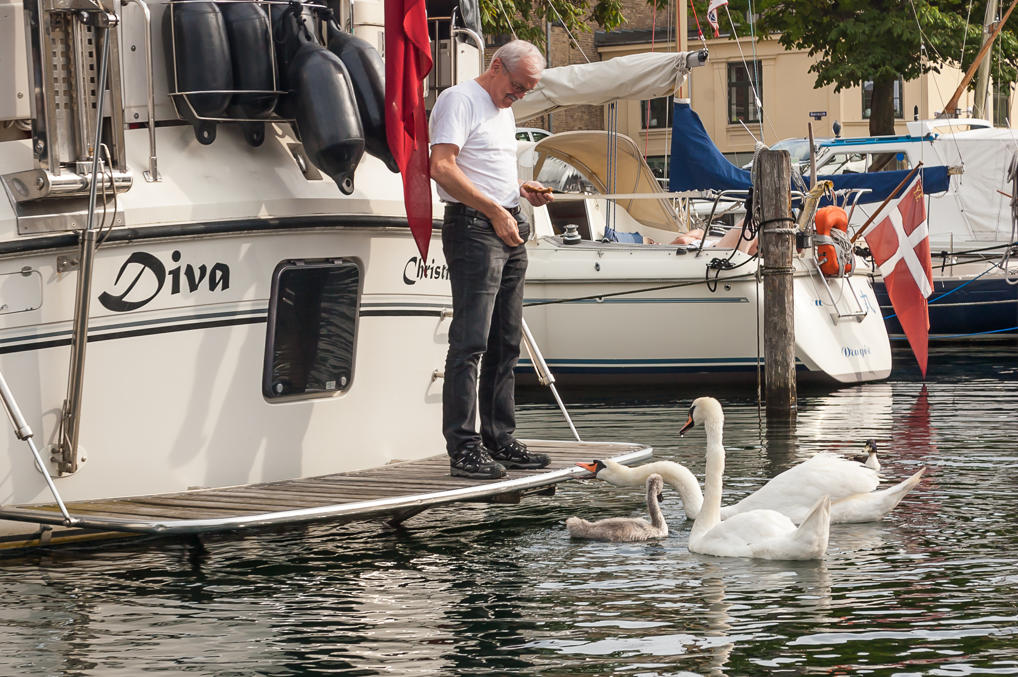 8. Another happy Dane doing happy-Dane things.
9. Dragging analogies in Copenhagen and St. Petersburg layout further, Christianshavn seems to play a role similar to Petrogradskaya Storona (Russ. Petrograd Side), an old enough neighborhood but much younger than city center, originally meant for working class and the like, but quite fashionable and affluent now. (Well not all of Petrogradskaya Storona is fashionable but you get the picture.)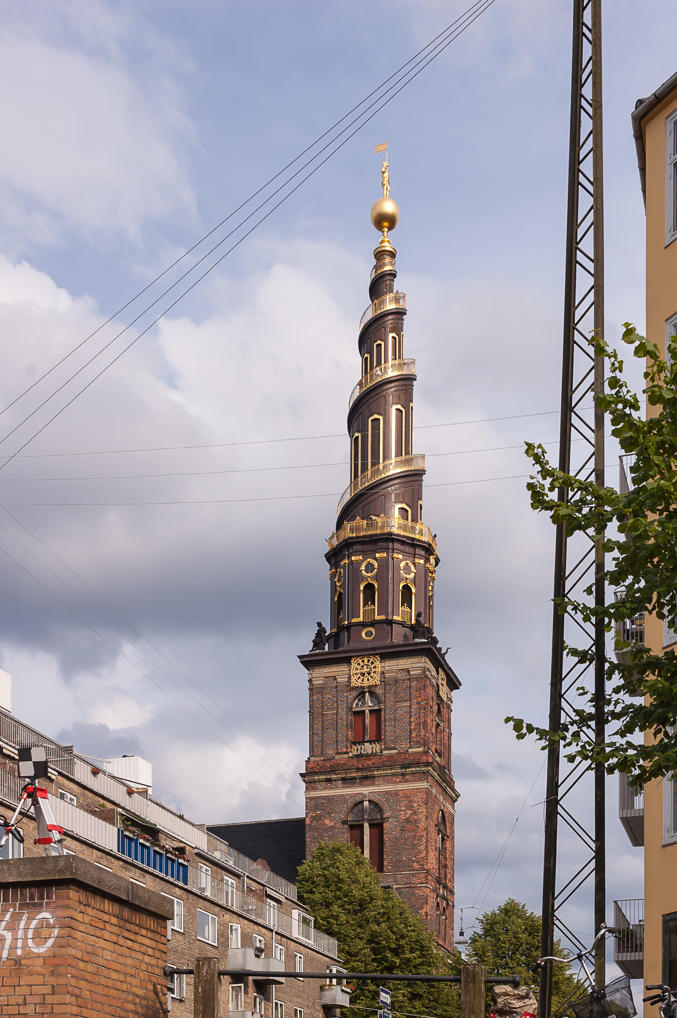 10. Church of Our Saviour, a landmark famous for its helical spire (YOURS IS THE DRILL THAT WILL PIERCE THE HEAVENS!!! sorry), is very briefly visible from the channel when the boat passes one of the adjoining streets.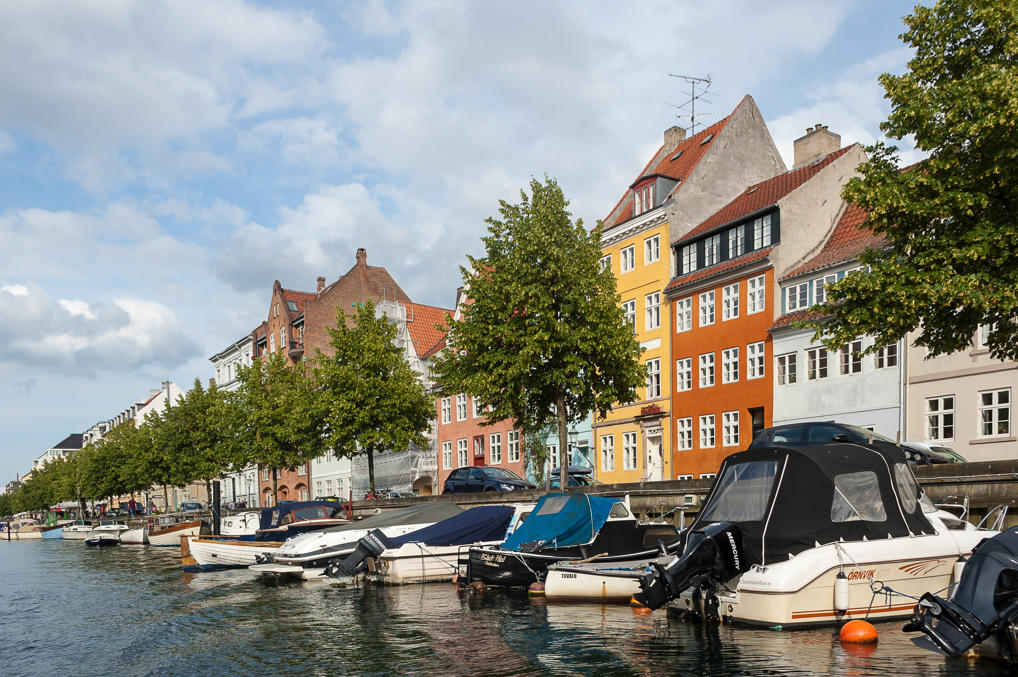 11.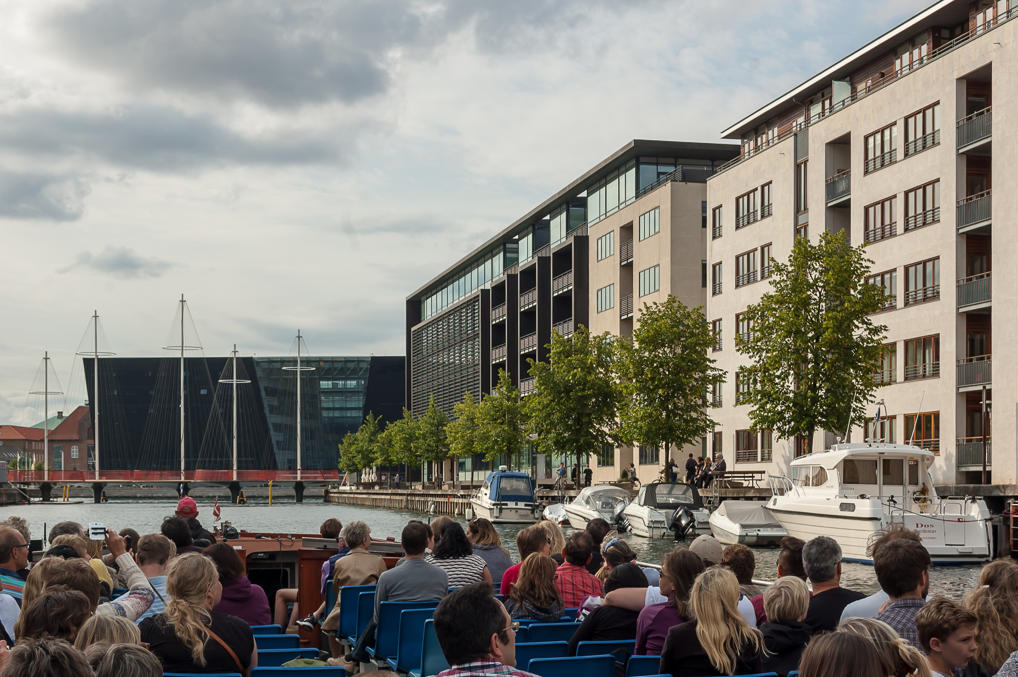 12. Eventually Christianshavn channel loops back into the main channel again. Cirkelbroen, another modern pedestrian/bike bridge, nearing completion in this picture (and opened in August 2015) is visible ahead. It looks like several connected circular platforms with ship-like masts in the middle. Behind Cirkelbroen is the Black Diamond building on the opposite side of the main channel.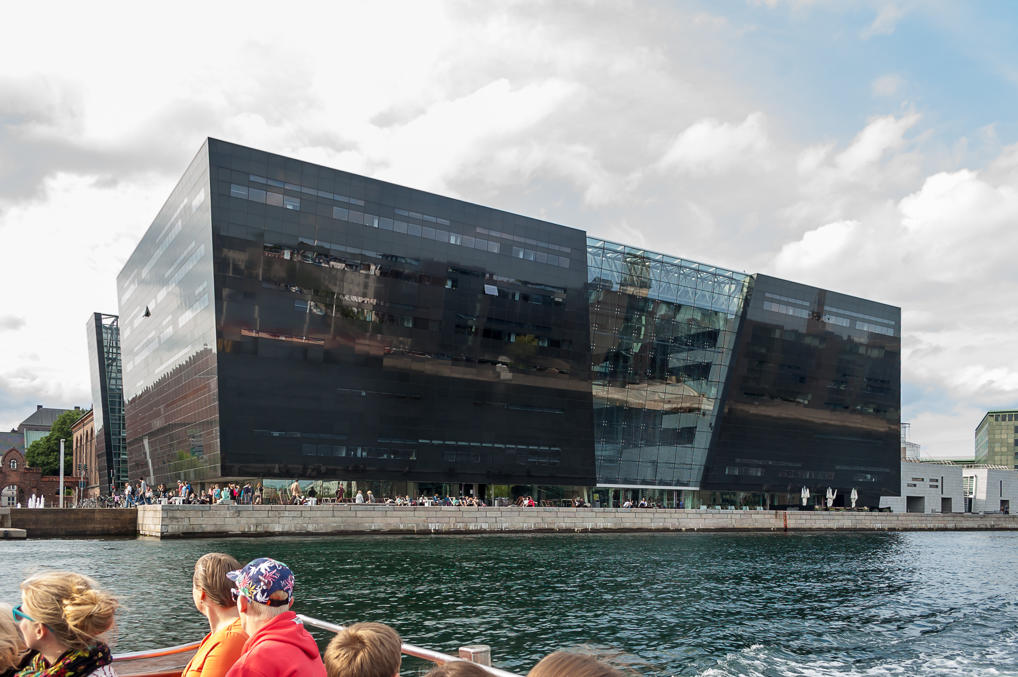 13. The Black Diamond, literally called that, is the new building of the Royal Danish Library. I can't say it's ugly but well it looks like every single mall in Russia. You could just put up McDonalds, Auchan, MediaMarkt and a bunch of other logos and it would be indistinguishable.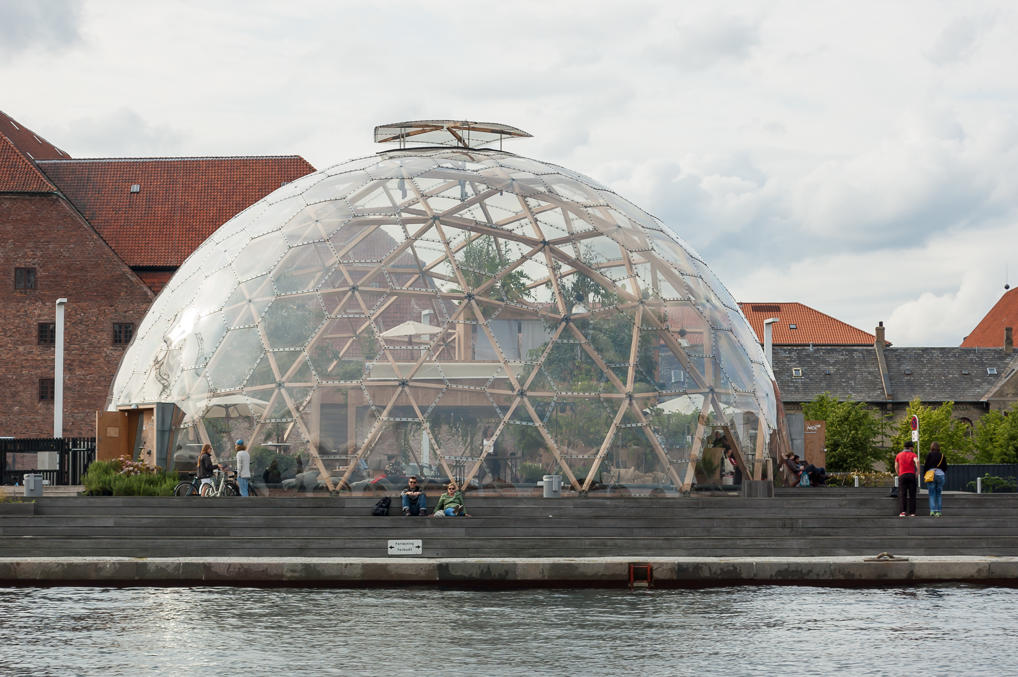 14. About to enter Slotsholmen channel, our boat tour is nearing the end. This thing is called Dome of Visions, I'm not sure what's it for.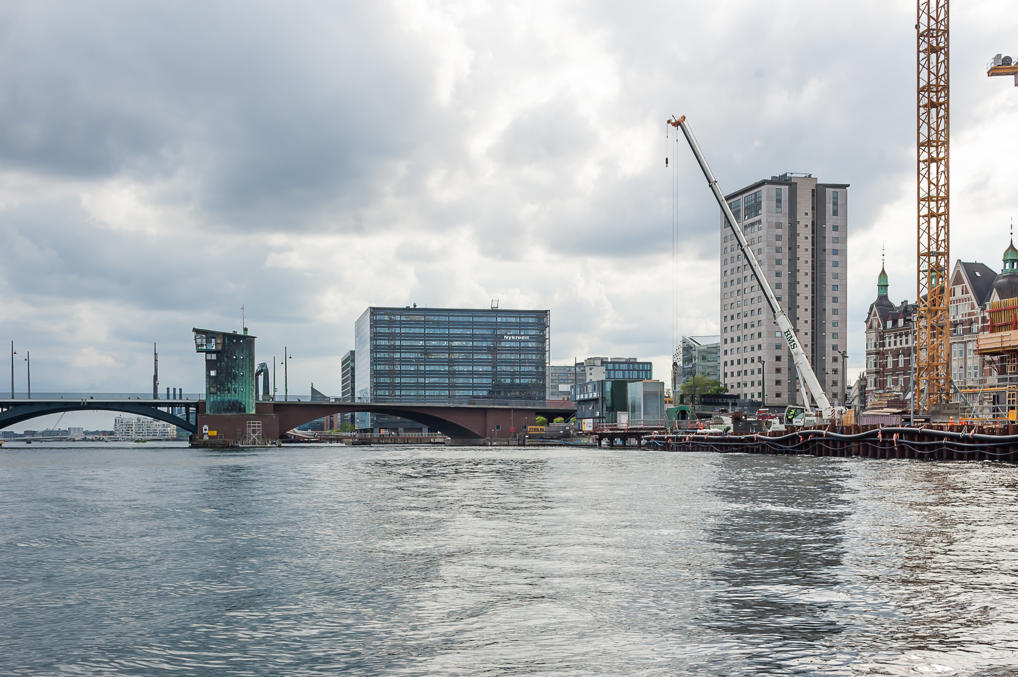 15. One of the two automobile bridges of central Copenhagen. This one is Langebro, the Long Bridge, carrying H. C. Andersens Boulevard. Several bridges with that name existed in that location. The current Langebro was built in 1954.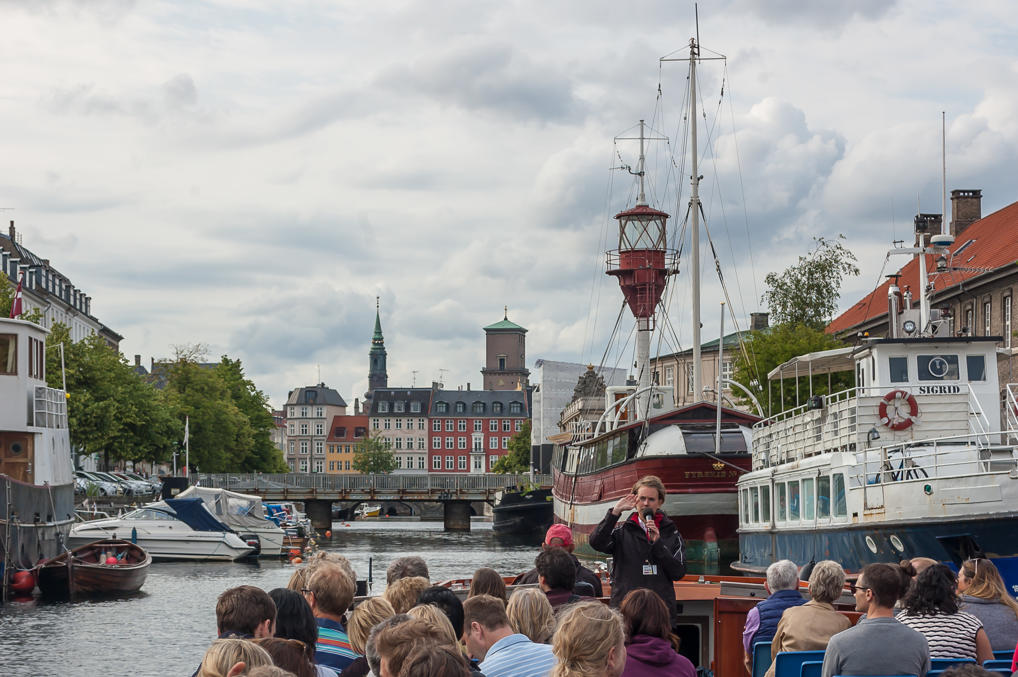 16. Slotsholmen channel. It has a lighthouse ship moored, similar to those in Stockholm.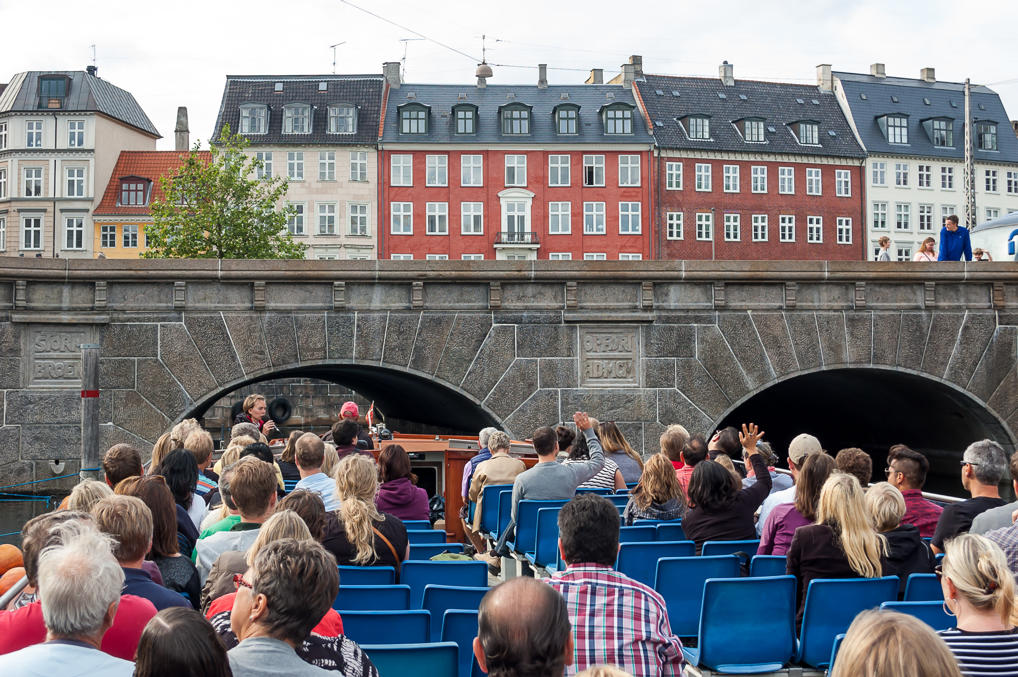 17. Stormsbroen bridge, which we already saw in the previous part. The prettiest bridge in this channel is Marmorbroen, the Marble Bridge, leading directly to Christiansborg Palace, but I don't have a good pic of it.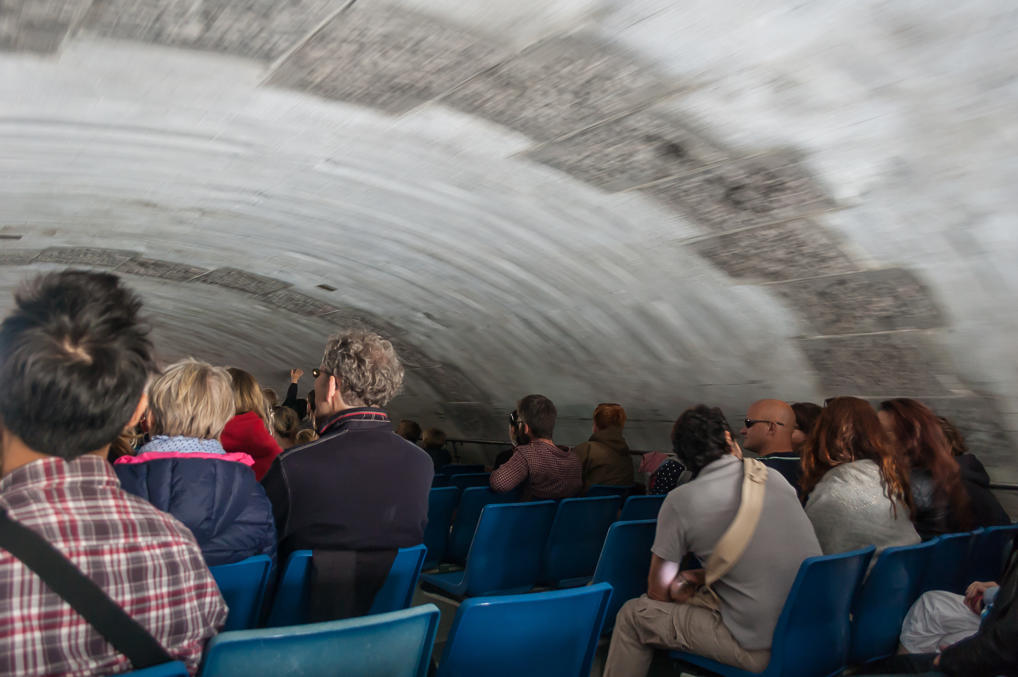 18. Passing under Stormsbroen. The bridge is pretty low, and the channel makes a 90 degree turn immediately after, so tour boats have some hard time maneuvering there.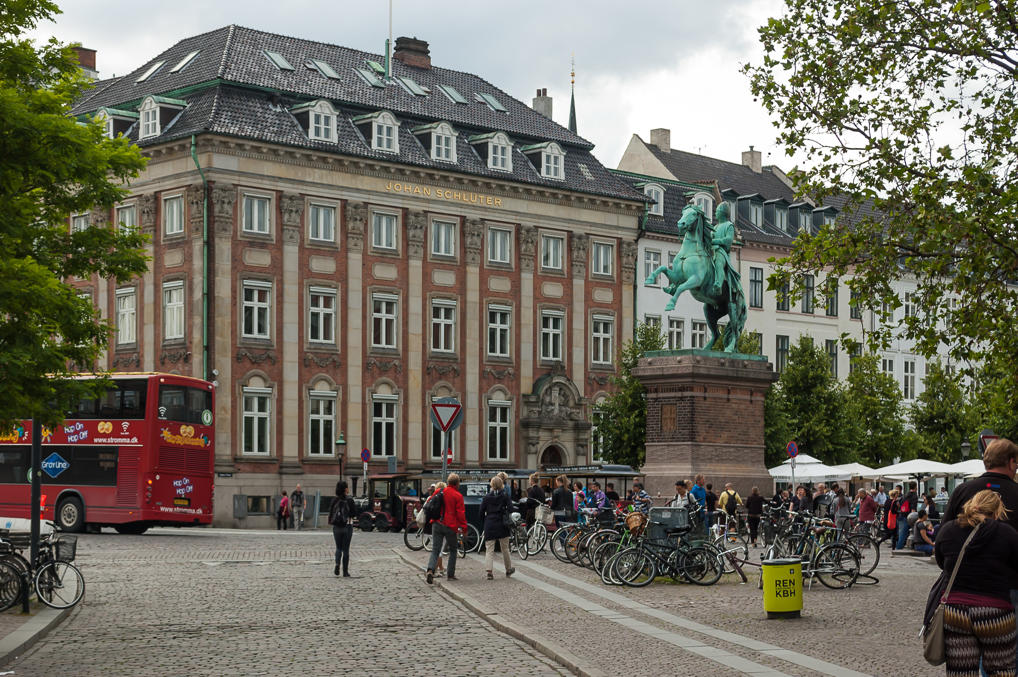 19. Our hour and a half long (I think) boat ride is over, and we're on the solid ground at last. We decided to head for the Little Mermaid statue on foot to see more of Copenhagen in process. Right next to the tour boat wharf is the statue of none other than Bishop Absalon, usually considered the founder of Copenhagen.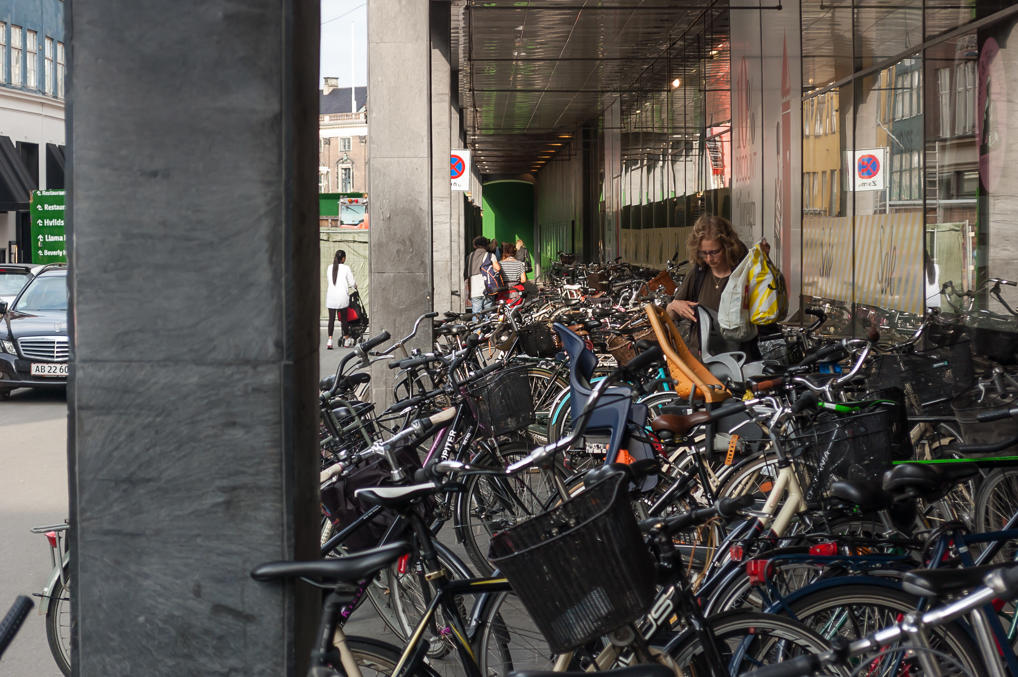 20. Noticed bikes in the previous picture? Well here are some more bikes! You can't say bikes are everywhere in Copenhagen, but occasional bike parking lots are just packed with them.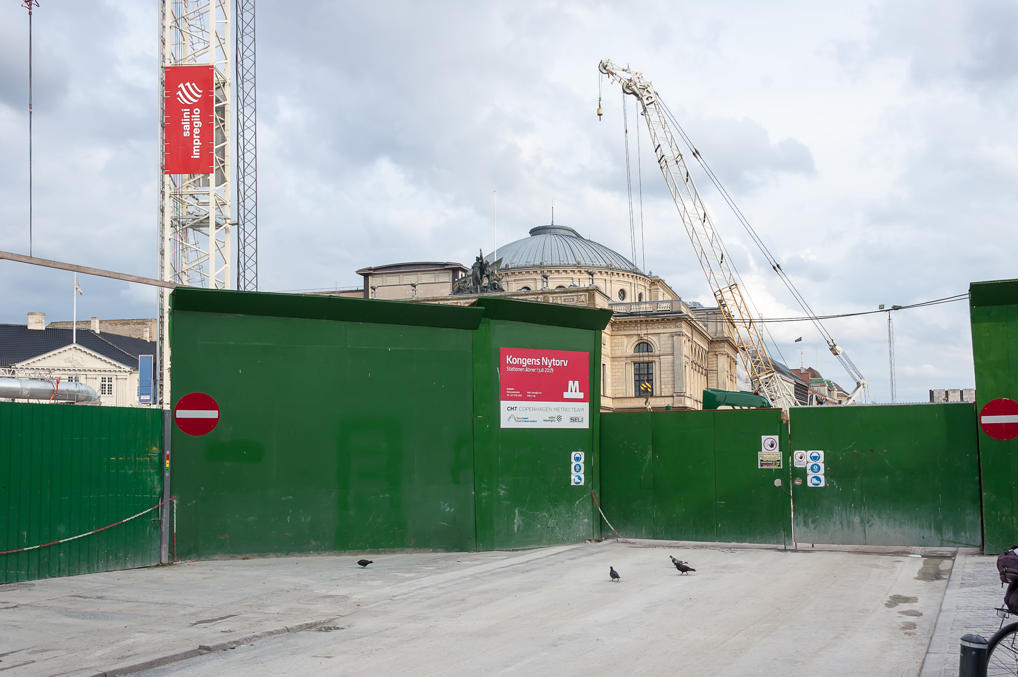 21. You may have wondered whether Copenhagen has a metro system like Stockholm does. It has but it's pretty small, with two (more like one and a half) short lines and a total of 22 stations. The first stations were opened in 2002. It has short driverless trains, and visually its stations are pretty boring. Outside of old parts of the city, it runs above ground. The service is 24/7 which is nice, and you can reach the airport by metro which is also nice.
There are relatively few stations in central Copenhagen (there isn't even a station at the Central Railway Station), and since 2010 Copenhagen has been building a circle line with 17 more stations. The project is huge and hugely expensive at 21.3 billion DKK and the progress is slow. You can spot green sheet metal construction fences all around the city. The line is expected to be completed by 2019.
Oh and about trams. Copenhagen has no trams. They used to and their tram system was pretty extensive, but they tore it down in 1972, not because of any specific reasons (like with switching to right-hand traffic in Stockholm) but just because it was the height of the time when trams all over the world were considered obsolete and uneconomical. I guess Danes can enjoy their bikes now at least.
(To be fair, Copenhagen seems to have excellent buses, with ridiculously short intervals on the main routes.)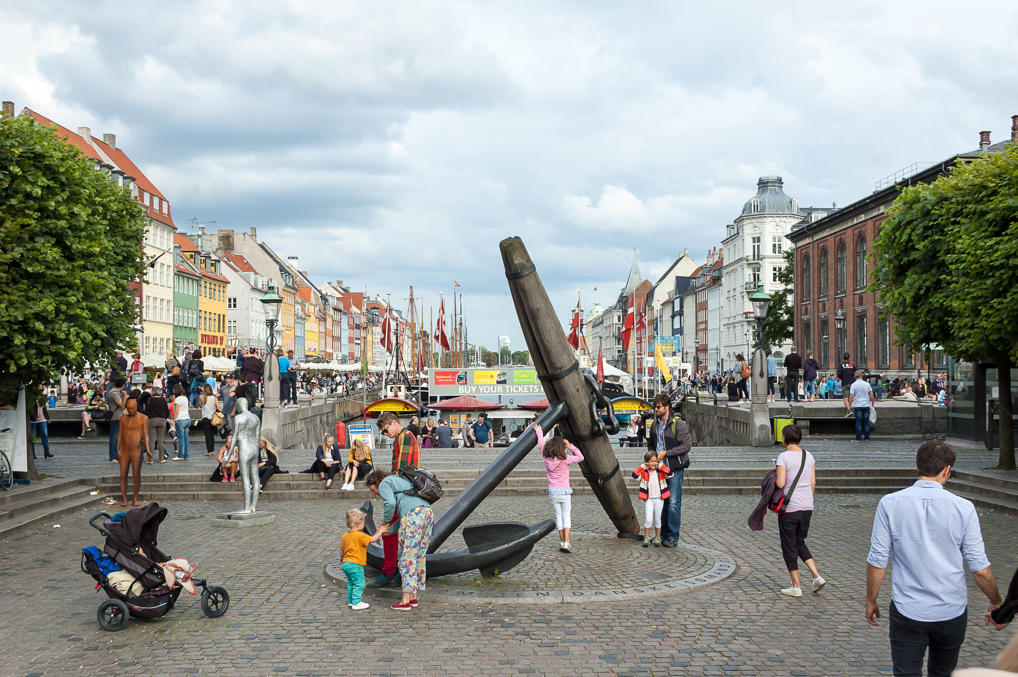 22. Nyhavn, the New Harbor, is a short dead-end channel with the postcard views of Copenhagen. Oh and Andersen lived at Nyhavn too.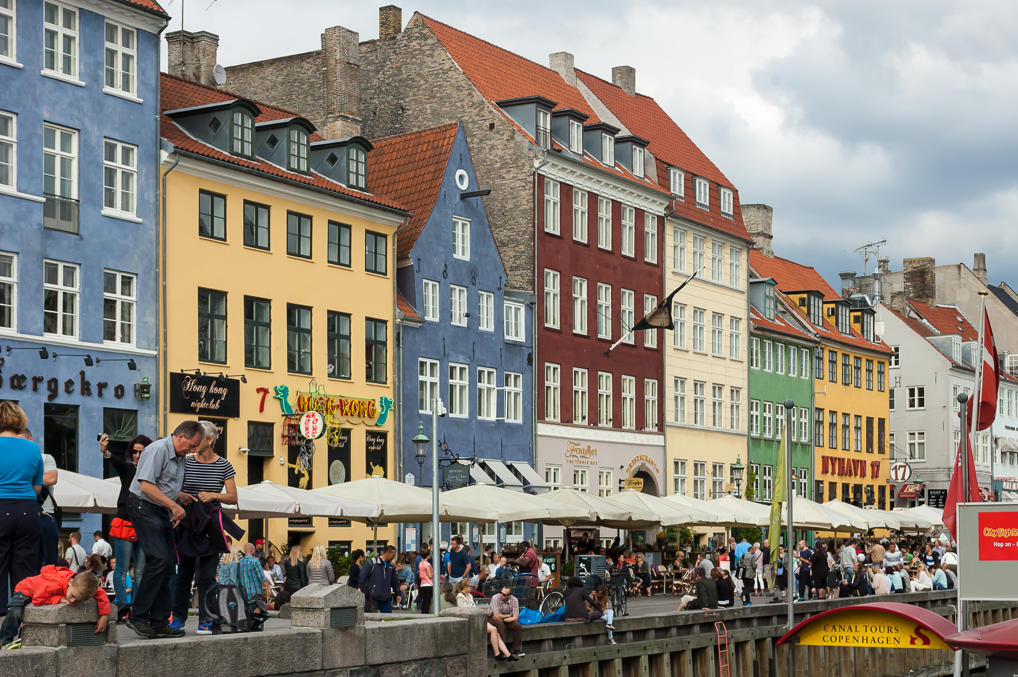 23. Nyhavn was built up in 17th and 18th centuries. It is certainly a beautiful and lively place. On its northern side, pretty much every building houses a restaurant or two.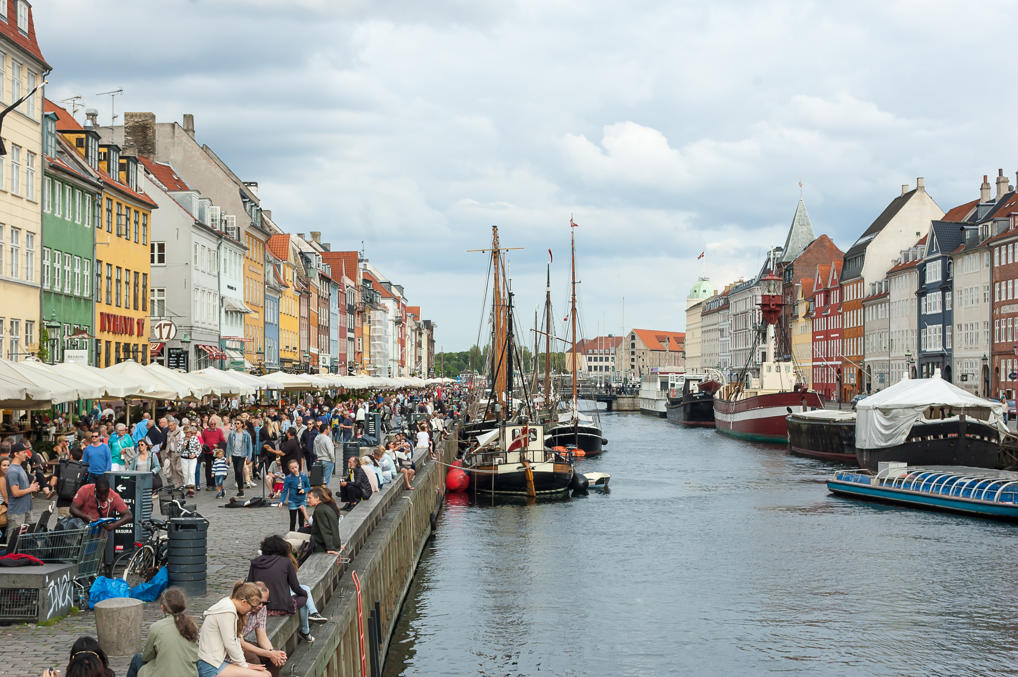 24.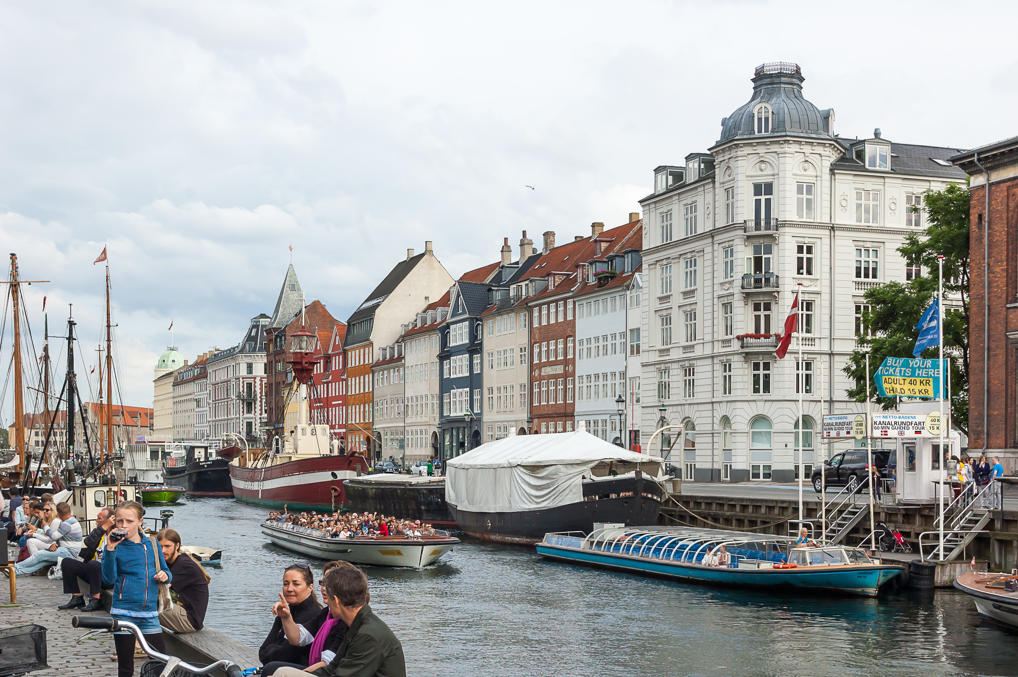 25.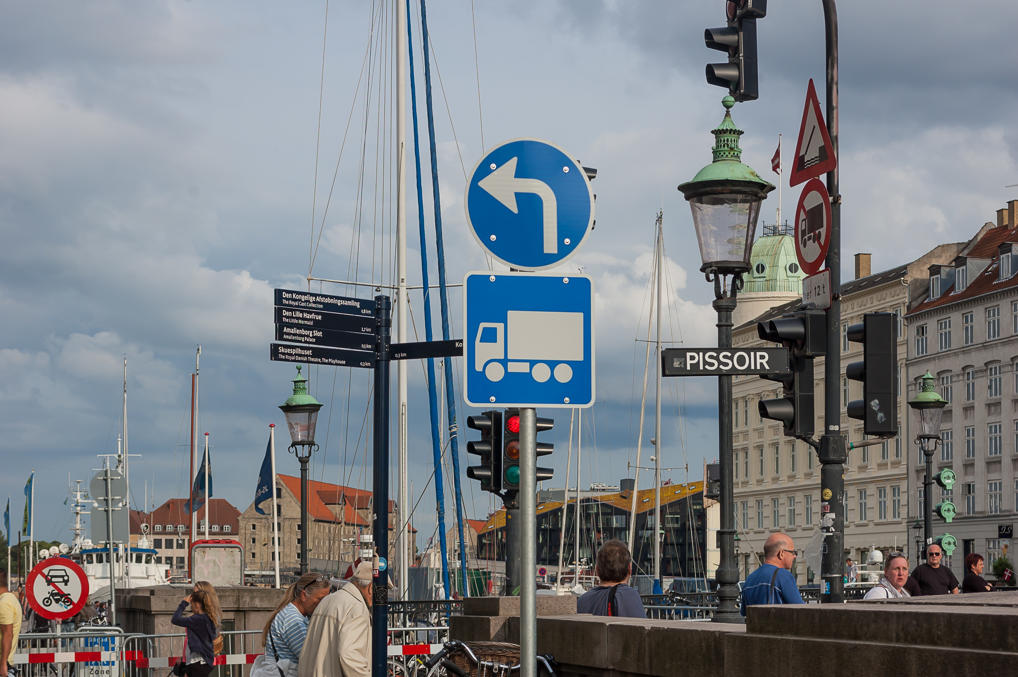 26. One of the things I didn't expect to see in Copenhagen were street urinals/pissoirs (God what a silly word). You just walk up to a semi-open booth or in this case down a short stairway and do your thing. I don't think street urinals are bad (well they stink a bit), but I definitely had a bit of a culture shock. I was pretty sure Sweden has no street urinals, but I've googled them now and apparently there are quite a lot of them in Stockholm! It seems all of them are completely enclosed booths though and most look just like a regular small public toilet, while Copenhagen for example has these. Digging more into the subject of street urinals, I have discovered now that they're pretty common across Europe and for example Britain or the Netherlands have way more extreme types.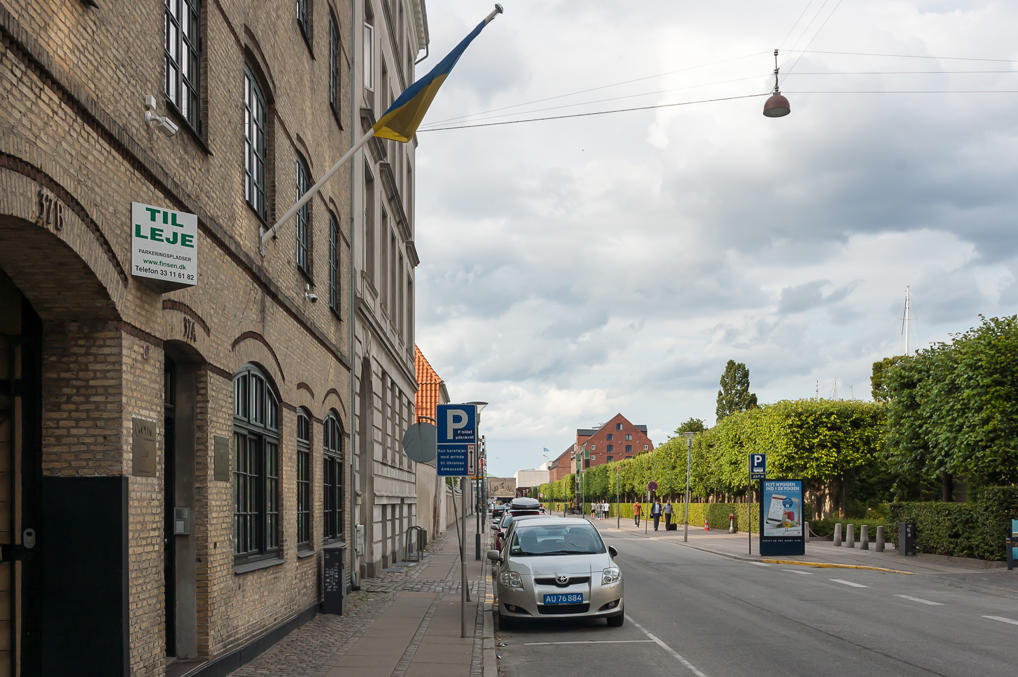 27. Going north beyond Nyhavn, Copenhagen quickly gets very quiet. This is Toldbodgade Street (Dan. Custom House Street). It has several consulates; this is the Ukrainian one.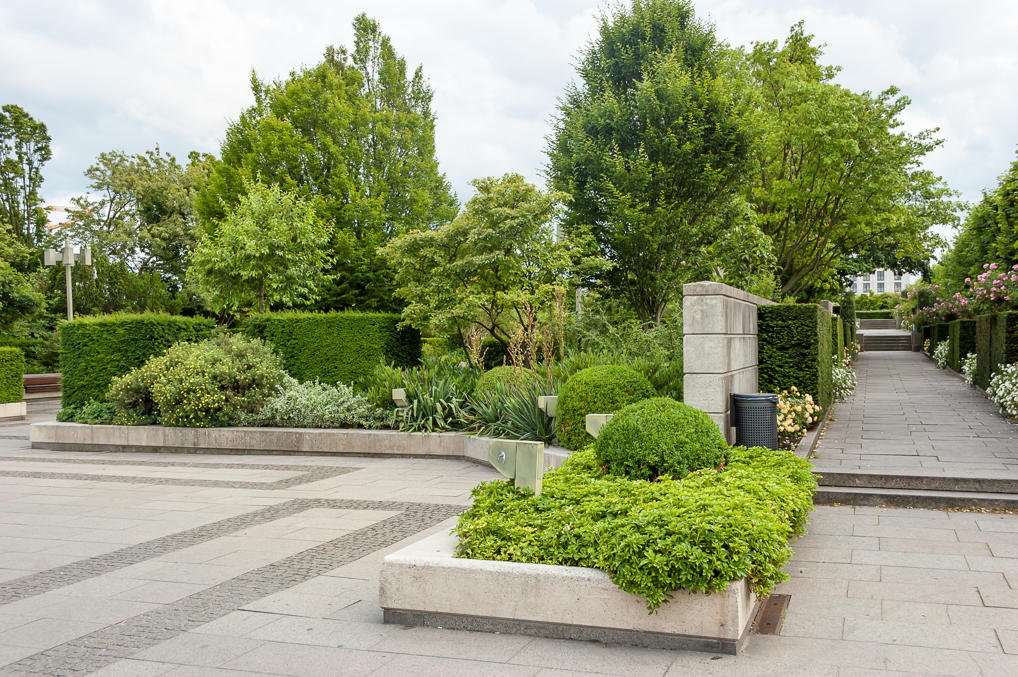 28. Amaliehaven Park, squeezed between Amalienborg Palace and the main channel of Copenhagen. As I mentioned above, this is yet another "gift" from Maersk Line to the city.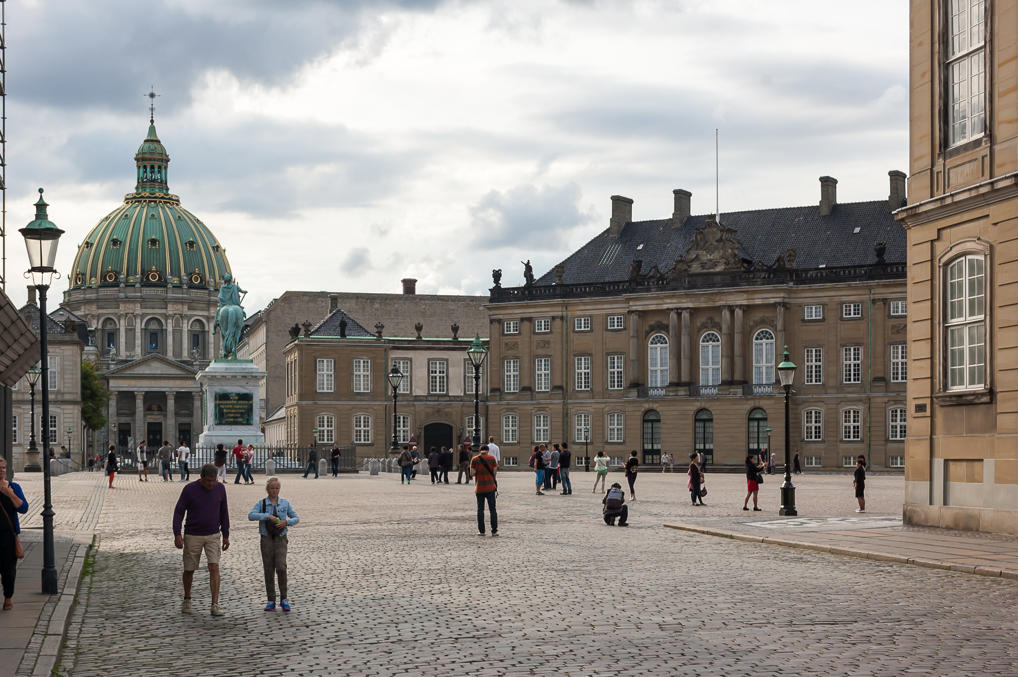 29. Amalienborg Palace, the current residence of Queen Margrethe II and the rest of the Royal family. The Queen is a nice old lady, 75 years old (14 years younger than the apparently immortal British Queen). She reminds me of Professor McGonagall of Harry Potter in some pictures and portraits. She's been the reigning queen since 1972, when her father King Frederick IX died. She's an excellent painter and she personally illustrated Danish edition of The Lord of the Rings in 1970s. She also smokes like a chimney.
As for the palace, it's actually a group of four fairly small identical palaces, built around a plaza with a status of King Frederick V in the middle. They were built in 1760, and the idea was to give each of them to a prominent noble, but as early as 1794 when the first Christiansborg palace burned down, the Royal family claimed Amalienborg for themselves (they rebought it at a fair price, mind you). The individual buildings are all named after various kings, Christian This and Frederick That. The Royal couple lives in one of the buildings, the Crown Prince family in another one, the third one is for receptions, and the fourth one (the one caught in full in this picture) is a museum.
The name Amalienborg comes from the previous palace at this location, Sophie Amalienborg, built in early 17th century by King Frederick III for Queen Sophie Amalie. That palace, you guessed it, burned down. Seriously what's up with Copenhagen palaces burning down? Do they have a tradition or something?
Amalienborg is supposedly guarded by the Royal Life Guards, which look exactly like British Foot Guards, red uniform and huge cap and stuff. We seem to have missed these guards completely, though.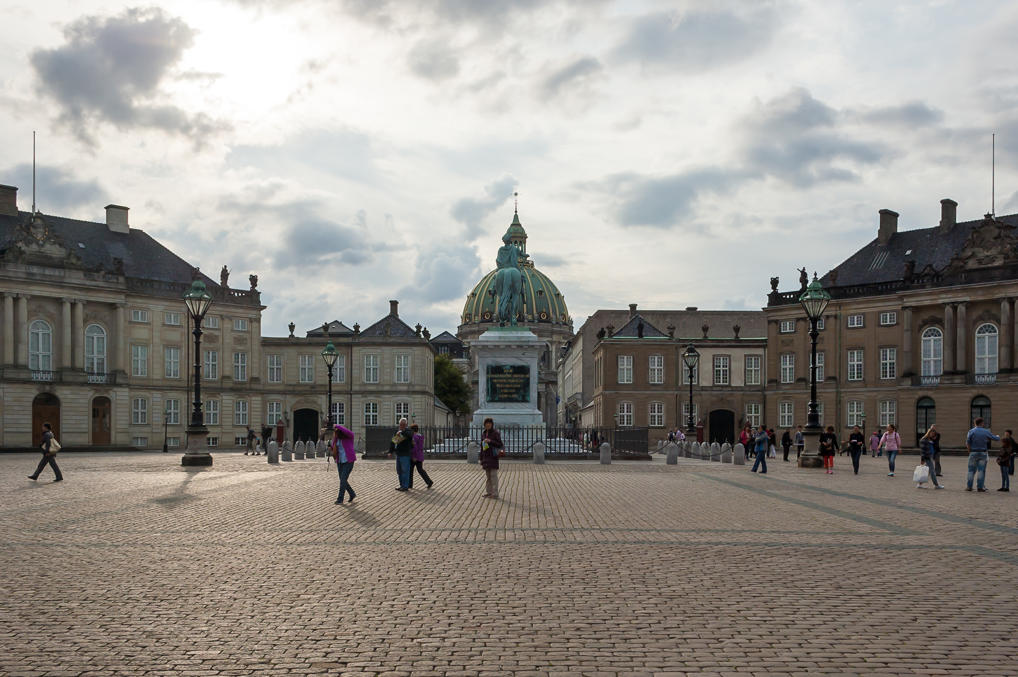 30. The church with a huge dome, looking distinctly like the famous St. Peter's Basilica of Rome, is called Frederick's Church, or the Marble Church (1894). It's down a short street from Amalienborg.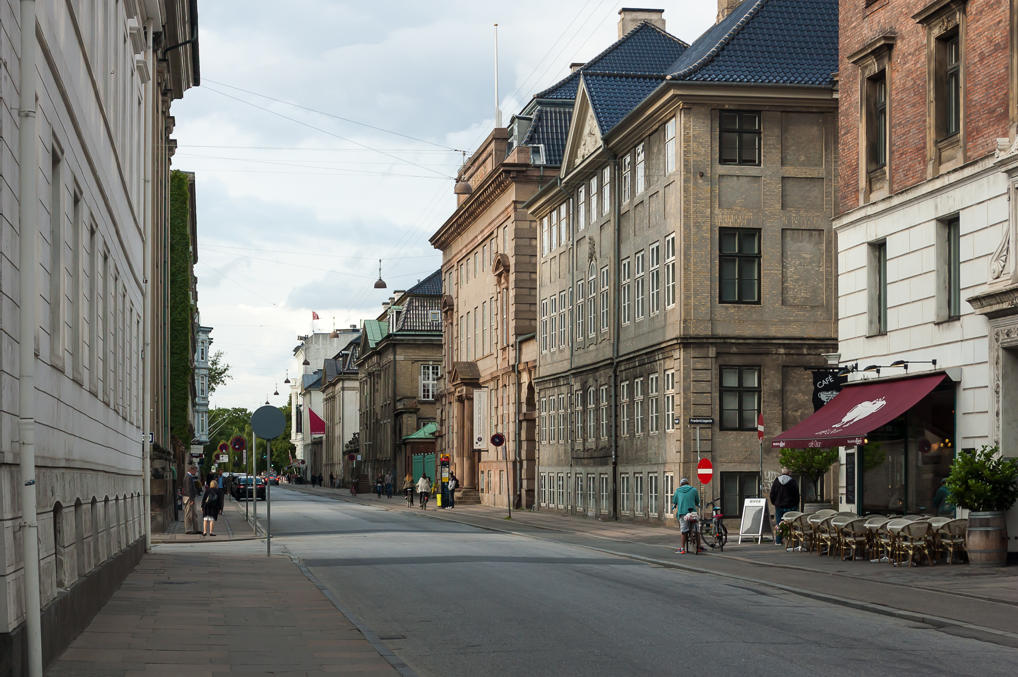 31. Bredgade (Dan. Broad Street). It has a small Russian Orthodox church, named after Alexander Nevsky; I don't have a good pic of it. It was built in 1883 by Russia to honor the marriage Tsar Alexander III and Tsaritsa Maria Feodorovna — nee Princess Dagmar of Denmark.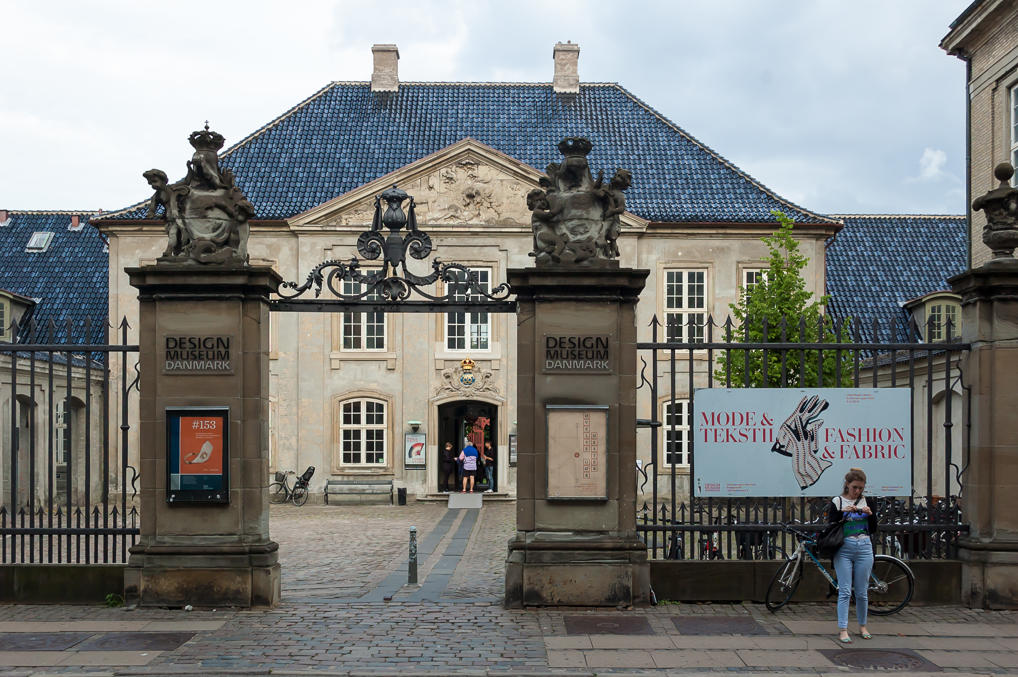 32. Danish Museum of Art and Design on Bredgade Street.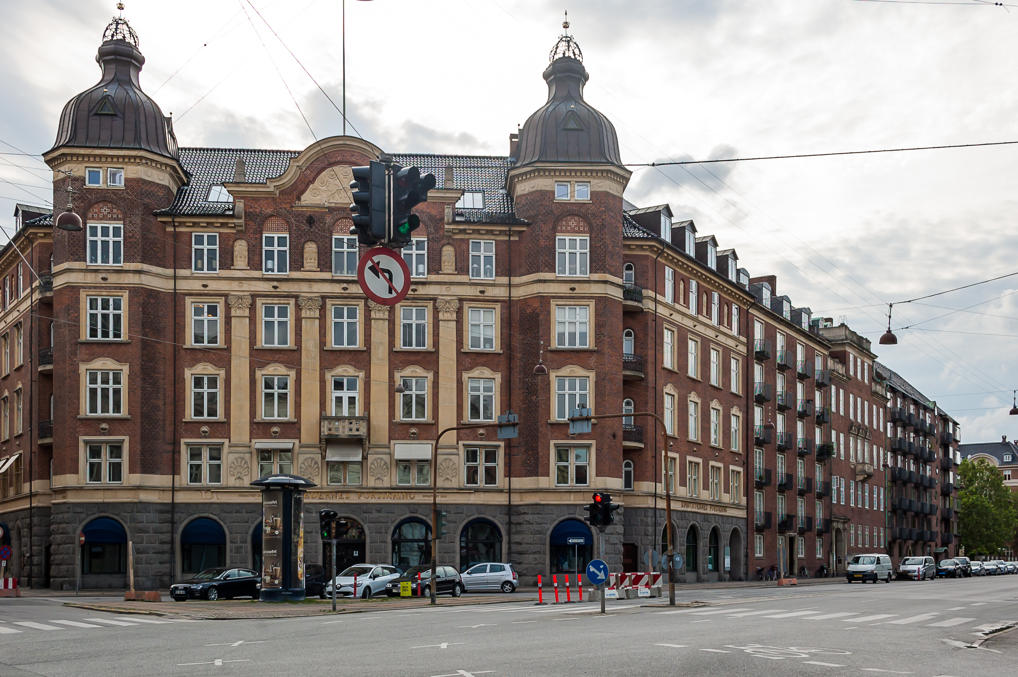 33.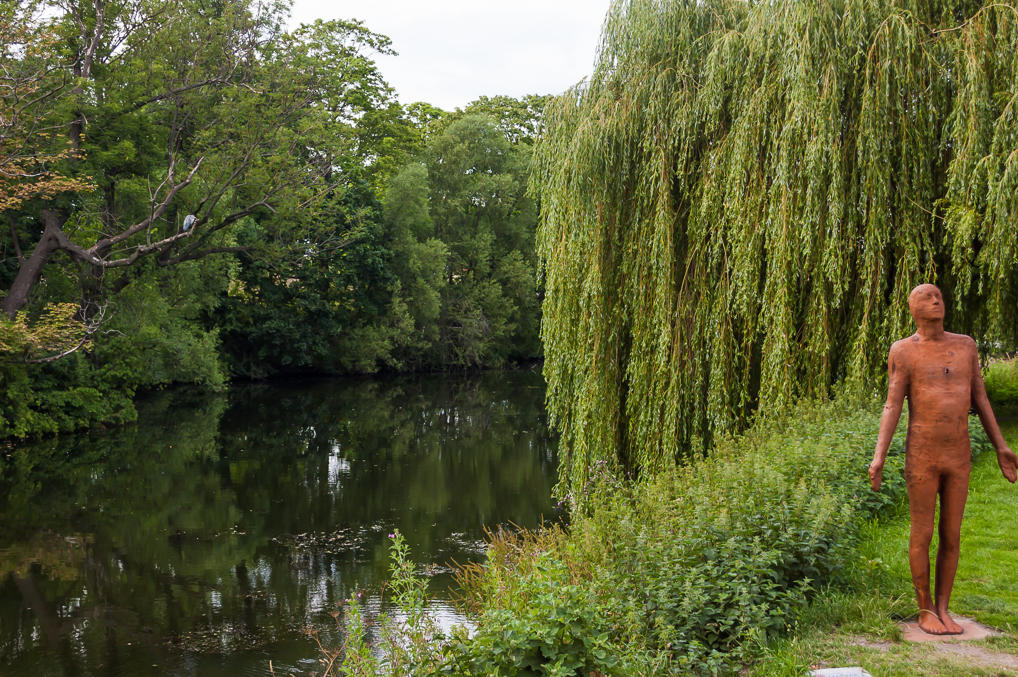 34. Farther to the north from Copenhagen center is Kastellet (Dan. Citadel), a star-shaped fotress from the 17th century. No relation to Kastellet the tiny fortress on an island in Stockholm. Kastellet is separated from the rest of Copenhagen by earthworks, a moat, and a small park with these statues.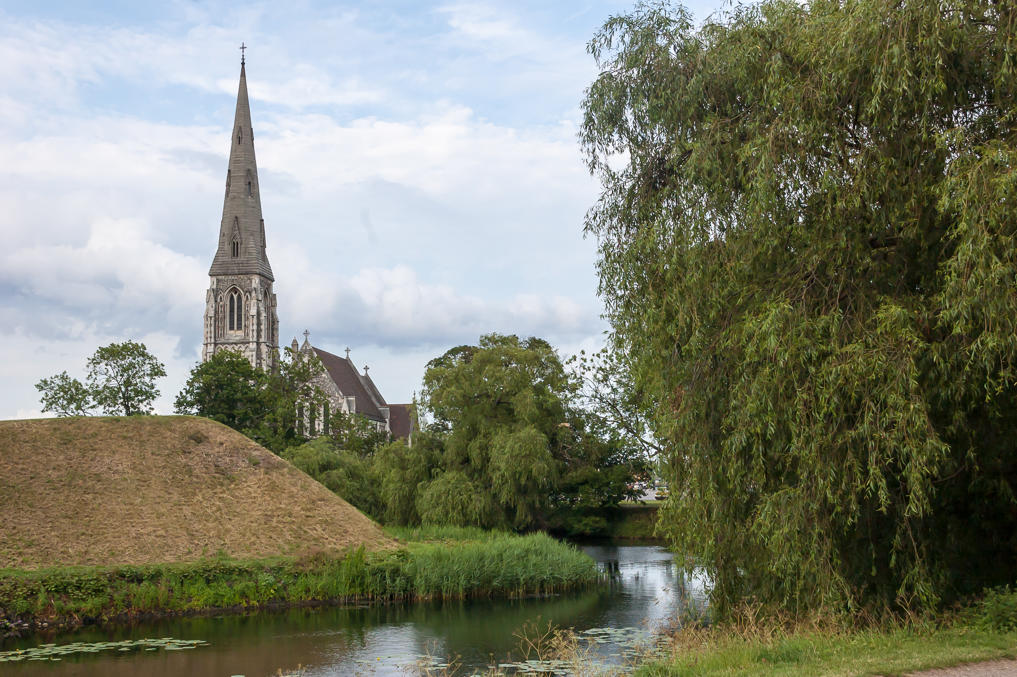 35. St. Alban's Anglican Church (1885) in Kastellet park, a more or less traditional English church built by Copenhagen's local British community.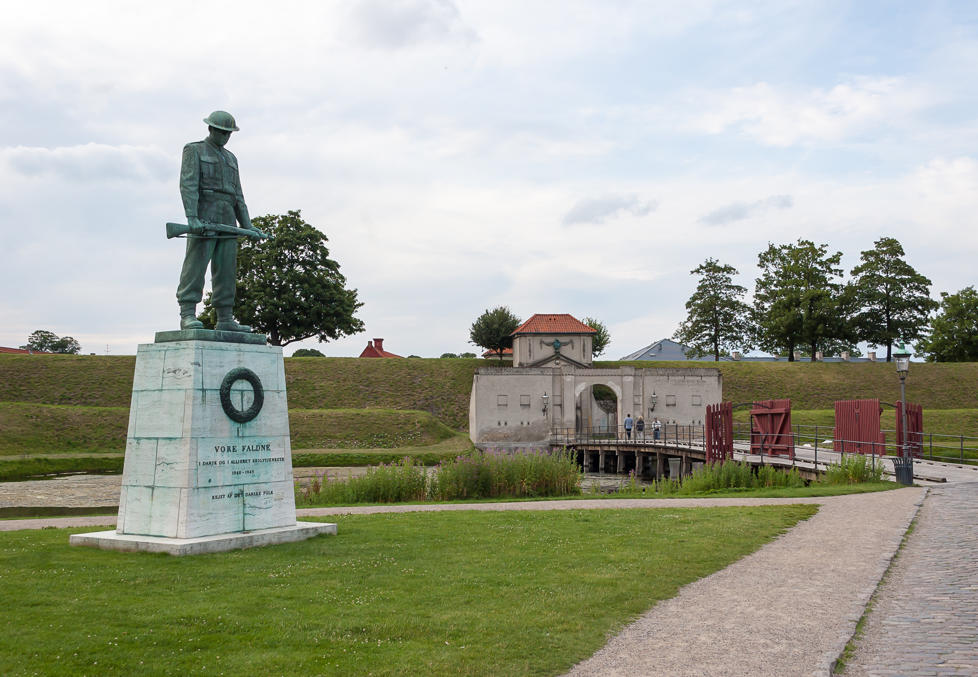 36. World War II memorial close to Kastellet gates. Germany occupied Denmark on 9 April 1940. Denmark's army was insignificant and its government decided to surrender in just two hours after start of the invasion, in order to avoid loss of life. The Nazis didn't particularly hate Denmark; they didn't exactly have an OCCUPY EVERYTHING objective, and the Scandinavians were worthy Arians according to their theories. Denmark also didn't really have anything they wanted. However occupation of Denmark and Norway was strategically important to them as part of their war with Britain.
Thus Denmark really had it rather good in the war, with Hitler declaring it a "model protectorate" at first. The government and the king and even Danish Jews were left intact. Denmark even had a general election in 1943, with the local Nazi party winning laughable 2,1% of votes. Eventually Germany still ended up cracking down on Denmark; it forcibly disbanded Danish government, instituted martial law, and began to hunt Jews. Didn't have much luck with Jews though; Denmark, in one of the most valiant episodes of the war, famously helped nearly all its Jews escape to Sweden. The evacuation of Danish Jews is a pretty cool story in its own right, however, the famous claim that the Nazis ordered all Danish Jews to put on yellow stars, and then all Danes including the king put on these stars, is a myth. Denmark was eventually liberated in May 1945 by the British. Only 3,000 Danes died overall as a result of the invasion, actually less casualties then the Danish Nazi volunteers had fighting on the Eastern Front (about 4,000).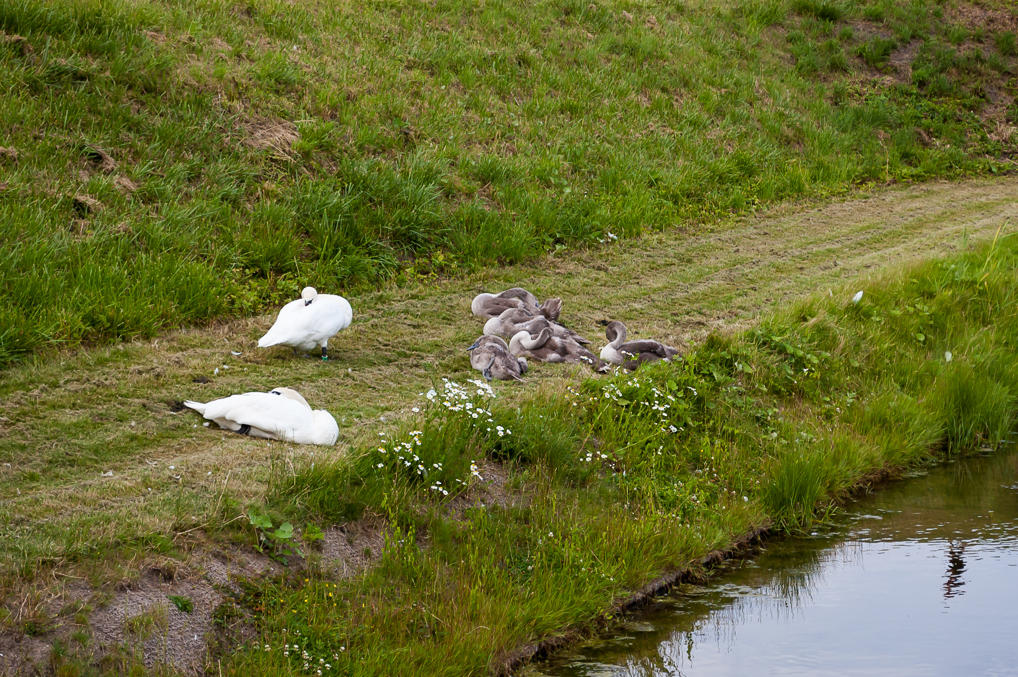 37. Swan family at Kastellet.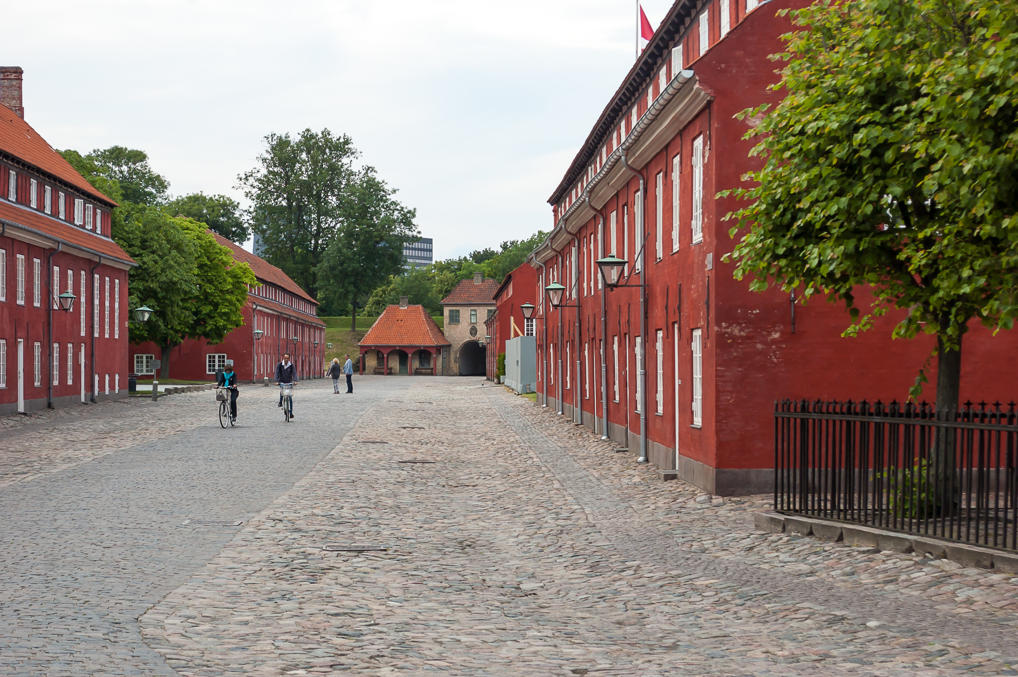 38. Inside Kastellet. The fortress is a very peaceful and quiet place, mostly consisting of old barrack buildings and the like. It still belongs to Danish military, although I'm not sure how exactly they use it. Kastellet reminded me of Petropavlovskaya Fortress in St. Petersburg, although it's nowhere that famous and doesn't have a cathedral.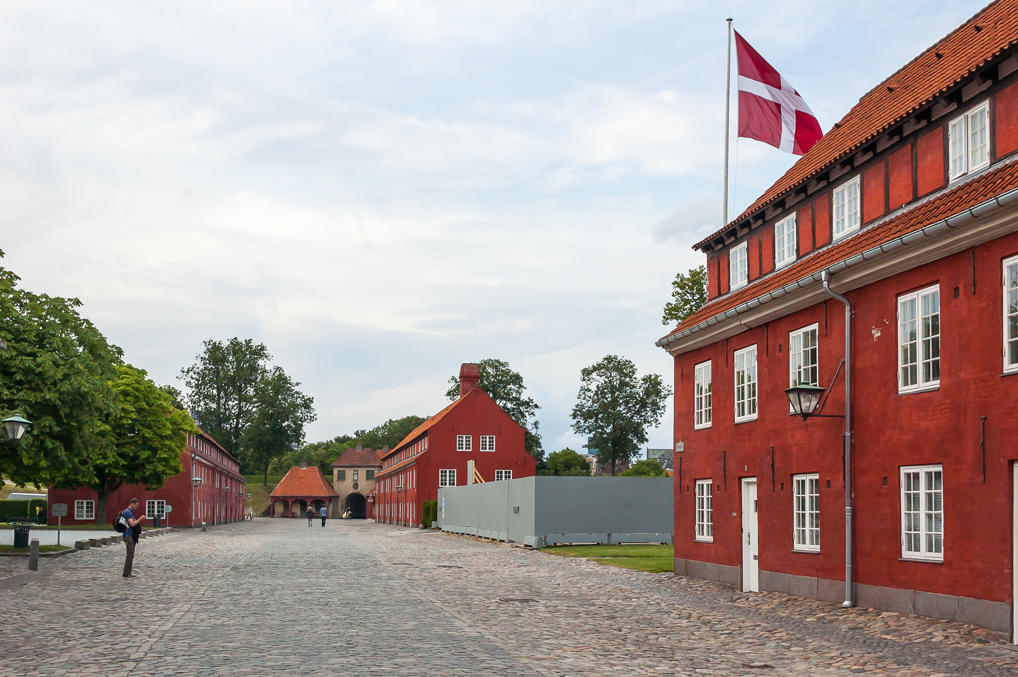 39.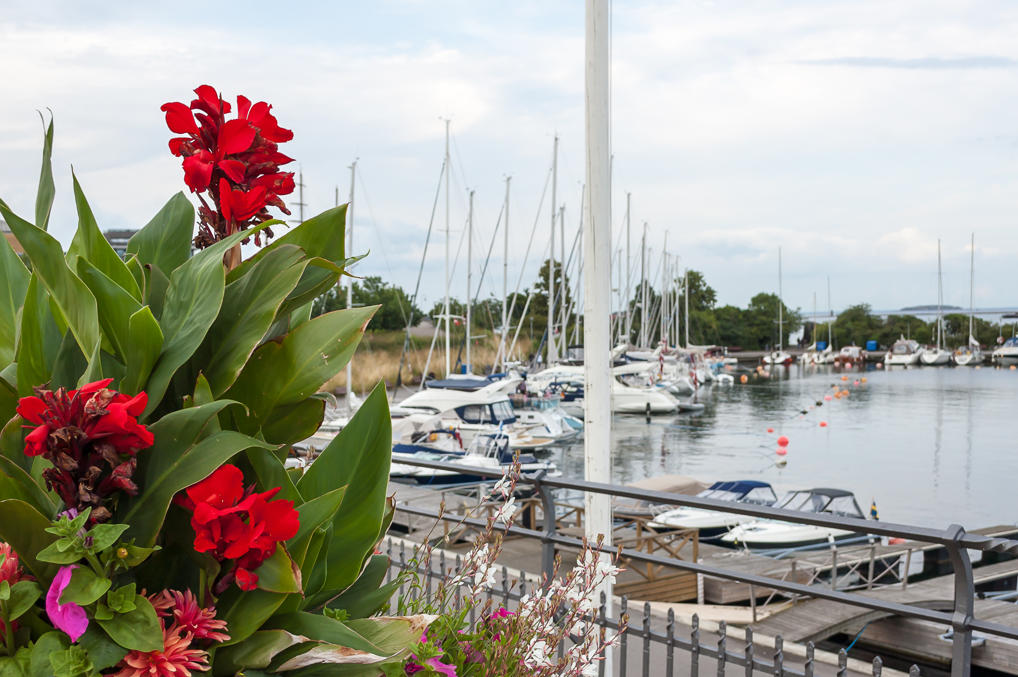 40. The part of the city beyond Kastellet is called Langelinie (Dan. Long Line), basically a park with a marina, turning into a passenger seaport farther out.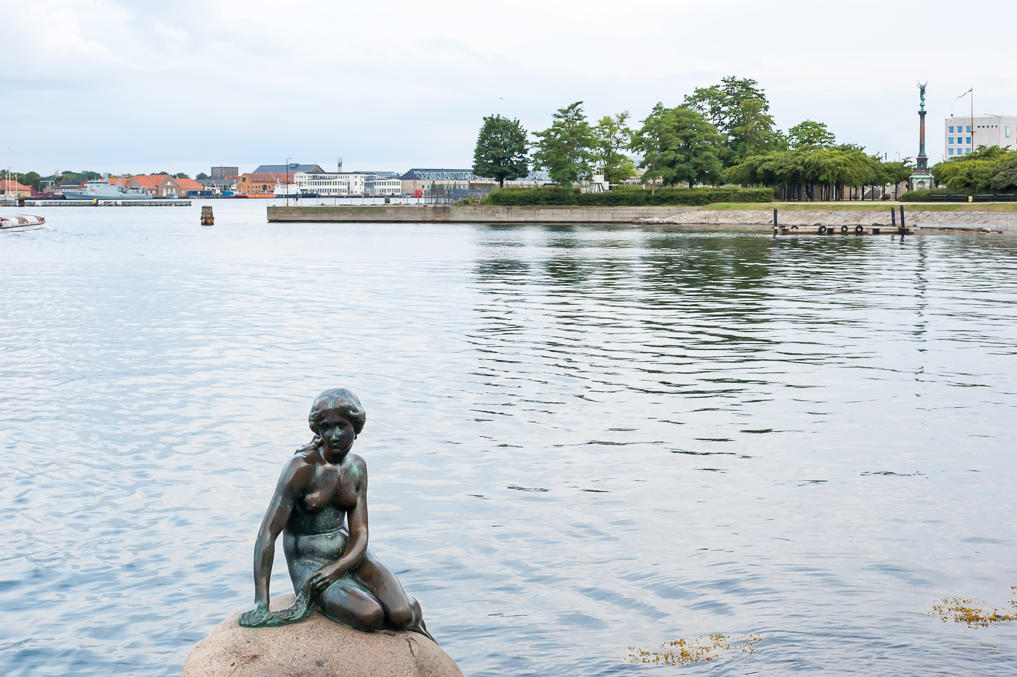 41. And Langelinie is where the Little Mermaid statue is located. Here it is, in a rare moment nobody of the dozens of the tourists tries to climb onto her rock (which is easy enough).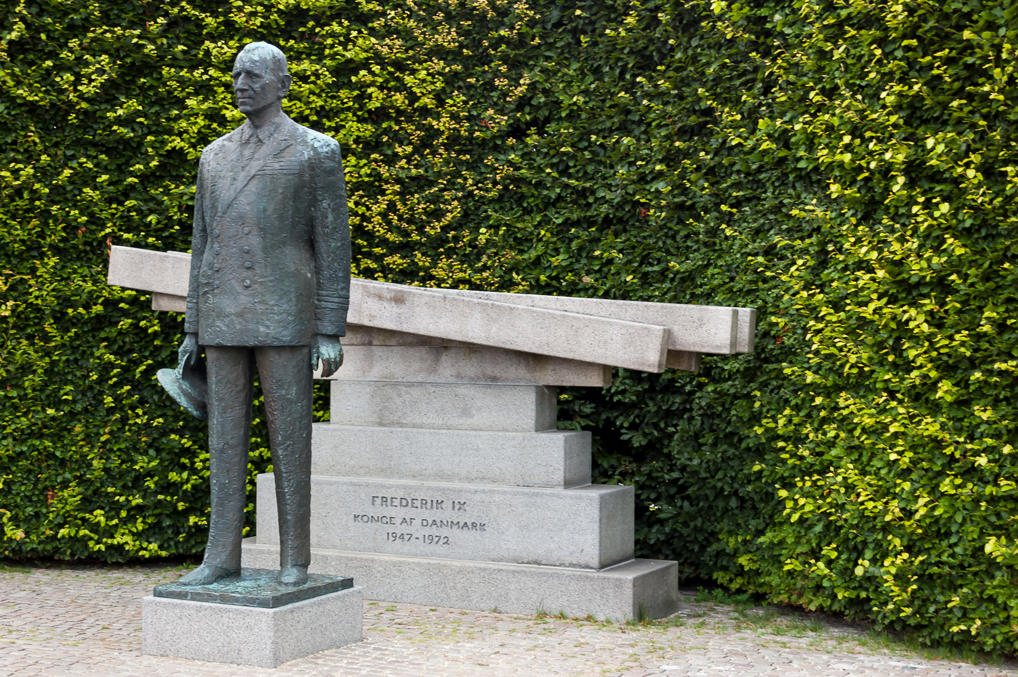 42. Frederick IX, the penultimate king, also in Langelinie.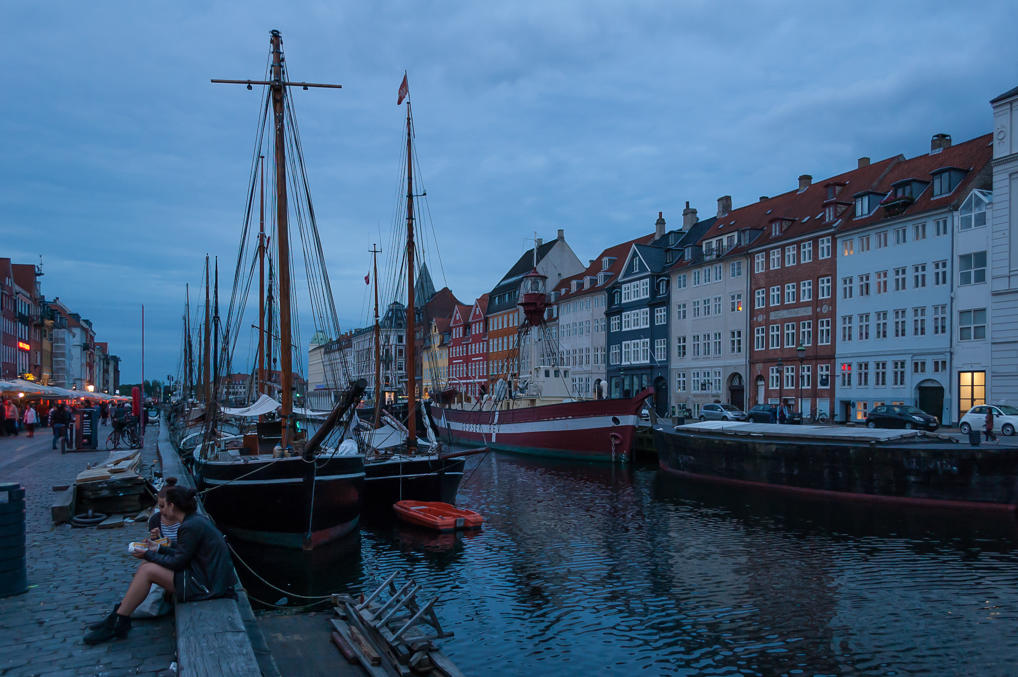 43. Deciding to end our explorations for today, we quickly walked down to Nyhavn again and had a big dinner in some nice but quite expensive restaurant which I don't remember. By the time we left the restaurant it was evening already. So the rest of the pictures are just us walking back to our hotel in Frederiksberg through beautiful evening Copenhagen.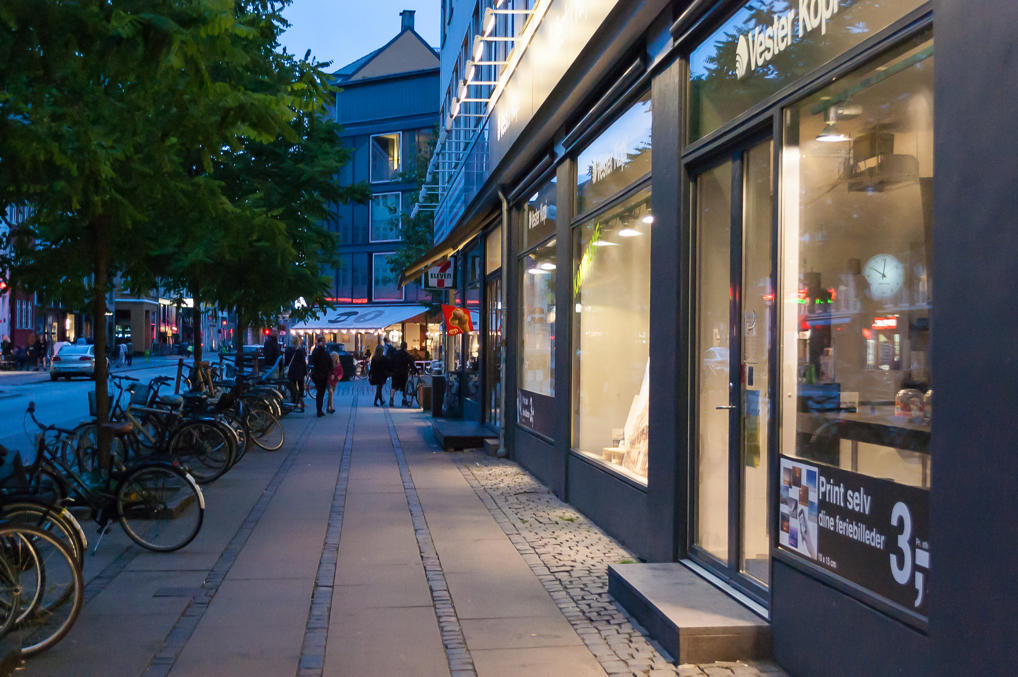 44.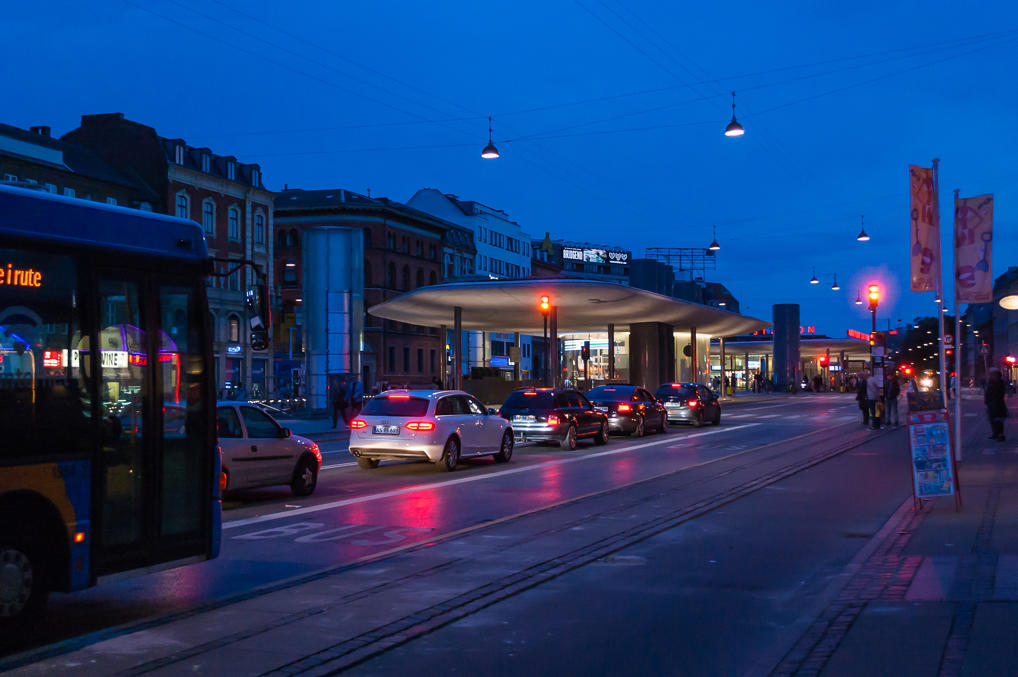 45.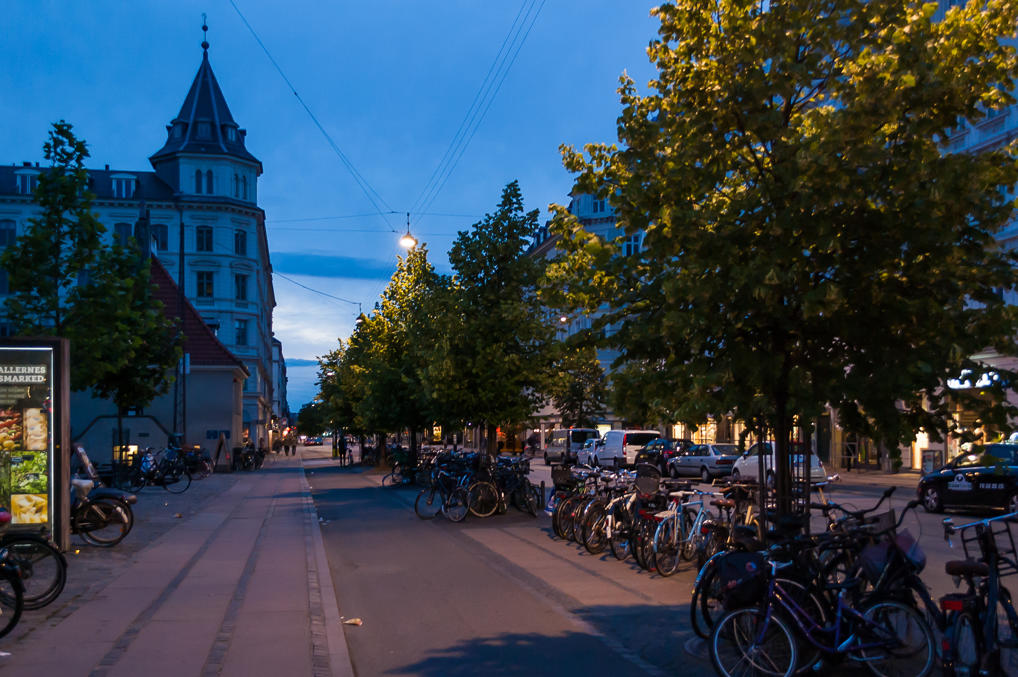 46.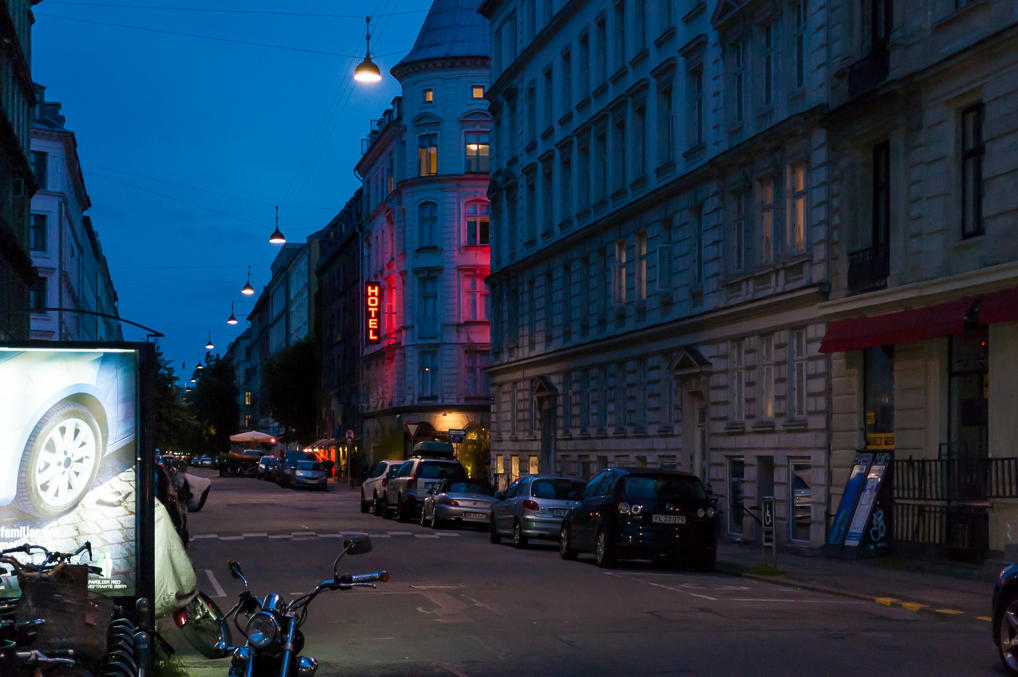 47.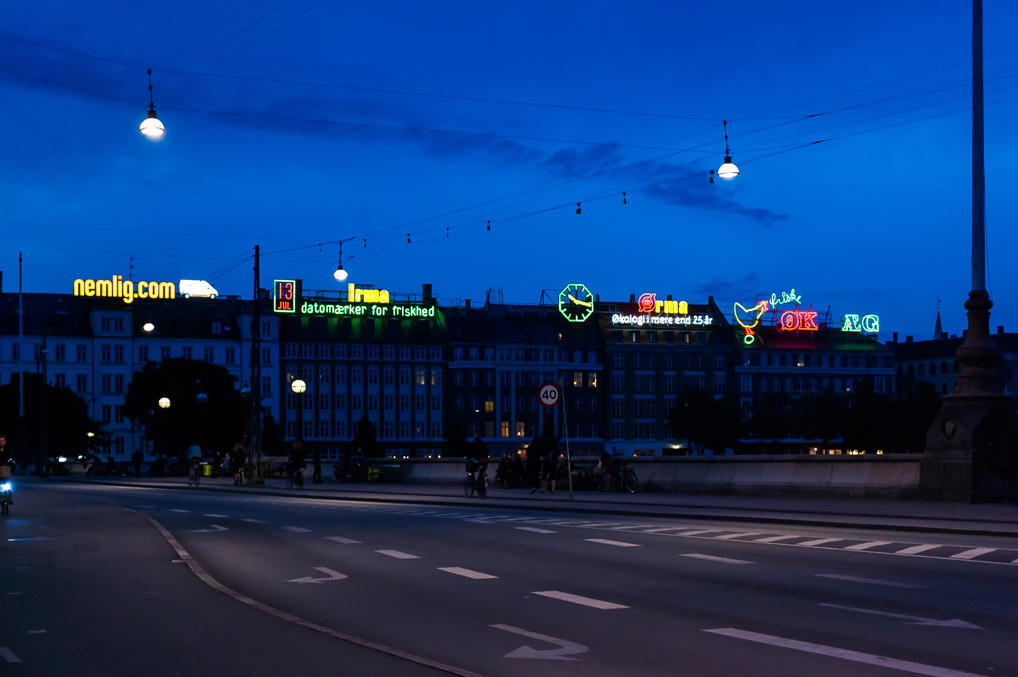 48.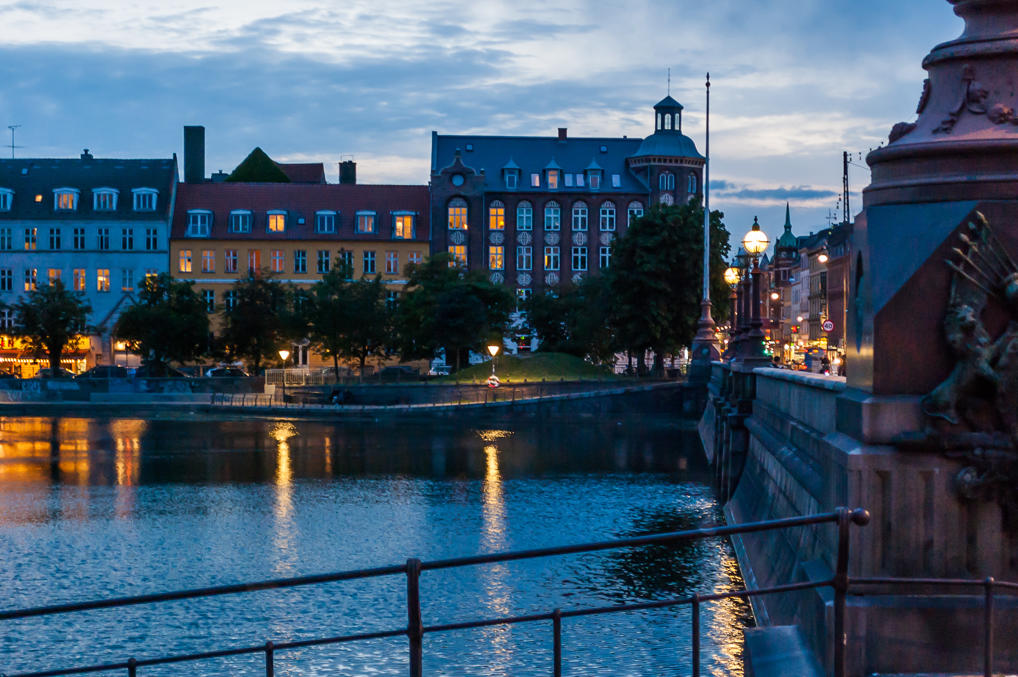 49.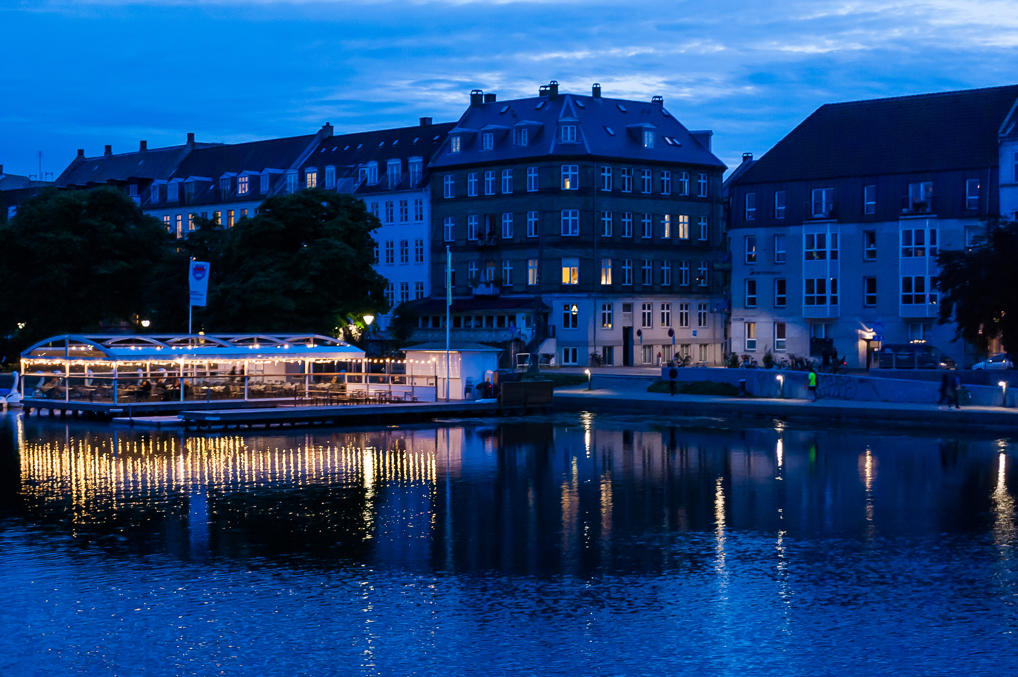 50.
This was our second night in Copenhagen. Our plans for the next day were to visit the Carlsberg brewery museum, to leave Copenhagen by train by afternoon, to walk a bit around Swedish Malmö, and to drive all the way to our next stop, which would be Smögen Camping in Bohuslän. To be continued.
Published on: