---
Inari is a village of about 650 in Upper Lapland (Ylä-Lappi), that is, in the northeast of Finnish Lapland. It is known as the biggest center of Sámi culture in Finland and for its wilderness and the great Inarijärvi lake, on the shore of which it is located. The distance by road from Helsinki is 1150 km.
Inarijärvi is the 3rd biggest lake in Finland and 2nd biggest lake in the whole world north of Arctic Circle. It is up to 90 km long, and very irregularly shaped with many islands. It is also quite deep (up to 92 m), and its many long bays are traditionally called fjords (vuono in Finnish).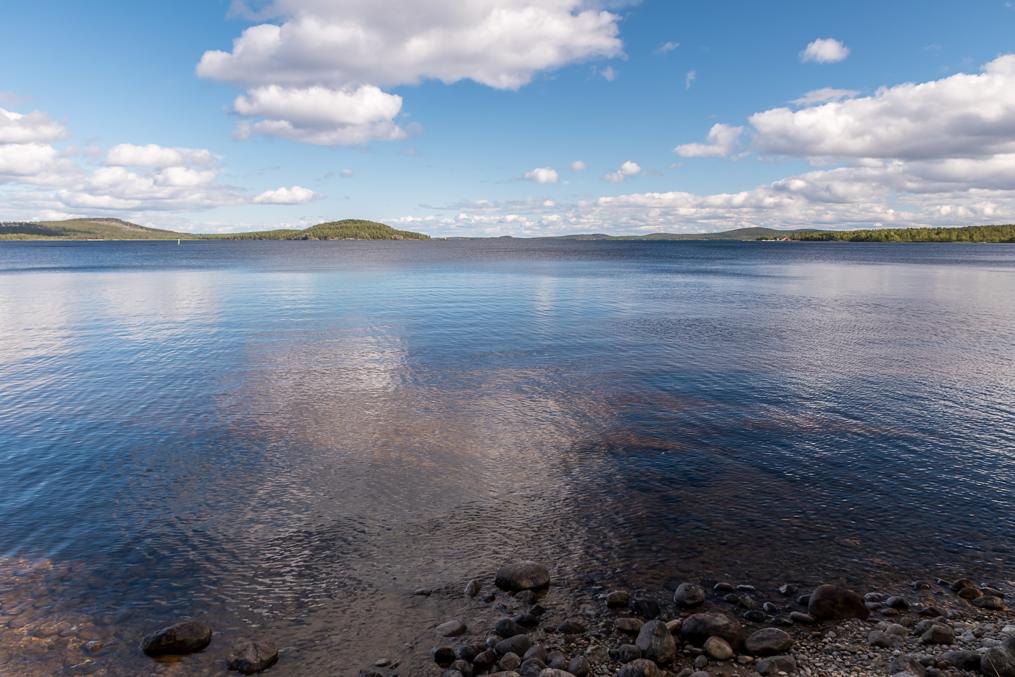 Inari Municipality is the biggest municipality in Finland by area (17333 sq. km), total population 7000. Its center is however no longer Inari village (church village, kirkonkylä) but Ivalo town, 35 km south, these days probably best known from Ivalo TV series (although it wasn't entirely filmed in Ivalo). Inari is probably still a more interesting place than Ivalo, with more sights and interesting nature closer by.
Inari is regarded as the center of Sámi culture in Finland. Only 7% of its population are officially registered as having Sámi as mother tongue, however, many Sámi people in practice speak mostly Finnish. Siida Sámi Museum (Saamelaismuseo Siida, N. Sámi: Sámemusea Siida) and Sajos Sámi Cultural Center (Saamelaiskulttuurikeskus Sajos, N. Sámi: Sámekulturguovddáš Sajos) are located in Inari. Sajos serves also as the seat of Finnish Sámi Parliament (Saamelaiskäräjät, N. Sámi: Sámediggi), which is the representative body of Sámi cultural autonomy.
There are about 10 different Sámi languages, of which Northern Sámi is by far the most common; road signs here are in Finnish and Northern Sámi. In Inari however also Inari Sámi and Skolt Sámi are spoken. Both are very rare, with only a few hundred speakers remaining. Nonetheless there are efforts to revive Inari and Skolt Sámi, and they are the reason Inari name is written in four or even five languages on the maps (Finnish, Swedish + 3 Sámi). Skolt Sámi are more distinct from other groups, having Orthodox faith and originally coming from areas belonging now to Russia; they live not here but in small villages north and south of Inarijärvi lake.
The village itself looks rather unremarkable, as most of Lapland villages and towns tend to. The modern church, known also as simply Sámi Church (Saamelaiskirkko), dates from 1951. These days Inari economy is strongly based on tourism, and Inari population has actually been mildly growing since the 2010s, remarkably for such a remote place. The biggest tourism center in the municipality is rather far from Inari village, however; it is Saariselkä, a ski resort at the edge of Urho Kekkonen National Park.
Lands around Inari village and a large part of Inarijärvi lake belong to Inari Hiking Area (Inarin retkeilyalue). Some decent nature can be found within hiking distance from the village, for example Jäniskoski (Finn. Hare Rapids; Inari Sámi: Njuámmilcooskâs) rapids on Juutuanjoki (Inari Sámi: Juvduujuuhâ) river, with a hanging bridge and a lean-to shelter, close from a nearby road too.
Landscape around Inari is hilly, but Otsamo (Inari Sámi: Ocomâš; 418 m) is the only true fell (tunturi, mountain rising beyond treeline) close by. It has a day hut (a former fire watch hut) on top of it, and the views onto Inarijärvi are excellent. The hike from Inari village center to the top of Otsamo through Jäniskoski is 9 km long in one direction, but by car it is possible to drive as close as 2.6 km (near Rovajärvi lake).
Other destinations are for example Pielpajärvi wilderness church (the old church of Inari, away from the village in the woods) and various Inarijärvi islands (generally require own boat). Notably, cruises no longer go to Ukonkivi island, the most famous one and a major former Sámi holy site, at a request of Sámi people.
But of course Inari lands are vast. Major protected nature areas are Lemmenjoki National Park in the west, Urho Kekkonen National Park in the south, and Muotkatunturi, Hammastunturi, Kaldoaivi, Vätsäri and Tsarmitunturi Wilderness Areas.
---