---
Joensuu (Finn. River Mouth) is a Finnish city of about 75,000, and the capital of Finnish Northern Karelia (Pohjois-Karjala) region.  The eponymous river is Pielisjoki, which flows from Pielinen Lake into Saimaa lake system.  Joensuu was founded in 1848 as a center for commerce, and throughout its history, well, nothing really particularly important ever happened here.  So this isn't the most exciting city ever, even by Finnish standards.  Still, it's quite nice as all Finnish cities are, and probably worth a look if you happen to be nearby and got some time to spare.  Probably not actually worth a trip by itself (although the region of Northern Karelia is quite interesting, probably the coolest Finnish region after Lapland of course).
I mostly know Joensuu as the first city on the way north (into Lapland and the like) when driving from Russian border, a 200 km drive on Finnish Road 6 after the border towns of Lappeenranta and Imatra.  The first time I actually visited Joensuu was in late October 2015.  Yeah, I'm starting to post some pretty old stuff here.  Well actually I'm finishing a draft I began back in April 2016 mostly just to get a feel for my new blog workflow with WordPress.  So far it feels fairly nice!
When going from St. Petersburg to Joensuu or father to the north of Finland, it is possible to pick an alternate route, not via the traditional Scandinavia Route and Lappeenranta/Imatra, but via Sortavala Route through Russian towns of Priozersk, Lahdenpohja, and Sortavala, and Värtsilä/Niirala border crossing checkpoint.  This option is slightly shorter than the usual one, but the fraction of the route going on Russian roads is much greater.  The roads themselves are of questionable quality, with a short gravel section after Priozersk, and generally really winding between Lahdenpohja and Sortavala.  Nonetheless, the traffic is much lighter and safer than on the Scandinavia Route (excluding the section closest to St. Petersburg, but nearly all of it has already been rebuilt with near-motorway quality).  I wrote about Sortavala Route in more detail in this post (available only in Russian).  The road continues to be improved and some details from that post are already obsolete.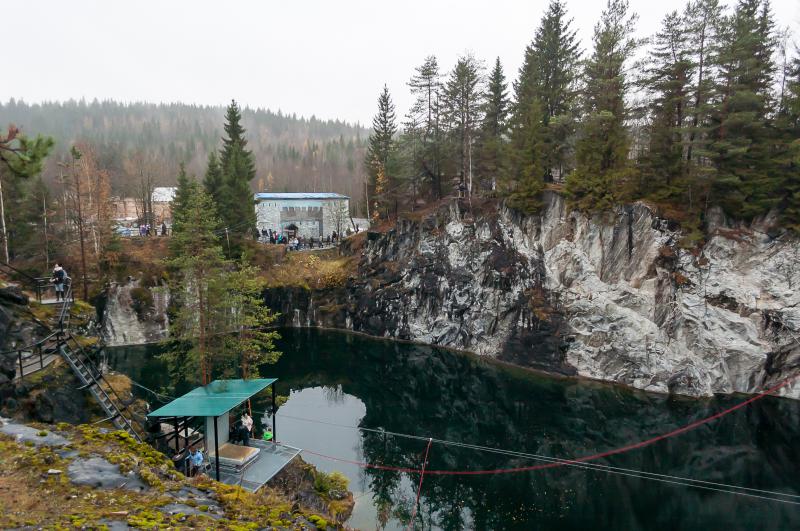 1. Ruskeala (Рускеала, Finn. Brown) marble quarry (colloquially known as "marble canyon" but it's just basically several flooded quarries) in a few dozen kilometers before the Russian-Finnish border.  One of the major sights of Russian Karelia, it is teeming with people in summertime, and I would advise to visit it in autumn if possible.  There are boat and rope rides available and you can buy various cheap souvenirs if you're into that.
2.
3. One of the attractions of this place is of course the greenish tint of the water.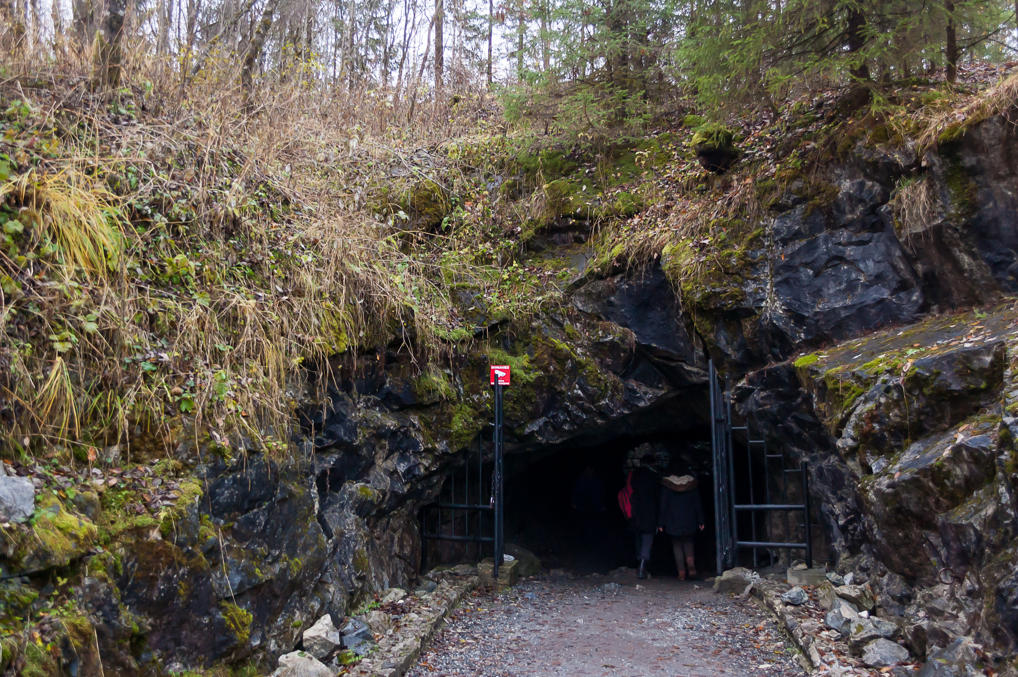 4. A trail around the main quarry leads through a small section of an underground mine.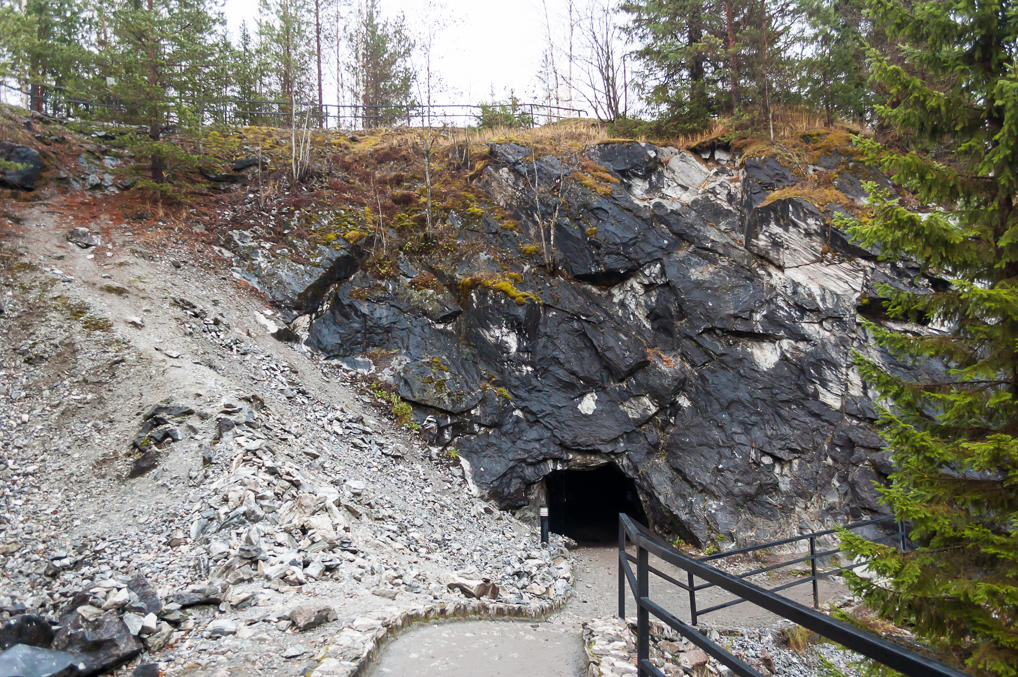 5.
6. Värtsilä (Вяртсиля)-Niirala border crossing, north of Sortavala, is the busiest one in the entire huge Russian Karelia, which is to say, not actually busy at all.  The procedure is slightly different than in Leningrad Oblast but not complicated.
7. Days get pretty short at these latitudes by the end of October, and by the time I was in Finland it was dark already.  The road from Niirala to Joensuu (sections of Roads 9 and 6) unexpectedly had artificial lightning nearly throughout, so the driving was easy.  Having checked in at a hotel very close to the central square, I took a walk.  Joensuu City Hall (by Eliel Saarinen) at the square, with its tower, looks like a downsized version of Stockholm City Hall if you squint enough.
8. Naked bronze man blowing a horn, the Statue of Liberty at front of the City Hall, installed in 1923 to commemorate the independence of Finland.
9. Apparently I missed the biggest Joensuu church, but what I didn't miss is the small, wooden, and rather nice Orthodox one, named after St. Nicholas.  Northern Karelia in general has a sizeable Orthodox minority, at least if compared to most of Finnish regions.  Presumably this is due to the closeness to Russia and its Orthodox Karelian population.
10.
11. The oldest building of Joensuu, dating to 1852, is located on Ilosaari, a small island in the middle of Pielisjoki River.  The river splits the city in two, and there are a few bridges crossing it, the oldest ones passing through Ilosaari.  The building was originally built as a granary, then served as barracks (and was thus christened Pielisjoen Linna, the Fortress of Pielisjoki), then belonged to the university, and currently serves as the headquarters for Northern Karelia Regional Council, which is a council of the 13 municipalities of Nortern Karelia.  As Finland is a unitary state, its regions are not, by themselves, entities with any sort of power.  Thus the regional body is just a council, does not have a parliament or any executive offices, and can fit into this nice pink building.
12. Between Ilosaari and the northern bank of Pielisjoki there is a 537 m long channel built to ease timber rafting which, as far as I understand (I'm not sure), is still practiced in Finland to this day.
13. The next day.  This is Carelicum, the regional museum of Northern Karelia. Had a look at it a bit later.
14. The Statue of Liberty in daylight.
15. The City Hall in daylight, too.  Apart from the city hall itself, it houses a theater and a restaurant.
16. Sokos Department Store at the central square.
17. Daylight view of the channel.  I'm not really sure why the channel has locks or, indeed, why it is necessary at all.  The river appears to be quite calm throughout the city.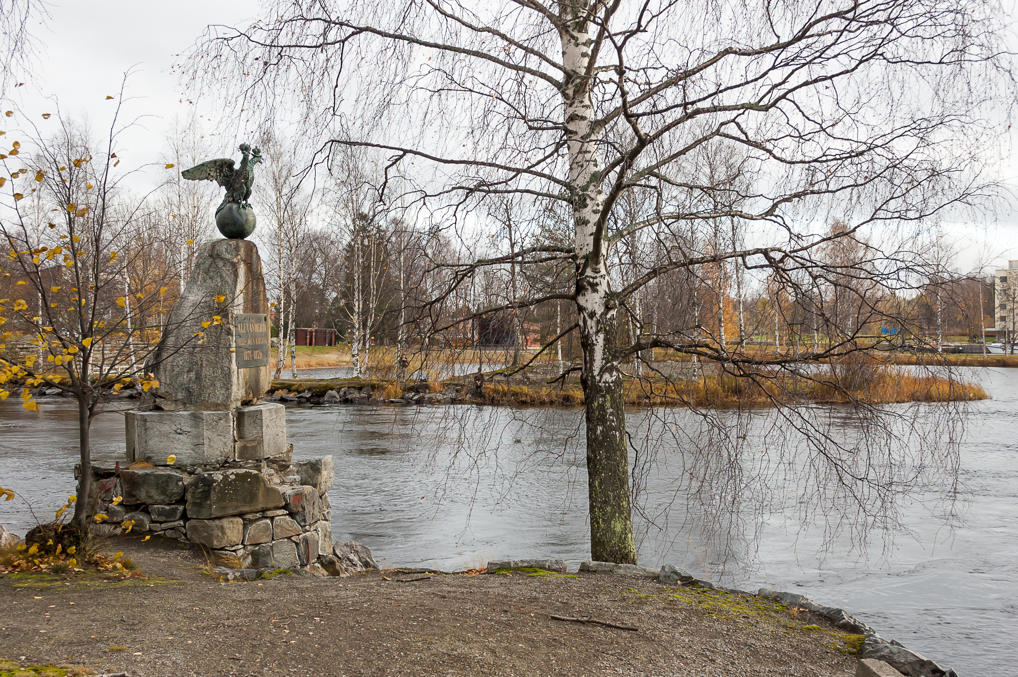 18. The channel was originally constructed in 1877 by the order of Russian Emperor Alexander II, thus the two-headed eagle.  The eagle was actually removed after Finland gained independence, and was found and reinstalled back in 1968.
19. Ilosaari also features a statue of timber rafting workers.
20.
21. I always thought the locks tradition is rather cute.  I don't get why everyone seems to hate them so much.
22. Ilosaari also has a small circular lagoon with a beach.  Ilosaarirock, one of the oldest rock festivals of Europe, was originally held here (yearly in July) as its name suggests, but eventually moved to a local stadium as there is really not that much space here on Ilosaari.
23. The railway station.  Joensuu is a rather major rail hub, although passenger services currently exist only on the line to Lappeenranta and Helsinki, and on the line to Pieksämaki (Pieksämaki being the major hub station of Northern Savo region).  One of the lines branching from Joensuu-Lappeenranta railway goes into Russia, crossing the border in Niirala as well.
24. Steam engine near the railway station.
25. Pielisjoki River, only 67 km long, connects Pielinen Lake with Pyhäselkä, one of the large basins of Saimaa Lake.
26. The bridge over Joensuu Channel can be raised to let ships through.
27. A service in St. Nicholas Church had just ended as I walked by.  I was quite surprised to see a black man leaving the church among others.  I mean there aren't very many black people in Finland, especially in its relatively remote parts like Northern Karelia, and here there's one belonging to the minority Orthodox church!
28. Carelicum museum, like the city itself, is nice but not really worth a detour. I found the miniature of old Sortavala its most interesting exhibition.  The town of Sortavala, like Vyborg, belonged to Finland until World War II, and used to be a part of Northern Karelia like Joensuu.  Sortavala is much smaller than Vyborg of course, and doesn't have a castle or any other really old buildings, but its Finnish heritage is arguably preserved actually better than in Vyborg; many buildings from this minuature are quite recognizable in real life today.
It's interesting to note that Finland of course didn't anticipate that a sizable part of its territory would be annexed by the Soviet Union, and its pre-war road and rail networks in the region looked quite differently from today.  For example, Imatra-Joensuu road (part of modern Road 6) didn't exist.  Rather, there was an Imatra-Sortavala road and a Sortavala-Joensuu road.  The section of Imatra-Sortavala road which ended up on Soviet territory pretty much does not exist by now (well, it probably does in some capacity, but I failed to really identify it on the map).
29. Well, time to go home, then.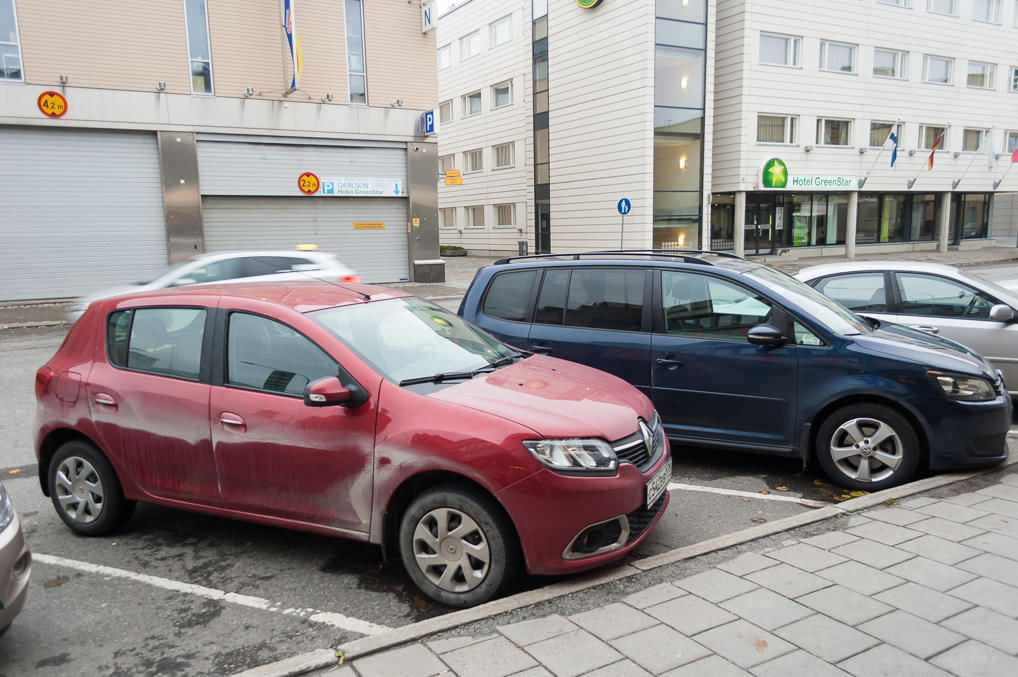 30. The car got a bit dirty the previous day, driving on the gravel sections of Sortavala Route.  I went back the usual way this time, via Road 6, Imatra, Svetogorsk, and Scandinavia Route.
That's all, I guess.  Again I don't want to bash Joensuu (and it's in theory possible I missed something cool) but really it didn't seem like the most fun city out there.  Just a typical sleepy Finnish town.  Probably fine for actually living there, but not much point in visiting it.
---